Review
Visual Paradigm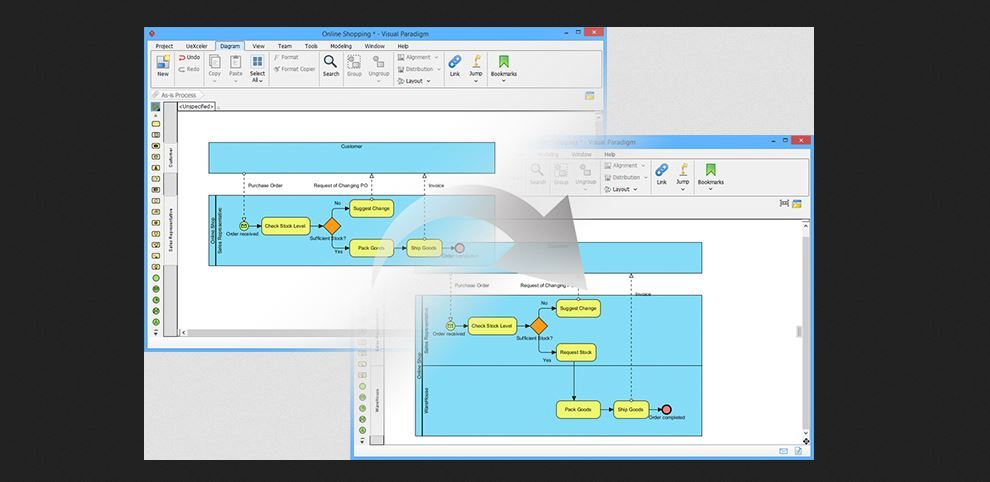 Overview
Visual Paradigm features all the UML diagrams and ERD tools essentially in system and database design. Innovative modeling tools like Resource Catalog, Transitor and Nicknamer makes system modeling easy and cost-effective.
Unified Modeling Language Tools
Use Agile Project Management.
UML.
Use Business Process.
Mapping.
Use ERD& DFD.
Use Code Engineering.
Database Engineering.
Wireframe.
Matrix.
Business Rules.
Perpetual, and subscription model. License pricing.
Free trial available.
Contact Visual Paradigm for pricing.
Small (<50 employees), Medium (50 to 1000 Enterprise (>1001 employees)
Visual Paradigm is a software design tool tailored for agile software projects. It supports UML, BPMN, ERD, DFD, SysML. Visual Paradigm is designed for software development teams to model business information system and manage development processes. It offers complete tool-set software companies need for requirements capturing, process analysis, system design, database design, etc.
Innovative modeling tools like Resource Catalog, Transistor and Nicknamer makes system modeling easy and cost effective. A user story is a proven technique to capture and maintain user needs. With the UeXceler tool of the platform, one can write user stories and manage them with use cases, sprint, and tags and all these can be done within Visual Paradigm, the design environment and on the web, anytime, anywhere. Visual Paradigm has the Wireframe and Storyboard tools that provide an effective way for the end users to preview the system, give comments, and confirm requirements. It also helps developers to design screens and implement system interactions.
It also inquires process visually using Business Process Model and Notation tool. Visual Paradigm also improves workflow. That's why it offers a Business Process Animation feature to turn static business process design into engaging business process movies. Visual Paradigm also has a VPository solution that provides a central repository for the customer's team to synchronize and keep revisions history along with all the designs and files. People can get everything in this platform what they looking for to become an expert.
This platform provides Online Trainings through free online lectures, quality videos, clear voice-over along with demonstrations to guide the customers. It also offers handbooks with collection of guides and knowledge related to software design and development. The customers can also find solutions from different channels like User's guide, YouTube, Forum, and Know-how. So, it is the best design tool.
You may like to read: Open Source, Free and Top Unified Modeling Language (UML) Tools and How to Select the Best Flowchart Software for Your Business