Review
Visa Checkout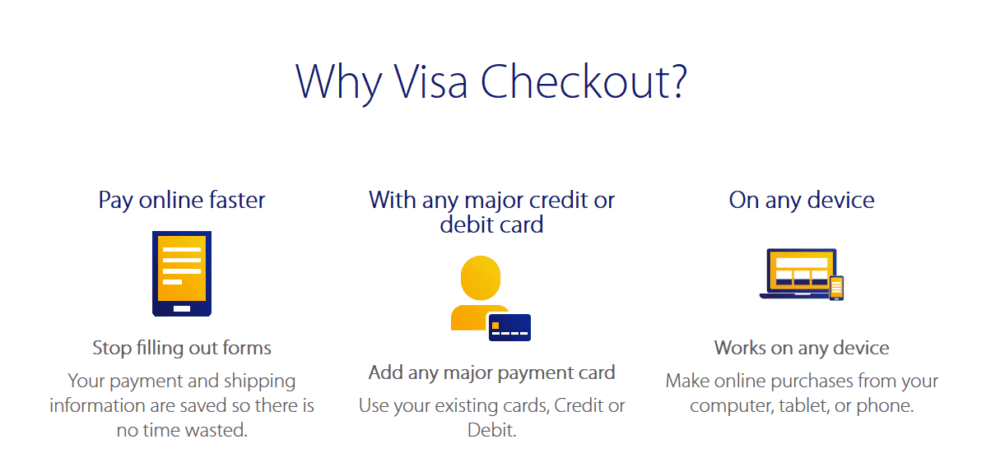 Overview
Visa Checkout is a digital payment service that simplifies your online shopping experience with a single account and lets you speed through checkout with just a username and password - no need to fill out shipping and payment details every time.
Pay Online Faster
Works With any Major Credit or Debit Card
Compatible with any Device
Increased Conversion
Device Fingerprinting
Ease of Integration
Small (<50 employees), Medium (50 to 1000 Enterprise (>1001 employees)
Visa Checkout provides an easier way to pay online with the favorite stores with a single sign in. no forms to filled out are required when making a payment since payment and shipping information are saved so there is no time wasted.
Adding any major payment card makes the transactions even smoother and better and it works with both debit and credit cards as well.Visa Checkout can be accessed on any computer as well as handheld devices such as tablets and mobile phones. This gives the users the freedom to make payments anytime and anywhere they might be. As a Visa Checkout user, there are also other great deals that can be enjoyed especially when getting discounts.
There are features shops on the website that offers great sale price. Sending gift cards are also possible with Visa Checkout which makes it a better way to give as a present.
On the other hand, Visa Checkout works great for merchants too. It makes the transaction even easier for the customers to checkout, capturing sales that would otherwise be lost which would definitely increase the merchant's conversion.
Some of the great advantages that Visa Checkout can offer its users would be reduced number of forms a shopper must fill out, the checkout process in as few as 3-clicks, works across smartphones, tablets, laptops or desktops, works with any major credit or debit card and utilizes the customer's existing payment processes. And with Visa Checkout's advanced tools-including device fingerprinting and step-up authentication, this reduces the risk of fraudulent transactions and provides safety to the customers.