Verint Cloud Customer Engagement Optimization Solutions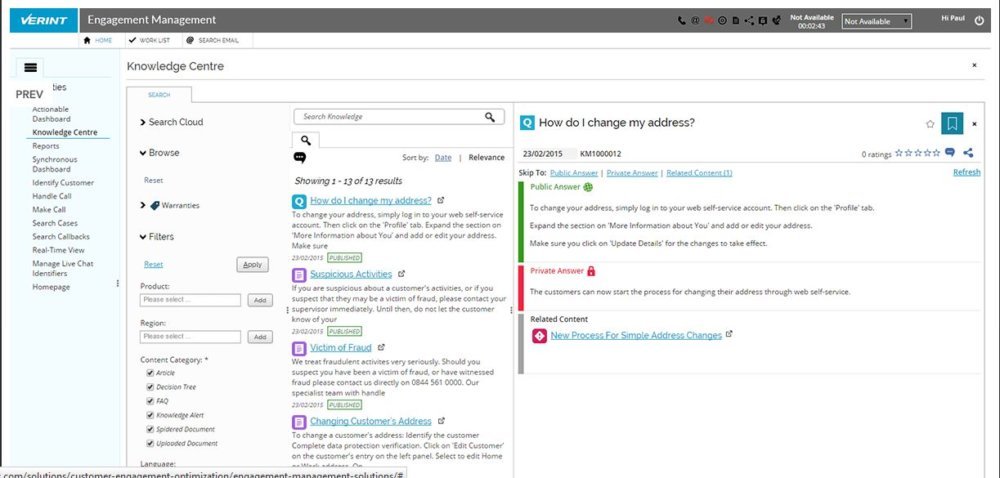 Verint Customer Engagement Optimization portfolio is available in cloud, on-premises and hybrid models, addressing market demand for maximum cloud flexibility. Verint has gradually introduced, over the past several years, cloud-ready applications from within its market-leading Customer Engagement Optimization portfolio. Today, following years of investment, the company's entire portfolio which includes solutions for customer analytics, engagement management and workforce optimization is available in the cloud. This gives customers the flexibility to deploy Verint solutions in three models: fully in the cloud, fully on-premises or in a hybrid model. It also presents them with a host of flexible licensing options. With Verint's hybrid model, large enterprises can select which individual applications they want to deploy on-premises or in the cloud to address their specific operational requirements, while laying the foundation to gradually evolve to a full cloud deployment over time if they desire.
"We started investing in our cloud strategy several years ago and are very proud to have over 1,000 active cloud deployments, and to announce cloud readiness across our entire Customer Engagement Optimization portfolio," says Dan Bodner, president and CEO, Verint. "We believe our cloud strategy addresses enterprise customer needs and positions Verint as an even more strategic partner."
Verint's cloud experience, including multi-tenant and private cloud deployments, has positioned it as the industry's leading de facto partner for cloud Customer Engagement Optimization. Today, Verint solutions are offered directly from the company, as well as through a broad set of partners, including cloud service providers and contact center infrastructure vendors that OEM or resell Verint solutions in the cloud or on-premises.
Adds Bodner, "Verint has a long history of successful partnerships, and our partners can now benefit from our cloud expertise and deployment flexibility across a broad set of solutions. We believe that our differentiated partner strategy has been well received, including with SMB infrastructure cloud vendors and other channel partners focused on optimizing customer engagement. To date, we have established partnerships with more than 40 cloud infrastructure vendors and will continue to invest in further expanding our partner program."
Verint is a global leader in Actionable Intelligence solutions with a focus on customer engagement optimization, security intelligence, and fraud, risk and compliance.