Using Qlik to monitor and respond the Sales Cycle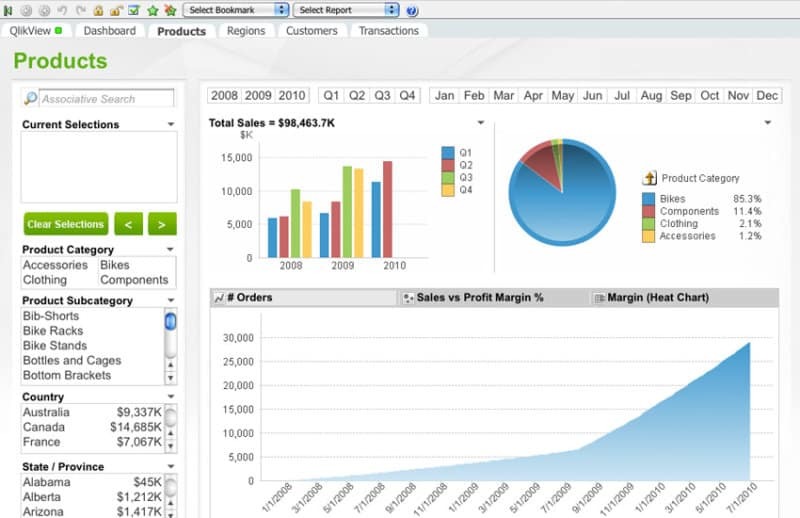 Using Qlik to monitor and respond the sales cycle : Qlik announced that leading sales organizations are using Qlik products to more effectively monitor and respond to developments in the sales cycle, improve overall sales planning and decision making, and arm the sales force with increased insights for better performance. According to Gartner, "decisions in sales organizations are often based on recent customer experiences and 'gut feelings.' Sales organizations are not known for leveraging technology to capture and report on selling activities or for using data analysis to determine where to target their sales efforts. Typically, the last quarter's results or the latest competitive wins have a greater influence on the development of a sales strategy than a well-thought-out, data-driven analysis of historical trends and future predictions. "
Analytics help take the guess work out of the sales cycle by enabling organization to capitalize on "fact-based selling" tactics. Equipped with data, sales teams gain insight into target buyers, opportunities and best practices for closing deals. Plus, sales executives and managers can gain better insight into sales pipelines for more accurate forecasting and increased productivity.
Leading organizations that leverage Qlik for sales analytics include:
• Andersen Corporation, the largest window and door manufacturer in North America, revamped its entire sales strategy and team with Qlik. With the help of Qlik Consulting, Andersen quickly deployed five apps accessed directly within Salesforce.com for each new sales role. Sales representatives now understand their performance, including measuring against goals from the previous year and tracking current progress in near real-time. Not only has efficiency increased by 15 percent, the sales team is also on track to meet this year's goal.
"Prior to QlikView, we only had access to a fraction of the information we needed," said Blaine Verdoorn, Director of Business Analytics, Andersen Corporation. "Qlik Consulting has worked seamlessly with our team to provide a breadth of information to help accelerate our sales and empower our sales force."
• California Casualty Management Company, a leading insurance provider of auto and home insurance for educators, police officers, fire fighters and nurses, uses QlikView to integrate data from the company's Verint call recording system and an organically grown leads management system. The application allows them to optimize lead generation, follow up and tracking of outbound sales results. As a result they were able to improve year-over-year lead conversion rates by 25 percent.
• Lush Fresh Handmade Cosmetics implemented QlikView to give all its employees—from the shop-floor to the warehouse—access to data analytics to help them make smart, profitable decisions. Seventy percent of staff, including all the shop managers and employees, gain live sales and stock information updates every hour, so they can make the right decisions as they are ordering in-store.
"Through our work with many of the world's largest organizations, Qlik understands first-hand the difference that an optimized sales analytics program can provide to a business," said Mike Saliter, VP Global Market Development, Qlik. "By leveraging both internal and external data with data discovery tools like QlikView and Qlik® Sense, businesses can build a more reliable, repeatable sales performance process to optimize productivity and drive better results."
Qlik is a leader in data discovery delivering intuitive solutions for self-service data visualization and guided analytics. Approximately 33,000 customers rely on Qlik solutions to gain meaning out of information from varied sources, exploring the hidden relationships within data that lead to insights that ignite good ideas. Headquartered in Radnor, Pennsylvania, Qlik has offices around the world with more than 1700 partners covering more than 100 countries