Use RapidMiner Advanced Analytics to Extract Business Value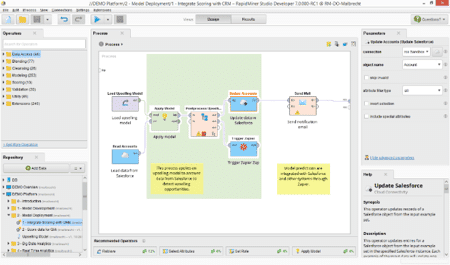 RapidMiner 7, is featuring a new, streamlined design of the company's flagship product, RapidMiner Studio. This release delivers important usability enhancements that empower business analysts to intuitively leverage data science and confidently derive deep insights and deliver impactful results to the business.
Predictive analytics has long been the purview of Ph.D. statisticians and programmers. However a shortage of these skilled data scientists has created a backlog of projects, slowing the adoption of data-driven decision-making across organizations. RapidMiner 7's streamlined design plus a new perspective on getting started has opened the predictive analytics door to a new generation of business analyst, the "citizen data scientist."
"With this new release, RapidMiner is democratizing predictive analytics, giving forward-thinking business analysts powerful data science that is highly approachable," said Ingo Mierswa, founder and CTO at RapidMiner. "By empowering a broader set of users with predictive analytics, organizations remove data science bottlenecks and immediately unleash better decisions and new business value."
RapidMiner 7 introduces over 20 major new features, including:
Insightful Getting Started: Delivers a host of new introduction videos, tutorials and process templates to give users a frictionless environment for downloading, learning and using RapidMiner Studio. Streamlined Usability: Provides a clean design to make it easy for new users to generate predictive workflows without sacrificing deep functionality required by experienced users. Resourceful Data Preparation: Improves the data access and import process to accelerate users' productivity and Much More: Supports more analytics operations, accelerates results and extract greater value from Hadoop.
"The necessity of business is to perform effectively across business processes and the actions and decisions that are made every day, which requires forward looking insights to determine future performance," said Mark Smith, CEO and chief research officer at Ventana Research. "Products like RapidMiner's lowers the barrier to entry that provides businesses the ability to get up and running quickly, solving their own business problems without having to wait."
RapidMiner, the industry's #1 open source predictive analytics platform, is disrupting the industry by empowering enterprises to include predictive analytics in any business process—closing the loop between insight and action. RapidMiner's effortless solution makes predictive analytics lightning-fast for today's modern analysts, radically reducing the time to unearth opportunities and risks. RapidMiner delivers game-changing expertise from the largest worldwide predictive analytics community.
You may also like to read, Predictive Analytics Free Software, Top Predictive Analytics Software, Predictive Analytics Software API, Top Free Data Mining Software, Top Data Mining Software,and Data Ingestion Tools.
Top Predictive Lead Scoring Software, Top Artificial Intelligence Platforms, Top Predictive Pricing Platforms,and Top Artificial Neural Network Software, and Customer Churn, Renew, Upsell, Cross Sell Software Tools
More Information on Predictive Analysis Process
For more information of predictive analytics process, please review the overview of each components in the predictive analytics process: data collection (data mining), data analysis, statistical analysis, predictive modeling and predictive model deployment.