Review
UPS Supply Chain Solutions (SCS)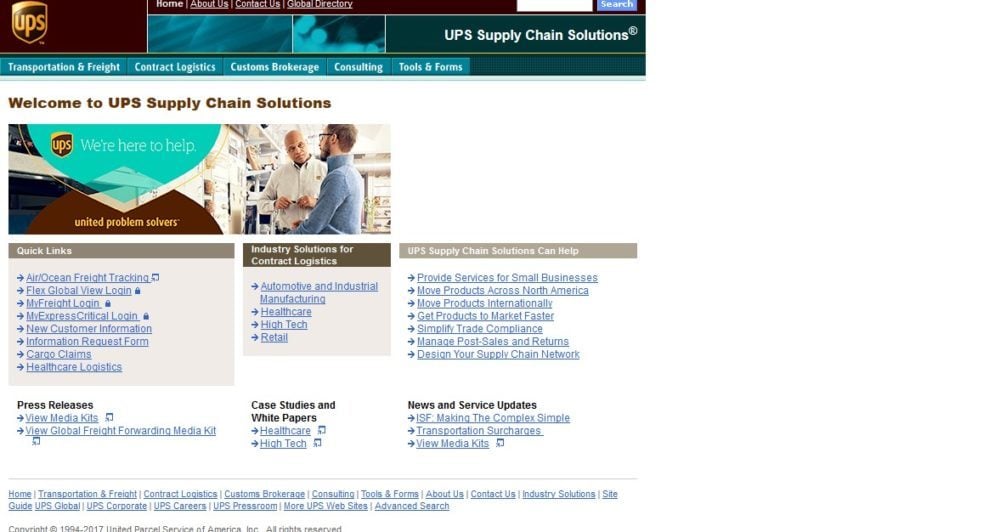 Overview
USPS offering a broad range of solutions including transporting packages and freight; facilitating international trade, and deploying advanced technology to more efficiently manage the world of business.
Warehousing, Logistics, and Fulfillment Service Providers
•Versatile
•Industry-specific
•Experience-backed
•Knowledge-based
•Responsive to demand
Small (<50 employees), Medium (50 to 1000 Enterprise (>1000 employees)
UPS Supply Chain Solutions (SCS)
What is best?
•Versatile
•Industry-specific
•Experience-backed
•Knowledge-based
•Responsive to demand
The vast array of services and industry solutions available from UPS Supply Chain Solutions give businesses a competitive edge. Some of the main areas of UPS's expertise are discussed below. Transportation and Freight – It allows companies to extend their business reach by leveraging UPS's global transportation network. Contract Logistics - A single-source solution to meet logistics and supply chain needs, from global distribution to post-sales service parts logistics. Customs Brokerage – UPS's customs-specific knowledge and expertise can help simplify the complexities of international trade management, from world-class customs brokerage to compliance consulting and managed services.
Consulting Services - Real-world strategic direction and counsel that help companies align their supply chain operations with their business strategies.UPS Supply Chain Solutions consulting services team offers real-world strategic direction and guidance to large companies, organizations, and governments that need to align their supply chain processes and operations with their business strategies.
All too often these are not in sync which can affect financial performance.Increasingly, the supply chain is leveraged to save costs, generate revenue, and improve value. To help achieve these results, UPS's consulting services team uses the Demand Responsive Model. This proven methodology can quickly align internal and external resources with changing market demands, situational requirements, and mission critical conditions.By securing data, analyzing and understanding information, benchmarking, maintaining best practices, and establishing metrics, the company helps enterprises to synchronize their strategies with supply chain operations and processes.Industry Solutions – Firms can now choose an industry-specific problem, and UPS Supply Chain Solutions can provide the solution. UPS has proven experience in automotive, consumer goods, government, healthcare, high tech, industrial manufacturing, retail, and many other industries.