Review
University of Wisconsin, MBA Supply Chain Management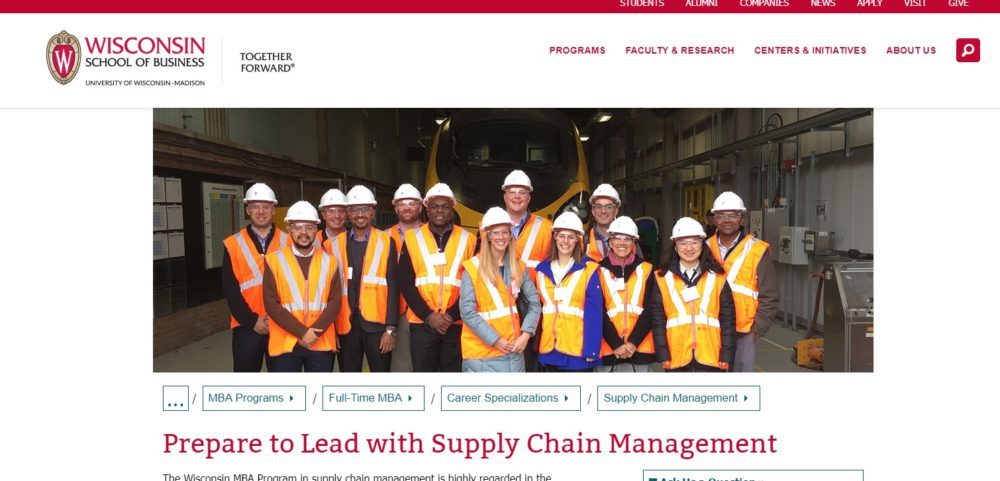 Overview
The Wisconsin MBA Program in supply chain management prepares students for an extensive range of industries and leadership roles as buyers, planners, and commodity managers. Every industry has a supply chain, and students find themselves qualified to pursue careers in the businesses they're passionate about.
Supply Chain Masters Programs
• 4-semester program
• Seminar in Supply Chain Management
• Case competitions
• Global Learning
• Summer internship
• Capstone Integrated Company Analysis
• Experiential learning
• 2 week-long immersions in programming
MBA in Supply Chain Management
2 academic years, full time
About $42,000 to $60,000 per academic year
What is best?
• Global Learning
• Summer internship
• Capstone Integrated Company Analysis
• Experiential learning
• 2 week-long immersions in programming
What are the benefits?
• Study in a dynamic yet inclusive environment
• Make lifelong career relationships and connections
• Learn a professionally relevant, challenging curriculum
• Get opportunity to work on actual business problems with fellow students, faculty, and industry executives.
• Leverage an extensive network of senior executives, corporate partners, and alumni for jobs and internships
The University of Wisconsin's MBA in Supply Chain Management is delivered through the Grainger Center for Supply Chain Management and provides extensive experiences solving real-world challenges under the direction of an experienced advisory board and alumni network. Graduates of this program are able to launch or advance successful careers in a broad range of industries. They undergo intensive training in such areas as data analytics, marketing, promotion, and sourcing of goods. This specialization provides the cross-functional and strategic approach needed to clearly comprehend the world of supply chain management. The program's curriculum integrates a strong foundation in general management and lets you begin studying courses in your career specialization right from the start. This helps you achieve your full potential and it enriches your learning experiences. Supply chain management students study a wide variety of managerial and functional topics and they can also choose electives in general business, marketing, operations and technology management, finance and accounting, management and human resources, and risk management and insurance. The curriculum is customized to offer only the skills relevant to the supply chain industry. It also provides the right industry standard tools needed to succeed that include SAP's Enterprise Resource Planning system and Lean Six Sigma. Students in this program connect and interact regularly with leading organizations and industry leaders through guest lectures, corporate visit sites, mock interviews, and the annual executive advisory board meeting. This facility provides students with strong mentorship opportunities for internship and career opportunities. Students also visit supply chain sites across the country and around the globe to obtain firsthand experience of the best ways companies manage their supply chains to create value. MBA students also regularly participate in case competitions with other universities, and undertake projects with industry partners.