Review
The University of Texas at Dallas, Master of Science in Management Science (Project Management)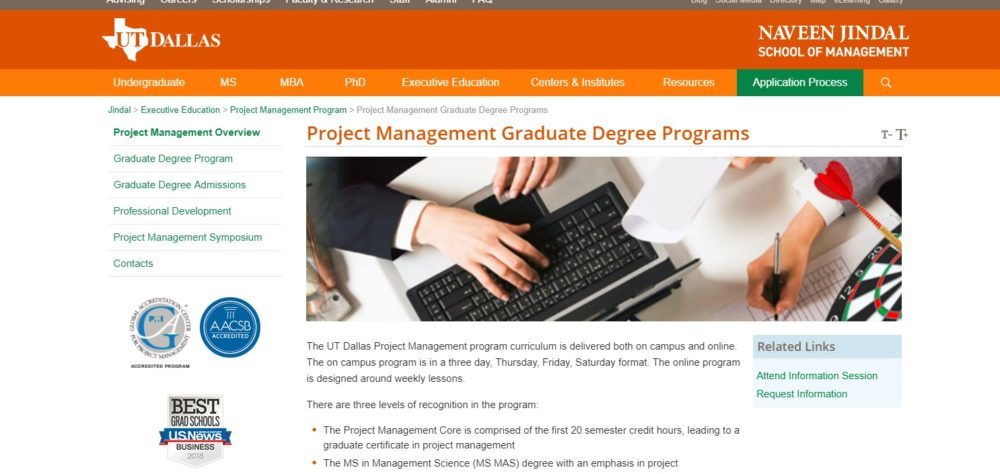 Overview
The program curriculum of UT Dallas MS in Management Science with an emphasis in Project Management combines both technical aspects and critical human skills to provide comprehensive training in project and program management
Project Management Masters Programs
• 39 semester credit hours
• International Study Trip
• Weekend classes
• Project management Seminars
• Delivery: on-campus, online
Master of Science in Management Science (Project Mnagement)
What is best?
• 39 semester credit hours
• International Study Trip
• Weekend classes
• Project management Seminars
• Delivery: on-campus, online
What are the benefits?
• Earn a Graduate Certificate in Project Management as well;
• Experience project management on a global level in the International study trip;
• Participate in professional project management seminars.
The program curriculum of UT Dallas MS in Management Science with an emphasis in Project Management combines both technical aspects and critical human skills to provide comprehensive training in project and program management. Admission to the program is highly selective to ensure that high standards are maintained in a cohort class. Candidates are evaluated on criteria that include prior academic and professional accomplishments, serious commitment and leadership skills. To earn the degree with an emphasis in project management, students are required to complete a Project Management Core comprised of 20 semester credit hours and an additional 19 semester credit hours that includes business core courses and an international study trip. The program is delivered in a three day format; Thursday, Friday, and Saturday.
The first phase of the program, the Project Management Core, is taught as an integrated body of topics rather than a series of courses. Students are formed into a cohort class and assigned to a team within the class. Students are required to integrate work projects with classroom learning. The Project Management Core is completed in 12 months, and students earn a Graduate Certificate in Project Management. During their second year, students take the international study trip along with core business classes. Currently, students visit The University of Applied Science in Landshut, Germany on 2-week trip, where they attend university classes with local students and participate in seminars that explore doing business in Europe. The trip also sees students visit local industries learn firsthand how business operates in the host country. The international study trip is a student initiated aspect of the program and takes the place of a capstone project. Students also get three free days in the itinerary so they experience local culture on their own. In general, the trip provides Project Management students an international educational, industrial and cultural experience in a single package.