Review
University of Tennessee, Master of Science in Global Supply Chain Management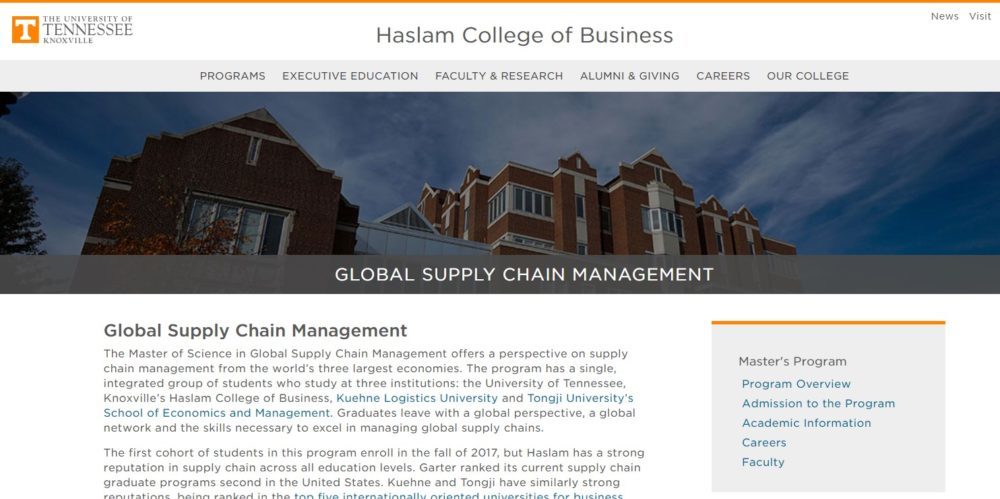 Overview
The Master of Science in Global Supply Chain Management offers a perspective on supply chain management from the world's three largest economies.
Supply Chain Masters Programs
• 4-semester program
• Capstone project
• Global program
• Study in Europe and China
Master of Science in Global Supply Chain Management
2 academic years, full time
What is best?
• Capstone project
• Global program
• Study in Europe and China
What are the benefits?
• Apply learned skills in a Capstone project
• Gain hands-on experience with a real-world supply chain
• Gain exposure to different corporate cultures
• Learn business skills needed to practice business across the globe
• Learn important management and leadership lessons
• Get help to find appropriate internships and job opportunities
The Master of Science in Global Supply Chain Management degree program of the University of Tennessee gives students a global perspective, a global network, and the skills and expertise to managing global supply chains. The program is designed in response to the demand of business leaders who are capable of dealing with innovation and rapid change in modern business firm that operate in dynamic social, political, and economic environments. The program's curriculum has been designed with the input of an advisory board of 40 senior executives from top supply chain companies so that students can acquire expertise needed in the supply chain industry. This Master's degree program provides an integrative approach to supply chain management in the areas of economics, operations, logistics, risk management, leadership and IT. The program enables students to have actual experience of the global supply chain management by studying in the world's three largest economies. Students in the program get an opportunity to study at two other institutions located in different continents. These institutions are; the Kuehne Logistics University in Hamburg, Germany and the Tongji University's School of Economics and Management in Shanghai, China. The two institutions have similar strong reputations as the Haslam's College of Business; Kuehne Logistics University is ranked in the top five internationally oriented universities for business (CHE) and Tongji University is the seventh-ranked business school in China (Eduniversal) respectively. Students spend the first semester studying in Germany, the second semester in China, and the third semester in Knoxville, Tennessee, U.S. The final semester is dedicated to a capstone project in which students apply their learned knowledge onto a business setting and also demonstrate their ability to translate concepts into business results. Student teams work together and with a business client to solve an existing problem. This course helps them gain hands-on experience in an ever-changing and complex real-world supply chain.