Review
University of Louisville, M.S. in Human Resources and Organization Development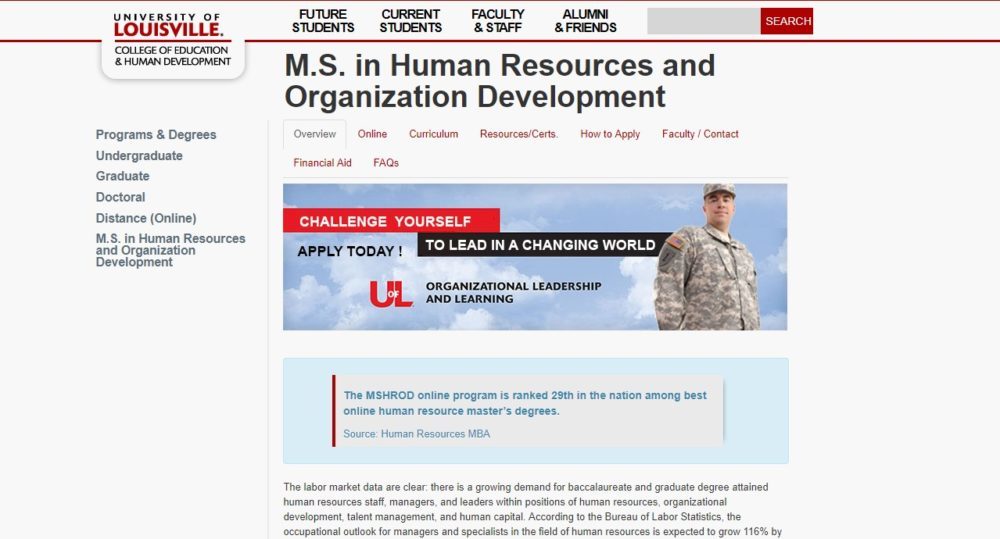 Overview
The University of Louisville is the only school based in Kentucky recognized by the society of Human Resource field (SHRM), as being an aligned school. The University of Louisville boasts of being ranked 29th in the nation among the best online HR Master's degree
Human Resources Master Schools
• Five key program goals: investigate gap, produce interventions, implement and lead change, evaluate outcomes ,and integrate foundational knowledge and skills
• One and a half year of study full-time, 2-3 years for part-time
• 500 direct hours of field work
• Option of 33 hours of fieldwork or 36 hours thesis
M.S. in Human Resources and Organization Development
• $6123 per semester for resident students
• $12743 per semester for non-resident students
What is best?
• One and a half year of study full-time, 2-3 years for part-time
• 500 direct hours of field work
• Option of 33 hours of fieldwork or 36 hours thesis
What are the benefits?
• Distance learning enables live online classes and discussion with classmates
• Access to Higher Educational blog
• Unlimited access to ATD online Library
• Student scholarships and loans are available
• ATD desertion award to qualified students
• Comprehensive curriculum approved by SHRM
• Part-time and full-time opportunity
The University of Louisville is the only school based in Kentucky recognized by the society of Human Resource field (SHRM), as being an aligned school. The University of Louisville boasts of being ranked 29th in the nation among the best online HR Master's degree. In addition, it has been ranked 25th in the U.S by Eduniversal. The core principal advocated by the institution is leading performance, development and learning through discovery as well as critical enquiry. Flexibility is a guarantee as you can do either full-time or part-time study. Online classes are also available to aid you master content and save on time. An effective curriculum as per the SHRM guidelines has been compiled and reflects the industry standards and expectations so as to ensure students come out as adept in their profession. The school offers three concentrations: Health Profession Education, Workplace learning and performance, and Human Resource leadership. Emphasis on leadership makes it the ideal course for any HR prospect. Evaluations are based on theory performance as well as practical done by the students, both individual and teamwork. A broader, detailed learning of case studies as well as field work equips the student with knowledge and skills of real life HR situations likely to be faced. The institution plays an active role in offering first class skills in performance improvement, institutional design as well as strategic and tactical human resource leadership for generalists and specialists. Graduates in this course join the field as prolific HR persons with standards set by the SHRM, and begin or continue into their journey of success.