Review
Uniface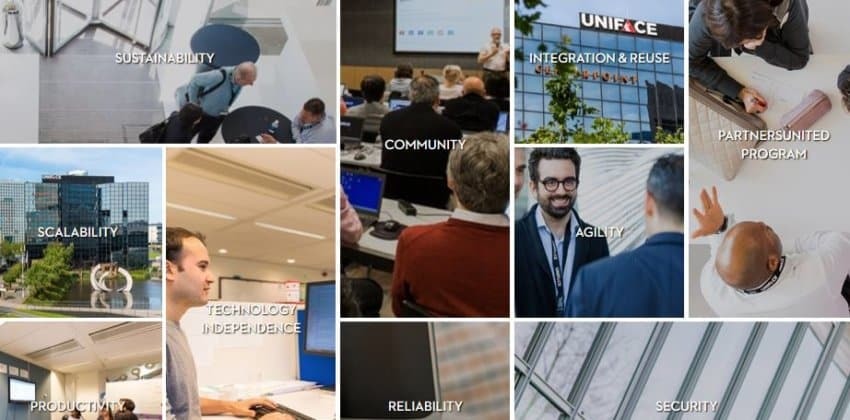 Overview
Uniface's model-driven, low-code application development methodology empowers developers to focus on high-value tasks like user experience and business logic integration, rather than basic coding.
Low-Code Development Platform
Reliability
Productivity
Forms
Server Pages
Reports Services
Session Services
Entity Services
Small (<50 employees), Medium (50 to 1000 Enterprise (>1001 employees)
Uniface is a platform built for development as well as deployment of enterprise applications purposefully built to run in a large range of runtime environments such as mobile, mainframe, web, Service-oriented architecture (SOA), Windows, Java EE and .NET etc. Uniface is a model-driven, Rapid Application Development (RAD) environment used to create mission-critical applications. Uniface provides a model-driven environment for the rapid application development of enterprise mission critical applications. Uniface is the development tool of choice for organizations that want to develop at a high level of abstraction and realize productivity unrivaled in the industry. Uniface is platform independent allowing applications to work on the most widely used hardware platforms and operating environments. Uniface applications are component-based and infrastructure-independent software programs. They create/use data stored in databases or file-systems, including composite applications that include non-Uniface components. Uniface has multiple of component types officially intended for use in different layers of a multi-tier application architecture. The Uniface application model captures the physical database structures for data access tier, ensuring physical data access by encapsulating SQL in its DBMS connectors. The middleware drivers and the Uniface Router encapsulate the network and middleware access. Furthermore, the application components are executed by the runtime engine; it displays presentation components using the appropriate user interface connector (either GUI or character-based), and sends and receives data via a DBMS connector. Uniface applications are installed in such a way that each one is in the form of one or more Uniface archive files (UAR). Each of these contains runtime objects required by the application. The resources are not extracted necessarily from the archives. The UAR uses the ZIP compression algorithm. It ensures that the Uniface application has a general footprint. Through the use of UARs, it becomes easy to apply patches to applications. It is also possible to generate a UAR with only the updated resources then configure the application to use these resources instead of previous ones.