Review
UNICOM System Architect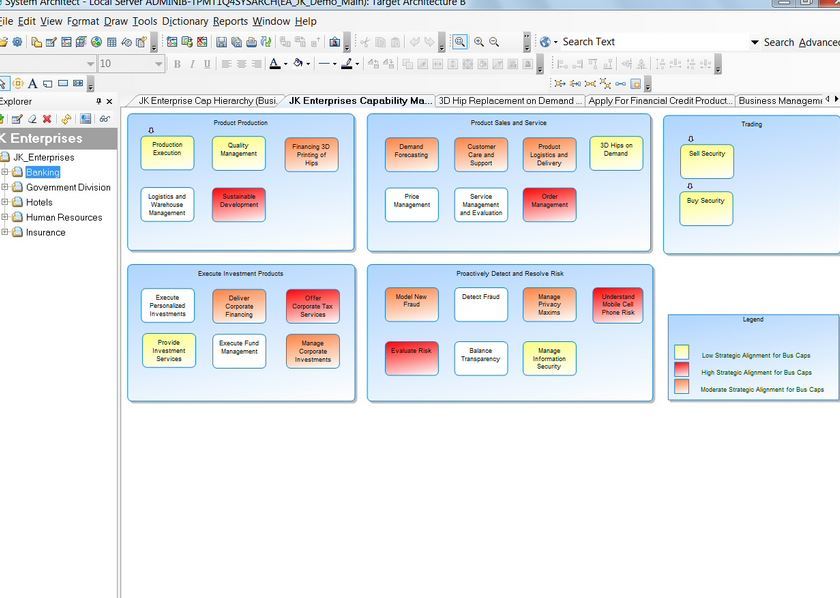 Overview
UNICOM System Architect is a market-leading enterprise architecture tool that enables you to build and automatically generate data-driven views of your organization's enterprise architecture -- its strategy, business architecture, operational architecture, data, application landscape, supporting systems, technologies, and infrastructure.
Business Process Management Software
TOGAF
Business Motivation Model (BMM)
BPMN 2.0
Logical and Physical Data Modeling
Data Flow diagramming
Capability Maps, Strategy Maps & Balanced Scorecards
UML
SOA design
XML design
Reporting System including dozens of pre-written reports
Dashboard capabilities
SA Compare
Customizable metamodel
Real-time multi-user capabilities
Microsoft SQL Server Express for stand-alone work; users deploy full-blown Microsoft SQL Server to network for multi-user use.
DoDAF 2, NAF 3, MODAF 1.2, DoDAF 1.5 ABM
FEAF 2
SA XT live web architecture capabilities
SA Publisher architecture website generation capabilites
SA Simulator to simulate and optimize process flows
SA ERP to harvest ERP systems
Small (<50 employees), Medium (50 to 1000 Enterprise (>1001 employees)
UNICOM System Architect is introduced as an enterprise planning solution to help build and enhance businesses' architecture. This solution provides an integrated collection of models and analytics for exploration, collaboration, and deployment of business technology change and transformation initiatives. System Architect addresses all aspects of an organization's enterprise architecture including modeling, publishing, analysis and execution.UNICOM system Architect reinforces Defense Architecture Frameworks such as: DoDAF2 (The US Department of Defense Framework), NAF 3 (NATO Architecture Framework) & MODAF 1.2 (The UK Ministry of Defense Framework), to name a few.
And that with support to these frameworks, System Architect proudly empowers to build capability-driven architectures that capture operational architecture, system-to-systems designs, integrations, performing project planning, both within and across organizations.System Architect would rightly build capability-driven enterprise architectures,create a line of sight from strategies to key capabilities to systems and technologies supporting them, take advantage of disruptive technologies and plan migration to the cloud and use industry-standard frameworks and patterns.
It also perform master data management,create roadmaps of business transformation,produce dashboards to gain clear understanding of the big picture, perform Business Process Analysis with Simulation and Optimization and build operational and system architectures with defense architecture frameworks. The tool perks up business efficiency, systems management, elevates resource planning, enhances method of visual reporting, and supports multiple modelling standards.
The operating systems used for enterprise are Windows 7, 8.1, 10, 2008, 2008 R2, 2012, 2012 R2. UNICOM System Architect then as a whole is arranged as an enterprise architecture for business planning and transformation.
You may like to read: Top Open Source and Free BPM Tools and How to Select the Best Business Process Management (BPM) Software for Your Business