Review
Ultimus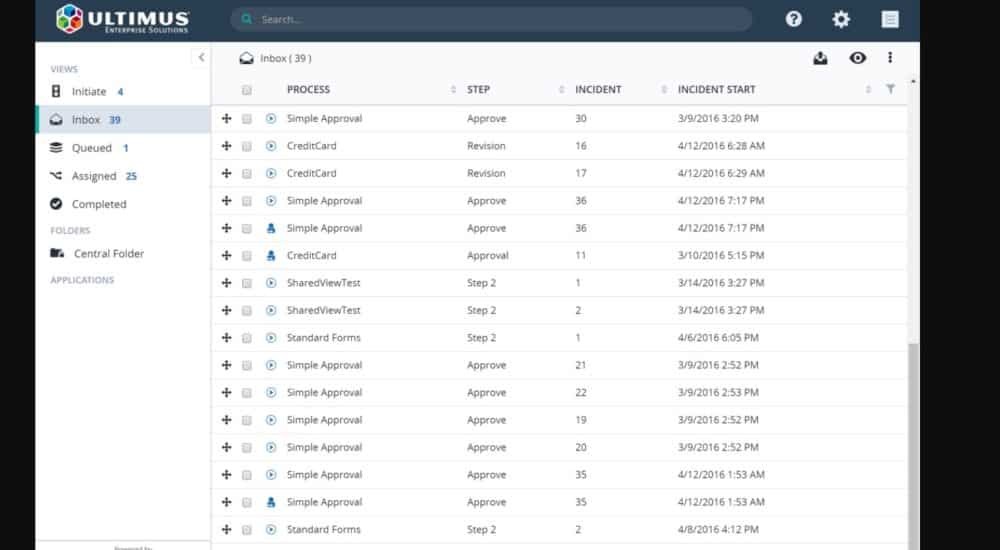 Overview
Ultimus is a leading global provider of BPM-based enterprise solutions and low-code development platforms that help companies grow their business, increase profits and control risk. Ultimus increases operational efficiency and flexibility, so companies can act faster with less effort.
Business Process Management Software
• Innate Collaboration
• Complete Automation
• Convenient Access
• Round Trip Optimization
• Adapt Easily to Changes
• Simple Process Modeling and Execution
• Visibility and Control in Real-time
• Lifecycle Process Management
• Contact form and info on site
Small (<50 employees), Medium (50 to 1000 Enterprise (>1001 employees)
What is best?
• Innate Collaboration
• Complete Automation
• Convenient Access
• Round Trip Optimization
• Adapt Easily to Changes
Ultimus is a very simple, easy to use and worldwide-offered, Web-based workflow and business process management software which transfers from existing third party applications and day to day processes more efficient, cost-wise data entry for the business process, offers installation, training, and support services and automates processes ranging from filling out timesheets to more complex tasks such as creating monthly business reports where it reduces the time and money spent on routine tasks, tells employees when to complete assignments, gives employees an electronic form, and automatically sends the completed form to the right person.
Ultimus has features such as task management, process management, data mapping, process analysis, process change tracking, process simulation, email integration, collaboration, business rules management, lifecycle management, process capture and process modeling and design. Ultimus offers a step by step plan for all those businesses that wish to increase their business performance through user-friendly interfaces and modules which are deployed to bring agility in modeling, design, execution and optimization with tracking and monitoring dashboards that help in gauging the performance regularly.
Ultimus allows users to evolve when workflow fluctuations in different situations arise and help users adapt to the change so that the businesses become flexible enough to handle all kinds of workflows. Business owners can use Ultimus to deploy collaborative business processes for analyzing the results at the end while the IT personnel can use Ultimus to build on their development tools and infrastructure in a scalable and reliable way. Ultimus offers products like Composed Process Solutions, Ultimus BPM Suite and Ultimus WebClient / UATS.
You may like to read: Top Open Source and Free BPM Tools and How to Select the Best Business Process Management (BPM) Software for Your Business