Review
Tuleap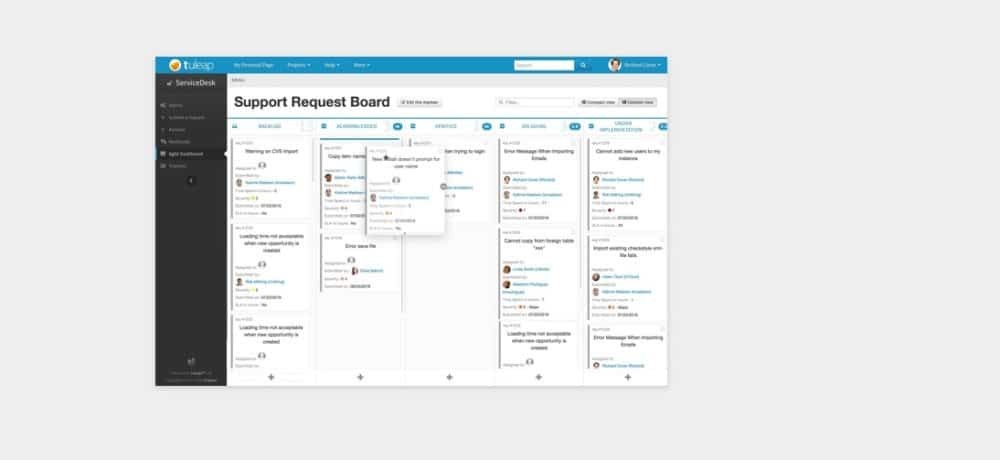 Overview
Tuleap, 100% Libre & Open Source platform for Agile Management and Software Development.
Project Management Software
• Agile beyond post-its
• Tracking designed to adapt
• Code smarter ship faster
• Team collaboration
• Document and version
• Extensive customization
• Agile beyond post-its
Small (<50 employees), Medium (50 to 1000 Enterprise (>1001 employees)
What is best?
• Track any type of items: risks, requirements, tasks, bugs, requests, recipes, todo…
• Collect and rank customers requirements
• Unlimited number of repositories per project
• Automatic data replication from Gerrit to Tuleap
• Get real-time status on projects
• Create graphics and reports on the fly
What are the benefits?
•Bootstrap project launches using Tuleap's ready-to-use templates.
•Create your own templates to save and reuse your configurations.
•Automate transitions between several trackers
Tuleap is a libre suite to plan, track, code and collaborate on software projects. Tuleap helps development teams to build awesome applications, better, faster and easier. Tuleap is a 100% libre and Open Source software -GPL license-. Users leverage all Tuleap features for unlimited users, unlimited projects and unlimited time. Users can deploy a Tuleap inside a Docker container and make their own configuration. Users can also experience the full power of Tuleap with an installation on a CENTOS server. Tuleap's sources are managed with Git.
Tuleap's Homepage is the global welcome page of the forge. It aims at helping new users to create an account, join or create a project. It gives activity streams and news of the hosted projects where users can customize some areas with their own logo. The Tuleap's main menu is a permanent piece of information that users will always see on their screen wherever they are in the Tuleap site. Its content can vary according to where the users and who the users are because the main menu is context sensitive. Tuleap also allows the users to search almost any piece of Tuleap information through a keyword search mechanism. Tuleap also has a Software Map which is a pivotal service in Tuleap that users can (should) use to determine if there are some pieces of software that they can re-use for their own work. The Software Map is one of the 2 ways by which users can search for existing software projects while the other one relies on the Search Facility.
You may like to read: Top Free, Open Source and Premium Project Management Software and Buyer Guide for Selecting the Best Project Management Software