Review
TSYS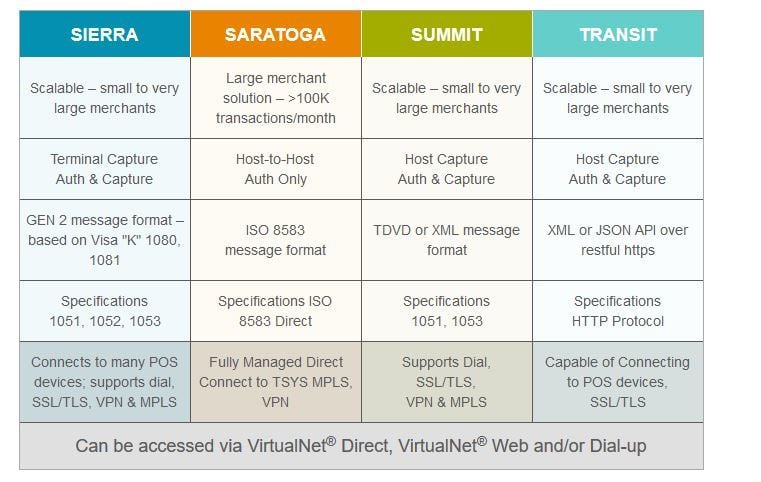 Overview
TSYS provide seamless, secure and innovative solutions across the payments spectrum from issuer processing and merchant acquiring to prepaid program management delivered through partnership and expertise.
Web Payment Gateways and Processors
•Use merchant solutions.
•Credit card terminals.
•Tablet based POS system.
•Provides Security.
•Use customer service and technical support.
Small (<50 employees), Medium (50 to 1000 Enterprise (>1001 employees)
What is best?
•Use merchant solutions.
•Credit card terminals.
•Tablet based POS system.
•Provides Security.
TSYS is a credit card processor, merchant acquirer, and bank credit card issuer. TSYS provides payment processing, merchant, and related payment services to financial and nonfinancial institutions in the United States, Europe, Canada, Mexico, and in other parts of the world. TSYS makes payments possible for hundreds of millions of consumers who navigate today's global marketplace.
TSYS makes it possible for millions of buyers and sellers to move money around the world with trust, confidence, and secure services through the support of issuing services, acquiring services, prepaid solutions, and merchant solutions. Issuing services include consumer, credit, debit, healthcare, loyalty, prepaid, chip, and mobile payments.
TSYS improves the business of acquirers by giving payment acceptance services for protection and growing their merchant portfolios. Netspend is a TSYS company, a leading provider that gives corporate payroll card solutions to the employees with direct deposit option, cut costs, saves time with paperless payroll solutions and rewards employees with commercial incentive cards. It also uses customer insights to enhance customer engagement. TSYS gives industry's leading prepaid solutions to the consumers.
TSYS touches millions of customers and their businesses by supporting awesome payment transactions. The payment solutions of this platform make safe and secure electronic transactions with trust and convenience. TSYS is a global and publicly traded company that operates in more than 80 countries and provides electronic payment solutions to the world's most high-growth emerging markets.
TSYS Merchant Solutions handle payment processing for customer's unique business needs. TSYS Industry Solutions give payment foundation for the customers by easy payment acceptance. It gives industry-leading security that protects the customer's business and customer's data. So, TSYS delivers advanced technologies and enhanced solutions to the world's leading companies and provides first-rate service and comprehensive end-to-end payment solutions to the companies.