Tracx Social Business Platform to Engage at The Speed of Social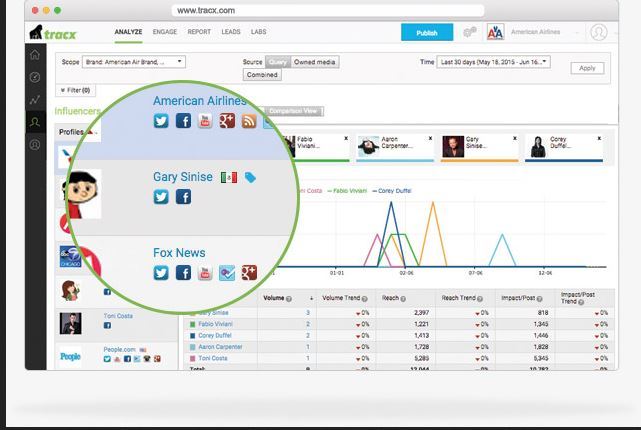 Tracx includes new marketing and social customer care capabilities and advanced engagement features and enterprise workflows all directly integrated into its existing social analytics platform. As consumers continue to use new social media channels to connect with brands, products and companies, Tracx continues to evolve its social business cloud to enable organizations to keep pace with the connected, on-the-go consumer. The Tracx platform has been built from the ground up to provide its users with an understanding of today's complex consumer audiences, and these latest updates aim to enable marketers to better satisfy customers that expect authentic, real-time communications and interactions from the brands they love. With the enhancements to the platforms streaming and tagging features, enterprises can now take precise, targeted action on meaningful social opportunities faster and more effectively than ever before.
"The speed of social media brings new challenges to marketers, and enterprises as a whole," said Rick Rudman, Chairman and CEO of Tracx. "They need to be equipped to monitor and capture an ever growing stream of social activity in real-time, and also to quickly analyze and take action on those activities in a coordinated way across their organization. Tracx's new capabilities were created to meet these needs, at a time when companies are being asked to keep pace with an ever-changing consumer and social business landscape."
Tracx's new streaming features optimize real-time engagement flows for the enterprise. Designed to display incoming social content in customizable and segmented news-feeds, marketers are now able to focus their efforts with high levels of precision and stay on top of what's happening with their brand in real-time. Tracx's highly flexible tagging system can then be implemented for more effective and efficient campaign analysis and team collaboration. Marketers with access to Tracx can sort incoming social content by custom tags to see which areas of their business are being discussed, as well as support a larger foundation of customer care and social relationship management throughout the customer journey and across the entire enterprise. Users can assign personal inquiries, unique pieces of content or entire conversations by custom tags to the appropriate team member that is most qualified to take action.
Tracx's latest updates help marketers and customer care teams, as well as other roles in the organization, to better discover opportunities and engage with their audience while maintaining task organization and understanding and accounting for consumer patterns within social media and beyond.