Review
Trace Modeler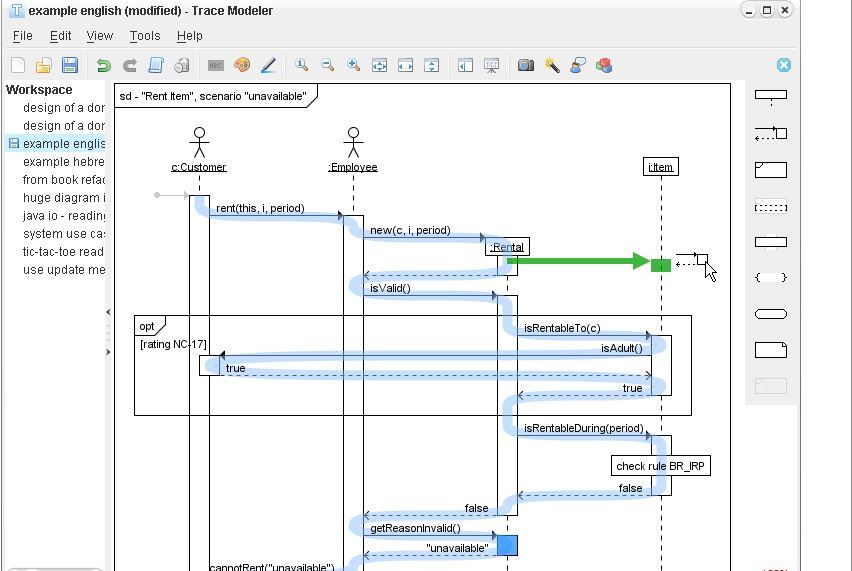 Overview
Trace Modeler is the sequence diagram editor that lets you work smart instead of hard.Its intelligent drag&drop interface and automatic diagram layout is guaranteed to make you more productive.
Unified Modeling Language Tools
Easy-to-use and used for smart UML sequence diagrams.
Use nice GUI.
Use intuitive drag & drop interface.
Splitting activations.
Inlining message calls.
Automatic object lifetimes and control flow highlighting.
Saves tremendous amount of time.
The diagram layout is updated instantly and automatically.
Diagrams are visually pleasing.
Simple pricing. 30 day free trial available.
Contact Trace Modeler for pricing.
Small (<50 employees), Medium (50 to 1000 Enterprise (>1001 employees)
Trace-Modeler is an easy-to-use and smart UML sequence diagram editor for professionals. UML sequence diagrams are used to show how objects interact in a given situation. An important characteristic of a sequence diagram is that time passes from top to bottom: the interaction starts near the top of the diagram and ends at the bottom.
Trace Modeler is an innovative editor that works with Sequence diagram. It has an intuitive drag & drop interface that know of about the flow of control in the diagram and adapts accordingly. Whenever people want to make changes, the layout adjusts instantly and automatically. Trace Modeler came about by scratching a personal itch.
Trace Modeler will contribute to the software development community in three ways: make prototyping with sequence diagrams a mainstream technique, encourage people to better document the dynamics of their system, enable novice OO-developers to 'get' responsibility driven design. Sequence diagrams are a great way to prototype an object-oriented model but such an approach is only feasible if drawing and changing the diagrams can be done quickly.
It doesn't make much sense with conventional UML tools because too much time is wasted on graphical issues, but with Trace Modeler prototyping with Sequence diagrams has finally become feasible. The main benefit of using Trace Modeler is that it will save a tremendous amount of time, plain and simple. People only have to focus on the content of the Sequence diagrams, Trace Modeler will take care of the rest. So, Trace Modeler supports the sequence diagrams elements and it is the easy way to model object interactions and create UML Sequence diagrams.
You may like to read: Open Source, Free and Top Unified Modeling Language (UML) Tools and How to Select the Best Flowchart Software for Your Business