Review
Tour de Force BI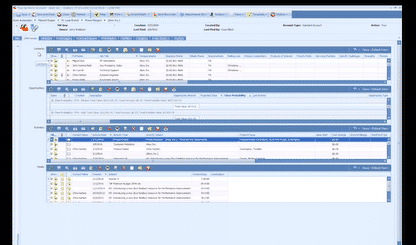 Overview
Tour de Force BI is a streamlined business intelligence software solution that provides analytics, reporting, and dashboards.
Business Intelligence Software
•Build Your Own Reports (BYOR) Module
•Workable on different devices
•Enables planning and goal setting
•Business System Integration Module
Small (<50 employees), Medium (50 to 1000 Enterprise (>1001 employees)
What is best?
•Build Your Own Reports (BYOR) Module
•Workable on different devices
•Enables planning and goal setting
•Business System Integration Module
What are the benefits?
•Easy integration with enterprise resource planning systems
•Protects information
•Creates reports
•Alerts & Notifications
Tour de Force BI is a business intelligence software. It collects data and converts the data in way that can directly utilized by the users. The data is processed in the form of reports. These reports can be analyzed by sales team to see how performances are going, what the ongoing trends are and how different sales goals are to be attained. The software also cater to the needs of vendors and suppliers.
This software feature has be termed as Vendor BI. With this feature companies can see data related to vendors and they can even manage their relationships with them in an effective way. The software is equipped with several diverse feature that streamlines different business functions. The software manages the contact details of the company with its stakeholders.
They could be suppliers, partners etc. This feature helps in improving relationship with stakeholders. The software helps reports developed to be disseminated across the software users, so that information is available to all. This helps in improving visibility of information. User can also develop their own reports that cater to needs of users and business. Enterprise planning system could easily integrate this software. The software has the capability to import over one thousand data point related to suppliers and customers.
This data could be further used for analysis and decision making. This information could be used to report the buy and sell side of businesses. The software can handle emails going out and coming to the organization. Information is protected by the software. Users can only see that information that one permit them to view. Rest information is kept in confidentiality.
The software allow users to see where opportunities exist. The software helps in conducting gap analysis to improve further in the future. Marketing activities such as developing a campaign could be designed by using inbuilt templates provided by the software.
The solution is workable on mobile phones, laptops, personal computers or tablets. Sales trend could be analyzed, milestones could be set and planning could be done using this particular software. This business intelligence solution manages diverse activities and is operable on different devices.
You may like to read: Open Source, Free and Top Dashboard Software and How to Select the Best Dashboard Software for Your Business
Tour de Force BI Videos