Top 6 Yard Management Software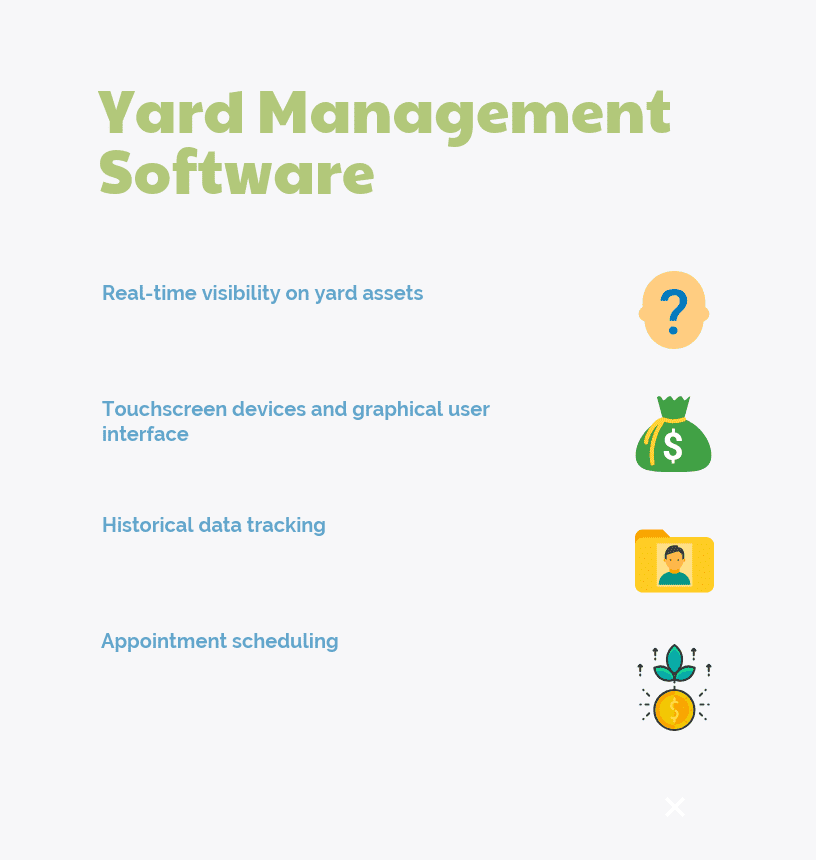 Most companies are of the view that it is possible to manage their yard by use of a spreadsheet, chalkboards or a card system. Yes, it is possible but these methods are prone to human errors which have a direct effect on the cost of operations. It only takes a couple of errors to bring your operation into a complete halt, a situation that could be avoided if there was a reliable yard management system to handle the operation.
To avoid such scenarios, it is important to invest in reliable software that will help to boost your efficiency, minimize costs, and as a result increase your profits. Yard management software comes in handy, especially when dealing with inbound and outbound freight from your yard. The software guarantees effective yard management which in turn reduces costs and improves efficiency in the organization.
Example of Yard Management Software: C3 Yard Management, PINC Yard Management, Manhattan Yard Management, INFORM Yard Management, HighJump Yard Management, YardView Yard Management are some of the best examples of Yard Management Software.
What are Yard Management Software?
Yard Management Software is designed to assist in tracking the movement of trailers and trucks from the yard of either a manufacturing center, warehouse or from a distribution center. The system is designed in a way that it is able to provide real-time information on the where about of trailers to employees. This information is used to direct inbound and outbound trucks, shipments, or vehicles in the yard to your dock in order to increase efficiency and improve on time management. Yard management system is normally used together with warehouse and transport management system. For faster and accurate tracking, the system also has an inbuilt radio frequency identification technology.
Real-time visibility on yard assets: Allows one to view all the assets that are being managed from the yard. These assets range from trailers, yard trucks as well as yard drivers. With a click of a button, you can easily tell how many trailers came in, how many are parked, which ones are empty, and the ones that are loaded and ready to leave. Armed with such vital information, an organization is able to operate efficiently thus saving on cost and time.
Touchscreen devices and graphical user interface: This feature allows the system to be optimized for use with touchscreen portable PCs. The devices are used to verify the loads that are delivered or leaving the yard and can be used from any location on the premise. It is also used to track the whereabouts of a trailer. The advantage of this device is that it can be used even on low network connectivity thereby ensuring no data is lost when you are offline.
Historical data tracking: The software is used to track trailers and movement of contents from multiple locations. This makes it possible for users to access detailed information of the trailer, driver, and yard activity alongside its current status.
Appointment scheduling: The software comes in handy in the management of drivers as they are able to prepare for and direct the drivers to the correct dock locations. This ensures there is efficiency during loading and offloading as the driver is directed to the appropriate location from the onset. With this feature, staff can use mobile devices such as barcode scanners and mobile scanners to collect data that is directly transferred to the yard management software for purposes of reporting and inventory management.
You may like to read: Why Small Businesses Need Enterprise Resource Planning Software and Top Best Practices in Enterprise Resource Planning
Top Yard Management Software
C3 Yard Management, PINC Yard Management, Manhattan Yard Management, INFORM Yard Management, HighJump Yard Management, YardView Yard Management are some of the Top Yard Management Software.
Top Yard Management Software
PAT Index™
1
C3 Yard Management
C3 has become the leader in Yard Management and Site Flow solutions, including dock scheduling, with an impressive roster of Global 5000 clients in manufacturing, grocery, retail, logistics and parcel post across three continents. C3 Yard's mobile shunter app provides clear instructions to yard drivers and tracks the execution of the tasks plus allows for inventory checks in real-time. Using the business rules and priority levels set up by yard controllers, C3 Yard constantly analyses the pool of work to assign drivers the most optimal tasks. A major benefit of implementing C3 Yard is to improve the gate operations by…
Overview
• Automated shunter task optimizer/assigner: C3 Yard's mobile shunter app provides clear instructions to yard drivers and tracks the execution of the tasks
• Real-time visibility on yard assets
• Exception alerts: Configure email alerts to highlight time-sensitive events requiring your attention
• Reporting datastore allows customers to build their own tailored analytical reports such as driver productivity, gate activity
• Trailer workshop management: Visibility on out-of-service assets
• Seal management: Follow up on seal discrepancies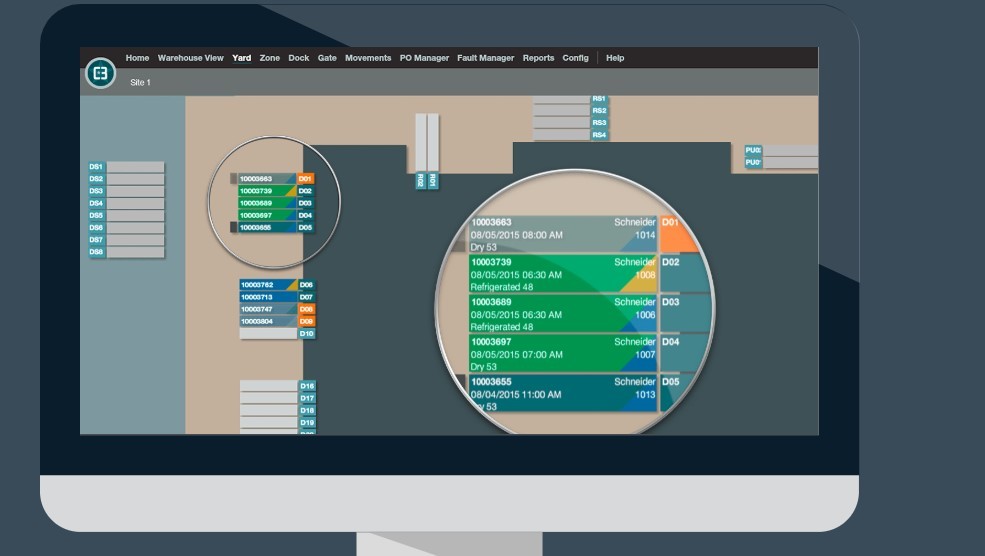 2
PINC Yard Management
PINC provides scalable software, hardware, and services that enable companies to move inventory throughout the supply chain faster, cost-effectively, consistently, and more efficiently. PINC can help users overcome traditional challenges including lengthy gate check-in processes, multiple or redundant moves, time-consuming yard checks, delays, excessive detention or demurrage charges, unproductive administrative time due to ineffective communications, lack of actionable information, and much more. Pinc Yard Management enables carriers to see their assets in the customer's' yards and make gate appointments online 24/7 eliminating the need for frequent phone calls and faxes. PINC cloud-based real-time asset tracking platform, powered by aerial inventory…
Overview
• Metrics: Standard, customizable and scheduled reports, alerts, dashboards & KPls
• Reefer management records refrigerated trailer information including temperature, fuel level, operating status
• Gate management: Streamline gate procedures and increases the velocity of gate check-in and check-out of trailers, yard trucks, shuttle trucks
• Yard truck and shuttle management: Monitor in real-time the location of the yard and shuttle trucks
• Dock management provides a graphical view of dock doors, showing yard asset details and the ability to initiate moves to and from the door
• More than 100 standard reports and dashboards including recent arrivals, departures, yard capacity, empties by carrier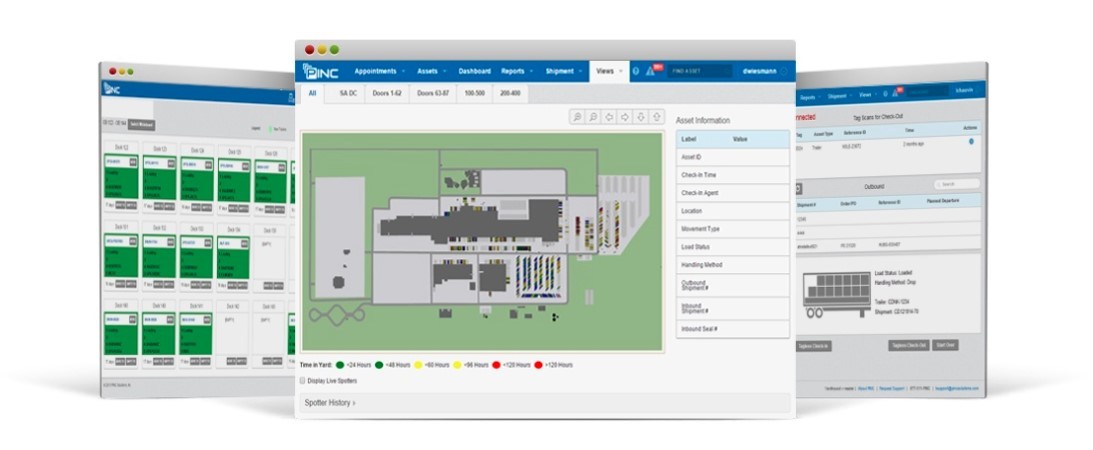 3
Manhattan Yard Management
With the rapid response required in today's supply chains, operational efficiency is more essential than ever. Manhattan Yard Management capabilities help ensure that efficiency by providing detailed visibility and task-based control of yard operations. And by maximizing the flow of all inbound and outbound goods, teams can reduce costs while meeting customer demands. Proven yard management solution enables users to plan, execute, track, and audit loads based on critical characteristics like shipment type, load configuration, labor requirements, and dock and warehouse capacity. Manhattan Yard Management shows all trailers and other yard assets and tracks their exact locations. By tracking task…
Overview
• Graphical view and task management of yard moves
• Guard Check-in and Check-out
• Slotting Optimization and Labor Management modules that improve product placement and employee performance
• Automatic information capture via modern handheld mobile devices
• Voice recognition and/or seamless Material Handling Equipment (MHE) integration
• External Parcel Integration (EPI) framework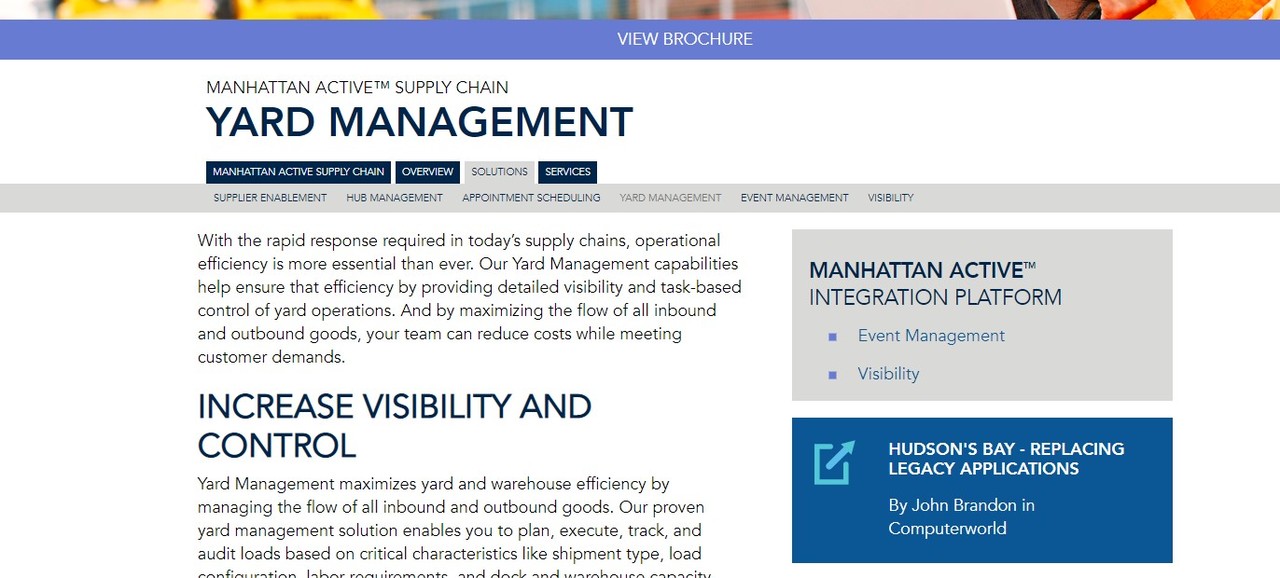 4
INFORM Yard Management
INFORM's YMS, SyncroTESS, enables the optimized organization of the yard and surrounding infrastructure, taking all relevant factors into account. The efficient and timely processing increases service quality while reducing costs. Capable of working as a standalone system or within the broader IT framework, the INFORM YMS can work in conjunction with existing warehouse management systems (WMS), enterprise resources planning (ERP) systems, and transportation management systems (TMS) to increase yard efficiency. With an enterprise deployment, the benefits are realized across all yards resulting in a collective improvement. INFORM yard management system brings efficiency to the yard but delivers value well beyond.…
Overview
• Gate management replaces traditional manual gate processes using spreadsheets, logs
• Advanced planning and management of workshop processes considering orders, parts, and available human resources by real-time tracking of activities
• Dock door management: Dock information displays at each door and handheld devices keep staff informed
• Semi-automation allows dispatchers to either approve system generated, optimized decisions or override them and make a manual asset movement decision
• Manual or sensor feedback from the yard resource confirms the transport order is completed
• A comprehensive inventory of on-site assets allows dispatchers to search for and locate assets easily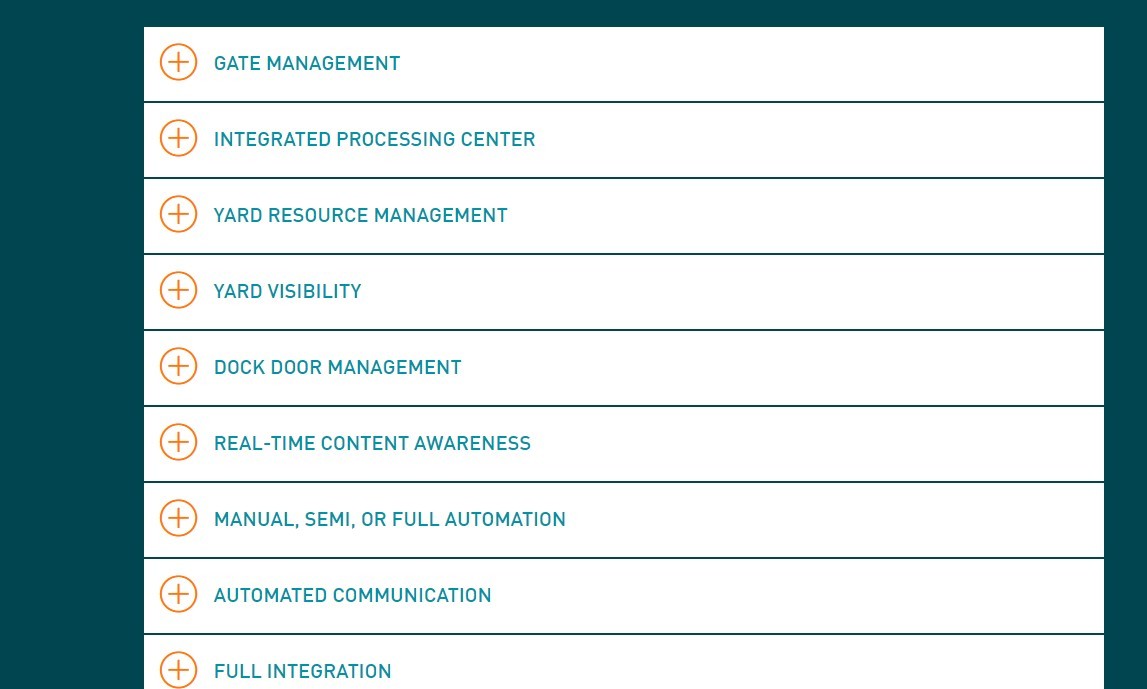 5
HighJump Yard Management
HighJump Yard Management is built for companies across a variety of industries, including retail, food and beverage, CPG, manufacturing and third-party logistics. Drag-and-drop functionality converts on-screen trailer moves into RF-directed work for yard drivers. At-a-glance symbols display key information such as trailer type, status, disposition, ownership, which trailers are damaged / out of service, and demurrage time. This automates and streamlines workflows while providing users with the exact position of items in the yard, eliminating time-consuming searches for misplaced trailers. Dynamic appointment scheduling capabilities will streamline dock assignments, helping to ensure you don't double book docks. HighJump yard management software…
Overview
• Real-time location tracking of trailers across multiple yards
• Preliminary notification about vehicle arrivals, departures
• User-friendly architecture retains customization with upgrades
• Dock scheduling system enables trailers to be assigned to the right door the first time
• Gatehouse Management: Inbound plan allows gate guards to easily identify the reason the trailer is on site and to direct it to the proper area in the yard based on the contents of the trailer
• Allocation of road transport by docks and processing zones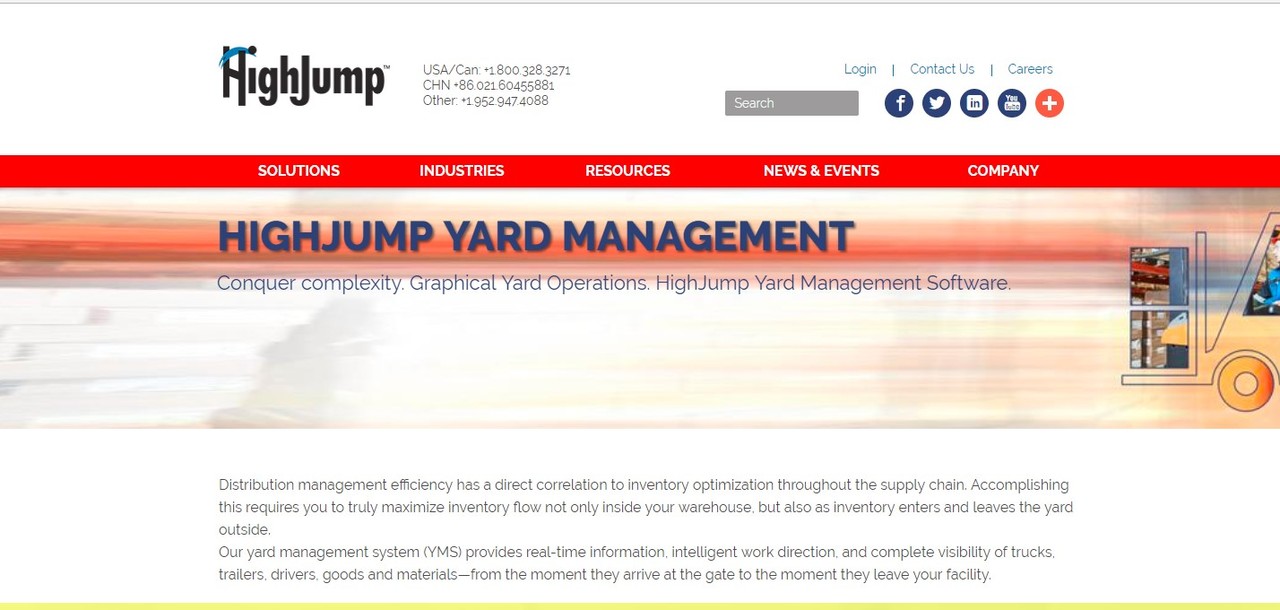 6
YardView Yard Management
Yardview is an advanced web-based inventory control system that offers customers the ability to view and manage their entire tubular inventory online. This industry-leading system aims to maximize its customer's inventory turnover by providing accurate and detailed inventory levels that are easily accessible. YardView provides easy-to-use yard management systems that will quicken processes by 50%, create greater flexibility and create 100% visibility among all of your sites. Using a yard management system for the trailer spotting will ensure an improved and more successful business. YardView is the top option for yard management systems due to the quality of the technology…
Overview
• Powerful Reporting: Highly customized, quick turn-around for specific customer requests
• Demurrage Tracking: Stay on top of deadlines and avoid unnecessary delays
• Monitors and Alerts: Stay connected to yard systems while on the go
• Driver Management: Simple interfaces for users who may not be very computer savvy
• One-Click icon reports are available for status, load types or areas and carrier names
• Query capabilities through a variety of filtered views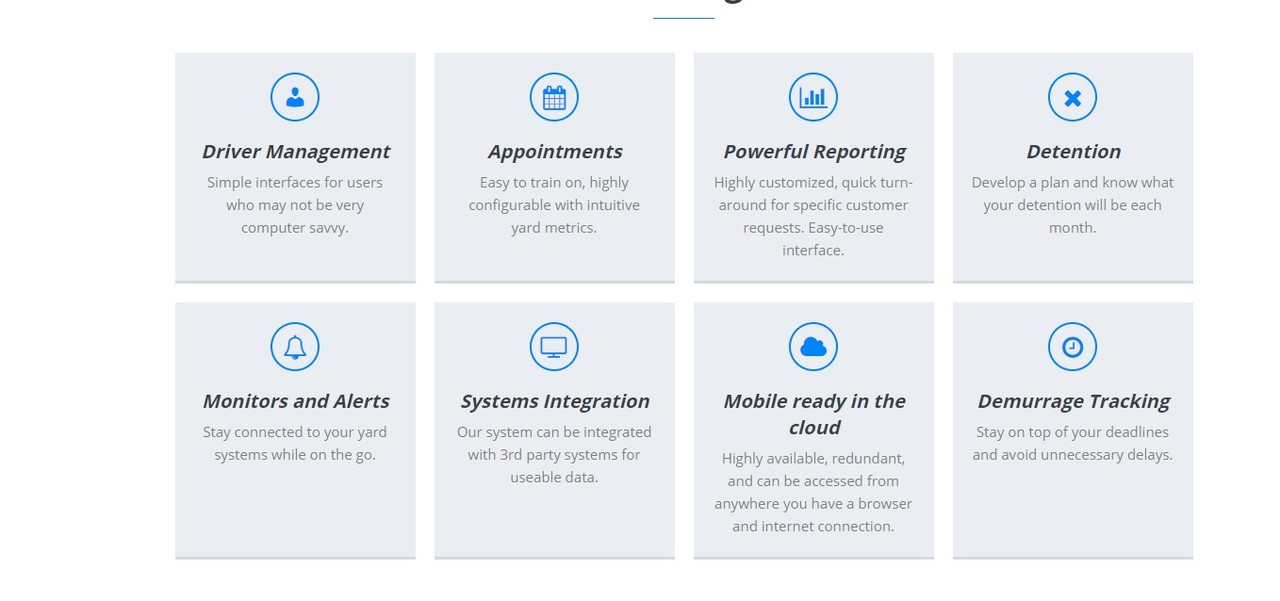 You may like to read: Top Best Practices in Enterprise Resource Planning