Top 15 Worst Practices in Enterprise Resource Planning Implementation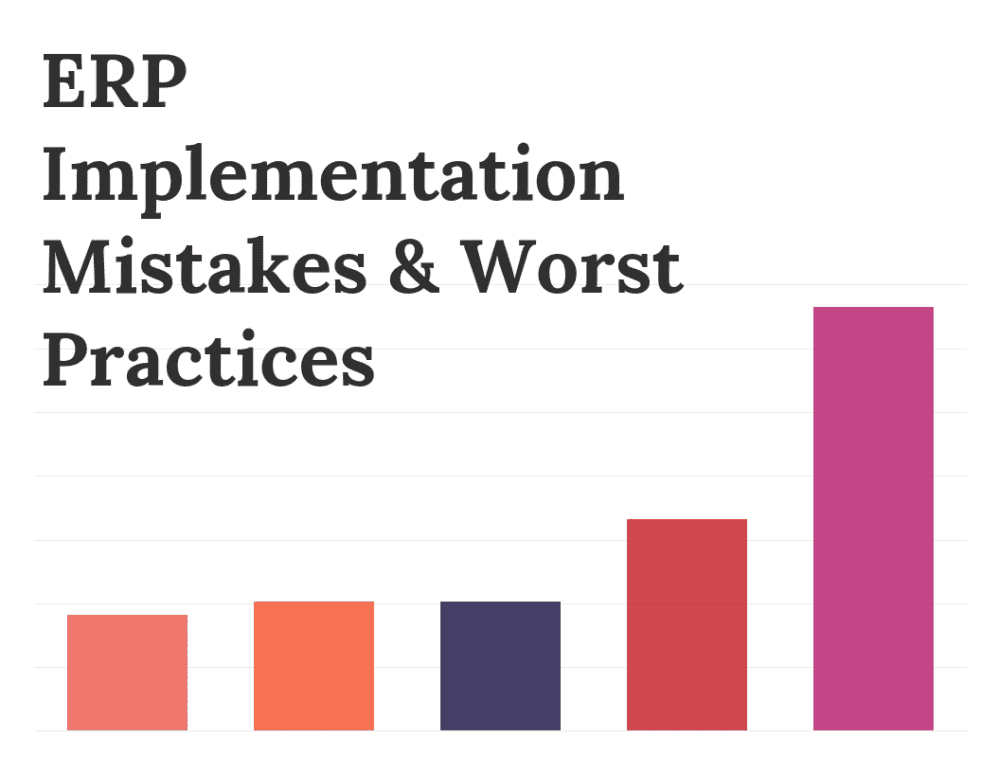 Enterprise Resource Planning refers to the automation and integration of a company's core business processes so as to help improve efficiency and increase profit margins. ERP systems enable businesses processes in such departments as procurement, production, sales and marketing, inventory management, and finance, to be integrated and make use of the same resources.
An ERP system can also aid in improving efficiency in the collection, monitoring and processing of data as well as protecting your critical data through well-defined security measures. Such a system can also allow businesses to plan and manage workloads based on the insightful forecasts. This is enabled by advanced inbuilt tools within such a system enabling a business to make informed decisions and deliver exceptional services to their customers.
However, there several factors that can impede or influence these achievements, and which need to be avoided by all means possible for the successful ERP implementation. In this article, we will highlight several reasons why many business startups and even established organizations fail to succeed in implementing an ERP solution.
You may like to read: Top ERP Software, Free, Open Source ERP Software, Top ERP Software for SMB, Top Cloud ERP Software, ERP Software for Large Business.
Top 15 Worst Practices in Enterprise Resource Planning Implementation
Failure to define critical business processes: Most companies fail to point out key business process they want to be addressed by an ERP solution. Instead, they try to automate and integrate all existing business processes at once. What is bad about that is the fact that they end up automating processes that are inefficient. Rather than migrating all existing business processes to the ERP software, companies should take time to evaluate their critical business processes and prioritize. This way, outdated and inefficient processes can be disposed or be re-designed.
Thinking that ERP implementation is a one-off event: The process of implementing an ERP shouldn't be considered a one-time event. It involves many different of activities; from analyzing business requirements, conducting acceptance tests and training, installing such software, modifications, to going live. Moreover, it requires the involvement of different stakeholders, who will be affected either directly or indirectly.
Lack of a dedicated implementation team: In most cases, ERP systems are implemented while existing business processes are still up and running. Therefore, companies that do not set up a team with the sole responsibility of ensuring the ERP system is implemented in harmony with other business processes is bound to experience problems during the implementation process.
Inaccurate estimates of the ERP project: Often top executives may try to achieve more for less. They tend to underestimate needed resources or undervalue the expenses incurred in the implementation of an ERP project. For instance, if the process is underfunded or there is unavailability of essential resources, the implementation process may end up costing the company even more than what was budgeted for.
Ineffective communication between departments: The implementation of an ERP solution entails the involvement of all departments in the organization since most of their processes will be integrated into one solution. Accordingly, if there is inadequacy in terms of communication between these departments, the implementation process can be quite a muddy affair. Executives should, therefore, set up a comprehensive communication structure that ensures all parties are updated on the status of the implementation process at every stage. That way, everyone will be well-informed about any changes in the process or about things that need immediate attention.
Prioritizing ERP features over business needs: Too often, organizations fall into the trap of wanting to include as many ERP features as possible and in the process fail to look at how such features match their business needs. Instead, companies should look at other elements such as flexibility and integration ability of the system.
Implementing an ineffectual ERP solution: When looking for an ERP solution, most executives go for the most popular solution out there. Most of these solutions end up being ineffective for their companies because they are not the best fit for their kind of business. Instead, the success rate of a particular ERP solution in the industry should be taken into account to reduce any risk of failure.
Underestimating the importance of user training: Organizations fail to train end users or enlighten them on the workings of an ERP system during the implementation process. Some don't even involve the end users throughout the implementation process. This is quite evident in that even when the ERP system is up and running, most users are still not able to use it. Since the ERP system is meant to be used by end-users, an ERP solution cannot be complete when end-users are not properly trained.
Taking data migration too lightly: Most organizations overlook the need for efficiency in data migration. They fail to understand that failing to invest in a comprehensive data infrastructure negatively impacts the efficiency of business operations. If this is not planned for, a company can expose one of their most vital assets – data. This could also result in delays and missed deadlines due to the difficulty involved in moving data from one system to another.
Excessive customization's due to business requirements: As a company seeks to ensure maximum utilization of the ERP solution, they can ask the developers and implementers to customize some of the features of the software based on their varied business requirements. However, if these customization's are too many, they may interfere with the implementation process or lead to the unnecessary implementation of complex functionalities.
Overlooking change management: During the implementation process, it is highly likely that a business can be transformed in many ways. However, many organizations tend to concentrate on how the ERP technology can improve and simplify business operations, and ignore the impact of such changes. If some of these changes turned out to be more complex than anticipated, they can pull back the implementation process making it take longer than given timelines. Instead, companies should recognize that these changes do not only affect business processes but also the people involved. Hence, the management should introduce measures that take into account any change when it comes to people, processes and technologies.
Conflict of people, time and project scope due to insufficient personnel: If the ERP implementation process is understaffed, it may lead to conflict between people and time, or even the entire project scope. This can take a turn for the worse if no decision is made or no solution is arrived at soon enough. It can extend the problem even further and take away much-needed morale and enthusiasm during the implementation process. It can also take the focus away from pertinent activities or issues and direct it to non-issues.If left Unchecked, this kind of conflict can instigate polarization, which can result in emotional and personal attacks on the skills and capabilities of individual members. Subsequently, these members will concentrate on defending their worth or redeeming their pride rather than focusing on what is best for the organization. This type of conflict should never be allowed to happen or move out of control during the ERP implementation process.
Clashes between process stakeholders: Clashes can take the form of disagreements during the system design or implementation process. This could be caused by the lack of proper training and consultation, or laxity on the part of the management to build strong relationships with different stakeholders. For this reason, some people might feel that the ERP system is been pushed down their throats. Such conflicts could also be about the effects of the ERP system on their shared beliefs and the culture of the different stakeholders, who might feel that it could cause a culture of distrust, suspicion and secrecy among the stakeholders. If not resolved, these disagreements can also lead to disarray in the organizational structure due to issues related to control mechanisms and power distribution. This can have a negative impact on the implementation process as well as other business processes.
Overlooking critical technical issues: If development teams ignore critical technical issues like how many separate instances or versions of the system to install, it can lead to serious compatibility and integration challenges. For instance, the original scope of one certain project was 13 systems, 10 conversions, and no enhancements or custom reports. After experiencing a hitch the team found out that the project required 60 systems, 10 conversions, 8 enhancements and 6 custom reports. This change in scope extended the project implementation by an extra 1 year.
Lack of a maintenance plan: If a company does not put into place maintenance plans for the ERP system, such a system can become outdated or even obsolete. Hence, the successful implementation of an ERP solution is one that ensures such systems are updated or upgraded whenever necessary. It also ensures that all employees are enlightened on what needs to be done to improve and maintain the system on a regular basis.
Conclusion
Knowledge is power. However, the problem lies in not putting that knowledge into practice. Companies should now know what NOT to do during the implementation of an ERP solution to ensure that it meets business requirements and achieves its intended objectives.
In order to succeed in an ERP Implementation, organizations have to focus by simultaneously developing, defining and aligning the organization's strategies, and business and IT infrastructure and processes with the ERP Implementation process.
Here are the trending and the top rated ERP Software SMB for you to consider in your selection process:
Here are the trending and the top rated ERP Software Cloud for you to consider in your selection process:
Here are the trending and the top rated ERP Software Large for you to consider in your selection process:
Here are the trending and the top rated ERP Software Free for you to consider in your selection process:
You may like to read: Top ERP Software, Free, Open Source ERP Software, Top ERP Software for SMB, Top Cloud ERP Software, ERP Software for Large Business.