Top 9 Winery Management Software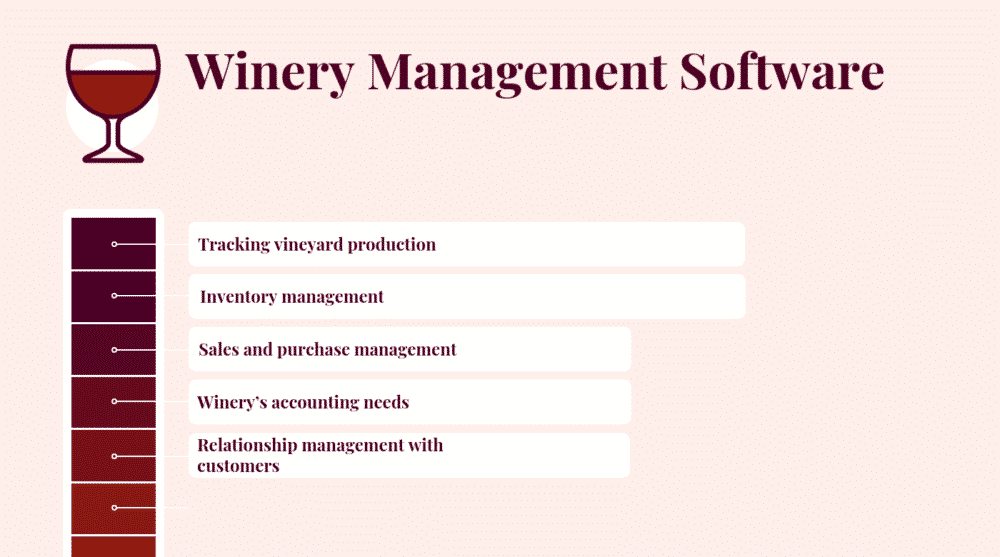 Winery business is not all about selling the bottled wine to your clients, it starts from production and runs all the way to accounts, inventory management, sales, and shipment. Managers can find it tasking especially if they don't have the right tools in place. This is because you need top-notch planning and management if you are to offer exemplary services and keep your customers fully satisfied. That's why winery owners invest in a winery management software to assist with the streamlining of the winery operations.
Example of Winery Management Software: GreatVines, EzyWine, vinSUITE, VineSpring, Wine Direct, DeVineWare, ShipCompliant, VinBalance, Vines OS are some of the Top Winery Management Software.
What are Winery Management Software?
Winery Management Software is a system that is used in managing and optimizing all the stages involved in wine production. The software can also be used in the management of sales, inventory, and distribution of wine. Besides the above functionality, winery management software can also be incorporated to carry out tasks such as cost tracking, production management, packaging as well as distribution.
From the above breakdown, it is evident investing in the right tool for your winery is vital. The question is, how can you identify the right software for your business. Below are some of the critical features you should consider having.
Tracking vineyard production: For best results, your wine production must be managed right from the source. Ensure there is proper monitoring of yields, vineyard scouting as well as harvest tracking. You need a tool that can track your vineyard information and activities including current and historic vineyard data to ensure that you get it right from the word go.
Inventory management: At any winery, the most tedious job is to keep track of inventory. You should ensure your software has a feature that allows tracking of the production history of each bottle, has batch-wise traceability that makes physical stocktaking easy and manageable. Investing in such a system guarantees you error-free data as well as save time for your staff. Look for a tool that can easily track wine bottle right from production all the way to bottling, selling and eventually shipment.
Sales and purchase management: Assists one to track the sales of your wine be it under wholesale, retail, export or licensing. The system should also alert you on pending payment and calculation of commissions where necessary. The system should easily integrate with your point of sales and also facilitate online payment to cater for clients who prefer placing their orders online.
Winery's accounting needs: This makes it possible to keep records of all transactions and also provides an audit trail of all the activities. Such a system guarantees data integrity as it's a bit difficult for external forces to manipulate your accounting data. Go for a system that can develop an annual budget as well as track costs in real time.
Relationship management with customers: Can only offer personalized services to your clients if you have insights into their preferences. Invest in a system that allows your customers to have personal log-ins where they can update their details as well as customize their orders. The system should also facilitate quick and prompt correspondence with your patrons and club members as well as enable you to send bulk but personalized emails and newsletters with a click of a button.
You may like to read: Top Vineyard Management Software
Top Winery Management Software
GreatVines, EzyWine, vinSUITE, VineSpring, Wine Direct, DeVineWare, ShipCompliant, VinBalance, Vines OS are some of the Top Winery Management Software.
Top Winery Management Software
PAT Index™
1
GreatVines
GreatVines manages account development, trade marketing, order entry, depletions and analytics unique to producers and distributors of Wine, Spirits and Beer. GreatVines is setup for daily data integration with leading data providers Nielsen BDN and Vermont Information Processing, giving suppliers visibility into Retail Sales (known as RAD or STR respectively) and wholesaler depletions. GreatVines integrates distributor depletion and retail sales data down to the account level, along with other CRM and sales activity data in the system. Distributor data (either from Nielsen BDN or another partner) provides a 360-degree view of the customer not available with other solutions and reporting…
Overview
• Account Objectives: Track objective status, sales ROI and completion percentages
• Report wizards make quick work of running reports on depletions, promotions, activities, menus or any other KPIs for measuring success
• Sales trend analysis and distribution velocity
• Daily distributor sales reports
• Goal Management enables management to set, execute and measure goals for driving any strategic imperative
• Robust survey auditing ensures greater accountability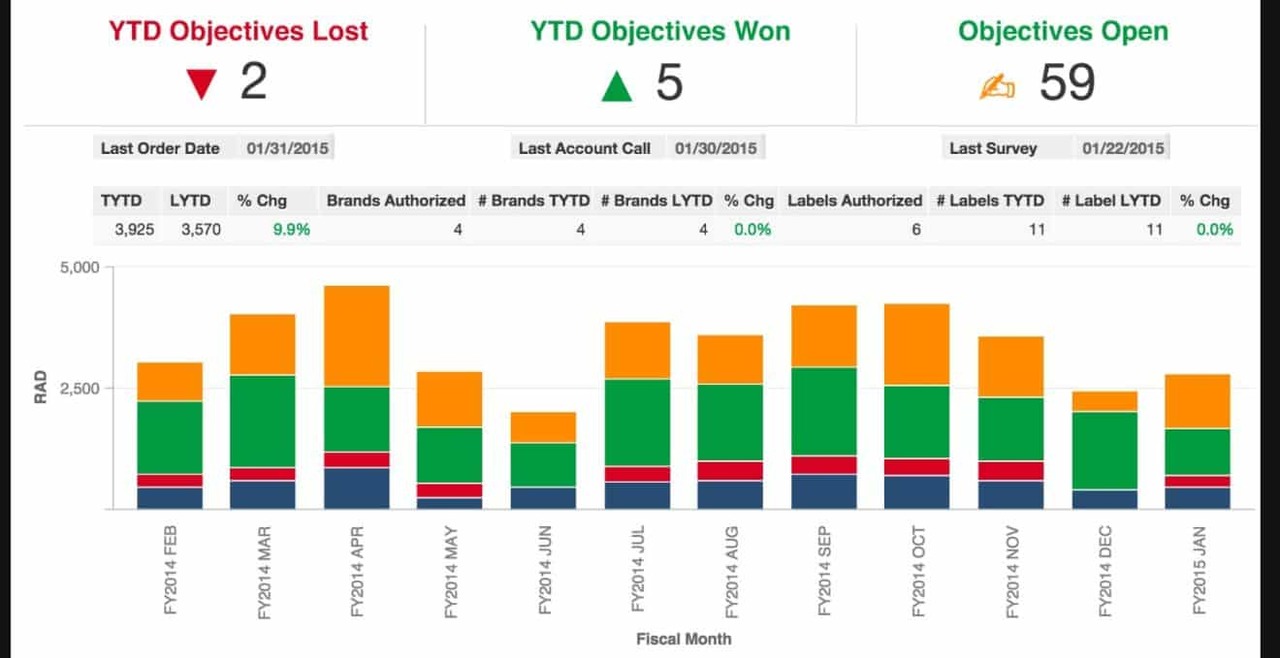 2
EzyWine
EzyWine streamlines all winery procedures into one comprehensive package which can be easily utilized by every user. It removes the need to run separate vineyard, weighbridge, winemaking, bottling, plant servicing, accounting, payroll, asset register, marketing & CRM, budgeting, mail order, POS and wine club packages, removing the inaccuracies and costs associated with double-entry. All operations are consolidated, removing the time, errors, cost, and stress of trying to utilize multiple packages. EzyWine is ideal for wineries that only require general accounting, stock control, payroll, CRM, wine club and POS. EzyWine allows its clients to specify whether to record Booking Number, Crusher,…
Overview
• Stationery Designer allows users to produce a customized format for each operation type
• Blend Calculator Trial blends are stored by user ID and can be auto loaded into Cellar Work Sheet Entry
• Sales invoice: Automatically generated but can be adjusted if required
• Creditor Search By Code, Alias, Name, Address or Email
• Interfaces With Purchase Order & Weighbridge (freight) Modules
• A&P and Claims Tracking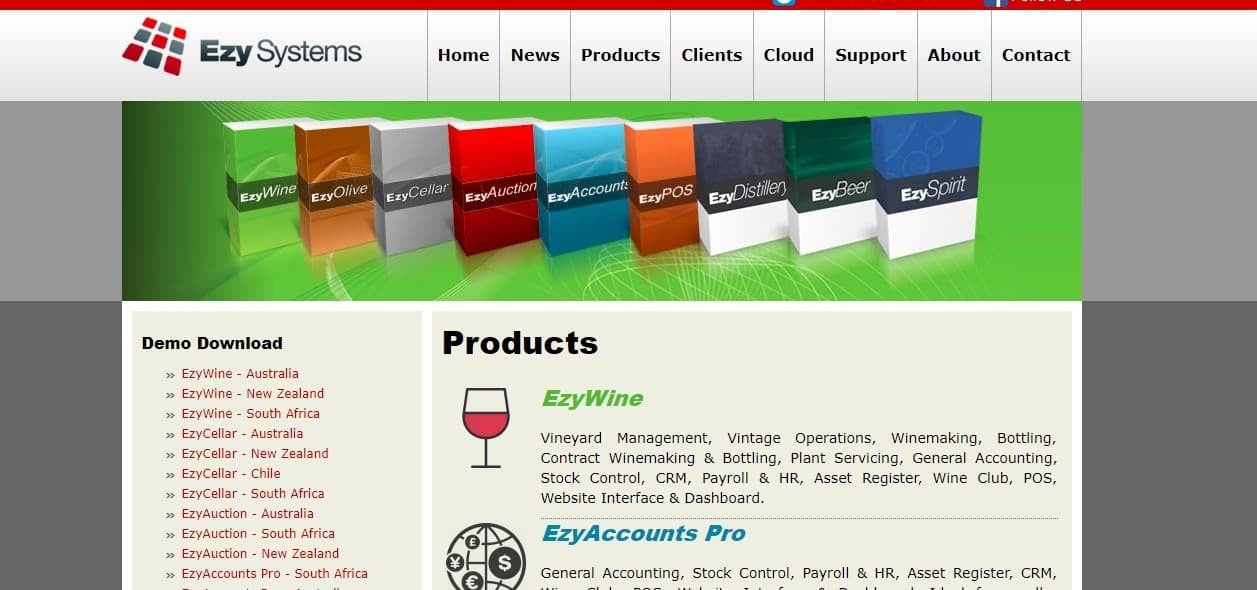 3
vinSUITE
vinSUITE's Winery Software serves thousands of wineries, including direct-to-consumer Wineries, tasting rooms, and other wine businesses. Affordable and easy-to-use, vinSUITE's Winery Software offers a central, cloud-based hub for managing POS, eCommerce, and Wine Club, from any computer at any time. From the tasting room to the web, vinSUITE provides the best sales software for wineries on the market with its tailored business solutions, affordable pricing, and exceptional customer support. It allows easy access finding members & tracking past member purchases. vinSUITE's automated shopping cart recovery solution runs in the background of your site bringing back customers automatically. Easily test subject…
Overview
• Data Discovery: Easily analyze data sets from both inside and outside the organization
• Secure payment processing, including EMV
• Detailed customer data & wine club integration
• User-friendly shopping features, designed specifically for wine sales
• Admin panel: Quickly make website updates without needing a designer or programmer
• Visualization: Interconnected charts and graphs make it easy to understand the story behind your data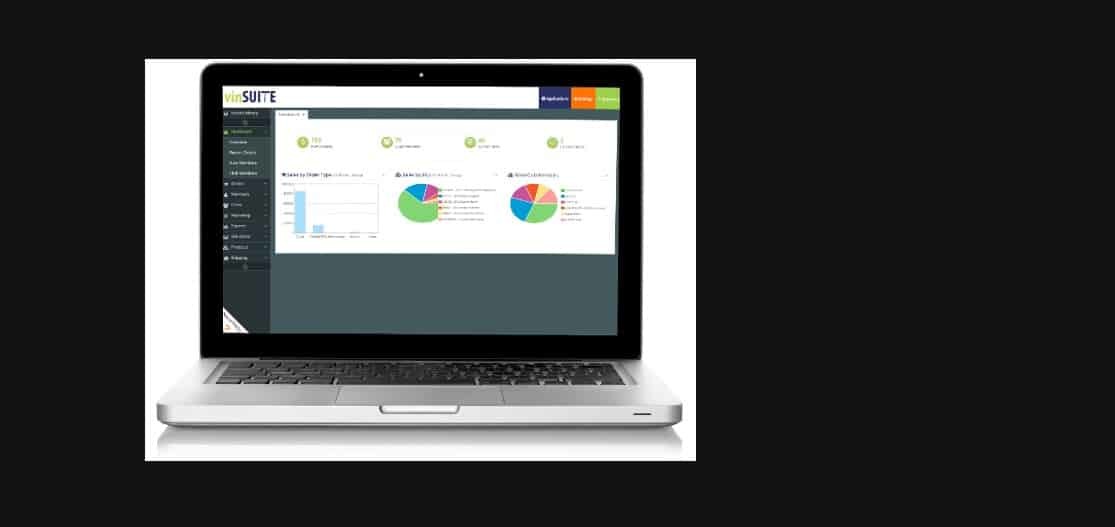 4
VineSpring
Founded in 2011, VineSpring built its reputation solving eCommerce problems for small, highly allocated US wineries. VineSpring is designed to make DTC easy for wineries. Because VineSpring was developed by people in the wine business, it is way more user-friendly for winery owners than other platforms. eCommerce, allocations, clubs, promotions, streamlined ordering and check out – each winery and brewery uses VineSpring in its own unique way. Segment customers and assign products in just a few clicks. Provide a streamlined purchase flow for your customers. Manage wishlists and control inventory with ease. Used by some of the most highly allocated…
Overview
• CRM: Manage all customers in one place via the VineSpring admin
• Promotions: Create simple yet powerful discounts on products and / or shipping
• Secure Storefront: Every account comes with an out of the box, mobile responsive, hosted storefront that takes minutes to configure
• Automatic updating of stored credit cards is included with every VineSpring account
• MailChimp Sync: Automatically syncs customers to MailChimp so one can take advantage of automated workflows
• Audit Trail / Logging: Track what actions happened in the VineSpring admin
• Starter - $99 / month
• Standard - $199 / month
• Professional - $399 / month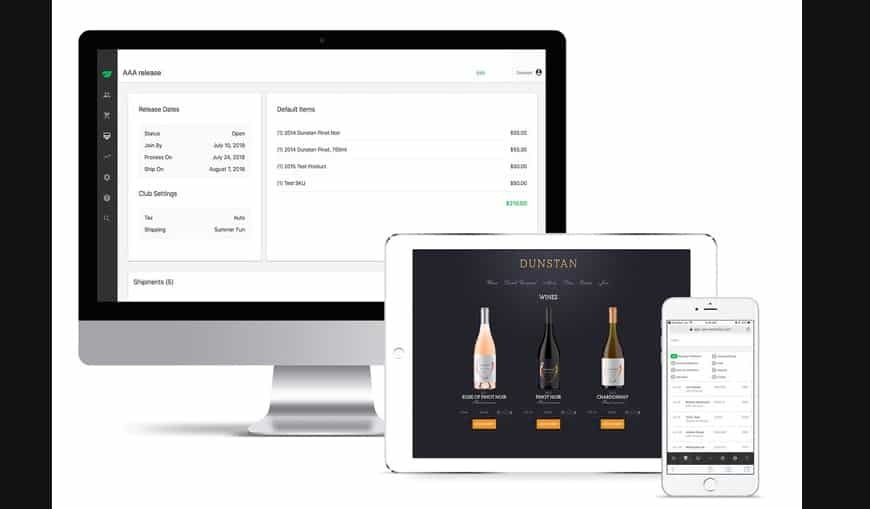 5
Wine Direct
WineDirect provides everything a winery needs to start, manage, and grow direct-to-consumer (DTC) business. Experience increased sales, the benefits of big data, and unmatched accuracy. WineDirect's ecommerce platform is the only one to offer built-in marketing tools to encourage customers to try—and buy—more wine. WineDirect fulfillment clients sleep easy: Orders placed by 1 p.m. are sent out the same day, with a 99.98% order accuracy rate and 2-day shipping to 90% of customers in the continental U.S. Sell anywhere with a mobile-first system that can be used on any browser or iOS device with a data connection or WiFi. Easily…
Overview
• Advanced weather management tools allow users to place an individual order or even an entire state on hold
• Built-in upsell and email marketing tools
• Built-in credit card updater automatically updates lost, stolen, or expired credit cards, reducing card declines by up to 50%
• Comprehensive dashboard reporting
• Comprehensive customer profiles—including order history and club memberships—enable users to easily manage contacts and provide better customer service
• Manage shipments with an intuitive online portal, fully integrated with the ecommerce platform

6
DeVineWare
DeVineWare offers distribution management, depletion, and inventory software for wineries. DeVineWare has allied or partnered with several widely-used wine industry software and service solutions. By integrating and providing feeds to other third-party vendors databases, DeVineWare has achieved a seamless link between its information warehouses. This means more efficient and effective information sharing and less redundant systems and data entry. The DeVineWare / VinNOW integration allows wineries to seamlessly integrate VinNOWs orders, inventory and Custom Integration Options Available Accounts Receivable information, with DeVineWare's core competencies of 3-Tier Sales Orders and inventory management with a full complement of Account and Distributor sales…
Overview
• Web site analytics are reviewed on a monthly basis for key statistics that drive direct traffic, including on-line sales, order size metrics, wine club growth actual / plan, tasting room statistics and email campaign tracking responsiveness
• Detailed awareness of customer relationship management
• Collected depletions in-house, for the highest-quality, customer-focused information
• Post card campaigns and design for an alternative way to communicate with wine club members
• Inventory: Set up and manage inventory to keep track of products
• Useful reporting tools that enable users to view sales and customer data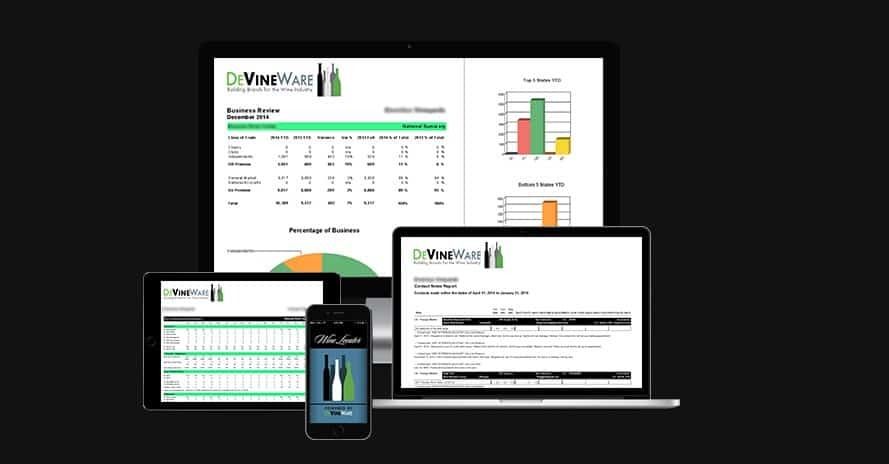 7
ShipCompliant
ShipCompliant by Sovos is the world's only complete beverage alcohol compliance software for wineries, enabling revenue growth while reducing the burden of tax compliance, reporting and product registration by automating compliance with complex state and federal regulations. The cloud-based solution accelerates wineries' ability to navigate complex state-by-state regulations, bring new products to market and distribute to customers with confidence that they are complying with the many state and federal regulations. Direct integration with state and federal agencies, combined with a team of regulatory experts, ensure wineries have access to the most up-to-date rules, tax rates and forms to minimize risk…
Overview
• AutoFile: Gain full confidence that reports and remittances are being filed accurately and on time
• Direct: Streamline direct-to-consumer wine sales, while maintaining compliance with licensing, tax collection and payment
• Automated, complete project management and real-time government integration simplify go-to-market complexities
• Prevent costly trademark disputes through proactive market research and monitoring
• Complete project management workflow
• Industry-leading shipment options – Self-service re-routing to carrier locations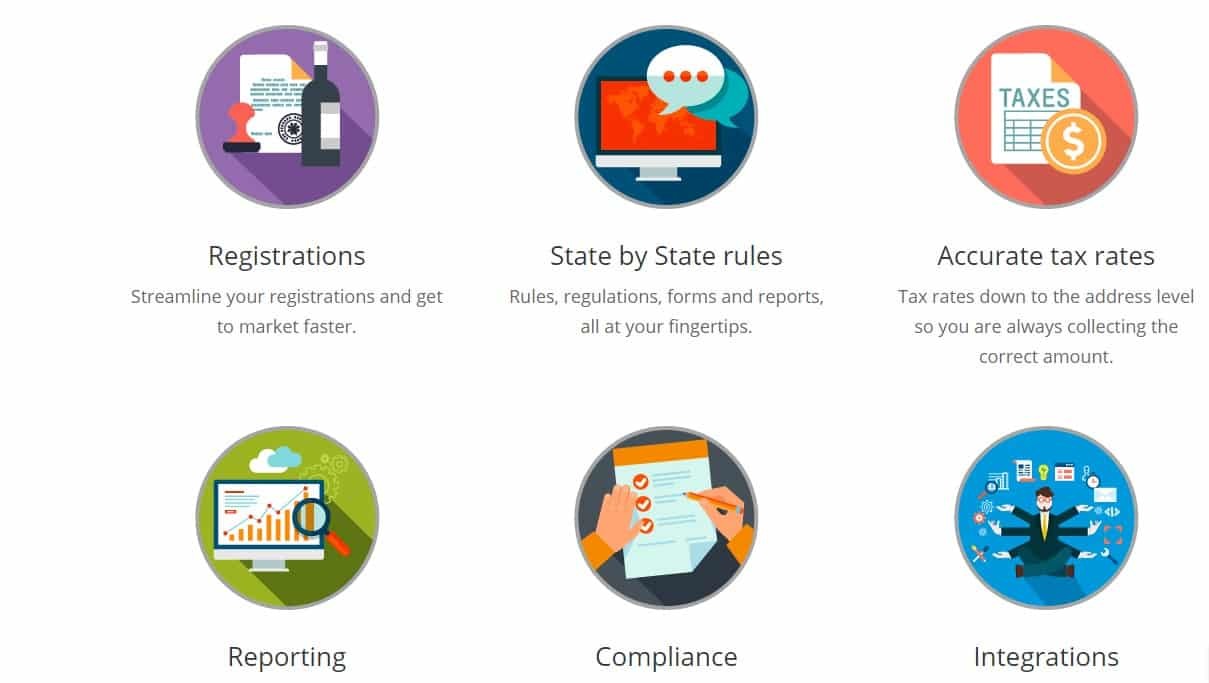 8
VinBalance
VinBalance is complete winery management software. From crush to the customer, VinBalance handles the complete winery business cycle. Comprehensive accounts receivable, accounts payable, inventory, distribution, tax reporting, payroll, general ledger, tasting room point of sale and wine club features bring all of your records into a controlled and accurate system. With VinBalance, users can eliminate the need for separate software packages that integrate poorly with the rest of the business systems. Concentrate on winemaking and sales instead of copying numbers from one system to another. Winery production is fully monitored and reported with automatic links to inventory and in-process production…
Overview
• The Lot Browser displays both current and historical lots in a single, easy to user form
• Vineyard Block Planner: Record planned harvest details, make observational notes and even compare with records from prior vintages
• Extensive inventory reports can be printed as of a specific date
• Fast, on-line credit card authorization
• Customer Relationships: Unified customer records across tasting room, wine club and e-commerce sales keep you in touch with sales trends
• Power Shipping: FORT shipping tools let users choose and track the best carrier for any order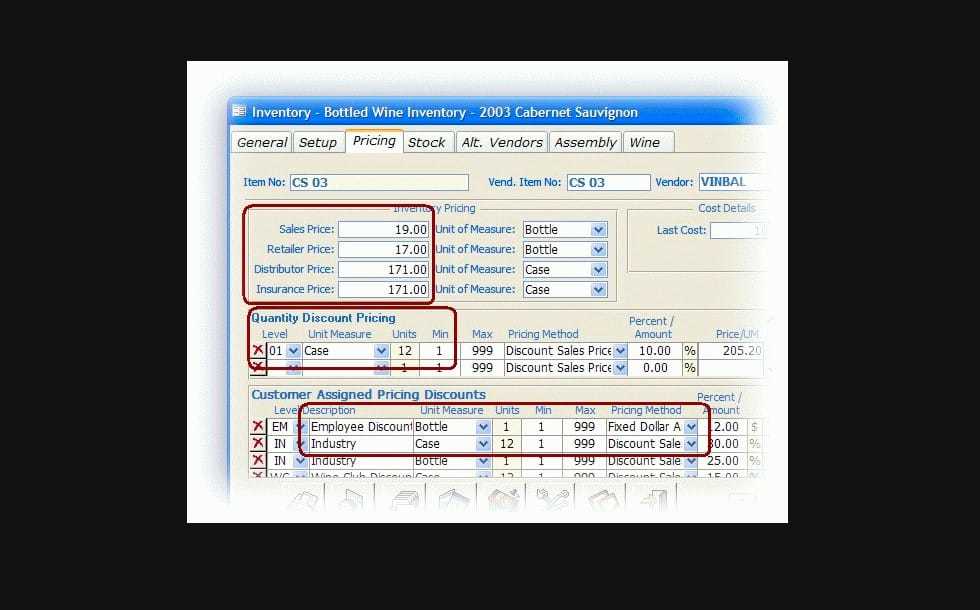 9
Vines OS
Vines OS has been powering wine club and eCommerce for wineries since 2002. Intuitive and easy to use, Vines OS gives its users the tools they need to run clubs, sell wine online, book events or tastings and keep their website updated. When guest visitors are buying online, Vines OS promotes conversion to membership. It shows buyers how much they would save by becoming a member and allows a one-click sign-up during checkout. Capture a sale and grow the wine club simultaneously and effortlessly. Vines OS is seamlessly integrated with the most feature-rich iPad POS platform on the market. Create…
Overview
• Premium customer service and customized onboarding for fast launches
• Streamlined cart checkout is designed to increase online orders
• Revel POS & Quickbooks POS Integrated
• Embedded dunning control for decline management as well as Decline Minimizer cuts down on the time you spend calling members for declined credit cards
• Email Tools Built In: Filter for the club, or choose all clubs, compose email, preview and send
• 24/7 Support team will assist with any and all questions about the system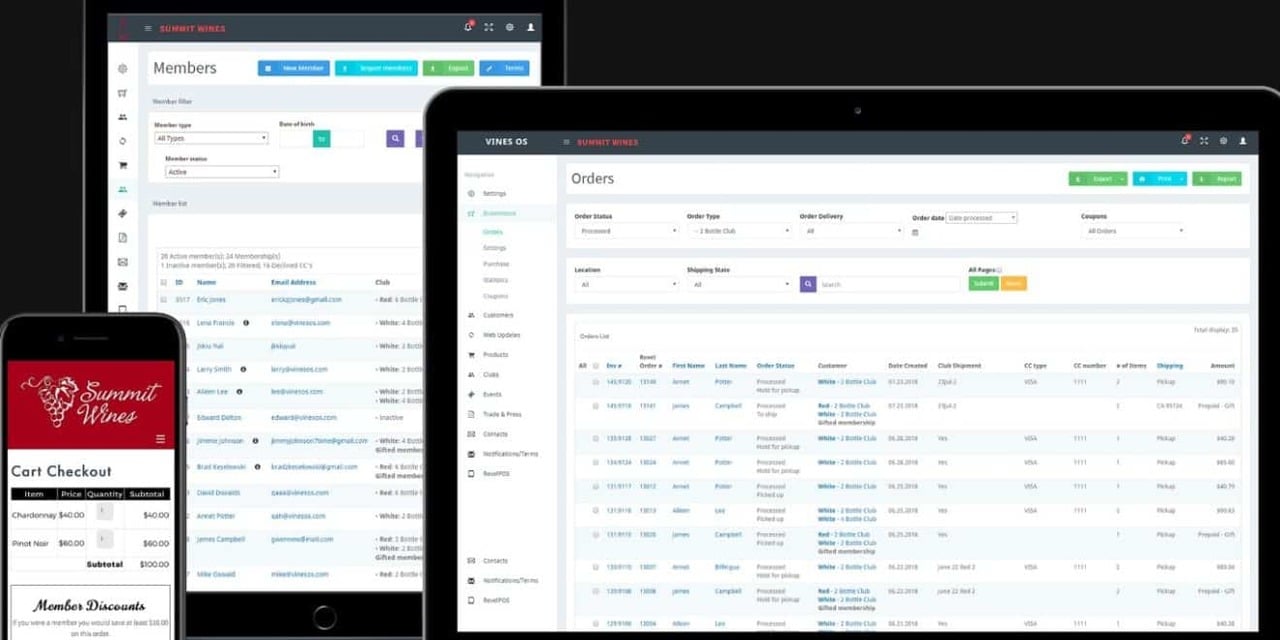 You may like to read: Top Vineyard Management Software
What are Winery Management Software?
Winery Management Software is a system that is used in managing and optimizing all the stages involved in wine production. The software can also be used in the management of sales, inventory, and distribution of wine. Besides the above functionality, winery management software can also be incorporated to carry out tasks such as cost tracking, production management, packaging as well as distribution.
What is Winery Management Software?
GreatVines, EzyWine, vinSUITE, VineSpring, Wine Direct, DeVineWare, ShipCompliant, VinBalance, Vines OS are some of the Top Winery Management Software.