Top 10 VoIP Systems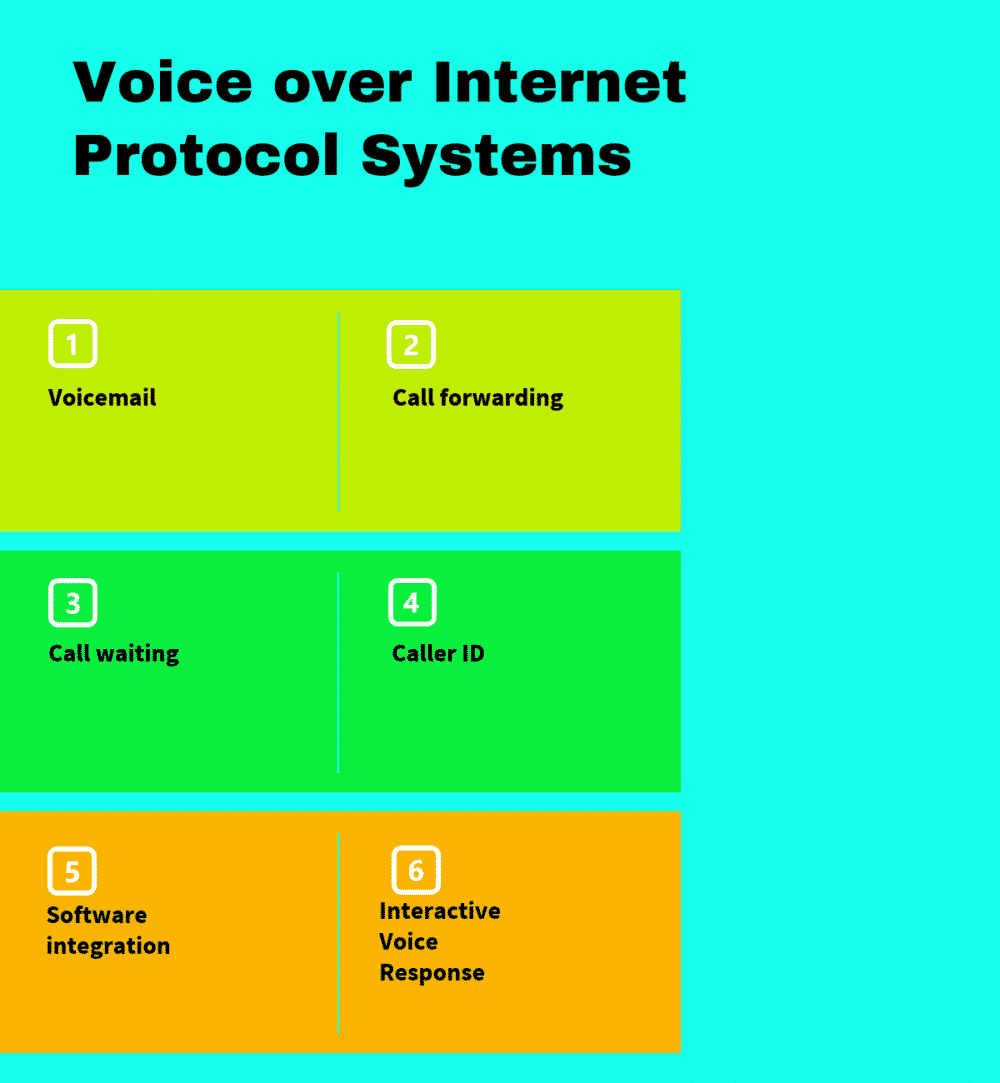 VoIP system is highly becoming a go-to choice for most of the telecommunication companies due to its ease of use and its popularity. To businesses, VoIP software has become a powerful tool that helps maintain the competitive edge within a market. VoIP systems ensure that you are able to remain connected with almost everyone involved in your business. The systems allow the user to eliminate dropped calls, interference, static or the need for an actual phone to make the call. VoIP is also essential to any business as it introduces features like auto respondent. The software also has additional features that allow you to sort calls based on department/titles. VoIP is an affordable service compared to a traditional business phone line and allow more flexibility as you can use the software wherever you go. There are more features to consider while looking for a VoIP service that suits a business. In addition to the features, the benefit being that VoIP offers comprehensive savings in phone cost and efficiency to a business.
Top VoIP Systems: BroadWorks, Switchvox, Aircall, Dixa, Grasshopper, Dialpad, 8×8 Virtual Office, MiCloud Connect, Zoiper, Asterisk are some of the Top VoIP Systems.
What are VoIP Systems?

VoIP or Voice over Internet Protocol (VoIP) is a system that allows one to use a computer, internet connection and a phone to connect with everyone through calls without the need of setting up a traditional line. In other words, VoIP is the transmission of voice and other interactive programs such as video images and voice content over the internet protocol network. VoIP system allows an active interaction between users in any two domains over the internet. A business that uses VoIP solution benefit from additional features such as web conferencing, voice to email, instant chat as well as extension such mobile VoIP apps to use whenever the user goes. VoIP installation is very easy to install and requires little no how. Where VoIP is to be integrated into a call centre, the system can be easily be integrated with Customer Relationship Management (CRM) software which makes it easy to access and organize customers information.
VoIP offers communication option such as IP phone, headset or has the option of combining microphone and headphone. In addition, most of the VoIP systems offer mobile apps that can easily be installed in the smartphone. There are many benefits and features associated with small business VoIP service. Below is a list of features available to the user at no additional cost:
Voicemail: In case you are not near your computer, a caller can leave you a voice message and you listen to it from VoIP system installed in your devices.
Call forwarding: VoIP solution allows a user to set automatic transfer of calls from one number to another number. This functionality has been helpful especially if the user is out of office and need the calls to be forwarded to the phone.
Call waiting: VoIP system has a feature that alerts you of new incoming call even when you are online, and you can choose whether to answer or ignore the call.
Caller ID: A VoIP system displays contact names and phone number on the computer, phone or app.
Software integration: VoIP allows sync between various business-related software such as customer relationship management software (CRM) which play an integral part in any business.
Top VoIP Systems

BroadWorks, Switchvox, Aircall, Dixa, Grasshopper, Dialpad, 8×8 Virtual Office, MiCloud Connect, Zoiper, Asterisk are some of the Top VoIP Systems.
Top VoIP Systems
PAT Index™
1
BroadWorks
BroadWorks is a Voice Over Internet Protocol (VoIP) application platform that offers state-of-the-art communication and collaboration tools to help service providers deliver both basic and enhanced voice services for business and residential end users. The system boasts of cloud-hosted solutions that empower carriers to deliver a differentiated set of communication services. These range from media-oriented services such as Voice Messaging, Conferencing, and Auto Attendant. Personal calling functions such as Selective Call Forwarding, Simultaneous Ringing, and dial-by-name are also available. The BroadWorks platform equips service providers to deploy a variety of business communications and collaboration solutions from a common network platform,…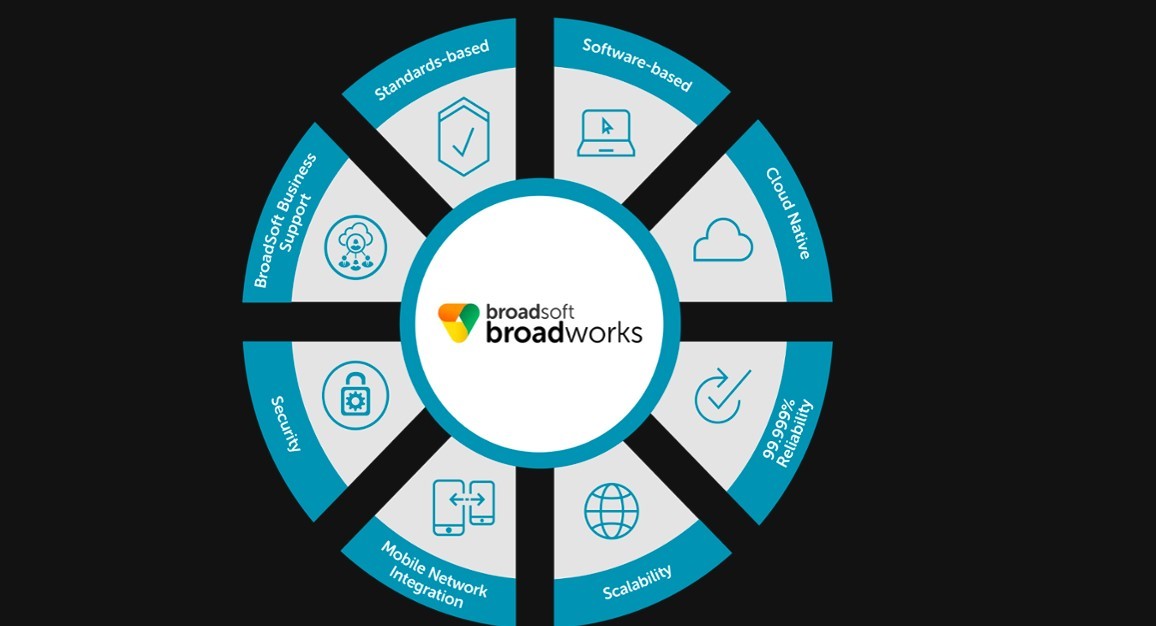 2
Switchvox
Switchvox is an easy-to-use yet powerful VoIP business phone system designed by Digium for smart and modern businesses with more than five users. This is a customizable communication solution that empowers businesses to transition from simple telephony to a multi-faceted unified communication solution. The platform is designed around the state-of-the-art Asterisk open-source software, and it integrates all office communications to save time and money. Switchvox is offered as either on-premise PBX solution or a hosted VoIP service. However, business with multiple office locations can deploy a hybrid Switchvox solution in which the cloud-based and on-premise systems are joined to function…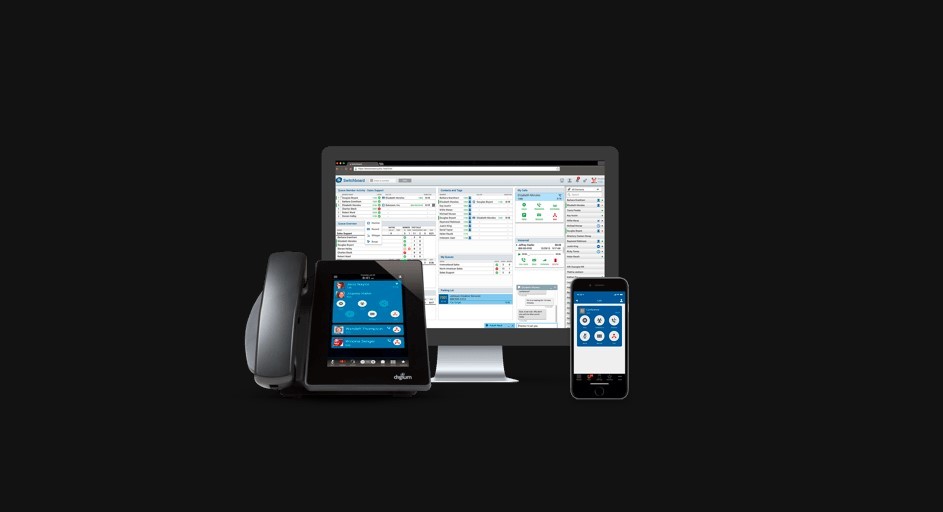 3
Aircall
Aircall is a cloud-based phone system designed for teams like customer support or sales teams. Aircall is a software that allows companies to get phone numbers in 30 countries, configure them in seconds and forward calls easily across their people. Each team member makes and receives calls on the Aircall app for PC, Mac or smartphones, without the need for desk phones, professional cell phones or PBXs. Aircall is an ideal fit for those with remote teams or virtual offices located abroad. Aircall provides simplified but professional phone support for various businesses, no matter their size. Its software is created…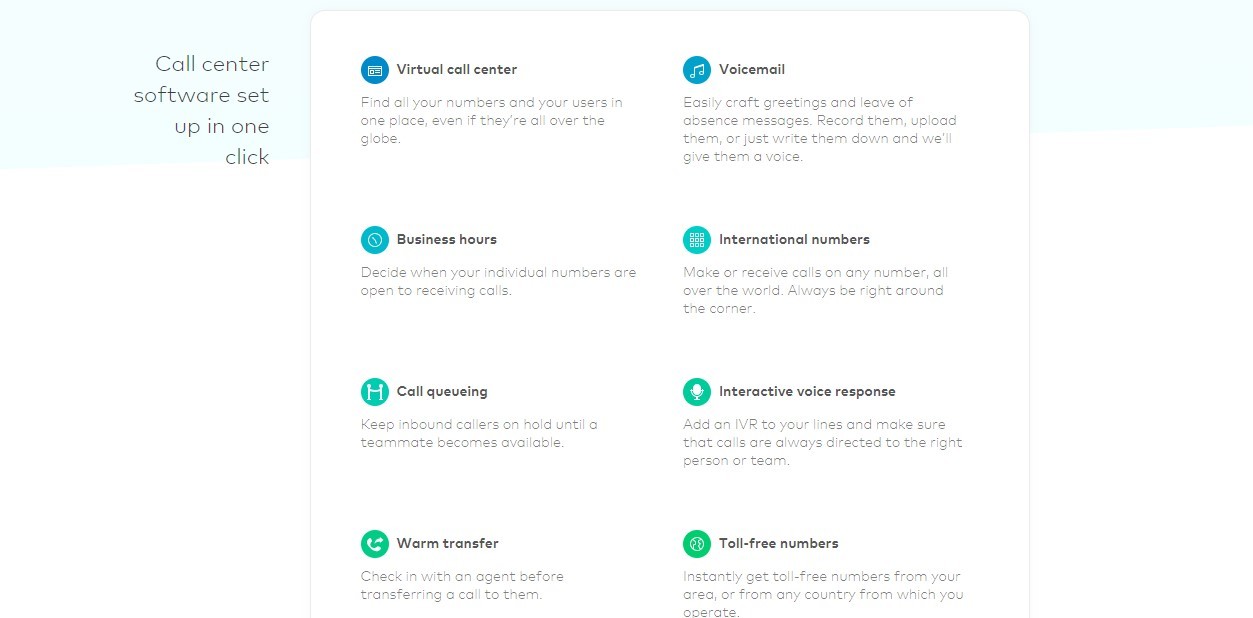 4
Dixa
Dixa is a cloud-based customer service help desk that allows agents to deliver support on phone, email, and chat. Built for inbound call centers, contact centers, and small businesses, users can access the platform from anywhere in their browser. All conversation types, such as calls, emails, and chats, are placed into queues and automatically routed to the appropriate agents while conversation data is translated into real-time analytics. Dixa offers phone features such as VoIP, advanced routing, IVR and callback to connect customers with agents. Its email solution features auto-replies, while its chat widgets are customizable, offer a menu option, hide…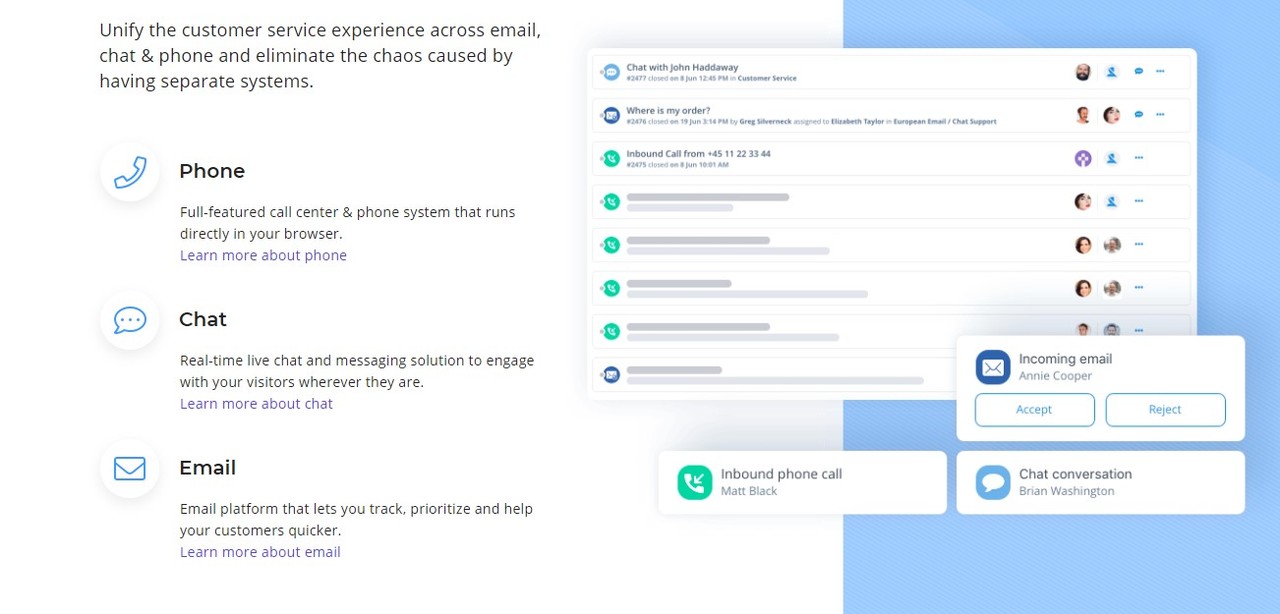 5
Grasshopper
Grasshopper is a virtual phone system designed for entrepreneurs, small businesses, and even medium enterprises that are looking for communication system that is effective, affordable, and easy to use. With Grasshopper, users can get 800, local, and vanity numbers, as well as an auto-attendant and voicemail transcription – all of which can operate with an existing phone line. Grasshopper provides a rich array of features, including custom greetings, call forwarding, call screening, and inbound fax. Voice mail and inbound faxes are automatically converted to email, so there are no documents to convert. Another benefit of Grasshopper is there are no…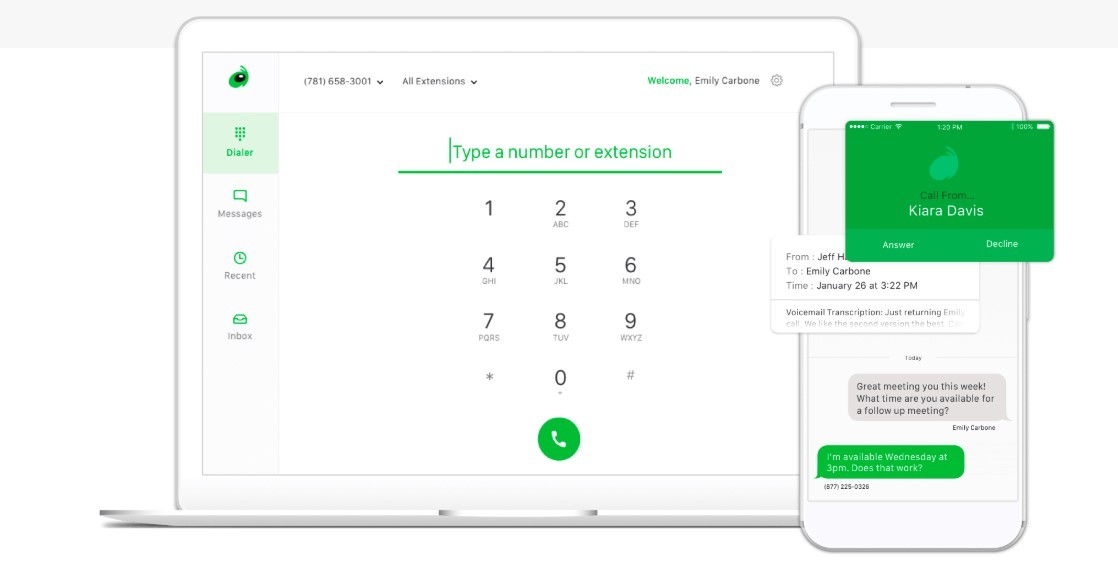 6
Dialpad
Dialpad is a useful web application which helps clients improvise and take the business communication to the next level. Communicate with clients, employees and other businesses with the utmost ease, making business communication more efficient and effective. Considering the modern market, Dialpad is a relatively new software but the progress that it has made is quite remarkable. With some highly useful integrations and scalable features, Dialpad has sought the attention of the most renowned brands in the world at present. Whether it is voice-based communication or text messages, Dialpad has great solutions for them all. Dialpad has a highly innovative…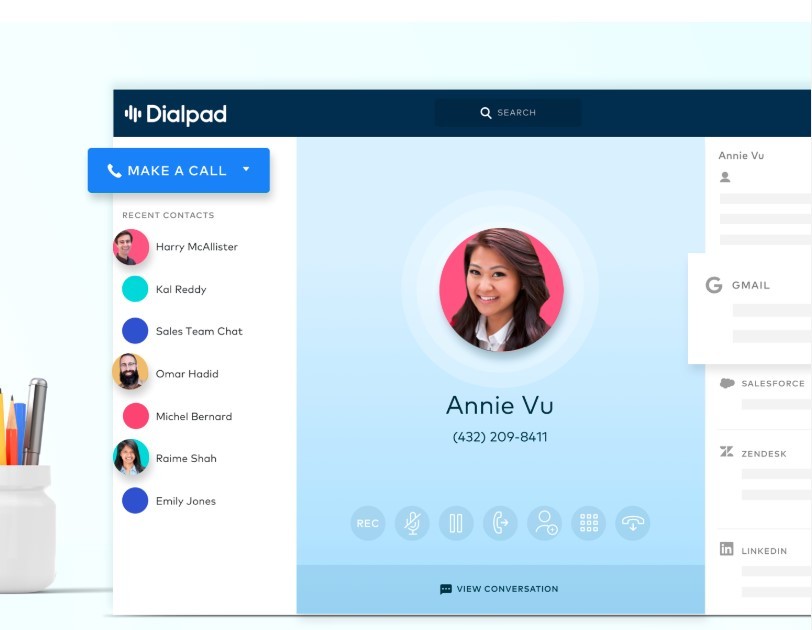 7
8×8 Virtual Office
8x8's Virtual Office unified communications platform comes with company-wide private chat, presence detection, softphones, web conferencing, optional video and Apple and Android mobile apps—to improve collaboration on any device, anywhere. A powerful set of business analytics tools provides rich data on your communications activities, service quality and employee productivity. 8x8 Virtual Office also comes pre-integrated with leading CRM and ERP solutions such as Salesforce, Zendesk and NetSuite, so it works well with already existing IT investments. All of this is delivered in the cloud, sets up in minutes and is easily managed from any device around the globe. 8x8 Virtual…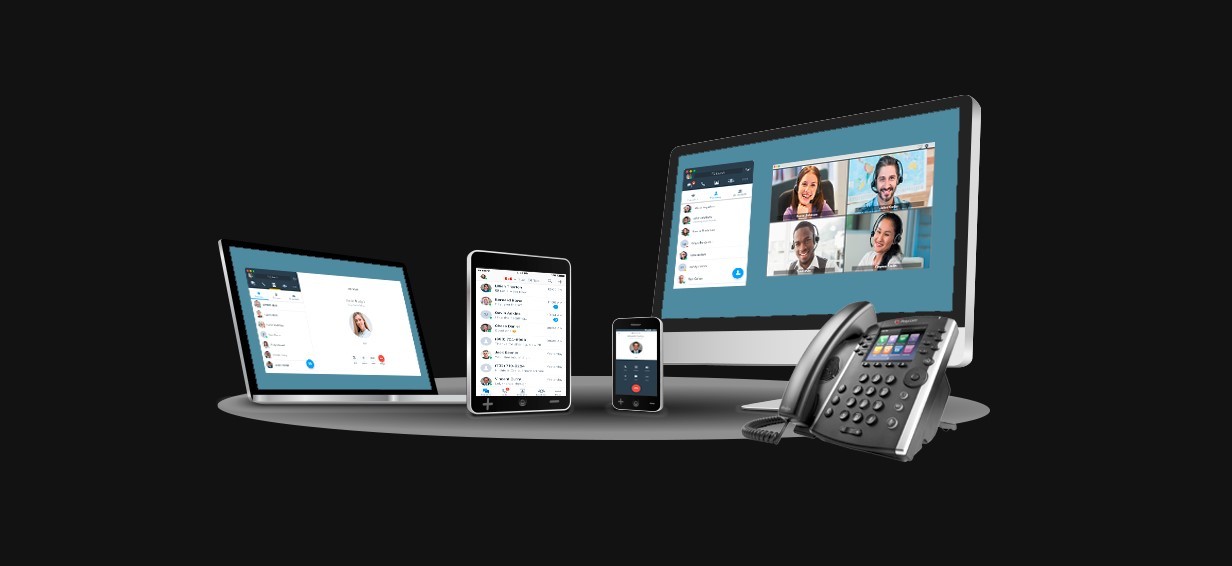 8
MiCloud Connect
Easy to install and easy to use, MiCloud Connect gives users complete control over call handling priorities like call routing, ring everywhere and conditional call management, but removes IT administrative responsibilities like call plans, system maintenance and software upgrades. MiCloud Connect is focused on the needs of the small and medium business (SMB) market. MiCloud Connect is architected with enterprise-class security measures and redundancy at network, infrastructure and application layers to maximize uptime and scalability. In addition, cloud phone services are backed by Mitel's cloud Service Level Agreement (SLA) for added reassurance. And in the unlikely event that a disaster…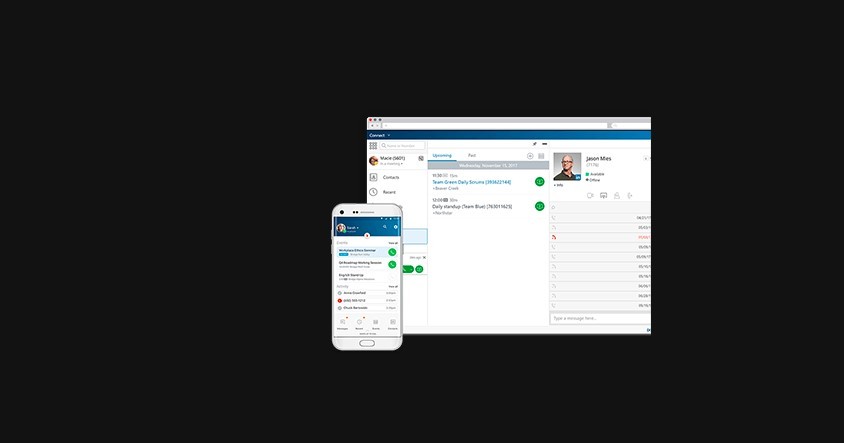 9
Zoiper
Zoiper is an on-premise and cloud-based softphone solution that caters to service providers, call centers, VoIP integrators, mobile operators and businesses that require softphones independent of their service provider. It aggregates contacts from various sources such as Outlook, Windows, Android, iOS and all incoming calls to create an address book. Text, voice and video communications are encrypted to prevent eavesdropping. Zoiper can be integrated with customer relationship management (CRM) solutions, Outlook and Thunderbird plugins. The system also incorporates number recognition. Users can combine Zoiper's dialer with other VoIP service providers or they can have multiple providers for different destinations in…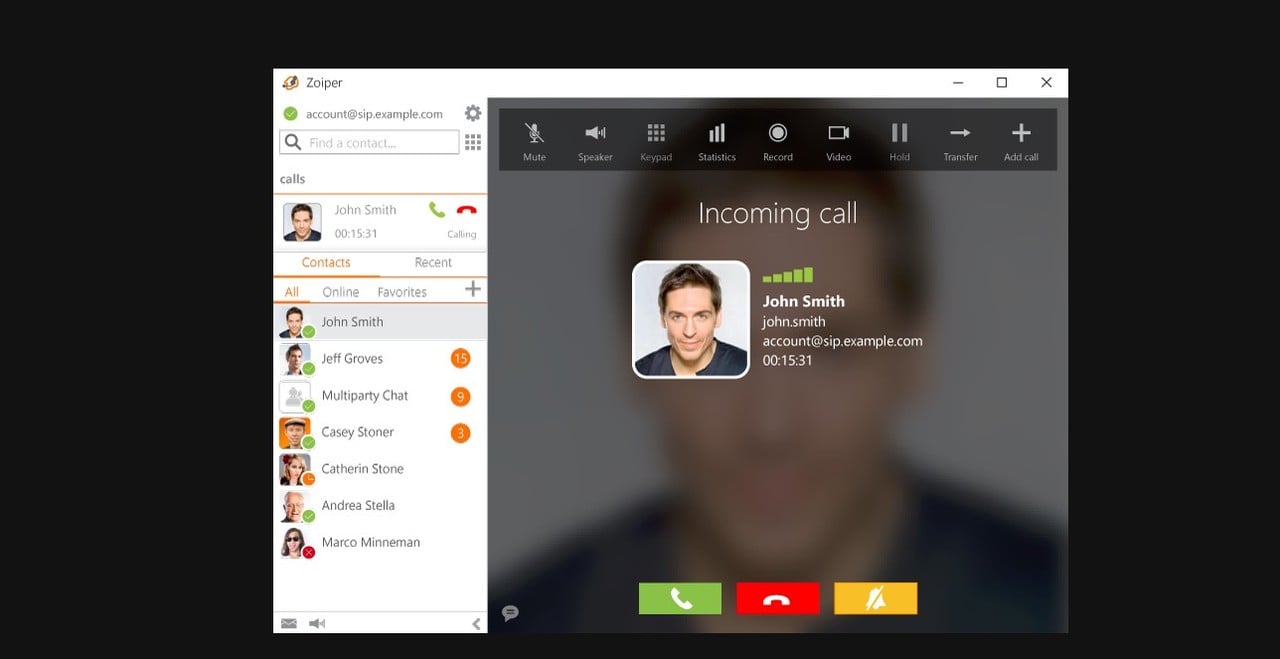 10
Asterisk
Asterisk is an innovative, open-source framework designed by Digium for developers looking to create ground-breaking video, voice, and text solutions for small, medium, and large organizations. It's a widely adopted tool that converts an ordinary computer into a powerful server to drive the next generation communication deployment. The software includes multiple pre-built constituents that handle the low-level as well as the intricate details of video, voice, and SMS communications. It powers many services and applications including conference bridges, automatic call distributions, unified communications, voice mail, and more. Asterisk runs using the business internet connection thereby eliminating the need for the…