Top 38 Social Media Analytics Software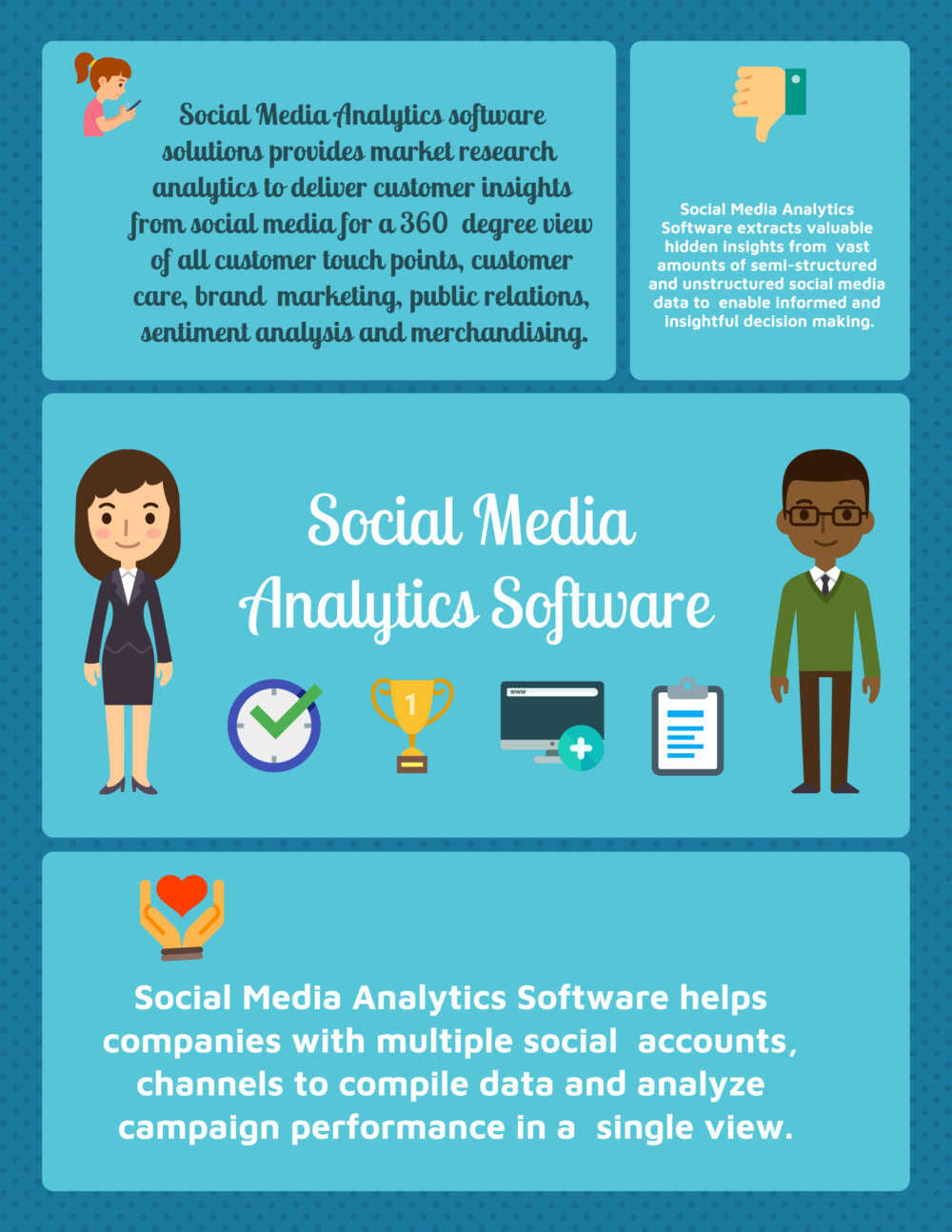 Social Media Analytics software solutions provides market research analytics to deliver customer insights from social media for a 360 degree view of all customer touch points, customer care, brand marketing, public relations, sentiment analysis and merchandising.
Presence of social media has made it easy for marketers to reach out to as many people as possible. Marketers are increasing co-operating these channels as part of their marketing campaigns. Besides marketing, these channels come in handy while benchmarking with other competitors in the market. By studying demographic of your followers and those of your competitors, you can easily pick out what is working and incorporate it into your business.
Despite the numerous social media channels, many businesses are still struggling in their operation. Why is it so? They lack the appropriate tools to analyze data from the social media interaction. For you to reap maximum benefits from the social media, you need social media analytics software to collect data, analyze, and give reports of how the different channels are performing.
What are the Top Social Media Analytics Software: NapoleonCat, Adobe Social, Crowdfire, Brand24, Agorapulse, SocialPilot, Iconosquare, Keyhole, Fanpage Karma, Snaplytics, quintly, Socialbakers, Digimind, NetBase, Talkwalker, Salesforce Social Studio, SocialHub, Meltwater, Oracle Social Cloud, Brandwatch, Synthesio, Affinio, HootSuite, SocialRank, Sendible, Sprout Social, Buzzmonitor, Rival IQ, Oktopost, Cision, eClincher, Nielsen Social, Sotrender, Social Report, Unmetric, Audiense, Viraltag, Socialinsider are some of the Top Social Media Analytics Software.
You may like to read: How to Select the Best Social Media Management Software for Your Business
What are Social Media Analytics Software?
Social Media Analytics Software helps companies with multiple social accounts, channels to compile data and analyze campaign performance in a single view. This helps to optimize campaigns and maximize ROI in near real-time. This helps to conduct ad-hoc analysis to share meaningful insights and visualizations across your organization.
Social Media Analytics Software extracts valuable hidden insights from vast amounts of semi-structured and unstructured social media data to enable informed and insightful decision making. Social media analytics can also be referred as social media listening, social media monitoring or social media intelligence. There are three main steps in analyzing the social media: data identification, data analysis, and information interpretation.
This tool has been designed to assist social media managers to analyze data from the social media campaigns. It is used to gather data, analyze as well as report on what is happening in your social media accounts. The tool can also be used to collect information about the most successful practices, demographics as well as consumer behaviors.
Gathering such information helps social media managers determine the most appropriate form to reach their customers. More so, it is a tool that provides insights on most appropriate strategies to employ in order to grow business. The tool is not a preserve for social media managers only; it is also used by other employees such as marketing officers to measure the success of their engagements with consumers.
You may also like to review the Top Free Social Media Management and Analytics Software
You may like to read: How to Select the Best Social Media Management Software for Your Business
Top Social Media Analytics Software
NapoleonCat, Adobe Social, Crowdfire, Brand24, Agorapulse, SocialPilot, Iconosquare, Keyhole, Fanpage Karma, Snaplytics, quintly, Socialbakers, Digimind, NetBase, Talkwalker, Salesforce Social Studio, SocialHub, Meltwater, Oracle Social Cloud, Brandwatch, Synthesio, Affinio, HootSuite, SocialRank, Sendible, Sprout Social, Buzzmonitor, Rival IQ, Oktopost, Cision, eClincher, Nielsen Social, Sotrender, Social Report, Unmetric, Audiense, Viraltag, Socialinsider are some of the Top Social Media Analytics Software.
You may like to read: How to Select the Best Social Media Management Software for Your Business
1
NapoleonCat is an analytics and social media marketing platform that is created to help businesses develop marketing efforts required to conquer their competitors on social media. NapoleonCat presents the analytics feature that provides an in-depth analytics on any profile or page on Twitter, Facebook, Google+, You Tube and Instagram. The analytics feature facilitates effective tracking of your competitors' marketing efforts. With the analytics feature, translation of rough data into information is done enabling users turn the information into actionable knowledge rather than dumping it in the Big Data Ocean. The social inbox feature provided by NapoleonCat facilitates moderating of user's…
2
Adobe Social is a social management platform that ties every piece of data to your bottom line. Beyond just the likes and follows, manage the deep relationship between your customers' sentiments and your business goals.Monitor and moderate conversations, publish and promote content and analyze engagement and conversion data in one, mobile-friendly interface.Automatically attach tracking codes to your social content to identify what activity drives engagement and conversion.Use social insights, through Adobe Marketing Cloud integrations, to improve targeting and optimize the customer experience. Adobe Marketing Cloud aims to help organizations better understand and serve their customers by creating a platform that…
3
Crowdfire is a content marketing software that uses clean-engage-grow philosophy to guarantee rapid growth on the social media. Crowdfire smart features are accessible through Android, Web and iOS apps. Crowdfire simply provides powerful solutions that are targeted to attract followers on Instagram and Twitter. Crowdfire powerful solutions provide powerful connections to users that enable them achieve their social media goals that include brand popularity, brand recognition, and increased fans and sales. The 'clean' features provided by Crowdfire facilitates keeping away of irrelevant, unwanted and spam accounts. The 'clean' features are ideal to individual and organizational feeds as they are provided…
4
Brand24 is an effective method of monitoring your brand or product on the Internet. It is also a tool that measures the buzz around your brand, product or keyword.Brand24 provides real-time customer insights and actionable intelligence relevant to their products and brands. The web-based dashboard provides actionable customer insights, email alerts, influencer analysis, automated & customized PDF reports, infographics and many more. Brand24 allows you to measure key metrics around buzz and sentiment. Discover what people say about your brand & take action in real time. Engage discussions relevant to your business with one click of the mouse.Identify sudden changes…
5
Agorapulse is a simple and affordable Social Media Management. Agorapulse lets users manage all social media messages in one place. Users can schedule and publish content. Users can also get stunning reports. Agorapulse is the perfect, low cost solution to keep users' clients happy and preserve users' margins! Agorapulse offers all the tools users need to help users save time and focus only on what really matters. Agorapulse is the only tool guaranteed to collect 100% of the comments on users' Facebook ads. Agorapulse does this by connecting directly to the users' Facebook ad account. Users can add a separate…
6
SocialPilot is a social media scheduling and marketing tool where all users' platforms can be reached via one network and using only one account. SocialPilot has features such as channel management, auto fill timeslots, import feeds, automated posting schedules, lead management, multi-campaign, easy to use UI/UX, RSS feed, support and API integration. SocialPilot saves time by allowing users to connect as many as 200 social media profiles and up to 500 updates per day. SocialPilot doesn't impose character limits, providing users the free range they need to create and share messages with their target audience. Social pilot allows users to…
7
Iconosquare is the perfect Instagram companion. Iconosquare lets users manage all of users' Instagram accounts, track comments on users' posts and monitor content. Iconosquare lets users search, repost, upload and keep users media organized. Iconosquare lets users draft, caption and schedule users Instagram posts in advance. Iconosquare lets users find the best influencers for users' business in no time. Users can visualize how their posts are performing in real–time and compare with previous ones. Users can see how the filters and hashtags they use influence engagement. Users can check out and sort their most engaging media by likes, comments or…
8
Keyhole provides real-time social conversation tracking for Twitter and Instagram. It's easy to setup and results are provided in a real-time visual dashboard. Keyhole brings clarity to social media metrics by delivering actionable, easy-to-understand data to brands, journalists and marketers. Through a real-time dashboard that measures the social impacts of trends and influencers, users can focus on executing, optimizing and reporting campaigns instead of compiling metrics such as user engagement. Key features include tracking the numbers (posts, users, reach, impressions) behind hashtags or keywords and campaigns, identifying the most influential users talking about a given term, offering advanced search features…
9
Fanpage Karma is a platform that let's analyze and improve social media profiles, the user is able to analyze your profiles and monitor your success and also increase your social reach every day. This platform normally has the perfect features for the perfect users, it helps you keep track of your social media channels day by day and thus measure your success. It has the excel reports which enable you to save time. Excel reports keep a record of your developments and impress your boss and clients with presentable reports and clearly arranged infographics; Excel reports, monthly report, raw data,…
10
The goal of Snaplytics is to shed light on what marketing efforts are working on Snapchat. Snaplytics is a powerful tool and a must when considering a presence on Snapchat. Being able to automatically document users' work has saved the users countless hours and resources. Metrics that provide meaningful insights are increasingly important to the users' efforts. This, along with great customer service, makes Snaplytics a valuable partner. Users can let Snaplytics focus on the management so that users can engage with their customers and brand advocates. Sign-up for Snaplytics and watch users' social data transpire within an hour. The…
11
quintly is an online social media analytics tool to help you track, benchmark and optimize your social media performance. By using quintly, you can benchmark your own numbers against your competitors' and derive an optimal social media marketing strategy. Combine the social media data of all your social networks in one tool. Whether you are using Facebook, Twitter, YouTube, Google+, LinkedIn, Instagram, Blogs or all, quintly visualizes and checks your social marketing success, presented in a clean and neat design to always keep the overview. Automate the reporting of your social media analysis. Set up whitelabeled templates, easily create custom…
12
Socialbakers is a marketing & analytics suites, with over 2,700 clients in 100 countries.In addition to offering one of the largest databases of free social media statistics and insights in the world, they provide user-friendly social media solutions that allow brands to measure, compare, and optimize their social campaigns with competitive intelligence that is second to none. The analytics platform provides global industry benchmarking and local categorization in social media. Socialbakers tracks, analyzes and benchmarks over 8 million social profiles across all the major social platforms including Twitter, Facebook, YouTube, LinkedIn, Instagram, Google+ and VK in Russia. Socialbakers provide comprehensive…
13
Digimind is a social media analytics company that provides businesses with unrivaled insights into their true standing in the market. Digimind enables to see the conversations that matter most, in real-time, across millions of online sources, in order to gain valuable insights to drive and improve your marketing strategy. Digimind analyze and benchmark an unlimited number of social accounts simultaneously with Digimind Social Analytics.Top Reputation module, follow in real-time what your customers want to know about your brands, products, people, and those of your competitors, or any subjects that interest you.Digimind's Social Media Command Center, makes it easy to capture…
14
NetBase provides real-time consumer insights across the organization, from brand and digital marketing, public relations, product management to customer care. NetBase provides real-time, fast and accurate Social Media Analytics solutions that help businesses grow. The advanced Natural Language Processing (NLP) technology is uniquely capable of understanding and classifying complex language to ensure businesses are making decisions based on highly accurate data. NetBase provides deep insights into emotions, purchase behavior, and attitudes help you know what consumers are thinking and the language processing technology reads millions of social posts in 42 languages, giving you more meaning out of social. The NetBase…
15
Talkwalker is an easy to use and incredibly powerful social media monitoring and analytics tool. It delivers high value insights in a user-friendly dashboard recommended by agencies and brands worldwide. With a focus on big data crawling the Talkwalker search index is one of the largest, covering over 150 million sources in 187 languages. The dashboard is extremely user friendly and features intuitive filters and reporting functionalities. Discover 100% of Social Media Results with our Leading Global Coverage enjoy the most complete global source coverage in 187 languages, track over 30,000 brand images using Image Recognition, tap into the full…
16
With Salesforce Social Studio, users can use social media marketing to listen, analyze, publish, and engage across networks. Users can also align their marketing, customer service, and sales efforts on social media to strengthen customer relationships. Salesforce Social Studio makes it possible to hear conversations from over 650 million different sources with social listening tools. Users can discover what consumers are saying about users' brand, users' products, and users' competitors. Users can also discover trending topics and influential conversations then use that information to inform their marketing decisions. Plan, execute, and track social media marketing campaigns using Salesforce Social Studio.…
17
Socialhub is a smart social media management software for users' team that lets users work less and achieve more. With the automated actions of SocialHub Smart Inbox users can automatically assign tickets to the Community Manager that is able to answer the request the best. Socialhub will help the users' team to do a better job. Users can measure their social customer service with SocialHub Insights. Socialhub lets users analyze their team's response time to find opportunities to boost performance. Users can enter their business hours into SocialHub to avoid inaccurate data. Socialhub receives response metrics only for the hours…
18
Meltwater helps companies make better, more informed decisions based on insights from the outside. Meltwater offers a comprehensive media intelligence platform. Our business customers use deep insights to manage their brands, understand competition, and keep on top of industry trends. The media monitoring, social media monitoring, and media intelligence products from Meltwater deliver those insights, helping these companies make better and more informed decisions. More than 23,000 companies use the Meltwater media intelligence platform to stay on top of billions of online conversations, extract relevant insights, and use them to strategically manage their brand and stay ahead of their competition.
19
Oracle Social Cloud is a scalable, enterprise-ready social relationship management solution that empowers brands to leverage the power of social media across their organizations. Oracle Social has deep listening, global reach, a unified social media management platform, and integrations with Customer Experience (CX) applications. Oracle Social Cloud provides Deeper Listening uses Latent Semantic Analysis (LSA) listening technology, filters more spam and gives you more accurate and relevant listening data and indicators feature shows consumer intent, product likes/dislikes, and customer service issues. Social cloud tools allow brands to listen, create, and engage at the speed of social with the consistency and…
20
Brandwatch technology is built to listen to the millions of conversations happening all over the web every day, which can then be analyzed to unlock a whole host of advantages. Brandwatch is an enterprise social intelligence company, allowing users to analyze and utilize conversations from across the social web. It is the perfect platform to make sense of the chatter about your brand online. We crawl the internet, archiving social media data from over 90 million sources in 27 languages. Users are then offered the chance to search this data in Brandwatch's web-based interface, both proactively and retroactively for mentions…
21
Synthesio is the framework for building social intelligence that provides real business results. Whether an organization's social team is built within Marketing or crosses multiple departments, business units or geographies, Synthesio helps teams listen to, and analyze, consumer conversations across social and mainstream media within one platform. Synthesio provides coverage in 196 countries and 80 languages, monitor 100,000+ websites, and counting, in real time including Sina Weibo, VKontakte and WeChat, custom sourcing and research for each project, machine learning built to reproduce human behaviors, automated Sentiment in 21 languages, advanced automated noise removal and intelligent trend spotting, filtering and alerting.…
22
Affinio is a SaaS platform designed for the enterprise. Affinio instantly turns incomprehensible amounts of consumer data into actionable insights. Advanced machine learning algorithms and custom graph engine power Affinio to analyze billions of interest variables and network connections. Affinio's award-winning unsupervised segmentation technology groups users into clusters based on the commonalities they share, revealing patterns and relationships within any big dataset. Affinio ingests and analyzes users' first party data sets (CRM, transactional, survey) and third party data sets including Twitter, Pinterest, Reddit, and LinkedIn to reveal hidden audience insights in a comprehensive, highly visual report. Affinio's highly visual and…
23
Hootsuite gives customers a wide scope of controlling and managing their social media activity, by enabling them to manage all their social networks and schedule messages for future publishing. Hootsuite's best-in-class social media monitoring tools allow users to see comments about their on-display brands. Hootsuite's social media analytics give an in-depth view of how well the user's social media efforts are being received, so they can choose the better of what is working or change directions. Adding multiple Team Members feature makes sharing the workload easier because it manages social media well. Vitals like reputations, assets, and financials etc being…
24
SocialRank is a simple and easy to use tool that provides a good platform for individuals and brands to find out more information and understand their followers across social media networks starting with Instagram and Twitter. SocialRank simply provides an easy way to identify, organize, and manage followers on majorly Instagram and Twitter. One of the greatest features of SocialRank is the DM campaigns. The DM campaigns feature facilitates scaling of one on one interaction with user's followers on Twitter. The DM campaigns also enables users send personalized messages to a group of individuals all at once without having to…
25
Sendible is a social media marketing platform that allows individuals, agencies and small businesses to engage with their audience across multiple channels at any time. Sendible's powerful analytics allows users to track and monitor the success of their social media marketing efforts and ROI. Sendible makes it easy to effectively engage with your audience, monitor your brand and track results from one dashboard. Sendible allows businesses to manage their social media more effectively and to better understand their ROI. Sendible's platform enables users to quickly and easily compose and share content, monitor their brand, engage with customers and reach their…
26
Sprout's collaborative platform ensures smarter, faster and more efficient social communications. Social media has undeniably changed the way brands and customers communicate. Sprout's social media management tools can help users and their team monitor, respond, measure and collaborate to ensure smarter and faster communication. Sprout is a leading social media management platform that provides world-class engagement, publishing, analytics and collaboration tools for teams of all sizes. Sprout's Smart Inbox makes it easy for users and their team to manage social communication so users never miss a message that matters to their business. Whether posting updates or engaging with consumers, Sprout's…
27
Buzzmonitor is an innovating solution which involves consultancy, diagnosis, and technology to help users manage their business on Social Media. Buzzmonitor offers features such as real-time dashboards, access to up to 9 Brands, access up to 9 Users, access up to 15.000 items per month and an Account Manager (which is not available in the freemium package). Buzzmonitor monitors users' brand on social media, creates custom reports and turns them into real-time dashboards with one click. Users also gets to compare their Facebook, Twitter and Youtube channels' metrics with the ones from their competition. BuzzMonitor also lets users respond and…
28
Rival IQ delivers analytics and competitive intelligence to help digital marketers make informed decisions, improve results, and better understand competitors. Using benchmarks and comparative analysis, Rival IQ enables digital marketers to uncover new opportunities, identify trends, and track results across all major social channels and the web. Social media tracking tools will help you understand your success and your opportunities so you can get more followers, boost engagement, and increase your social media marketing ROI. The cross-channel report gives you a quick and simple overview of your brand's social success and shows you how you stack up against your competitive…
29
Oktopost helps users manage content and measure the true business value of their social media marketing. Users can intelligently manage their social media editorial calendar and maximize brand visibility. Oktopost lets users expand social reach by publishing to multiple networks and deliver engaging content to the target audiences who matter the most. Users can put an end to ad-hoc social posts with Oktopost campaigns. Users can arrange, classify & categorize all their social media content to simplify management and improve analysis. With Oktopost, users can enjoy a company-wide view of all their social content that will enable users to intelligently…
30
Cision is a leading global media intelligence company, serving the complete workflow of today's communication professionals.Cision offers comprehensive PR, IR and social media software, rich analytics, content distribution, and influencer outreach, Cision enables clients to engage audiences, enhance campaigns and strengthen data-driven decision making. Cision solutions include PR Newswire, Gorkana, PRWeb, Help a Reporter Out (HARO) and iContact brands. Cision social software searches millions of posts and mines the data that will help you monitor performance of key brand attributes, target emerging brand value drivers and make informed business decisions.
31
eClincher is a powerful social media management tool, designed to help businesses to efficiently manage social media presence and marketing activities. eClincher combines all the social media accounts into one place, a huge time saver. Businesses use eClincher to manage social media, increase brand awareness, publishing, engagement, monitoring, content curation, and social selling. Users can manage all their posting needs in one place. eClincher lets users schedule posts to multiple social networks, profiles and pages: Twitter, Facebook, Instagram, Google+, LinkedIn, Pinterest, Blogger. eClincher lets users gain control of their links with Google utm tracking and Sniply call-to-action attached links. Users…
32
Nielsen Social is the leading provider of social TV measurement, audience engagement and advertising effectiveness solutions for TV networks, agencies and advertisers. With social media transforming the traditional TV viewing experience, Nielsen Social aims to help the industry measure, understand and act of the TV-related activity on Twitter. Nielsen Social identifies, captures and analyzes conversation on Twitter in real time for every program aired across over 260 of the most popular U.S. television networks, including Spanish language networks, original programs from over-the-top streaming providers, and over 2,000 brands. Nielsen is a global performance management company that provides a comprehensive understanding…
33
Sotrender provides precise analytics for your Facebook, Twitter, YouTube and Instagram profiles. Sotrender interprets data, giving you simple tips and a call to action, as well as pointing out where you can find even more information. Sotrender enables you to track any brand. You can learn who else in your industry is using social media effectively, as well as observe their strategies and the effectiveness of their communication.Convert feedback from users into relevant tasks, assign them to a team member, and monitor their realization.
34
Social Report is an all-in-one social media management platform. All features users need is in one concise package. Users can simplify their social media reporting and gain powerful insight from social data to inform smart business decisions. With Social Report, users can track the performance of everything from their Facebook pages and Twitter profiles, to business reviews, website site performance and blogs. The data from the users' social channels is downloaded and laid out on a simple and intuitive dashboard. Data collection is effortless - users just need to connect their social profiles. Users can quickly and easily organize their…
35
Unmetric is a powerful and reliable platform designed to help companies gather and analyze social media data. This is done so as to provide better products, intelligent answers to customer queries and more. With Unmetric, you will be able to see all of your existing organized social campaigns while at the same time be able to monitor their successes/failures. Unmetric was developed mainly with data and brand analysts, campaign strategists, brand managers and content creators in mind. It has excellent features that will help your business to analyze the content and campaigns of your competitors. It's also very useful in…
36
Audiense is an advanced audience intelligence solution which optimizes users' engagement and marketing efforts through unparalleled insights about their audience and segment with a suite of community management tools and advanced solutions to help build unique, high-quality, campaign-specific audiences, profiled not only by demographics but also by personality, interests, values and behaviors. Audiense has features such as homepage, dashboard, community wall, top menu bar, breadcrumb bar, search/filter sidebar, community bottom bar, accounts and sources, audiences, source dashboard, social contacts, synchronization, calendar filter, search – advanced syntax, export, collaboration teams and annotations. Audiense provides a dashboard to see an overview of…
37
Viraltag is a tool that helps you share visuals in the social media and also manage multiple social networks and schedule unlimited posts. It helps you recycle evergreen content and also collaborate with your team to analyze performance all from a single dashboard. When it comes to Pinterest, this tool provides you with the simplest way to schedule your pins. You are able to automate your Pinterest marketing with Viraltag's Pin Scheduler. With Viraltag, you can pin to multiple boards and multiple Pinterest accounts at once. Also, VIraltag helps you to pin multiple images at once, you can effortlessly schedule…
38
Socialinsider is a social media analytics tool which serves up a full view of a competitor's digital strategy for Facebook, Instagram & Twitter. Using this tool, you can compare your social media performance against top competitors, save time on reporting and download Facebook, Instagram, and Twitter data as .ppt or .pdf file. For Facebook - Socialinsider shows you: stats for own pages with demographic insights, the boosted content for any Facebook page, historical posts data and page evolution, audience growth, engagement performance, and how the content strategy is performing. For Instagram you have Instagram profile growth over time, past posts…
Is Free Social Media Analytics Software Worthwhile?
Social Media Analytics Software has many features and can do a lot to help your business to succeed tracking your social analytics, and it is not very expensive. There are also plenty of limited free Software available. There are two categories of Social Media Analytics Software based on licensed model: Open Source and Proprietary. Based on Installation type, there are On Premise and Cloud and the selection of the installation type depends on your business and organization requirements.
You can find limited free versions and full-fledged free trials in both the licensing models.
If you are unsure of the business benefits, you could try a limited version of Proprietary Social Media Analytics Software to check how it fits to your business before making a big investment. These software comes with limitations and you need to buy the features using the up-selling vendors offers to make it useful. A free limited version from a proprietary product company will make it easier to upgrade in the long run and also help you determine if that company's solution is what you want.
There are also many drawbacks to Free Limited version of Proprietary Social Media Analytics Software. These limited version do not have nearly as many features available in a fully functional paid version, and there are limits such as number of features and functionality, modules, storage limits, number of reports, limited data integration options, and also on the number of users you can have. The free versions also have limited support options.
As these are priced fairly and competitively, and requires less set up time, based on your functionality requirements and business fit, you can always choose a free trial and experience the system with your data before buying and migrating to a full-fledged solution.
You may like to read: How to Select the Best Social Media Management Software for Your Business
Is there a one size fits all Social Media Analytics Software: Unfortunately there are no one size fits all solution as each of the products has its own core strengths in functionality, social platform focus, integration capability and core features.
We recommend determining how the software fits to your business in terms of features, functionality, and business process with a free trial.
What are Social Media Analytics Software?
Social Media Analytics Software helps companies with multiple social accounts, channels to compile data and analyze campaign performance in a single view. This helps to optimize campaigns and maximize ROI in near real-time. This helps to conduct ad-hoc analysis to share meaningful insights and visualizations across your organization.
What are the Top Social Media Analytics Software?
NapoleonCat, Adobe Social, Crowdfire, Brand24, Agorapulse, SocialPilot, Iconosquare, Keyhole, Fanpage Karma, Snaplytics, quintly, Socialbakers, Digimind, NetBase, Talkwalker, Salesforce Social Studio, SocialHub, Meltwater, Oracle Social Cloud, Brandwatch, Synthesio, Affinio, HootSuite, SocialRank, Sendible, Sprout Social, Buzzmonitor, Rival IQ, Oktopost, Cision, eClincher, Nielsen Social, Sotrender, Social Report, Unmetric, Audiense, Viraltag, Socialinsider are some of the Top Social Media Analytics Software.