Top 8 Salon & Spa Management Software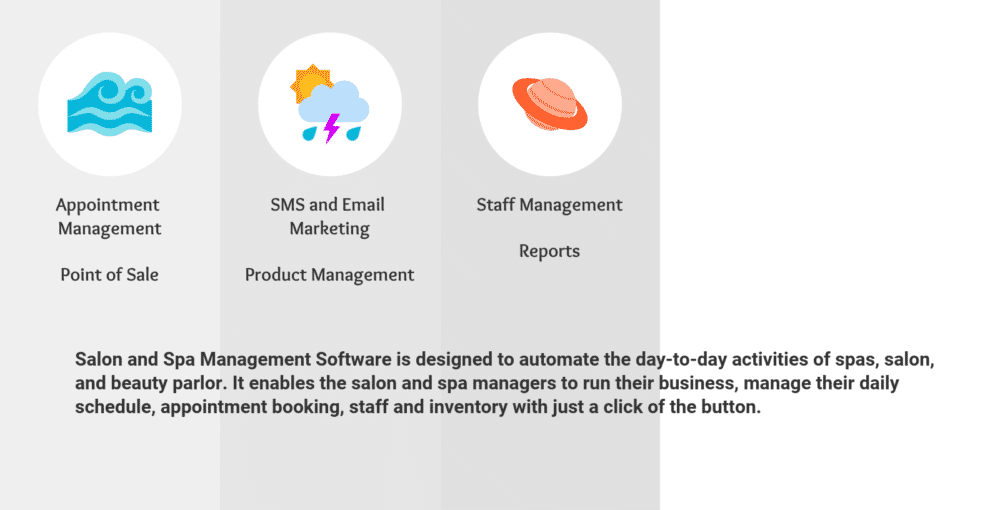 The beauty parlor is a vital business that offers hair and body treatment services as well as massages to relieve people from the daily stresses of life. Running a beauty parlor is a very daunting job.
The business managers need to build and maintain a vast network of clients to be successful. They must manage their time and create schedules to meet their customers' needs. They must schedule appointments with their clients to offer them excellent services.
Clients need a reliable way to book their appointments. It is vital to keep a record of the activities and revenues that the business generates. The business managers also need to manage their employees.
Example of Salon & Spa Management Software: Salonist, Meevo 2, Vagaro, Zenoti, Phorest, Shedul, Insight, Booker Spa are some of the Top Salon & Spa Management Software.
What are Salon & Spa Management Software?
Salon and Spa Management Software is designed to automate the day-to-day activities of spas, salon, and beauty parlor. It enables the salon and spa managers to run their business, manage their daily schedule, appointment booking, staff and inventory with just a click of the button.
Appointment Management: Salon and Spa Management Software allows the user to schedule and book appointments via a browser, smartphone, desktop or laptop. It empowers the user to reach their clients and manage their appointments online with a few clicks. The software drag and drop feature help put together customers, staff, and services. It helps the user custom cost and duration as well as spot off-hours & double bookings. It helps manage multiple calendar tabs and booking of various functions in the same timeslot. It is integrated with clients email to send them automated reminders, and the user can sync their appointment with Office365, Google or iOS calendar, and send a reschedule link to the customer when they want to amend their appointment slot.
SMS and Email Marketing: Salon and Spa Management software enables the user to do SMS, and email sales and marketing campaigns. The user can have access to preset templates of text messages. The software also integrates clients' information, and the user can filter clients' last visits, birthdays and cancellations and more. The user is also able to view campaign histories and even send campaigns in different languages and more.
Staff Management: The software enables the user to create flexible work schedules, integration, and security with online appointments. It helps the user assign particular services to employees as well as apply discounts to sales and services.
Point of sale: The software point of sale enables the user to integrate payment options, have multiple types of payments, discounts, refunds, and walk-in product sales.
Product Management: A spa and salon management software helps the user to manage their products with inventory control, track vendors as well as record product transactions.
Reports: Spa and salon management software helps the user monitor the monthly business performance, staff sales, client acquisition, and purchases by generating reports.
Spa and salon management software is an essential tool that every beauty parlor should embrace to automate their daily activities.
Top Salon & Spa Management Software

Salonist, Meevo 2, Vagaro, Zenoti, Phorest, Shedul, Insight, Booker Spa are some of the Top Salon & Spa Management Software.
Top Salon & Spa Management Software
PAT Index™
1
Salonist
Salonist is a CRM base salon management software to operate a salon business fluently. Salonist is a software to operate a salon business easily and effortlessly. Its unique features makes it different and useful. It established in 2016 in India. Salonist also helps the salon owners to collect the payment and make many transactions easily. Some of the features of salonist include Membership Management, Export Data For Future Reference, Integrated Online Cash Register, Search & Smart Views, Calendar Sync, API & Multi-Location and many more. Salonist is a management software that supports mobility with its mobile access. If you want…
Overview
•Membership Management
•Export Data For Future Reference
•Integrated Online Cash Register
•Search & Smart Views
•Calendar Sync
•API & Multi-Location
•SMS Management
•Customer Profile Management
•Reward Points
•Product Billing & Inventory Management
•Appointment Management
•Point Of Sale
•Inventory Management
•Location Management
2
Meevo 2
Meevo 2 is a cloud software that is accessed through the web browser. Meevo 2 was designed for all devices and all salon sizes. Scale daily operations down from desktop to smartphone. Book from behind the chair. Ring up from your retail bar. The possibilities are endless with Meevo 2's advanced membership tools. Effortlessly set-up and manage memberships, include family sharing, swap and split services in the register, and configure multiple freeze options. Coordinate resources and equipment to easily schedule couples massages and other services with more than one client. Meevo takes resource management to another level. Divide rooms with…
Overview
• Appointment book: Appointments appear and update in real-time
• Pop-up menu that appears in the appointment book that gives you info on the client, employee, service, check-in status, and gives ability to ring up
• Email receipts: A receipt can be printed or emailed at any time after finalizing a transaction
• EMC Credit Card processing: Protect the business and stay PCI Compliant by using an integrated credit card processor
• Inventory management: Count inventory, order products, and track usage with smart and simple inventory management tools
• Smart center: A customizable navigation dashboard with live data and key metrics
• Solo - $47 / month
• Grow - $97 / month
• Pro - $197 / month
• Powerhouse - $297 / month
3
Vagaro
Vagaro is a tool that specializes in rendering services as a search engine for salons and spas located in different localities. It's a web-based solution which aims to promote the freelance, small, medium, large spas, and salons within the directory of new and old customers. The liaison between customers and spa owners is smoothly run through this application. Businesses can register themselves with the Vagaro application, create a profile, market their brands and get the appointments fixed. It also allows the spas and salons to exhibit their promotional and managerial capabilities and services through this application. They can also advertise…
Overview
• Room / Equipment Management
• Dashboard: Look up client retention, product sales, service sales, payroll, and online vs. in-house appointment booking performance
• Popup Notes are helpful reminders for customers' needs for their appointments
• Day / Week / Month View: Loop up multiple service providers in a day, week, or month view on one screen
• Daily Deals: Promote your specials, sales, and discounts with Vagaro daily deals to bring in more business
• SOAP Notes can be referenced at any point and can be updated by employees
4
Zenoti
Zenoti is a business management software tailored specifically for spas, med spas, salons, yoga studios, and fitness centers. It is a robust and comprehensive solution that comes with all the tools to help users manage and grow their business. With Zenoti, users can manage appointments and classes, accept booking via online channels, and perform upsell marketing to customers easily. The system helps users handle the billing and payment aspects of the business via automation, mobile POS, and best-in-class prices. Zenoti comes with marketing automation capabilities that enable one to reach out to customers, grow client base, and impact spa&salon business.…
Overview
• Automated appointment reminders and notifications via email and texts
• Recurring & fixed memberships & packages
• Finance reports for franchisees (royalties, liability, cross-center redemptions, etc..)
• Enforced follow-up on sales leads and treatment follow-ups
• Dashboards include filters and drill-down capabilities, so it's easy to move from organization level views to regional or center level reports
• Predictive analytics: Forecast future business performance
5
Phorest
Phorest is an all-inclusive, cloud-based salon management software for nail and beauty shops, hair salons, and Spas. The application allows users to effortlessly manage their clients, appointments, stock, and staff. It's a well-crafted solution that enables all salon owners to leverage the power of retention marketing. It provides powerful marketing tools that make it easy to increase client visits, average spend, and referrals. The program utilizes reliable technology that virtually automates every step of the business. It helps one focus on the core salon business values to make customers feel and look great. Phorest provides a reliable set of features…
Overview
• Before/After photo feature: Showcase the latest work or impress new clients on Facebook
• Client ReConnect to make clients come back
• The Phorest Go Salon Management App: On-the-go access through mobile or tablet
• Cloud-based Client Card
• Special notes feature (for example, tea or coffee preferences)
• Client rewards with points for referrals and services/products
6
Shedul
Shedul is an easy-to-use salon and spa management and booking software that can be accessed from anywhere using the internet. Hair salons, massage centers, health clinics, gyms, beauty salons, spas, personal trainers and more can benefit from the software for free, while business looking for advanced features can opt for premium services. Being a cloud-based solution, the software does not require businesses to invest in new hardware or install anything. The powerful booking system is easy to implement and use and is flexible enough to fit according to individual business requirements. Shedul is loaded with advanced features that help business…
Overview
• Activity Dashboard: Keep track of daily appointment scheduling activities and never miss a beat
• Advanced salon software management features with detailed client appointments history, booking preferences, future bookings and contact details
• Built-in POS: Transactions, invoicing, receipts, taxes and retail product management
• Referral source tracking
• Send automated reminders and custom messages to clients about appointments and notify them of any changes
• Online bookings: Allow clients to book, cancel or reschedule their own appointment bookings through the app
7
Insight
Insight Software is a complete management system for salons, spas, and other businesses that will help users run their business, attract and retain clients, and add more profit. Insight salon & spa software offers a variety of features such as appointment management, client & staff management, marketing services and reporting. Users can book appointments and reserve service rooms and resources online, and receive appointment confirmation messages on their phones. The tool records client preferences, formulas and other notes as well as tracking product, service and appointment histories and other personal details such as birthdays and anniversaries. The software also stores…
Overview
• Online Appointment Booking built-in
• Insight reports: More than 100+ BI reports
• Advanced marketing: Offer Promotions via SMS, Email etc
• Recurring billing for multi-client memberships will show the detailed billing amounts for each individual client attached to that membership
• SMS Appointment Confirmation: Save time and virtually eliminate no-shows
• The Time Clock allows employees to clock in and off
• Solo - $35 / month
• Partner - $55 / month
• Growth - $70 / month
• Small Business Edition - $85 / month
• Enterprise - $125 / month
8
Booker Spa
Booker will transform any spa into a 24/7 hub by giving clients the ability to book online, wherever and whenever is most convenient for them. Provide clients with the payment options they prefer. Booker's integrated point of sale accepts all forms of payment and ties each transaction to a customer's history, giving more insight into clients and the business. The platform makes it easy for people to access their business 24/7 from a tablet, computer, or even a smartphone. The solution also makes it easy for the customers of the company to book appointments as well as classes—even beyond business…
Overview
• Centralized reporting on staff hours, service deductions, and tips
• Enhanced SMS - Easy to set up and reliably delivered
• Email Campaigns: Easily send newsletters, special offers, holiday greetings and more
• Robust reporting across all customer activity
• Employee schedules that sync with your calendar
• Business Intelligence Dashboard: Know which marketing initiatives drive new business vs repeat business
What are Salon & Spa Management Software?
Salon and Spa Management Software is designed to automate the day-to-day activities of spas, salon, and beauty parlor. It enables the salon and spa managers to run their business, manage their daily schedule, appointment booking, staff and inventory with just a click of the button.
What are the Top Salon & Spa Management Software?
Salonist, Meevo 2, Vagaro, Zenoti, Phorest, Shedul, Insight, Booker Spa are some of the Top Salon & Spa Management Software