Top 43 POS Software, Free & Open Source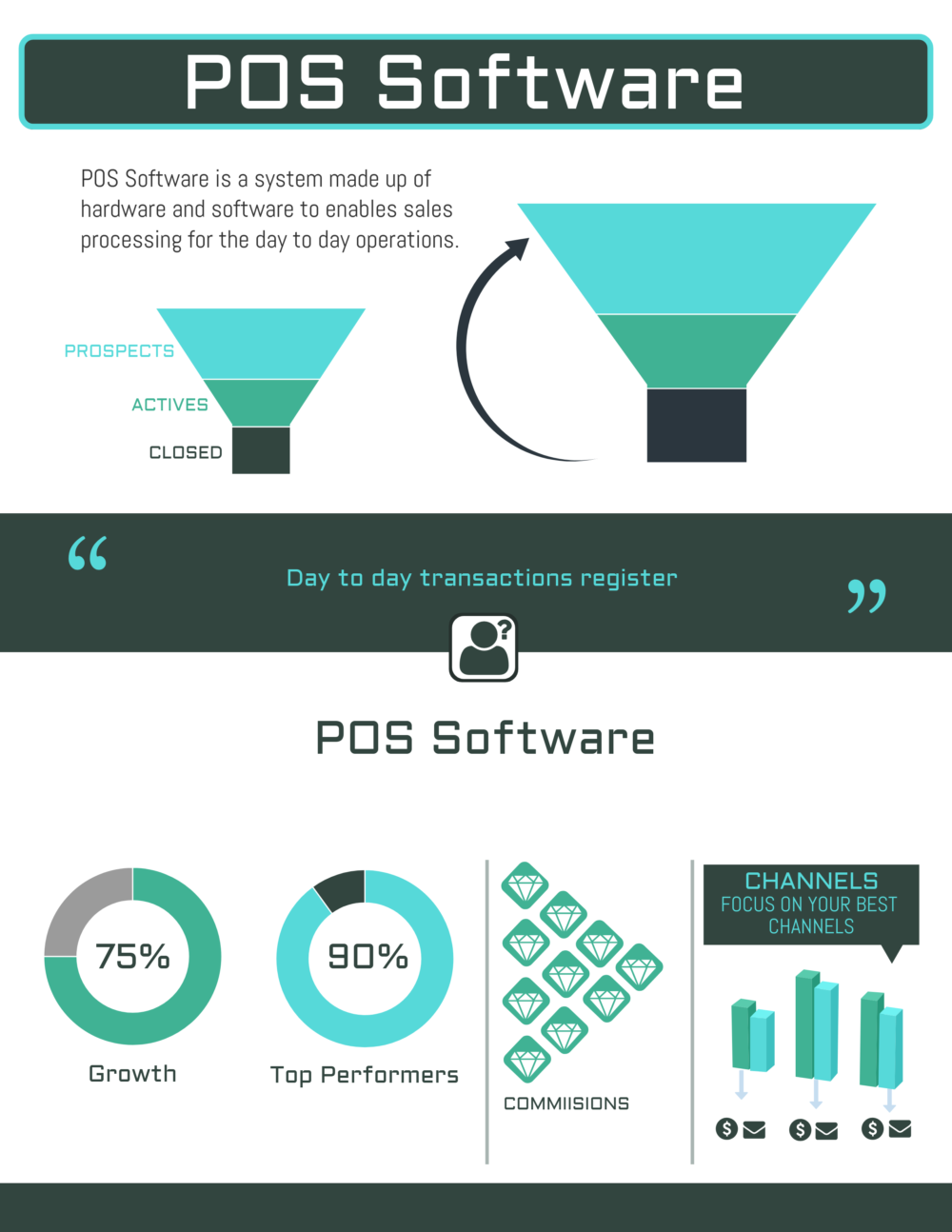 The point of sale (POS) or point of purchase (POP) is the time and place where a retail transaction is completed. At the point of sale, the merchant calculates the amount owed by the customer, indicates that amount, may prepare an invoice for the customer which may be a cash register printout, and indicates the options for the customer to make payment.
The point of sale is often referred to as the point of service because it is not just a point of sale but also a point of return or customer order. POS terminal software may also include features for additional functionality, such as inventory management, CRM, financials, or warehousing.
Some point of sale vendors refer to their POS system as "retail management system" as the software is no longer just about processing sales but comes with many other capabilities such as inventory management, membership system, supplier record, bookkeeping, issuing of purchase orders, quotations and stock transfers, hide barcode label creation, sale reporting and in some cases remote outlets networking or linkage, to name some major ones.
What are the Top Free POS Software: Windows POS, eHopper, Loyverse, Imonggo are some of Top POS Software Free.
What are the Top Open Source POS Software: Chromis POS, uniCenta, Open Source Point of Sale, Odoo POS, Keyhut, Taverner POS, Floreant POS, BPOS, Loyverse POS, ProffittCenter are some of the Top POS Software Open Source.
What are the Top POS Software: QuickBooks POS, Square Point of Sale, Toast POS, ACCEO Smart Vendor, Shopify, RQ Retail Management, Retail Plus, Lightspeed, ACCEO Logivision, Squirrel POS, AccuPOS, AIMsi, CISPro, VendHQ, TouchBistro, GiftLogic, Volanté, Bindo POS, Tillpoint, Windward, NCR Silver, CtrlOFFICE, Retailedge, Springboard Retail, Erply, iReap POS, SalesVu are some of the Top POS Software.
You may like to read: How to Select the Best Point of Sale Software for Your Business
What are POS Software?
POS Software is a system made up of hardware and software to enables sales processing for the day to day operations.
Top POS Software
QuickBooks POS, Square Point of Sale, Toast POS, ACCEO Smart Vendor, Shopify, RQ Retail Management, Retail Plus, Lightspeed, ACCEO Logivision, Squirrel POS, AccuPOS, AIMsi, CISPro, VendHQ, TouchBistro, GiftLogic, Volanté, Bindo POS, Tillpoint, Windward, NCR Silver, CtrlOFFICE, Retailedge, Springboard Retail, Erply, iReap POS, SalesVu are some of the Top POS Software.
1
QuickBooks POS offers on-premise, web-based and mobile point-of-sale (POS) solution for businesses of all sizes. The software enables users to build customer relationships, manage inventory and automate the overall banking process. QuickBooks POS allows users to enter sales information automatically into the user's accounting software. QuickBooks POS is a platform that enables users to follow sales, customers and inventory effectively and quickly. Available in two versions, the Basic and the Pro, QuickBooks Point of Sale is created to bolster businesses' customer service and meet their needs. It follows the customer's information and comes with a variety of features to keep…
2
Square Point of Sale is a mobile phone app available on Google Play and the App Store. The square point system is designed to run on a tablet or Smartphone and its key capabilities include sales reports, inventory and digital receipts, as well as valuable analytics information. The square up point of sale system has a wide set of features to help you run your business on a Smartphone, tablet or the online Square Dashboard. Square up POS is simple and intuitive POS to set up and use. It is designed to get your staff up and running quickly through…
3
Toast POS is a point of sale system that enables businesses to enhance staff efficiencies, reduce expenses and helps improve customer experience. This software can be used by bars, breweries, pizza chains, bakeries, coffee outlets, fine dining restaurants, and quick service restaurants. The app is compatible only with Android tablets and not with iPad as of now. Toast POS provides menu management functionalities that include setting time-specific menu pricing such as happy hour menu, customizing menus separately for offline and online audiences, and setting up the entire menu including all groups and sub-groups. Its restaurant ordering feature enables you to…
4
ACCEO Smart Vendor is your one-stop shop for complete POS systems, including software, hardware, training, installation and support. The Smart Vendor team provides small and medium businesses in the retail sector with the best in easy to use, reliable, feature-rich, and cost effective point of sale software and hardware. We take the time to properly evaluate your needs, create a proper implementation and training plan to tailor the solution to your store and achieve successful results. Acceo has IT solutions deployed to simplify e-business operations and optimize clients' overall performance throughout the conception, implementation, integration and technical assistance stages by…
5
Shopify is a point of sale software that is use to manage business. It is easy to use and has a seamless workflow that enables you to add products by simply tapping and adding to cart. Its inventory is synced and is automatically updated in real-time whether sales have been made online, in store or via phone. Shopify also syncs all the orders automatically regardless of where they have been placed and helps to manage orders from your computer. You can monitor transaction history and print receipts from anywhere and anytime. Shopify allows for tracking cash in your till easily…
6
RQ retail management is and intuitive and user-friendly software and is a full suite retail management system with than 19,000 retail locations. The RMS is more than a point of sale and helps in equipping staff with tools and has an intuitive interface and delivers enhance customer service features. It is fully integrated with third party integrations such as tax library and automated payment processing and can bundle products for sale at discounted rates. RQ is suitable for the wireless industry with a career reconciliation simplified with a simple import process, you can fool proof phone activation wizards. It has…
7
Retail Plus is a point of sale software system that is used to manage businesses. It makes retail management accessible and affordable for all. It has point of sale, customer tracking, inventory control, purchasing, customer loyalty and many other services. Retail plus has three main features which are point of sale, inventory and a client database. Retail plus point offers a wide variety of options that does not put a clutter and complexity on your screen. It is easy to learn and use and does not need extensive staff training. It can handle multiple combinations of discounts, taxes, returns credits…
8
Lightspeed provide customers with a simple way to build, manage and grow their retail, restaurant or eCommerce business, and create a best-in-class customer experience. The end-to-end solutions unify inventory, customer management, sales and analytics across all channels, in-store and online. It has an omnichannel retailing for both online and in store because of the integrated ecommerce platform. Lightspeed helps businesses get data and make smart business decision from the employee performance analysis making it easy to track sales and align purchase decision to customer demand. Lightspeed allows you to keep the stock that is on demand, load products, tag and…
9
ACCEO Logivision is one of the ACCEO solutions and develops Point of sale (POS) software for the quick-retail industry with a particular focus on the operating system for the front-end terminals. ACCEO Logivision technology is easy, fast and secure to use the software in the fast retail industry. ACCEO Logivision is easy to use point of sale software that is designed for retailers seeking rapid transaction entry and safe data recording. The software runs on a local database to ensure mission-critical front-end operations. ACCEO Logivision flexible Windows-based solution allows you to choose your own hardware. ACCEO Logivision offers a set…
10
Squirrel is a point of sale software system that helps businesses to manage their unique and entire operations to meet their specific needs. It has a simplified system for small to medium sized businesses and a complete hospitality management system for multi-unit and large enterprises. Squirrel is built on a proven and reliable platform and has been designed to be flexible and efficient. Its interface is built for employees to be able to easily learn and use it. Squirrel menus can be easily edited at terminals and has fail-safe system to maximize system's up time. The architecture is built on…
11
AccuPOS is a point of sale software, inventory management and time clock solutions for all types of businesses be it counter service, apparel, bar and restaurants, retail and many more. It is available in all versions of QuickBooks and Sage accounting platforms. It is a fully automated system and saves businesses bookkeeping hours and it puts all accounting data where it belongs. The Point of sale tuned for mobile devices helps to cut down on wait time with a technology that works on android devices. It is versatile receives updates as often as in minutes. For restaurants, it helps in…
12
AIMsi is a completely integrated and robust point of sale and retail management solution that offers inventory control, automated purchasing, customer management and loyalty programs, sales reporting, employee security and more, that can be used on multiple work stations. AIMsi is a module-based POS software tool, and can be personalized through add-ons to provide the services needed to each retailer. AIMsi offers 2 POS screen options, a fully customizable touchscreen POS and a classic POS that uses keyboard and mouse. It adjusts inventory levels automatically to optimize inventory turns, reduce inventory costs and increase cash flow. It also prints customizable…
13
CISPRO is a user-friendly point of sale software system especially for Canadian businesses. It has very flexible and low cost programs that are compatible with common database software such as access, crystal reports and others. It works with major brands of POS hardware including, drawers, barcode scanners, pole displays and receipt printers. It runs on standard windows computers and is easy to learn and use and come with training videos and unlimited phone support. All the POS sales transactions go through CISpro. it is integrated with inventory and POS accounts recievable, payable and general ledger. It has many features some…
14
VendHQ is a POS or point of sale application that provides solutions required to control retail businesses. VendHQ is capable to work on MAC, PC, and iPad. VendHQ is also able to work offline. Some of the businesses in which VendHQ is capable to work on are fashion boutiques, sports and outdoors, home, furniture, and gifts, jewelry, shoe stores, hobbies and music, health and beauty retail, and many more. The main features offered by VendHQ include; Vend ecommerce, point of sale, hardware, payments, customers, inventory, customers, vend reporting, growth and multi-outlet, and 24/7 global support and services. The vend ecommerce…
15
TouchBistro's iPad POS system is designed for and by restaurant service staff to meet the specific needs of the industry with a 24/7 expert support from former restaurant servers, managers, and owners. TouchBistro helps to increase sales, improve service, and make better business decisions whether you're full-service or quick-service. It also helps you to manage tableside orders, floor plans & tables, mobile payment processing, staff & scheduling, iPad menu management, and inventory management right from the iPad, access reporting & analytics in the cloud from anywhere and at anytime. TouchBistro's is designed specifically for restaurants like the fine-dining restaurant, casual…
16
GiftLogic offers retailers a complete point of sale solution from initial transaction to reporting and analysis. GiftLogic includes applications for point of sale, inventory management, customer management, e-commerce, and reporting. The features include integration to QuickBooks accounting, maintaining gift registries and managing items on consignment, back-office features for time clock management, fingerprint integration and more. Inventory controls include the ability to track items with attached photos, and the ability to schedule future sales. The purchasing system comes with features for suggested ordering, item analysis and the ability to create vendor profiles. GiftLogic inventory control system tracks stock details accurately with…
17
Volante is a software company that specializes in providing innovative Point of sale (POS) systems for the hospitality industry. Volante products include quick service, table service, multi-meal, head office management and play-mobile app. Volante help in customer database for meal plans and accounts, marketing solutions like promotions, surveys & demographics, customer-facing display and playt mobile app, hardware integration of biometrics, wireless handheld and kitchen display systems, loss prevention, time & attendance, self-serve kiosk, pizza module, reporting, mobile reporting and Linux POS. Volante services include professional services, payment services, Education & training and support services. Volante seek to provide real-time control…
18
Bindo POS is a cloud-based iPad Point of Sale (POS) system with mobile applications that offers inventory management, customer management, and e-Commerce within a suite and allows customers to shop online easily from anywhere in the world. Bindo POS integrates with customer relationship management (CRM) applications and this allows you to engage positively with your clients and build relationships for ease of sale. Bindo POS has an inbuilt analytics that helps in tracking inventory and in making smart decisions that relate to inventory management. Bingo POS allows your customers to order and receive items from your online store via online…
19
Understand your business with powerful insights into sales, inventory, customers and staff performance. Tillpoint collects and converts key data, helping you to make smart, useful and meaningful business decisions. Tillpoint means more money in your till. Our cost-effective and highly competitive iPad till point system saves you money while making your business more profitable. Instead of using multiple business software, Tillpoint has everything you need in one place, from an EPOS to a CRM. Tillpoint offers the freedom and flexibility to operate from anywhere as a result of its intelligent cloud-based design. Edit products, access reports, and manage your business.…
20
Windward is a business management software with POS system, inventory control, CRM, accounting, rental and service management. Windward POS provides tools and knowledge that is needed to provide exceptional customer service and maintain control of customer inventory. Windward POS offers speed because of the use of barcode scanners which plug directly to your windward powered POS software and improves speed in receiving shipment and checking goods sold out. Retailers have powerful POS features and controls with a competitive advantage compared to other systems. The POS system is multifunctional with a screen that is both touch and click. Windward software has…
21
NCR Silver is a Cloud point-of-sale (POS) system that is developed specifically for the Apple iPad. NCR created the first POS systems provider and NCR Silver POS system leverages the simplicity and ease of use of the iPad which enable users to run their POS-related functions including employee management, inventory management, scheduling, sales reporting and more from an IPAD. NCR Silver POS can take payments, access sales reports; run your business and more from the cloud via your iPad. NCR Silver POS lets you take control over your business, from managing and scheduling your employees to accepting payments, tracking sales,…
22
CtrlOFFICE is an online hosted POS software with Accounting, staff & customer management, stock inventory and much more. It has a built in POS (point of sale). One can use it to make invoice, add customers, manage staff, and add products, manage stock purchase, print product barcode, see profit report by invoice and use many other excellent features .Its Smart Phone enabled and Compatible with any device. Its Fast, easy and user friendly, SSD drive used for hosting your data,Separate MYSQL database for every individual account, Unlimited Products, Unlimited Product Category, Unlimited Manufacture / Vendor, Unlimited Purchase entry, Unlimited Invoice/Orders,…
23
Retailedge is a Point of sale software for retail point sale and inventory management. It is easy to use and gets retail business up and running quickly. It has features and reports that make business grow and succeed. It is an affordable software and supports secure and mobile payments like apple and EMV and credit card choices at lower rates. Retailedge integrates with multiple ecommerce platforms for real-time, quantity and price updates. You can manage retail operation all your retail operations, purchase orders, transfers, barcoding inventory quantities, costs an prices. It has sophisticated sales features that processes sales fast and…
24
Springboard Retail is a cloud-based POS and retail management inventory software that is designed to increase sales and profits for multi-channel retailers. Springboard Retail Cloud POS helps you to get up and running quickly, access real-time data, and benefit from frequent updates. Spring Retail collects unlimited data with our SmartFields and creates reports on-the-fly that supports your unique business. Springboard Retail launches, manages or grows with enterprise grade features and integrations with top retail and ecommerce platforms. Springboard Retail's Mobile POS and robust retail management platform helps retailers across the nation with 1-50 retail stores sell more and smarter. It…
25
ERPLY shows you exactly how far cloud-based POS software can be developed. This full-featured Windows POS client is quick and painless to install, powerful yet easy to use, and has minimal hardware requirements allowing you to utilize existing hardware. Internet disruptions are no longer a dilemma. ERPLY POS software works both on & offline utilizing its best in breed Cloud Hybrid technology. Besides the key worry of sales coming to a halt, ERPLY POS software also solves another issue that comes along with Internet reliance: sluggishness. The new Windows offline POS software improves significantly touch-screen responsiveness and helps maintain working…
26
iReap is a point-of-sale solution designed for small and medium-sized retail stores, enabling them centralized essential and critical tasks, such as accepting payment, managing inventory, keeping and updating customer information and other data, creating business reports, order management, and so on. iReap POS provides you a comprehensive point-of-sale system that makes managing your retail business easy, quick, and effortless. Catering to the needs of small and medium-sized retail stores, iReap POS can be configured to suit your needs and business requirements, ensuring that the system plays well into your existing workflows and processes right after setup. Setting up your company…
27
SalesVu is a cloud-based business management and Point of Sale solution that caters to small and midsize businesses. WELCOME by SalesVu is a free reservation/waitlist management app designed to increase your salon's customer churn rate and satisfaction. The app allows you to easily configure your floor plan and stylist stations and gives your salon's front desk a modern, sophisticated look. As your customers arrive, add them to the waitlist by entering their service/stylist preference and provide an estimated wait time. You can also book reservations in person or online through our online booking system that can integrate with any existing website. Check your appointments for the day or the week with…
Top POS Software Free
Windows POS, eHopper, Loyverse, Imonggo are some of the Top POS Software Free
1
Windows POS is a point of sale application that contains comprehensive features that enable merchants to easily handle their business needs. The business needs range from loyalty and CRM, to layaway and age verification. Windows POS provides an intuitive design that enables users to get trained on retailcloud Windows POS in the shortest time possible. The main features of Windows POS include tablet POS, Mobile POS, retailcloud online, skedool-scheduling App, inventory manager, mInventory, and nGauge analytics. The tablet POS is an application that provides an excellent platform for engaging with your customers at the counter. The tablet point of sale…
2
eHopper is a complete cloud-based POS system that provides all-in-one solutions for running small businesses successfully. eHopper presents the point of sale feature that is available on Android, iPad, tablets, PCs and the Poynt terminal. The point of sale feature is quick, efficient, and intuitive to use and provides an easy setup that enables users take payments from your customers in minutes. The point of sale also enables adding and scanning of items directly into your cart. The order management feature enables selection of order types such as quick sale, take out, and delivery. The customer management feature presented by…
3
Loyverse POS is a free sales system developed for small and medium businesses. It is an ideal POS for retail stores, bars and restaurants, coffee shops, car wash stations, and individual businesses to name but a few. Loyverse POS is free and does not require any contracts, credit cards, and commitments. The application is powerful to address multiple aspects of point of sales management, including tracking sales and inventory in real time, managing items, and looking at sales reports among others. Loyverse POS is fully optimized for mobile devices, turning smartphones and tablets into instant cash registers. With Loyverse POS,…
4
Imonggo is a point of sale application that provides solutions needed in managing a user's store. Some of the solutions provided by Imonggo include inventory tracking, credit card processing, customer loyalty, sales reporting, and many more. Imonggo enables businesses have unlimited growth as it provides a scalable platform and supports multi-store set-ups. Imonggo is a web-based platform therefore enables users to access their data at any time and from any location. The main features of Imonggo include stockroom, office, store, addition of service types, customer membership, and set reward promos. The customer membership feature presented by Imonggo provides instant points…
Top POS Software Open Source
Chromis POS, uniCenta, Open Source Point of Sale, Odoo POS, Keyhut, Taverner POS, Floreant POS, BPOS, Loyverse POS, ProffittCenter are some of the Top POS Software Open Source.
1
Chromis POS is a free and open source point of sale application for small, medium and large sized businesses. Users are provided with a simple, fast, and efficient way for installing it using its own custom installer that can be used on a number of operating system. Chromis POS provides support to multi terminal modes and works with a number of open source database solutions. Chromis POS provides users with the ability for using a Derby embedded db in its standard form. Users using the multi terminal are enabled by Chromis POS to use a product like MySQL. Chromis POS…
2
UniCenta is a software that is open source and provides amazingly powerful, multi-terminal, multi-location commercial grade software. UniCenta is ideal as there are license fees, no vendor lock-in, and install on many terminals and as from many locations, therefore saving your business a lot of revenue. The main features of UniCenta are; system, sales, inventory, supplier, customer, employee, reports, and web reports. In managing people, product, and payments, UniCenta provides a fast dashboard type that accesses all UniCenta POS functionality that includes customers, sales reporting, and inventory. UniCenta provides users with an excellent platform for choosing their own database host.…
3
Open source point of sale is a web based point of sale system written in the PHP language. It uses MySQL as the data storage back-end and has a simple user interface. It can be installed locally or remotely, and is packaged with Docker for easy installation, and will even run on Raspberry PI. It's an open source POS software for small retailers. It has a cash register/point of sale module that allows one to ring up sales and returns. It also allows one to discount items on a line-by-line basis. It allows customers to use different modes of payments…
4
Odoo POS is part of Odoos's integrated suite of business applications that provides unified data across stores, and has an integrated inventory management platform. Odoo POS has a payment feature that allows for payment methods like cash, checks and credit card payment methods. New types of payment methods can also be included. This feature allows for split tenders where a single order can be paid as a split payment between multiple parties as well as with separate payment methods. Offline payments are also made possible in that orders can be made offline and are synchronized automatically when one is reconnected.…
5
Keyhut is a point of sale application cash register, minimum modes, and enhancement of cash register features. The cash register enables easy setting up of ring sales, or performing heavy duty jobs required for tracking everything that goes on in a user's store. The cash register provides an excellent platform for running Keyhut on any compatible computer version or IBM. The cash register also facilitates connection of print receipts on almost any printer that is connected to the computer via the parallel printer port. The cash register enables connection of cash drawers to a receipt printer and still assumes its…
6
Taverner POS is a free and open-source point of sale software system for use in public houses, bars and clubs. The Taverner POS suite is aimed at simplifying and streamlining work in public house and bar environments rather than in larger restaurants, and makes use of Floreant POS's "TAKEOUT" ticket method for sales across the bar. This can be renamed to suit individual taste requirements, for example 'Bar sales' from the configuration dialog menu. Other ticket types can still be used if required. Touch screen operated the software offers backoffice management, menu modifiers, reporting, kitchen printers, manager facilities, multiple terminals,…
7
Floreant POS is a free and open source point of sale application that provides enterprise grade features that are super intuitive, and comprehensive.Floreant POS takes 90 seconds for installation therefore no complex setup processes. This is achieved by Floreant POS running and auto configuring a user's database. Floreant POS provides businesses with what they need to run successfully by using a strong backend database that conquers all complexities. The manager's facilities presented by Floreant POS provide managers and administrators with full grained control over cash. This enables prevention of deleting items or voiding tickets that usually require managers' approval. The…
8
Bluegum point of sale is a free, fast, networked, complete point of sale package. It is a fully integrated retail management system. It is completely free, requires no licensing. It's a 32 bit Windows program and runs in console mode so it's very fast and small. BPOS provides Full customer management. Full lookup for customers including Address, Postcode and City, Full stock control - Ordering, Receiving and Returns. Orders us a minimum stock value for suggested re-ordering values and Extensive reporting on all functions - over 120 reports standard. POS, Special Orders, Invoicing and Layby functions. Special Orders are linked to receiving…
9
Loyverse POS is a free point of sale software and customer loyalty program that provides free point of sale system for small stores, beauty salons, coffee shops, and many more. Loyverse POS provides an excellent platform for users to manage their stores from a tablet or smartphone and therefore increasing their small business profit by making their sales easy and fast. Loyverse POS also enables managing of inventory, visualizing sales analytics, acquiring, retaining, and engaging customers and multiplying their average spend. Loyverse POS presents the mobile free POS that enables giving of receipts to customers in the way they prefer.…
10
ProffittiCenter is a free an open source point of sale scanning program that provides more than just a low cost computerized cash register. ProffittiCenter simply provides a point of sales scanning program that is compatible with Windows applications and provides an excellent platform for solving all retail stock control problems. ProffittiCenter is a fully functional EPOS program that enables automatic ordering, barcode printing, shelf edge labels, and stock taking. ProffittiCenter provides an excellent platform for completing any installation by use of cheap point of sale hardware. ProffittiCenter provides new features that are able to allow different tax regimes such as…
You may like to read: How to Select the Best Point of Sale Software for Your Business