Top 26 Maintenance Management Software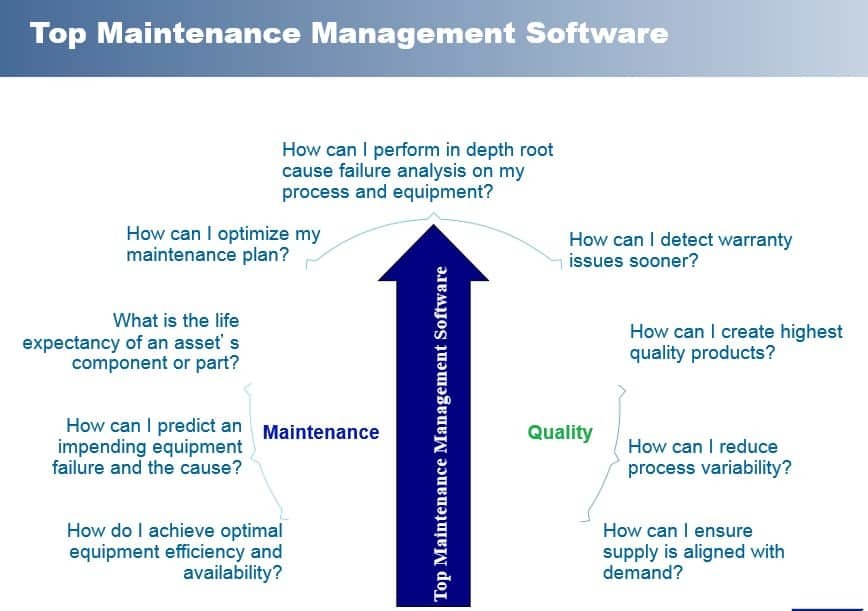 Maintenance Management Software manage maintenance operations, resources, equipment and compliance. Computerized Maintenance Management System (CMMS), is a software package that maintains a computer database of information about an organization's maintenance operations. This information is intended to help maintenance workers do their jobs more effectively and to help management make informed decisions and also used to verify regulatory compliance.
Examples of Maintenance Management Software: Limble CMMS, eMaint, mHelpDesk, Corrigo Enterprise CMMS, eWorkOrders CMMS, eMaintenance+, Fleetmatics Work, ManagerPlus, Hippo CMMS, Fiix, Axxerion CMMS, MicroMain, Synchroteam, FaciliWorks CMMS Software, EMDECS, Proteus CMMS, Q Ware CMMS, MaintiMizer, MPulse Maintenance Management, FTMaintenance, Maxpanda CMMS, ServiceBox, Tofino, DirectLine, Bigfoot CMMS, Maintenance Care are some of the best examples of Maintenance Management Software.
You may like to read: Top Predictive Maintenance Software and How to Select the Best ERP Software for Your Small Medium Business
Top Maintenance Management Software
Limble CMMS, eMaint, mHelpDesk, Corrigo Enterprise CMMS, eWorkOrders CMMS, eMaintenance+, Fleetmatics Work, ManagerPlus, Hippo CMMS, Fiix, Axxerion CMMS, MicroMain, Synchroteam, FaciliWorks CMMS Software, EMDECS, Proteus CMMS, Q Ware CMMS, MaintiMizer, MPulse Maintenance Management, FTMaintenance, Maxpanda CMMS, ServiceBox, Tofino, DirectLine, Bigfoot CMMS, Maintenance Careare some of the Top Maintenance Management Software.
Top Maintenance Management Software
PAT Index™
1
Limble CMMS
Limble CMMS is an easy to use and all in one modern CMMS software that empowers the maintenance team. Limble CMMS enables technicians to organize, automate, and simplify the maintenance operations. Limble CMMS allows using Android and IOS mobile apps to enable clients to experience better organization, communication, accountability, and productivity throughout the entire maintenance team. With Limble, the maintenance team has an excellent platform to view their assigned PMs and Work Orders, receive instant notifications when new work is created, start new work orders while out in the field, and report and discuss problems using both pictures and text.…
Overview
• The work order system allows the maintenance team to start, assign, and then complete a work order for an asset from anywhere
• A well-planned maintenance strategy that greatly increases how well and asset performs and how long it will perform
• Gain insight into the overall status of the asset and use the information to make key business decisions
• Track any piece of information that directly relates to the asset
• Correlates with relevant maintenance actions
• Receive instant notifications when new work is created
• Start new work orders while out in the field
• By asset - $1/asset/mo
• Starter - $25/user/mo
• Professional - $35/user/mo
• Enterprise - $65/user/mo
2
eMaint
eMaint, a Fluke company, is a global software solutions company that improves the way organizations manage maintenance operations, resources, equipment and compliance. eMaint offers features such as Work Management, Maintenance Scheduling, Reports & Dashboards, Predictive Maintenance, Preventive Maintenance, Mobile Maintenance, Inventory Management, Asset Management, Multi-Site Toolkit and Interactive Plans & Storage. eMaint also offers add ons such as Standard CMMS Features. Within eMaint's enterprise asset management (EAM) software, the user can work the way the user wants to work without feeling constrained by the user's maintenance management system. eMaint's CMMS system grows with the user's business where the user can…
Overview
• eMaint's work order management system provides dozens of features and tools that allow you to go beyond just managing work
• Utilize the planning and scheduling tools within eMaint
• eMaint's reporting and dashboard features enable you to transform your CMMS data
• Predictive Maintenance (PdM) software predicts failures and monitor performance on your most critical assets
• eMaint's Preventive Maintenance (PM) software enables organizations to generate calendar and/or meter-based PMs
• Team - $33 Per user, Per month
• Professional - $85 Per user, Per month
• Enterprise - $120 Per user, Per month
3
mHelpDesk
mHelpDesk is the easiest and most powerful software solution for industries such as HVAC software, plumbing software, security system installation software, computer repair software, landscaping business software, electrical contractor software, lawn care software, maid service software, it management software, carpet cleaning software, pest control software and painting contractor software which eliminates the user's slow, repetitive, and manual processes and automates the user's customer contact, scheduling, billing, and everything in between. mHelpDesk offers features such as pre-sale tools like Lead Management (CRM), Estimates and Quotes and Online Booking; for jobs like Workflow Management, Job Management, Recurring Jobs, Scheduling & Dispatch, Drag…
Overview
• Share notes between sales and service teams
• Seamless handoff between sales and service departments
• Faster estimates using templates (item groups)
• Ability to book an appointment directly from your website
• Our app will search for a wifi signal and will automatically sync all updates to your account
4
Corrigo Enterprise CMMS
Corrigo Enterprise CMMS is a cutting-edge facilities management platform that empowers users to transform their building and facilities management operations. With Corrigo Enterprise CMMS, users can connect with the right resources, maximize savings, and leverage advanced data analytics. It enables users to automate frequently performed administrative tasks, as well as integrate Corrigo Enterprise CMMS with their existing accounting software and other tools. Corrigo Enterprise CMMS mobile and web-based apps connect everyone on the team – technicians, service providers, facilities management, and all the right people for the project. It fully supports both independent owner-operators with one truck and multinational companies…
Overview
• Preventive maintenance
• Advanced mobile apps and mobile checklists
• Advanced performance management
• Advanced service delivery management
• Approvals & Verifications
• Asset Management
• Budget to Actual Tracking
5
eWorkOrders CMMS
eWorkOrders is a powerful, cutting edge, user friendly work order management tool which integrates with smartphones, tablets and desktops on almost every kind of operating system. eWorkOrders offers features such as work order management, service request interface, asset management, planned/preventive maintenance, mobile maintenance management, geographic information system, document management, stock room inventory management, employee management and time tracking, materials management, meter reading, reporting and signature capture. eWorkOrders integrates with the user's smart phone's GPS and tells the user exactly where to go to find what the user is looking for. The user can easily assign workers to multiple work orders…
Overview
• Configure service request menus and pages to have the types of services you would like to offer
• Track any assets, asset life cycle information, service and parts history, replacement parts, preventive maintenance plans, print bar code tags
• Manage requests that come in from the service request module or over the phone.
• Track warranty information for assets and even store scanned warranty registration cards.
• Track your employees' time, payroll and billing information.
6
eMaintenance+
eMaintenance+ is a true SaaS application, with no hardware requirements which shapes the behavior of its users, so that maintenance and repair tasks are carried out in the fastest and most cost-efficient way possible where eMaintenance+ also selects and notifies the most appropriate contractor for the task. eMaintenance+ offers features such as Reactive Maintenance Management, Scheduled Maintenance Management, Contractor Management, Asset Management, Management Reporting and Document Library. eMaintenance+ lets the user determine how maintenance is handled whether that's reactive, or planned preventative maintenance. With eMaintenance+, data is silently collected in the background and can be sliced and diced however the…
Overview
• Reactive maintenance request logging, tracking and reporting
• Automated scheduling and notification of regular maintenance tasks
• GeoMapper tool locates suppliers on site, arrival time and job number
• Track and report on reactive or planned maintenance by asset or asset group
• Facility to store all documents relating to contractors, sites, assets and tasks
7
Fleetmatics Work
Fleetmatics work is a field service management software which lets the user take schedules, invoices, quotes off the user's desk and onto the cloud; simplify how the user's schedule and assign jobs, no matter how many times things change, and; be more productive by simplifying, organizing and managing the user's day to day operations, all in real time. Fleetmatics work offers Management, real-time updates, a customizable scheduler, Dispatch, billing, Invoices & Quotes, Reports, Work History Tracking, Accounting Integration, Timesheets & Time Tracking, Customer Database (CRM) and Mobile App. Fleetmatics WORK gives the user's visibility into the user's business to find…
Overview
• Keep all your client information together
• See everyone's availability and open time slots in an easy-to-read format
• When your dispatch goes digital, you can update last minute changes to job details
• Manage the paperwork from start to finish.
• Utilize accessible, easy-to-read reports displaying information from job summaries and time sheets
8
ManagerPlus
ManagerPlus is easy to use asset management software system that helps companies in asset-intensive industries to increase return on investment while decreasing the cost of operations by linking asset management tracking, work order management, preventive maintenance scheduling, inventory and purchasing functions together for quick and easy viewing and decision-making. ManagerPlus software (ManagerPlus Desktop and ManagerPlus Cloud) fits the business needs of any company size or industry as its products are scalable and tailored to work with a company's operational requirements. With ManagerPlus Desktop all an enterprise's assets, work orders, schedules, warranties, and inventory are located and readily accessible in one…
Overview
•Asset Management & Tracking
•Work Order Management
•Maintenance management
•Inventory & Purchasing Functions
•Add-on modules
•Basic- $33/user/month
•Professional- $65/user/month
•Enterprise- $125/user/month
9
Hippo CMMS
Hippo is a simple maintenance management software solutions which provides the essential CMMS features that the user needs to manage, organize and track the user's maintenance operations where each module works together to provide a robust and seamless system. Hippo CMMS offers features such as Preventive Maintenance, Work Order Management, Equipment Tracking, Inventory and Parts, Bar Code Scanning, Interactive Floor Plans, Vendor Management, Maintenance Reports, Mobile CMMS, Fleet Maintenance and CMMS Software. Hippo CMMS unique maintenance request portal gives submitter the option to save time by seamlessly submitting work orders straight from their desktop and mobile device. The users can…
Overview
• Submit work orders, assign assets and documents
• Maximize the longevity of your organization's assets
• Keep all your asset and equipment information organized
• Gain control over your inventory and supplies
• Powerful reporting tools offer valuable insight into your facility's maintenance operations
• Hippo Lite - $45 USD monthly / user
• Hip Pro - Starts at $165 USD / month
• Hip Pro Plus - Starts at $195 USD / month
10
Fiix
Fiix is a cloud-based maintenance and asset management software that organizes, tracks, and schedules the user's maintenance activities faster, better and for less. Fiix offers features such as Asset management, Work orders, Preventive maintenance and Mobile app. Fiix offers CMMS, Mobile CMMS and Cloud & SaaS CMMS. Fiix cloud-based CMMS software quickly organizes all maintenance activities into one easy-to-use tool. The Fiix dashboard sorts through all the data, giving the user instant access to the information the user needs to improve performance whether its understanding overdue work orders, low stock items, work requests, or even the user's mean-time-to-repair. Fiix lets…
Overview
• Easily create, assign, and manage unlimited work orders
• Make your maintenance procedures more effective by tracking preventive maintenance in one CMMS
• Operate multiple businesses, divisions, locations, or facilities from one central CMMS database
• Create custom reports, leverage over 100 existing reports
• Easily connect your maintenance and asset management software with your ERP
• Performance – Custom Pricing
• Enterprise - $79 / month
• Professional - $49 / month
• Basic - $29 / month
11
Axxerion CMMS
Axxerion CMMS is a user-friendly, comprehensive web-based software for workplace and business automation. Axxerion CMMS can be used for the management and maintenance of properties and leases, contracts, projects, work orders, service requests, helpdesks, assets, finances and other aspects of workplace and business operations. With Axxerion CMMS, users can access and manage their information and tasks from anywhere and at any time. Axxerion CMMS has a single integrated database that works seamlessly on mobile devices as well as standard browsers. Axxerion CMMS allows users to work with their own terminology, easily remove unwanted fields or steps or add new ones…
Overview
• Single Database
• Easy to Use and Highly Configurable
• Comprehensive Security
• Global search capability
• Automatic Review and Approvals
• Up-to-date financial reports
• Flexible work assignment
• Sensing the upcoming failures
• Stay on top of facility status
12
MicroMain
MicroMain provides maintenance and facilities management building technology software that serve customers across multiple industries to efficiently handle preventive, demand and deferred maintenance; and manage facility operations as well as organize moves. MicroMain offers products like GLOBAL Multi-Site CMMS SaaS, Maintenance Management CMMS and Facility Management CAFM. MicroMain helps customers streamline operations, extend asset life, and reduce costs regardless of complexity, size, industry or location. MicroMain's GLOBAL Multi-Site CMMS SaaS is a multi-site cloud-based CMMS SaaS which serves as the foundation of MicroMain's maintenance and facilities management Building Technology Platform that is designed for multi-site collaboration within the user's maintenance…
Overview
• Multi-site collaboration within your maintenance and facilities organization, regardless of size or complexity.
• Help our customers effectively manage their maintenance operations for over 26 years on-premise or hosted.
• Manage buildings, spaces, and occupants more efficiently, saving both time and money
• Track square footage or meters, space characteristics, and analyze costs associated with moves, renovations
13
Synchroteam
Synchroteam is a field service management solution with multi-featured mobile workforce management featuring schedule and dispatch, map and GPS tracking, job management, custom forms, field service CRM, and a mobile app for real-time interaction with mobile workers, among others. Synchroteam's intuitive, simple field service scheduling screens are designed to make jobs as easy as possible with its interactive daily schedule, weekly and monthly views, job scheduling optimization, filter by skill, and its ability to connect workers and calendars. Synchroteam GPS tracking lets users know where their mobile staff is and their planned routes in real-time by providing map view dispatch,…
Overview
•Schedule & Dispatch
•Map and GPS Tracking
•Job Management
•Custom Forms
•Field Service CRM
•Mobile Apps
•Inventory Management
•Job Estimation and Invoicing
•Annual (20%) -$22/user/month
•Monthly- $28/user/month
14
FaciliWorks CMMS Software
FaciliWorks CMMS (computerized maintenance management software) is work order and preventative maintenance software that is not only powerful but easy to use and affordably priced. FaciliWorks CMMS is standards compliant offering multiple deployment options such as hosted (cloud), onsite server, mobile, and desktop, and it is not module-based. FaciliWorks Web-based CMMS software is offered as a hosted service (cloud CMMS), or it can be deployed on a user's local server; both options provide access from mobile devices. Additionally, FaciliWorks CMMS is also available as a simple PC desktop installation. Whether used at a single location or across multiple facilities and…
Overview
•Preventative Maintenance
•Asset Tracking
•Inventory Control
•Predictive Maintenance
•Comprehensive Reporting
•Configurable Features
•Validation and Audits
•Service Requests
15
EMDECS
EMDECS is a user-friendly, cloud-based maintenance software that combines fleet and repair shop management in one comprehensive package. It comes with different tools users need to track where each item is in the shop. Users can as well instantly see profit and loss, manage preventative maintenance, and reduce downtime for their fleet. EMDECS provides in-depth business analysis with comprehensive reporting. Reporting is available for, among other things, analyzing profitability, determining equipment value or for getting a handle on the inventory. These data can be used to inform business decisions. All repair jobs in EMDECS are captured using Vehicle Maintenance Reporting…
Overview
• PM Scheduling
• Warranty Tracking
• Multi Location Management
• VMRS Reporting
• Rental & Leasing Management
• Fully Integrated Accounting
• Invoice Exporting (QuickBooks)
• Report Scheduling
• Integrated Inspection Forms
16
Proteus CMMS
Proteus CMMS is a cloud-based maintenance management solution which integrates asset management, maintenance management, inventory, labor and purchasing functions for improved scheduling, cost reduction, resource planning and more. Proteus CMMS provides a scalable, versatile cloud-based solution to manage user's facility or plant's maintenance management needs. It was designed to improve the efficiency and effectiveness of user's maintenance program. Proteus CMMS can be accessed anytime, and from any location. Users can receive alerts and work orders on their smart phone or tablet thereby keeping assets in great shape and avoiding failures and breakdowns. Companies who use Proteus CMMS maximize their return…
Overview
• Preventive Maintenance
• Mobile
• Easy Inventory Management
• Cost Reduction
• Data Capture
• Certification
17
Q Ware CMMS
Q ware is a web-based and user-friendly computerized maintenance management software serving markets such as airport facilities, K-12 schools, colleges & universities, healthcare facilities, industrial facilities, banks & credit unions, facilities management, IT management and equipment maintenance which provides outstanding setup and support, and no cost customization that can adapt to the needs of different maintenance departments. Q Ware offers more free standard features like unlimited support, unlimited training, unlimited requestors, unlimited custom fields, unlimited custom reports, unlimited document storage, mobile work order management, free logo branding, work order service areas and free software upgrades for every Q Ware subscription…
Overview
• Support help includes further application customization after the initial setup process.
• Training includes further application instruction after the initial setup process.
• Each requestor receives their own login.
• Q Ware forms can be customized to different industries through custom form fields.
• Reports are generated in Q Ware based on the data collected from standard and custom form fields.
• Starts at just $90 per month
18
MaintiMizer
MaintiMizer Web Edition CMMS is a robust, easy to learn and navigate Computerized Maintenance Management System which manage work orders, preventative maintenance schedules and tasks, assets, inventory, and purchase orders. MaintiMizer Web Edition is organized into "modules" that correspond to the most frequently-used maintenance management functions such as Work Order, Preventive Maintenance/Equipment, Inventory, Vendor/Purchase Order, and Timecard including Utility and Help modules to help the users manage and learn the system. MaintiMizer Web Edition is fully customizable for the user's unique environment where attachments are virtually unlimited; labels, headings, and notes can be edited and screens are user-definable. MaintiMizer Web…
Overview
• MaintiMizer Web Edition is fully customizable for your unique environment.
• MaintiMizer Web Edition is easily integrated with the most popular enterprise-wide systems
• MaintiMizer opens to a "dashboard" screen presenting you with critical information at a glance
• MaintiMizer Update Is an optional automated maintenance and system diagnostic tool
• MaintiMizer Web Edition automatically keeps an audit log of all the changes you make
19
MPulse Maintenance Management
MPulse Software, Inc is a provider of maintenance management CMMS software developed by experts in maintenance, repair, and operations (MRO) and facility management which provides solutions like reliable scheduling, tracking, and reporting CMMS software tools for equipment and facilities maintenance organizations. MPulse offers four software editions such as Bronze for Maintenance Managers, Silver for Maintenance Managers & Facility Managers, Gold for all sizes and types of sophisticated maintenance teams and Platinum for large, sophisticated organizations with complex maintenance operations and includes feature extensions designed for the Industrial Internet of Things (IIoT). MPulse Bronze is an entry-level solution for preventive maintenance…
Overview
• The MPulse interface adapts to any device—desktop computer, tablet, or mobile phone.
• Visualize maintenance schedules with custom calendar views, so your team can see what needs to happen when.
• Work Order Management is the heart of MPulse Software's CMMS solutions
• Basic Inventory system software provides simple records of inventory items
• MPulse's easy-to-use maintenance reporting software features can help you quickly produce status reports
20
FTMaintenance
FTMaintenance is an easy-to-use, yet robust CMMS solution that automates maintenance tasks and connects users with powerful data for smarter maintenance management. FTMaintenance CMMS software offers automated work order, asset, and inventory management tools to help users implement their preventive and predictive maintenance programs. With automated features to streamline operations, users will regain control of their maintenance program. FTMaintenance work order software eliminates the chaos of phone calls, sticky notes, and customer complaints. It provides a single work order management platform that allows users to track work orders - from assignment to completion - and automates their day-to-day and week-to-week…
Overview
•Work Order Management
•Asset Management
•Inventory Management
•Preventive Maintenance
•Mobile Maintenance
•Predictive Maintenance
•Consultation Services
•System Integration Services
• Cloud Lite -$40/month/500 Assets
•Cloud Lite+ -$80/month/unlimited
•Cloud- $149/month/unlimited
21
Maxpanda CMMS
Maxpanda CMMS is widely used for maintaining a computerized database of information related to the maintenance operation of a company. This information is stored in the cloud and assists maintenance departments of all sizes to perform preventive maintenance tasks more efficiently and effectively through GoMAX mobile apps. Maxpanda CMMS Software enables the designated staff to submit their request directly into the system then they receive emails regarding the request statuses. With this system, the maintenance manager of a facility will be easily able to respond to inbound calls. Maxpanda CMMS can also be used to prioritize the submitted work requests…
Overview
•Asset and Location Management
•Comprehensive Reporting
•Preventative Work Order Management
•Inventory Management
•Customizable Tasks
•Barcoding Parts
•Automated Alerts and Texts
•Equipments Warranties management
•Basic-$29/month
•Starter- $69/m ($59/m yearly)
•Enhanced-$99/m ($89/m yearly)
•Standard- $199/m ($189/m yearly)
•Pro- $299/m ($289/m yearly)
22
ServiceBox
ServiceBox is a comprehensive service software that integrates and synchronizes user's work within one simple, and powerful system. ServiceBox can be accessed from anywhere, and from any type of device. ServiceBox gives users a competitive advantage in their industry, helps them to easily secure jobs and retain customers, and makes their business more efficient. It was built specifically for the plumbing, electrical & HVAC industries. With ServiceBox, users can keep track of customer interactions, and help drive new business toward their company. All of the crucial information is tracked and reminders are set to help close the next deal. Service…
Overview
• Email Quotes, Work Orders, Invoices
• Reporting for Maintenance, Invoices, Work Completed
• Customize so works for your business
• Find Customers and Jobs Easily with global search
23
Tofino
Tofino delivers a Maintenance Management application optimized for tablets and designed for a paperless barcode-driven work environment that provides the tools needed to keep things running. Gone are the days of run-to-failure thinking – with Tofino's proactive scheduling capabilities, a user's preventative maintenance program will deliver lower overall repair costs, increased uptime, and improved employee safety. Fully integrated with Asset Management application, Tofino's maintenance management capabilities offer a single point of visibility and control over planned and unplanned maintenance work, safety compliance, and more. Therefore, colleagues can access and share maintenance-related data with their team, management, purchasing, and supply room,…
Overview
•In-Built Scheduler
•Approval Controls
•Warranty Tracking
•Image and Document Support
•Safety and Compliance
•Procurement Integration
•Asset Management Integration
•Location-Based Permissions
24
DirectLine
DirectLine is a powerful maintenance management solutions for organizations that is an all-inclusive suite delivered over the internet as a software service with maintenance, work order, fleet, and inventory management, etc. It provides maintenance management solutions for various organizations such as manufacturing companies, schools, universities and colleges, Food and beverage industries, healthcare, and facilities. Directline's Iway Business integration offers an IWay universal adapter suite to connect to a variety of third-party applications, and it provides easy-to-use-interfaces for other customer applications thus enabling users to accommodate specific business practices to streamline processes. DirectLine also allows users to customize their interface to…
Overview
•Work Order Management
•Maintenance Management
•Fleet Management
•Document Management
•Preventative Maintenance Planning
•Inventory Management
•Project Management
•Contract Management
25
Bigfoot CMMS
Bigfoot CMMS enables users to manage one facility – or thousands – wherever they are in the world. It allows users to stay on task, control maintenance operations, and to spot trends and gain key business insights. Bigfoot CMMS's dashboard view quickly and clearly shows all user's maintenance operations tasks in order to ensure nothing "slips through the cracks." Users can retrieve preventive maintenance and corrective work orders for themselves and/or their teams, while viewing the parts they need to order, requests available for approval, and work orders to assign. With Bigfoot CMMS, users can easily create, track, review, and…
Overview
• Asset & Equipment Management
• Work Orders & Requests
• Predictive & Preventive Maintenance
• Occupational Safety & Health
• Built-in KPIs & Reporting
• Inventory, Purchasing, Mobile App
26
Maintenance Care
Maintenance Care is a CMMS software for work orders and assets. Maintenance Care provides you with work requests that provide you with access for submitting maintenance requests easily through a customized web form. Maintenance Care preventive maintenance provides you with an excellent platform for planning and improving building efficiencies automatically through an effective CMMS scheduling platform. Maintenance Care also provides you with an asset management feature that allows you to quickly and accurately track all the expenses related to assets in your facility. The primary features provided by Maintenance Care include easy work order, maintenance tasks, preventive schedule, an asset…
Overview
• Preventive maintenance scheduling
• Asset management tracking
• Part and inventory
• Advanced reporting and dashboards
• Cost of repair tracking
• Custom fillable forms
• Asset bar code scanning
• Capital planning and life expectancy
• Warranty tracking
• Preventive maintenance library
• Project management
• Free edition - $0
• Work order edition - $75/month
• Enterprise edition – Get quote
You may like to read:  Top Predictive Maintenance Software and How to Select the Best ERP Software for Your Small Medium Business