Top 22 Idea & Innovation Management Software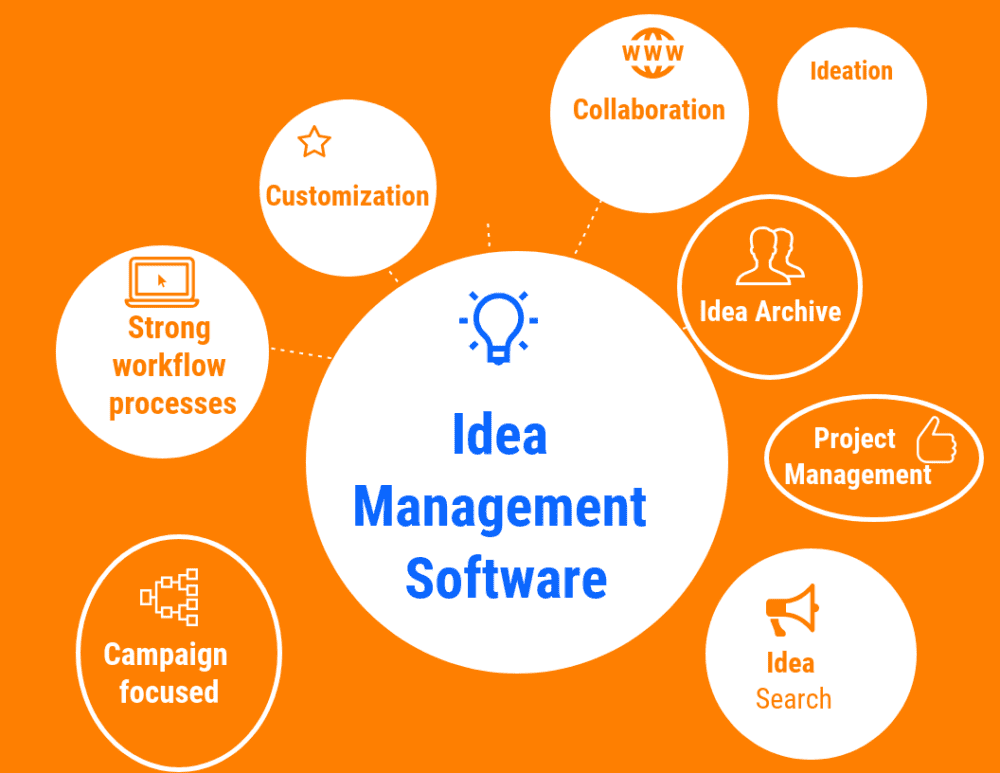 Competition among businesses depends on how fast they can realize, develop and later implement ideas for their new products. And in order to be a worthy competitor, companies must effectively tap into their workers' creativity. And that is not all! They should also be proficient at focusing the creative juices of their workers around important business concerns; efficiently collecting and assessing ideas and then quickly picking out those with the highest likelihood of implementation. Such an innovation scheme can be made possible with the help of idea management tools.
Idea & Innovation Management Software are web-based applications allow organizations to gather views and ideas from all its workers (in spite of their geographical position) and then stores them in a centralized database. Idea management software also offer structured procedures for assessing and sharing ideas so that business managers can quickly pick up on those with the highest potential.
Examples of Idea & Innovation Management Software: Planbox, Aha!, Crowdicity, Spigit, Brightidea, HYPE Innovation, Acuvate Wave, Qmarkets, Wazoku, Idea Drop, IdeaGlow, Wridea, Viima, IdeaScale, Wellspring, HunchBuzz, Imaginatik, Kindling, Accolade, HYPE GO!, Exago, Ideawake are some of the examples of best Idea & Innovation Management Software.
You may like to read: What is Innovation Management?, Pain Points and Benefits
What are Innovation & Idea Management Software?
Idea Management Software provides a set of tools that allow managers and engineers to cooperate with a common understanding of processes and goals. Idea Management or Innovation management allows the organization to respond to external or internal opportunities, and use its creativity to introduce new ideas, processes or products.
Idea Management involves workers at every level in contributing creatively to a company's product development, manufacturing and marketing. The tools include brainstorming, virtual prototyping, product lifecycle management, idea management, TRIZ, Phase–gate model, project management, product line planning and portfolio management.
An idea management software simply refers to a web-based platform that assists organizations in gathering different ideas from its employees, evaluating those collected ideas and then applying them to the market for increased productivity. And given that such tools are web-based, it allows the companies to gather, share and assess ideas anywhere and quickly.
The best part about idea management technology is that it empowers its users to gauge the bottom-line effect of the collected and developed ideas. This makes it easy to determine the return on ideas provided by the software. Also, employees ought to take part in idea management procedures and idea management software provide strategic procedures and workflow, which ensures that only the best ideas are seized and applied. This, in turn, assists organizations to compete at higher levels.
Innovation Management Software is used in businesses to help in developing innovation and ideas in an organization. It also gives tools that enhance collaboration between employees. The goal of the software is to enable organizations to respond to ideas both externally and internally as well as opportunities that come in their way. The software also gives an excellent opportunity to users to monitor digital enterprise innovation, which starts from generation of ideas to the selection of ideas ready to be implemented.
Idea Management software also gives the relevant tools that allow administrators to cooperate with others on a common understanding of goals and processes. Some of the general features offered by the software include managing the portfolio, product line planning, monitoring the product lifecycle, monitoring the project development, and virtual prototyping. The system gives features that enhance capturing ideas by using supporting materials and media. The software allow setting and launching challenges with flexibility and ease. Through this, it's simple for the users to automate the progression of ideas.
You may like to read: What is Innovation Management?, Pain Points and Benefits
The analytics features allow underpinning critical decisions with the help of real-time insights and in-depth reporting. Some of the user tools such as virtual prototyping help leverage social networks to drive participation.
There are numerous idea management software available on the market and they all have different features. Below are some of the must-have features of a good idea management software:
Campaign focused: This is a very important feature! Every business has its own specific challenges as well as opportunities that it looks to pursue. Therefore, collecting ideas which specifically address these issues is paramount in making sure that everyone is on the same page.
Strong workflow processes: This feature ensures that every idea is promptly reviewed and assessed.
Customization based on the organization's needs: Organizations should be able to tailor their ideas to meet the company's specific needs.
Collaboration and ideation: A good idea management tool makes it possible for company employees to quickly share ideas regardless of their location in the world. In addition, it also allows the employees to comment on their colleagues ideas to help shape them into more convincing solutions. What's more, intensive ideation around particular business objectives often produces high quality ideas.
Idea archive with a powerful search: Often, a huge percentage of the gathered ideas are not going to be applied. This, however, does not mean that these pieces are useless. It may just not be their time yet! Therefore, being able to archive such ideas and search through them later in the future is vital.
You may like to read: What is Innovation Management?, Pain Points and Benefits
Top Idea & Innovation Management Software
Planbox, Aha!, Crowdicity, Spigit, Brightidea, HYPE Innovation, Acuvate Wave, Qmarkets, Wazoku, Idea Drop, IdeaGlow, Wridea, Viima, IdeaScale, Wellspring, HunchBuzz, Imaginatik, Kindling, Accolade, HYPE GO!, Exago, Ideawake are some of the Top Idea & Innovation Management Software.
Top Idea & Innovation Management Software
PAT Index™
1
Planbox
Planbox Innovate provides a collaborative innovation management solution that ensures your innovation efforts are driven by your corporate strategy, is easy to implement and use, fits nicely into your operational realities, and quickly delivers superior results. Planbox Innovate's on-demand world class innovation management platform serves as the system of record for managing your ideas, feedback, suggestions, challenges, communities and solutions. Adaptive event-based rule engine drives idea development based on your rules and requirements with zero customization. Integration with reward and project management systems provides you with an end to end, fully plugged in, best of breed innovation management system. Planbox…
Overview
•Highly configurable workflow driven architecture – innovate your way with zero customization
•Powerful analytics and reporting platform so you can quickly identify and develop the best ideas
•Fully cloud-based design and delivery model – also available on-premise for secured locked down implementations
•An open API connected innovation management platform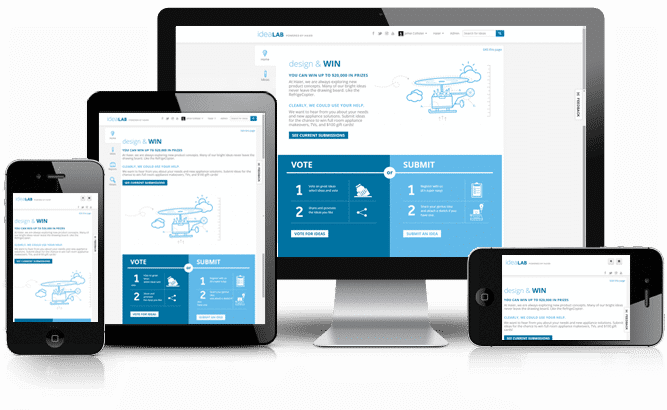 2
Aha!
Aha! is foremost product roadmap software that is being used by thousands of individual business owners and organizations. Aha! features anti-virus scanning, IP address access control, custom tables, account backup and export, and advanced license management. Aha! helps user to pull all product information together in one place. From company vision to daily tasks, Aha! rolls up everything to a high level and helps user's whole team see the big picture. Aha! is secure; it protects its system infrastructure by using dedicated firewall and VPN services to block unauthorized system access. It also encrypts all communication between customers and data…
Overview
• Set strategy
• Build roadmaps
• Plan releases
• Prioritize features
• Crowd-source ideas
• Share presentations
• Anti-virus scanning
• IP address access control
• Custom tables
• Account backup and export
• Advanced license management
• Start up – Not specified
• Premium - $59 per user / month
• Enterprise - $99 per product owner & contributor / month
• Enterprise (annual only) - $149 per product owner & contributor / month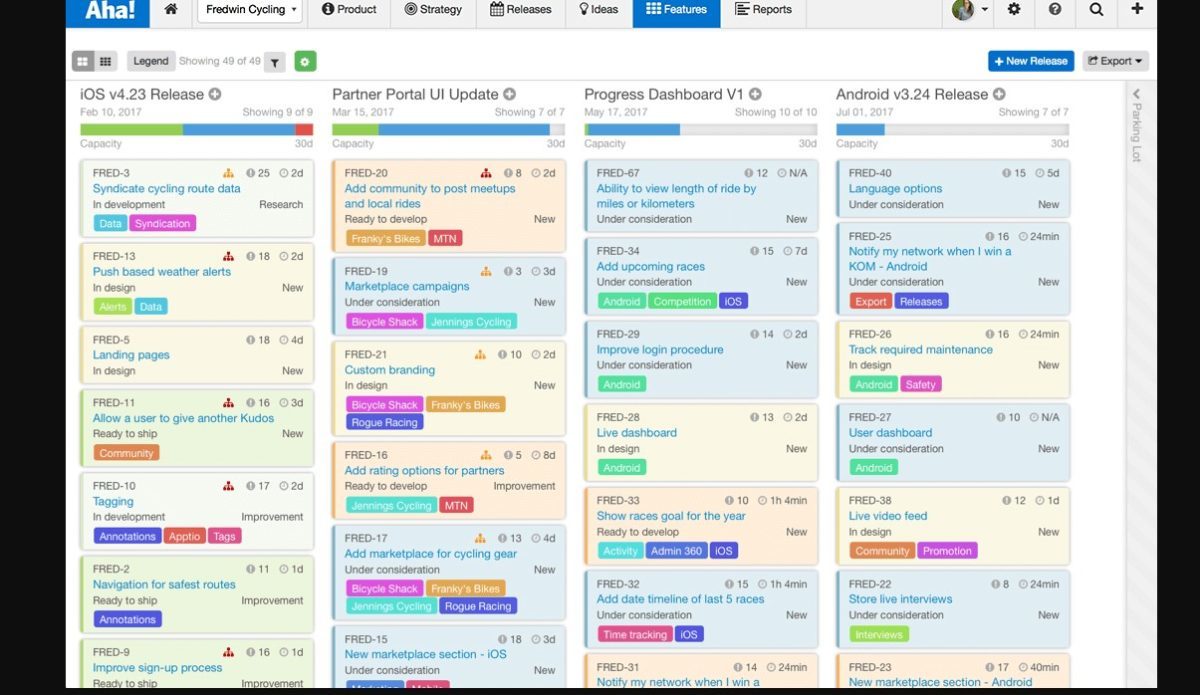 3
Crowdicity
Crowdicity is a social innovation platform. Crowdicity allows to launch numbers of innovation challenges which community responds to with their ideas. Challenges can be broken down into different categories or kept as a single direct question. Users can post ideas, upload images, documents and videos. Ideas can be discussed by the whole community or specific teams. Different users into different stages of the challenge can be invited. Allows creating and managing custom user groups based on different criteria (expertise, knowledge, and department).Users can rate ideas, rank them and decide which they like. They can like ideas and vote openly or…
Overview
•Idea storms
•Share ideas and get quality feedback
•Connect people across your world
•Improve participation and engagement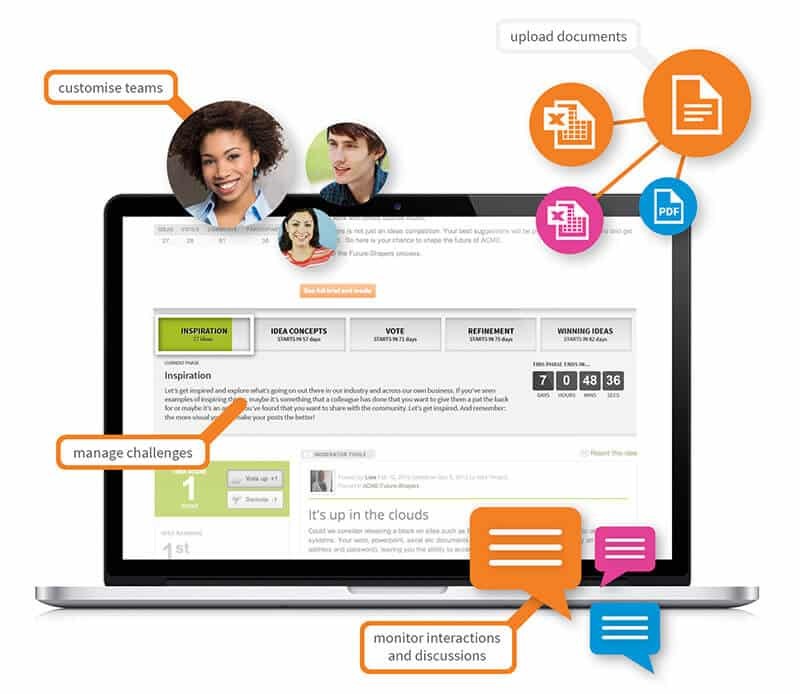 4
Spigit
Spigit innovation management software helps you identify new products and markets, improve customer experience, streamline processes, and increase employee engagement. Spigit has several automation features that allow automatic generation of ideas, with no need for manual reviews. This feature is committed to ensure ease in the management of the innovation software. Patented Crowd Science feature of Spigit employs data science and algorithms. It helps the crowd select, predict and forward the best ideas. It prevents the herd-behavior. Enterprise scale and security feature is designed to ensure scalability, mobility and security that is required in today's enterprise environment. Spigit boasts an…
Overview
•Automation slashes effort
•Patented Crowd Science
•Enterprise scale and security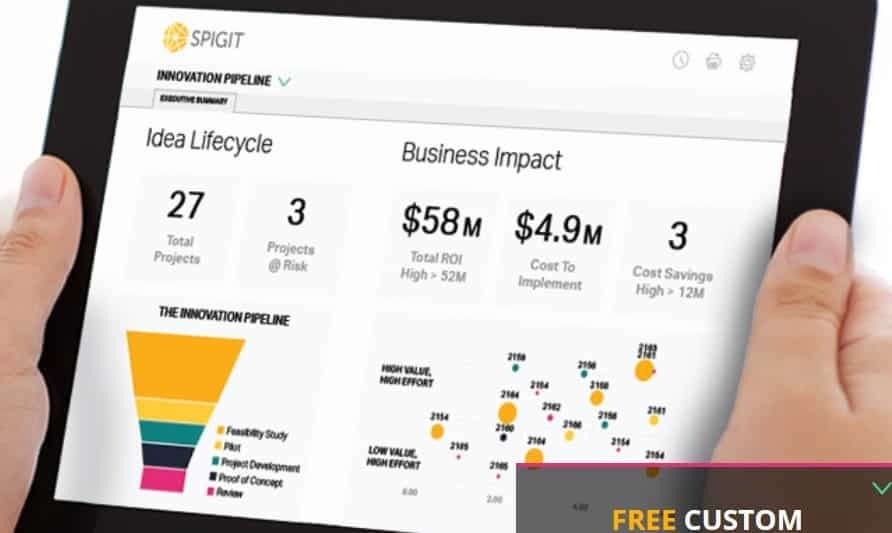 5
Brightidea
Brightidea is enterprise software that provides innovation program management. It allows users to manage all employee engagements, crowd sourcing programs and track performances all in one place. It provides a people module that can be used to engage the right experts at the right time to get the best results, this is done by tracking their credentials and certificates and also by importing participants from various platforms. The innovations module can be used to drive and keep track of multiple innovation processes and insure each process is working at its best. Employees are encouraged to submit their ideas on the…
Overview
•Initiate Employee Engagement
•Solve a Specific Problem
•Engagement Metrics
•Mobile Collaboration
•Transparent Evaluations
•Drag-and-Drop
•Workflow
•ROI Tracking
https://www.brightidea.com/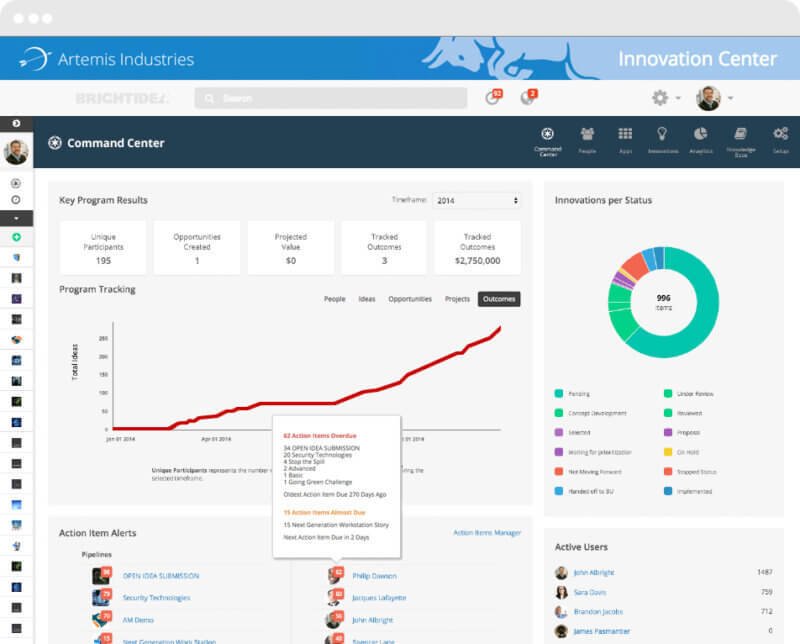 6
HYPE Innovation
HYPE is a full-lifecycle enterprise innovation software designed to deliver enterprise scale solutions for managing ideas, and turning them into valuable outcomes. The platform features brainstorming, collaboration, creator tracking idea ranking, trend scouting and more. Trends incentivize users to visit a particular platform more often and inspire by highlighting recent developments in various markets With trend scouting users can research patterns through integration fed by a global network of scouts, linking dynamics on a database within strategic innovation areas. HYPE offers users the option to easily set up campaigns for targeted concepts with a campaign wizard, based on past templates…
Overview
• Activity Dashboard
•Brainstorming
•Collaboration
•Creator Tracking
https://www.hypeinnovation.com/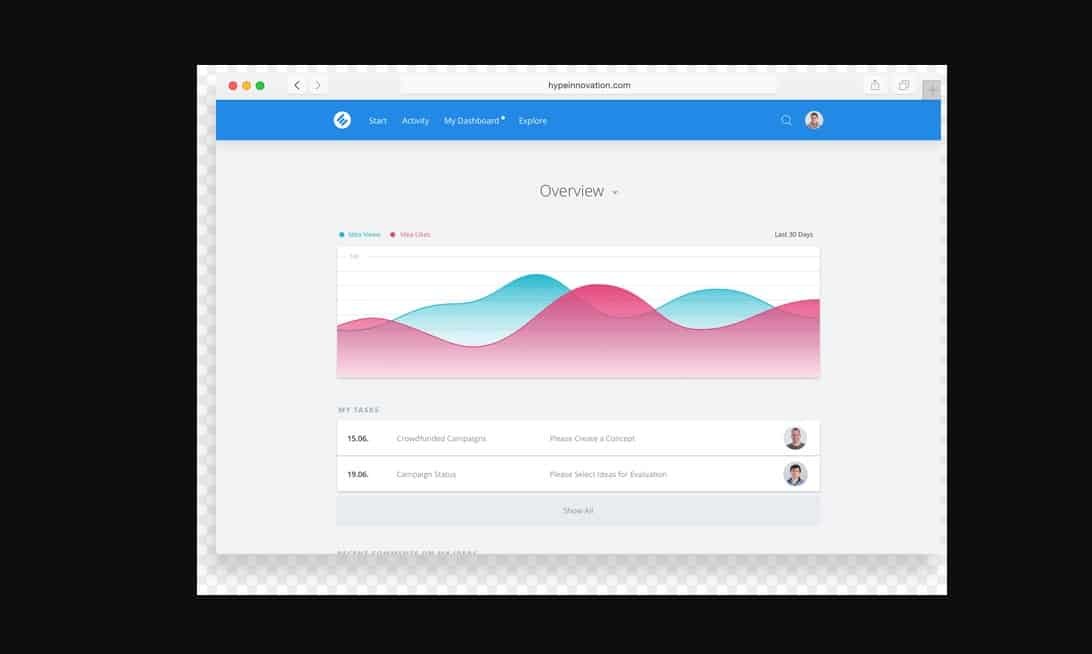 7
Acuvate Wave
Wave is an idea management application designed to capture, collaborate, evaluate, and select bright ideas that can be implemented in solving various business challenges. Wave nurtures inclusive, transparent, and robust innovation management process. It also provides a framework to identify and reward your employees for ideation and collaboration. By using Wave, you can recognize and act quickly on potential business ideas, so you can stay ahead of your competitors. The right solution makes it easier to create and choose between business models and help in growing your business. Wave idea management platform systemizes the innovation lifecycle to efficiently ascend ideas…
Overview
• Ideate and collaborate
• Solutions to Business Challenges
• Idea Management Process
• Dashboards & Reporting
• Gamification
• ISMAC Compliant
https://acuvate.com/wave/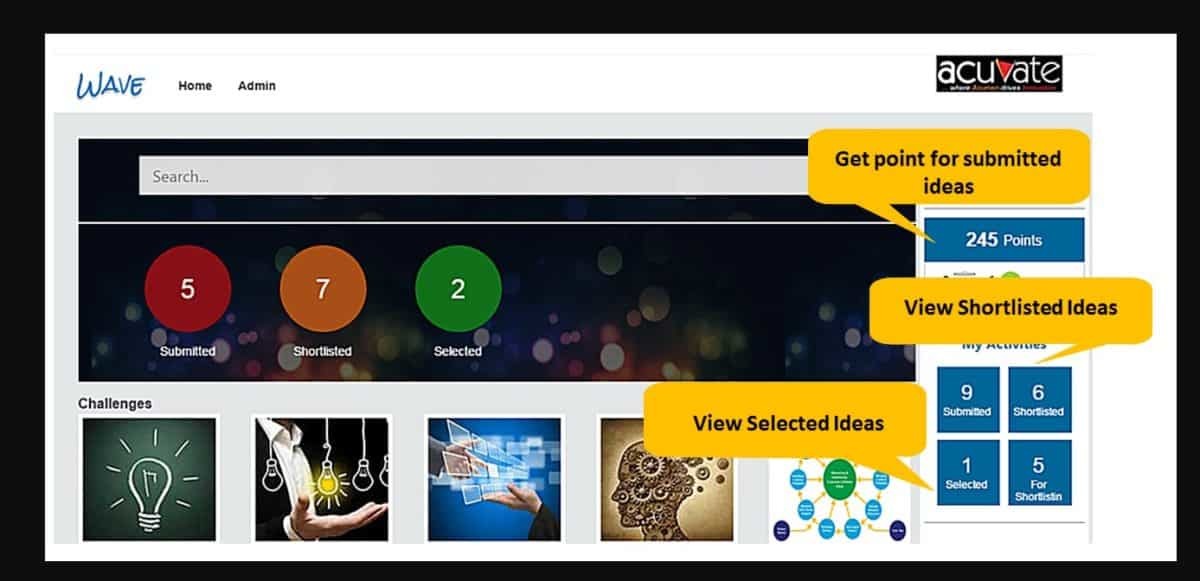 8
Qmarkets
Qmarkets is an idea and innovation management tool devised to crowdsource, improve business results and engage users through collaboration. The platform is configured to discover projects, crowdsource and manage new streams of ideas from employees, customers and partners. Several stakeholders can suggest innovative concepts and can comment, rate submitted ideas, help develop ideas, and identify concepts that are most popular. Q-flex comprises flexible elements to fit organisations that have already experimented with running idea management projects, offering a wide range of templates to create a homepage to match objectives. Qmarkets allows users to gather business improvement & cost reduction related…
Overview
• Innovation Management
•Process Improvement
•Marketing & Strategy
•Market Research
•Idea Management
•Custom Evaluation Workflow
•Customized Homepage
•Personalized communication
•Optional Mobile App
https://www.qmarkets.net/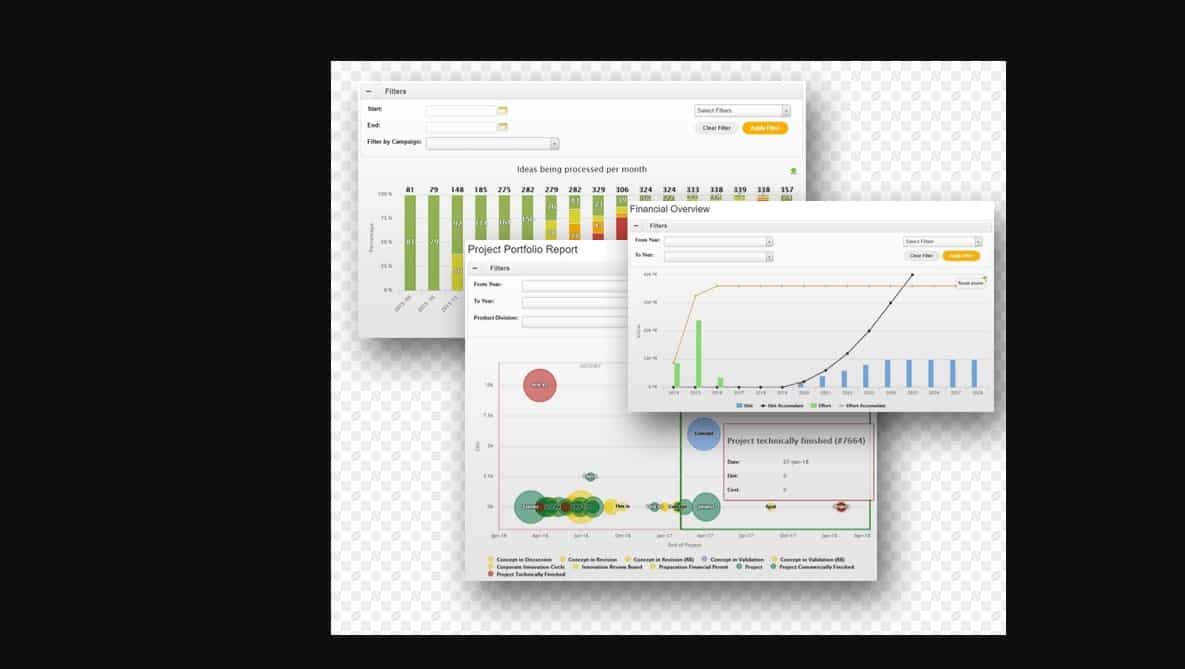 9
Wazoku
Wazoku is an idea management software that enables internal and external crowdsourcing initiatives for organisations around the world. Idea Spotlight, Wazoku's idea platform, is used to implement progressive changes in operations, realise cost savings and reduce times. The cross-functional system is used to collaborate and engage users across companies, regional sites and departmental teams to improve transparency and sustain visibility into operations. Idea Spotlight allows organisations to increase internal engagement through dedicated work spaces to initiate external stakeholders and tap into your external communities, including suppliers and vendors. Participation is encouraged through incentives, rewards and idea contribution with the option…
Overview
•Analytics
•Reports
•Visualisation
•Actionable ideas
•Configurable idea flow
•Form builder
•Measurable outcomes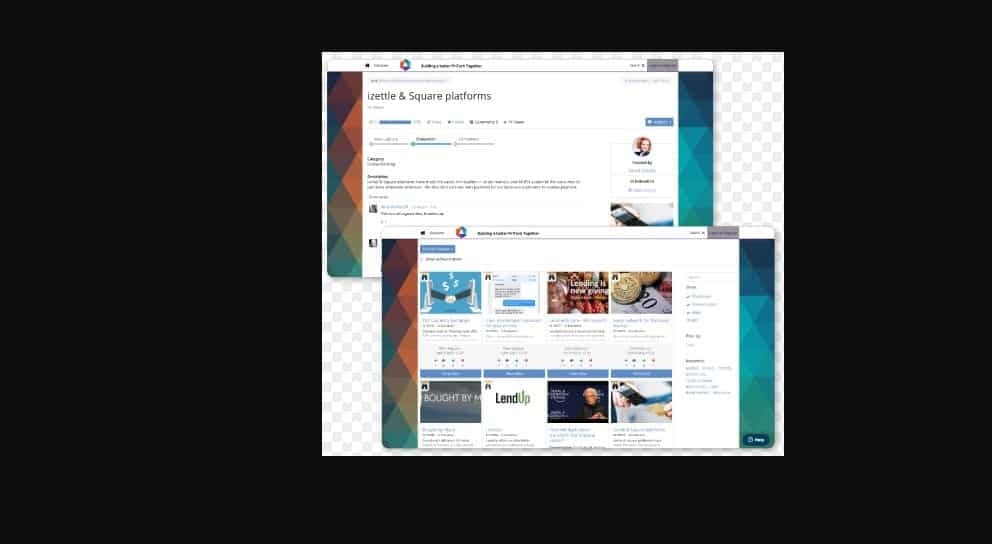 10
Idea Drop
Idea Drop is designed to generate and capture new ideas, gathering insight across teams, departments and offices globally. The central innovation flow is structured to engage a broad range of team members. Users can use the 'cloak' button when contributing an idea, to hide their identity if they choose too. The social element of the software keeps participants engaged with link sharing, comments, #hashtags, attachments and favourites. With the Idea Drop application users can share commercial or operational challenges with a wider group, set deadlines and offer rewards. The platform has the capability of creating unlimited sub-communities within an organisation…
Overview
•Collaboration
•Analytics
•Dashboard
•Identity cloaking
•Real-time
•Idea Ranking
•Recommendation
•Email Notifications
•PRO - £7 per user, per month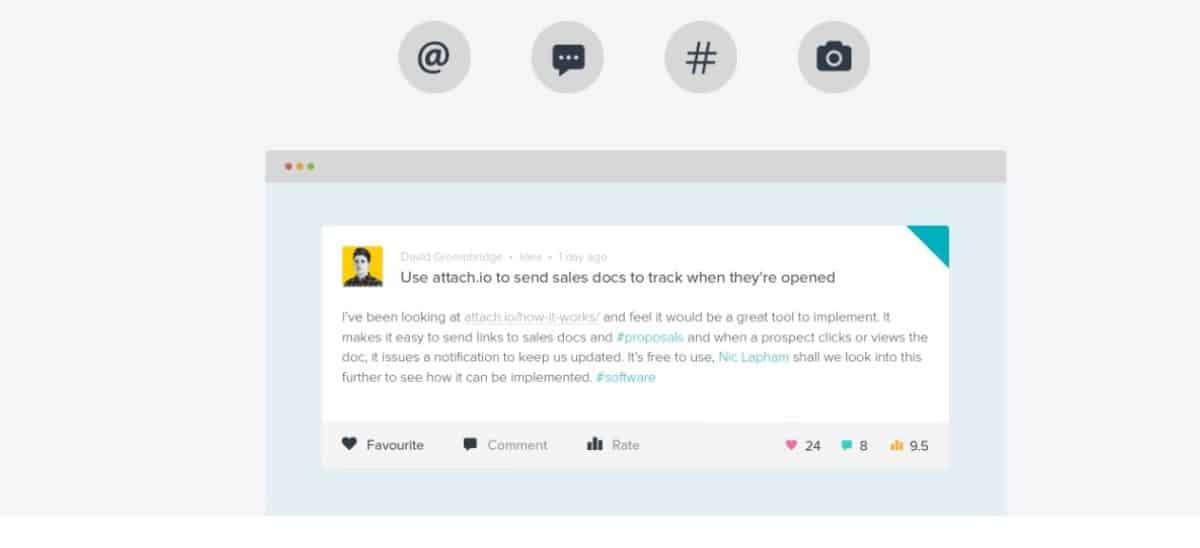 11
IdeaGlow
IdeaGlow is a cloud-based idea management tool that enables users to gather and manage ideas from employees, customers, and others securely, over the web. The software is designed to grow revenues, reduce costs, improve processes, increase employee engagement and achieve higher customer satisfaction. IdeaGlow offers a branded website for collaborating on ideas with a user community to maximize user engagement, using best practices from social networking and social games. The software is formulated to innovate for specific business needs on a timeline, create and launch idea challenges focused on the crucial objectives of an organization. The user community can be…
Overview
•Customer Feedback Software
•Idea management
•Increase Employee Engagement
•Capture Ideas & Suggestions
•Enterprise Edition- $1799/month
•Corporate Edition - $799/month
•Standard Edition - $499/month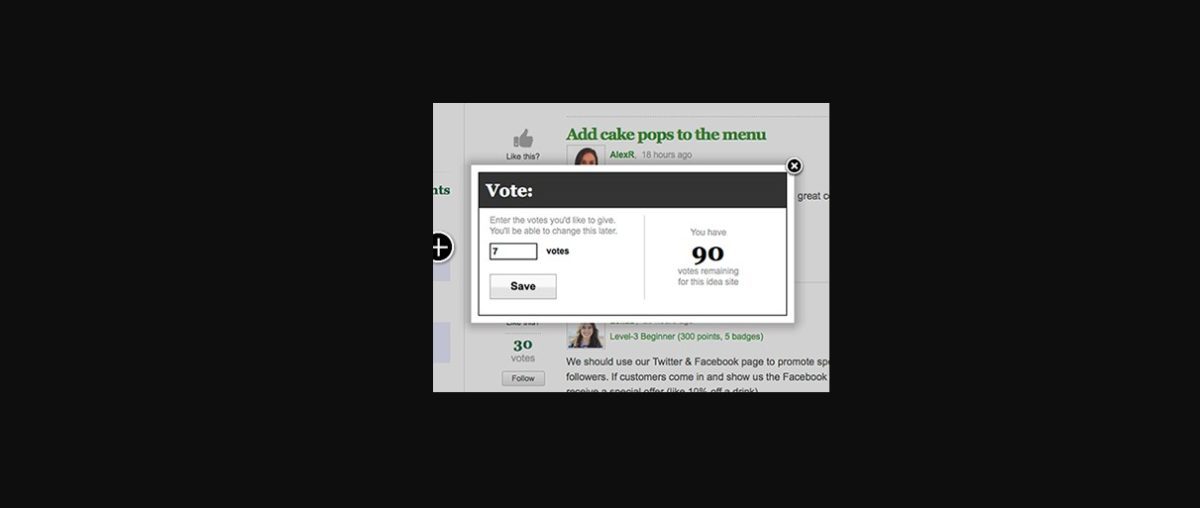 12
Wridea
Wridea is a web idea management service providing a collection of brainstorming tools to organize and improve ideas by sharing. The software is designed to create an unlimited amount of concepts with the ability to share and collaborate with others using a simple web interface to avoid ideas being forgotten. Users can save and categorize ideas under different pages whilst sharing with different friend groups, with the option to make them private or public. Ideas can be prioritized by assigning different categories with different colors making it easier for the user to define where concepts are stored. The platform has…
Overview
• Idea Management
•Idea Sharing
•Unlimited Idea Pages
•Private/Public Option
•Color Categories

13
Viima
Viima is the best way to collect and develop ideas. It's already loved by thousands of organizations, all the way to the Global Fortune 500. What's more, Viima free for up to 50 users and can be taken into use within minutes! Viima is designed to make innovation management transparent, super easy and effortless for everyone involved. Viima also supports different kinds of idea management and innovation processes, even at the same time. While you might need a heavy-duty stage-gate innovation process for new product development, other teams can still use Viima with a very lightweight process for their own…
Overview
• Hashtags for grouping ideas into themes across categories
• Mentioning users makes it easy to let the right person know what's happening
• Mobile apps make it easy to add ideas, upload images or join the conversation while on the go
• Automated notifications for interesting actions
• Leaderboards that reward users based on their activities
• Highly responsive support team helps you achieve your goals
• Built-in 3rd party integrations (including AD/Office365/Google SSO) and REST API for a seamless integration experience
•Free plan: free forever
•Premium: 3.5$/user/month, discount for annual plans
•Enterprise: Contact us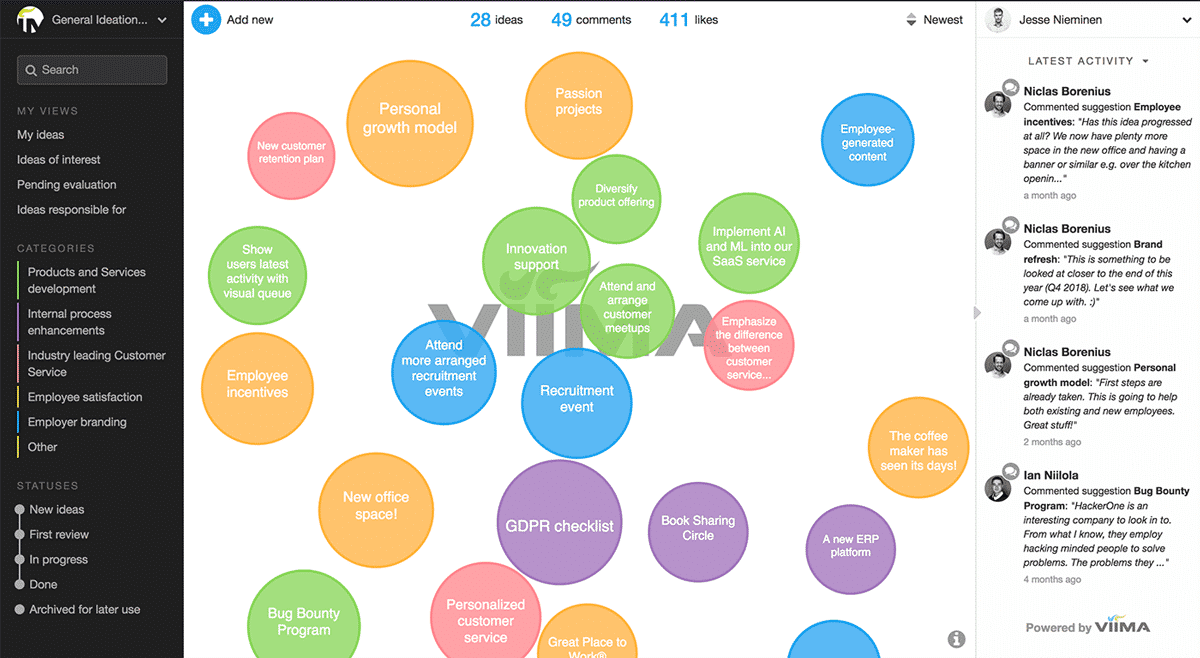 14
IdeaScale
IdeaScale is a feedback and ideas tool that provides open innovation software to transform every business' product, process, or structure. Each platform is custom depending on which type of organization is utilizing it. The IdeaScale citizen engagement platform gathers data from small to large citizen crowds in one site with mobile optimization, section 508 compliance, and real time translation. The software can help organizations at all levels of government to connect employees and government agencies providing a straightforward, accessed platform to share knowledge. The IdeaScale program is ideal for gathering large crowds, with low effort requirements to participate watch dialogue…
Overview
•LiveChat Support
•Email-based access
•Leaderboard & badges
•Mobile Optimized
•Mobile Apps
•Collect - $4,999/year - Access for 200 Members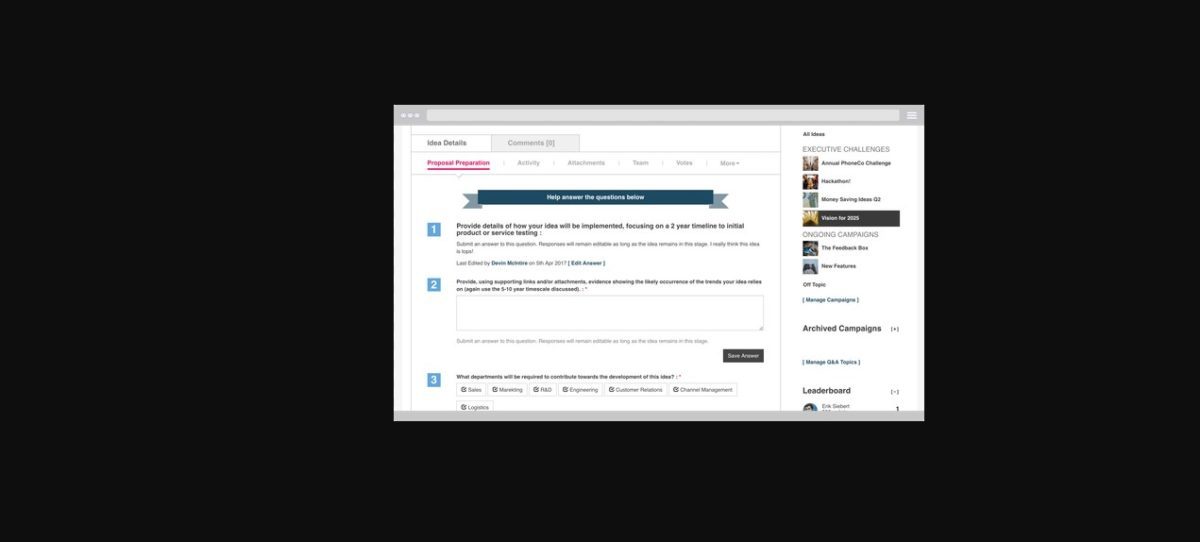 15
Wellspring
Wellspring is an innovation management software designed to assist businesses in tech transfer, corporate venture capital, tech scouting, and research grant administration. The web-based tools are flexible, comprehensive, and scalable for companies, universities, and other research-focused group. The software connects all business databases, academic journals, and technology marketplaces allowing users to import information from various sources. Eliminate data entry with the ability to promptly search, refine, and add results from key search locations. Wellspring evaluations functions are automated within the system so that users are guided to relevant subject matter experts, who are alerted when a task is due. The…
Overview
•Web-based Tool
•Centralized Dashboard
•Intuitive Drag & Drop
•Intuitive Reporting
•Workflows
•Linked Database
•Data Search Tool

16
HunchBuzz
HunchBuzz is easy-to-use cloud based idea management software which helps users to crowd-source employees for ideas and collective insights. Features of HunchBuzz include reward store, leaderboard, easy access, and idea management. HunchBuzz helps to accelerate user's business improvement - to adapt and evolve existing processes, products, services and business models – by encouraging, capturing, and recognizing new thinking and ideas that identifies challenges and opportunities. Through HunchBuzz, users can increase employee engagement and conduct ongoing participation & collaboration by capturing the voice and distributed intelligence of their organisation in an open and transparent way. With HunchBuzz's innovation analytics, users can…
Overview
• Idea management
• Review innovation insights
• Engage employees and customers
• Reward store
• Leaderboard
• Easy access
• User-friendly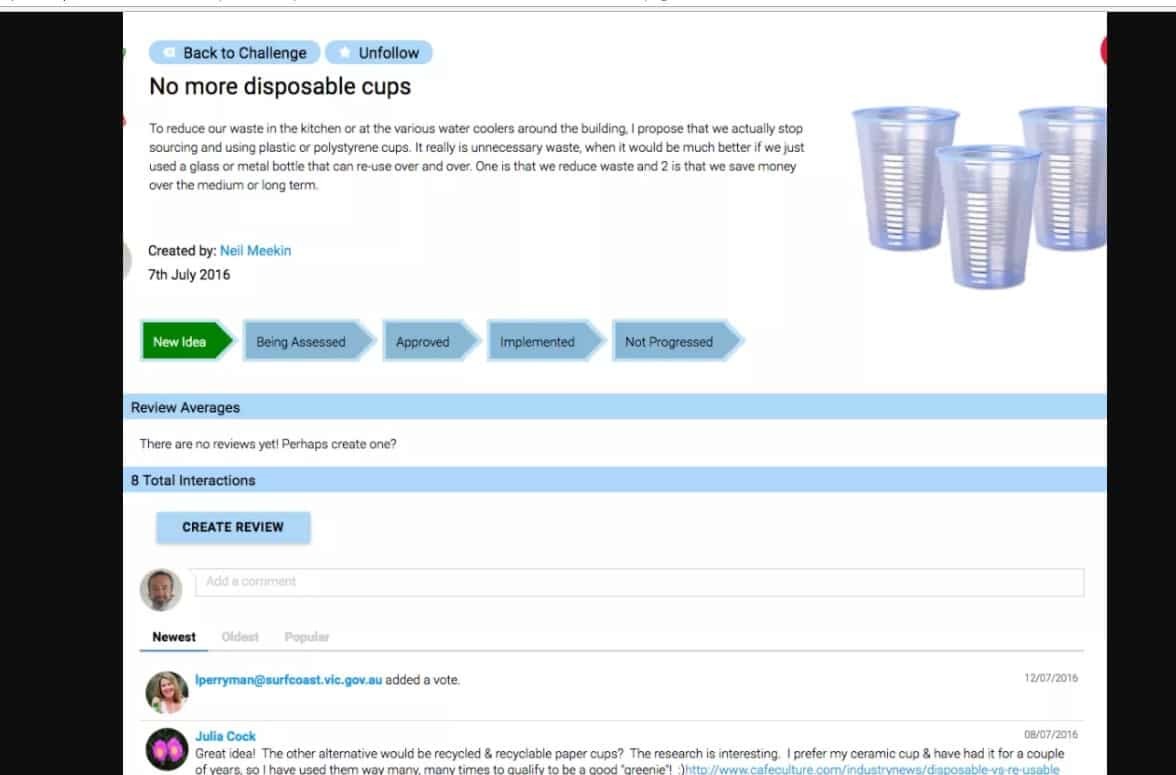 17
Imaginatik
Imaginatik is the most complete innovation solution end-to-end software that accelerates innovation from ideas to value. Imaginatik offers three complementary software modules intended to be a platform for idea creation, refinement and evaluation. The developers at Imaginatik have created cloud-based, scalable software which can be implemented in organizations of any size to help streamline the innovative process. Imaginatik's flagship software is Innovation Central, which is meant to cover the "front-end" of innovation. Here business leaders can pose questions and launch challenges to garner ideas from within the organization. Users are able to add ideas and participate in discussions in response…
Overview
• Operational excellence
• Employee engagement
• Voice of the customer
• Workplace safety
• Powerful analytics
https://www.imaginatik.com/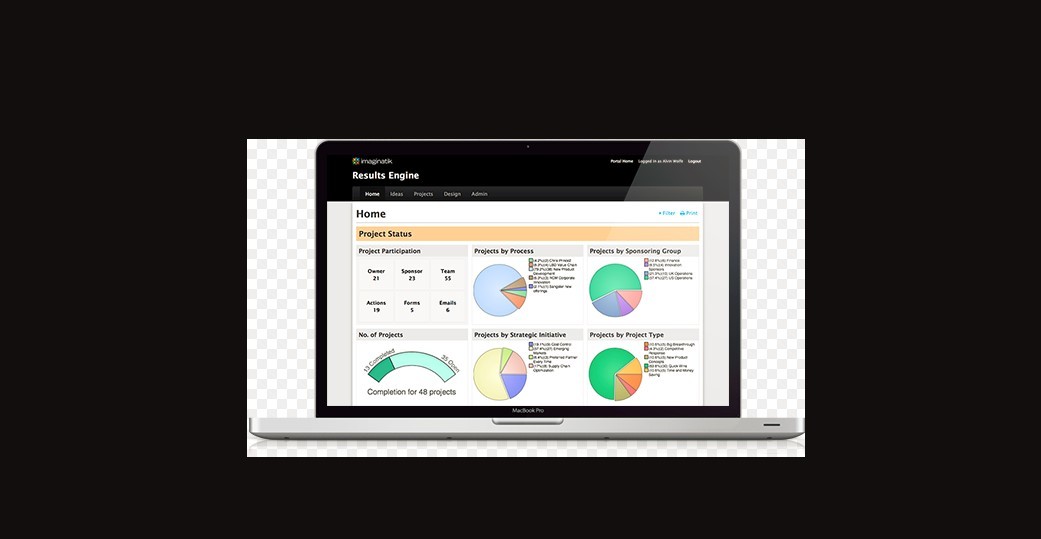 18
Kindling
Kindling is an idea management and innovation software engineered to examine ideas, solve problems, and pursue opportunities. The tool offers a platform for users to discover, discuss, evaluate and decide on ideas in terms of their specific community. Users can identify challenges, opportunities and trends that exist within a project as well as contribute ideas. The software is intuitive and allows users to present questions and challenges related to concepts that can be developed through interactions with the potential to determine solutions. Subscribers can organize contributions around a category or a time-sensitive problem, ask specific questions, vote on, and develop…
Overview
•Activity Dashboard
•Brainstorming
•Collaboration
•Intuitive Software
•Creator Tracking
•Codified Process
https://www.kindlingapp.com/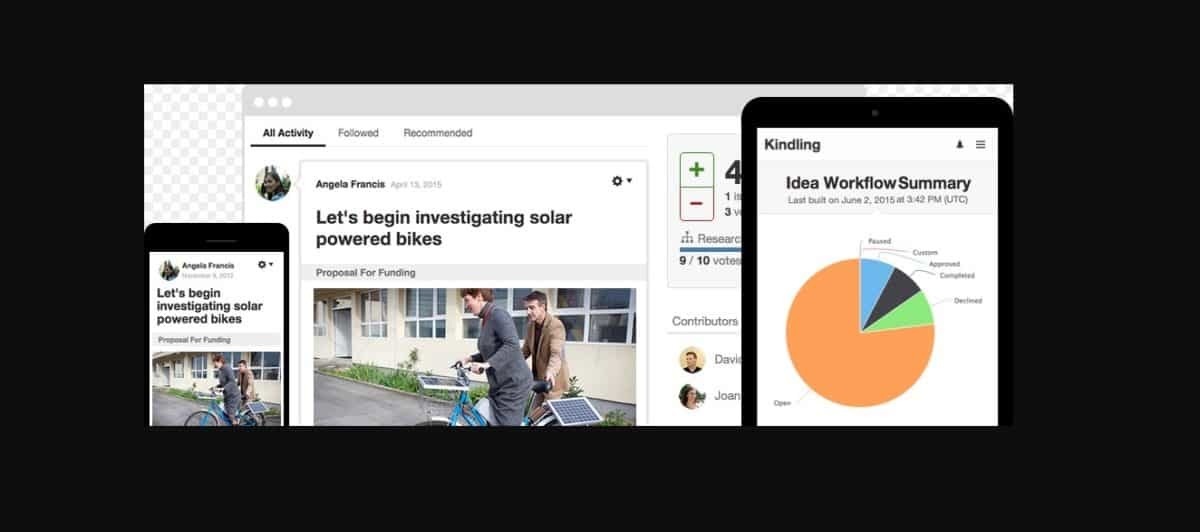 19
Accolade
Sopheon Accolade software for enterprise innovation performance enables large organizations to stay ahead of fast-moving markets and customer demands by enabling swift realignments of operating models, programs, portfolios and processes. Accolade is used to increase organizational agility, remove unnecessary friction from innovation management processes, and standardize the innovation processes and governance. Cross-functional collaboration capabilities with high levels of transparency then enable decision makers to answer tough questions backed by reliable data at all points in Sopheon's Innovation Framework. Sopheon partners with customers to provide complete Enterprise Innovation Performance solutions including software, expertise, and best practices to achieve exceptional long-term revenue…
Overview
• Innovation Strategic planning
• Strategic road mapping
• Idea and concept development
• Innovation process automation and execution
• Product portfolio management and optimization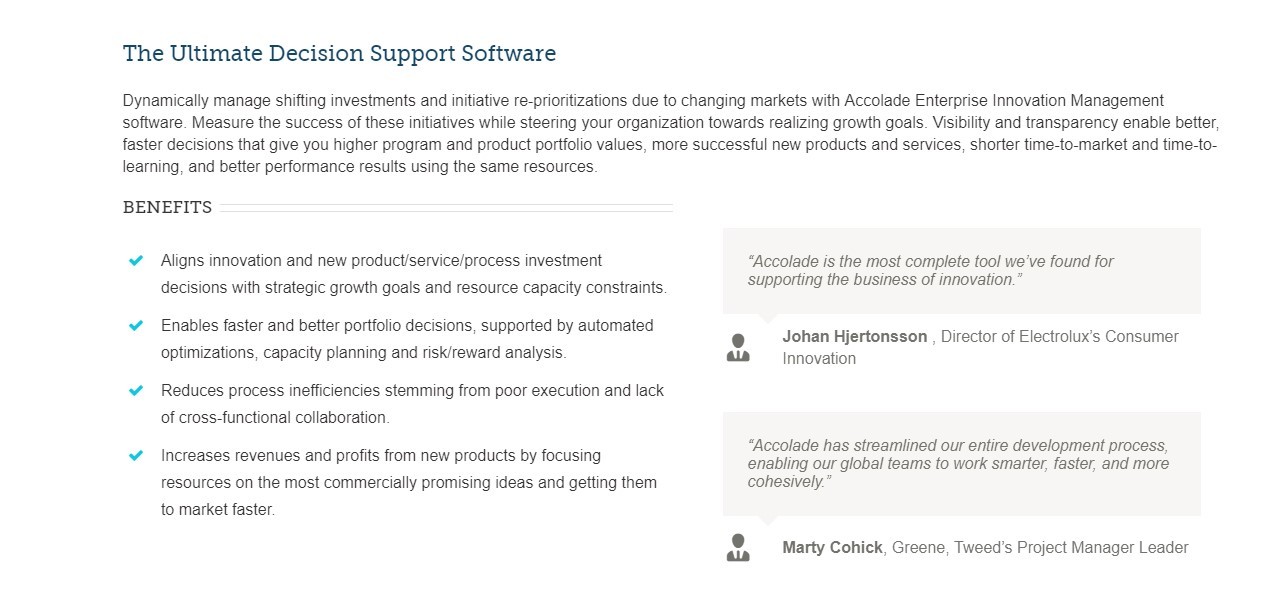 20
HYPE GO!
HYPE GO! is first class end-to-end idea management software which enables users to engage large number of employees in idea generation and collaborative problem solving. HYPE GO! helps users to track measurable business outcomes through to execution. Features of HYPE GO! includes campaign wizard, configurable review sessions, quick to setup and easy to use, and many more. HYPE GO! is being used by several business owners, organizations and non-profits. Its client community includes popular companies such as General Electric, P&G, Bombardier, DHL, Roche, Nokia-Siemens, Daimler, Airbus, General Mills, Saudi Aramco, Bechtel, Clorox, Deutshe Telekom, among others. HYPE GO! is user-friendly…
Overview
• Campaign wizard
• Configurable review sessions
• Easy to use & Quick to set up
• Expertise included
• Sustainable innovation
• Collaborative innovation
• 1st to 150th User - $6.99 / user and month
• 151st to 300th User - $4.99 / user and month
• 301st to 500th User - $2.99 / user and month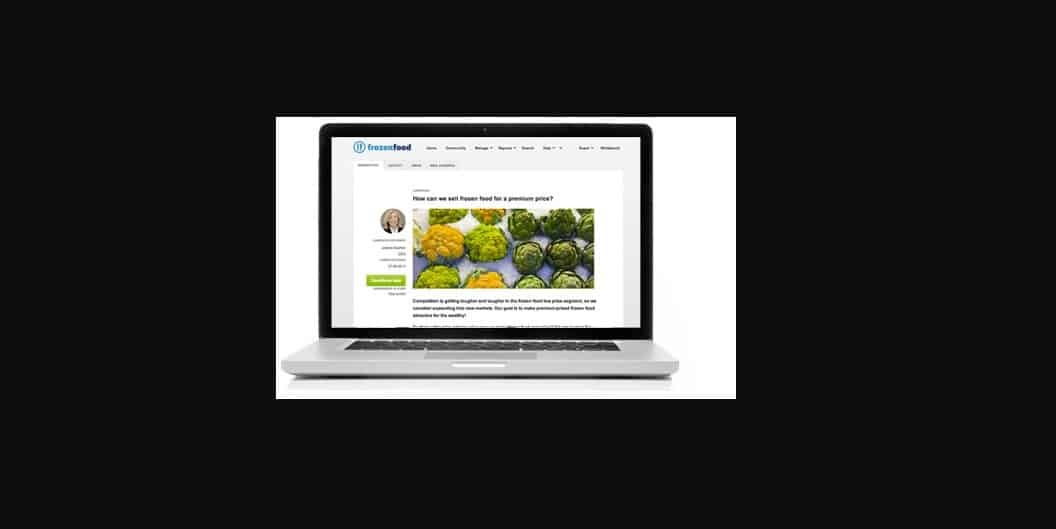 21
Exago
Exago collaborative innovation management software brings together all the right people and their collective expertise to solve your key business challenges, within and beyond corporate walls. From more sustainable operations through to a new and more competitive offer, our platform editions and expert end-to-end services allow you to easily find, manage, assess and bring to life ideas that deliver value to both your workforce and your company as a whole. Social and gamification features, the US-patented predictive markets and a range of diverse evaluation mechanisms ensure solid engagement levels and optimal results. Trusted by Fortune 500 and top firms worldwide,…
Overview
- Community-targeted challenges to get the right people on board
- Solid social and gamification features
- Both standard (Exago Start) and customisable idea management process (Exago Smart and Exago Open)
- Easy pipeline management
- Multiple evaluation methods (including US patented predictive markets to prevent herd behaviour)
- Complete reporting engine with exportable reports
Starting price at $3.50/user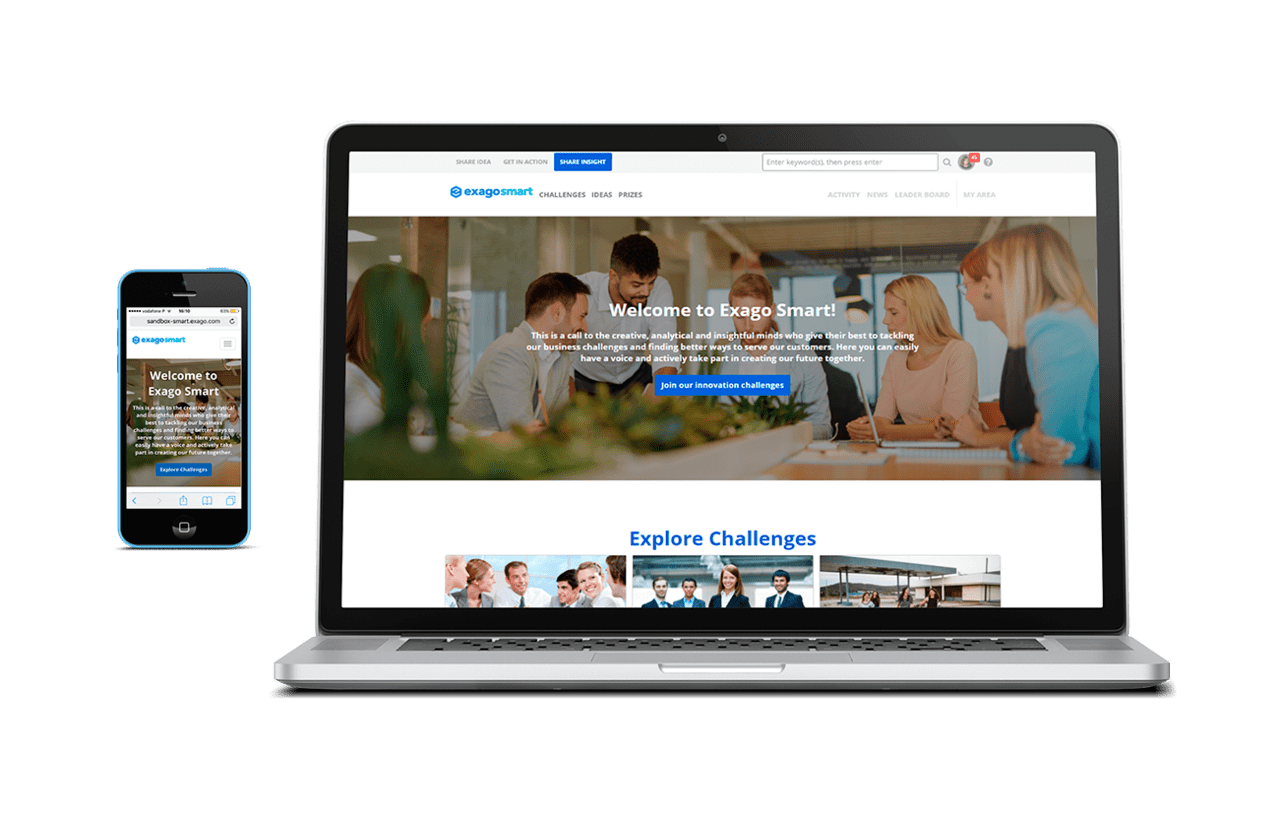 22
Ideawake
Ideawake is a enterprise software company specializing in Innovation Management software. Ideawake helps companies build a Culture of Innovation from within, using the power of their most valuable resource, their employees and stakeholders. Ideawake believes that corporate innovation must be properly strategized to reach specific company goals, and that entails creating an end-to-end innovation pipeline to reach implementation. Ideawake is a comprehensive innovation management platform that allows enterprises to collect ideas from employees, customers or suppliers, enable those individuals to collaborate on and develop ideas, and give decision makers more complex input through scorecarding built into the platform. The user…
Overview
• Easy-to-Understand User Interface
•Customizable Analytics Dashboard
• Customizable Workflows
• Personalized Training for Facilitators
•Customizable Interface
• Multi-Level Idea Evaluation
•Gamified for Employee Engagement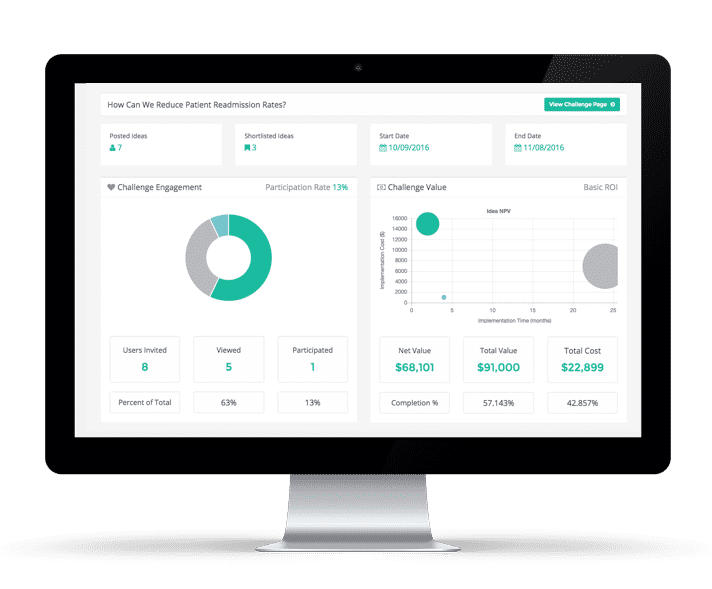 You may like to read: What is Innovation Management?, Pain Points and Benefits
What are Innovation & Idea Management Software?
Idea Management Software provides a set of tools that allow managers and engineers to cooperate with a common understanding of processes and goals. Idea Management or Innovation management allows the organization to respond to external or internal opportunities, and use its creativity to introduce new ideas, processes or products. Idea Management involves workers at every level in contributing creatively to a company's product development, manufacturing and marketing.
What are the Top Idea & Innovation Management Software?
Planbox, Aha!, Crowdicity, Spigit, Brightidea, HYPE Innovation, Acuvate Wave, Qmarkets, Wazoku, Idea Drop, IdeaGlow, Wridea, Viima, IdeaScale, Wellspring, HunchBuzz, Imaginatik, Kindling, Accolade, HYPE GO!, Exago, Ideawake are some of the examples of best Idea & Innovation Management Software.