Top 14 Fundraising CRM Software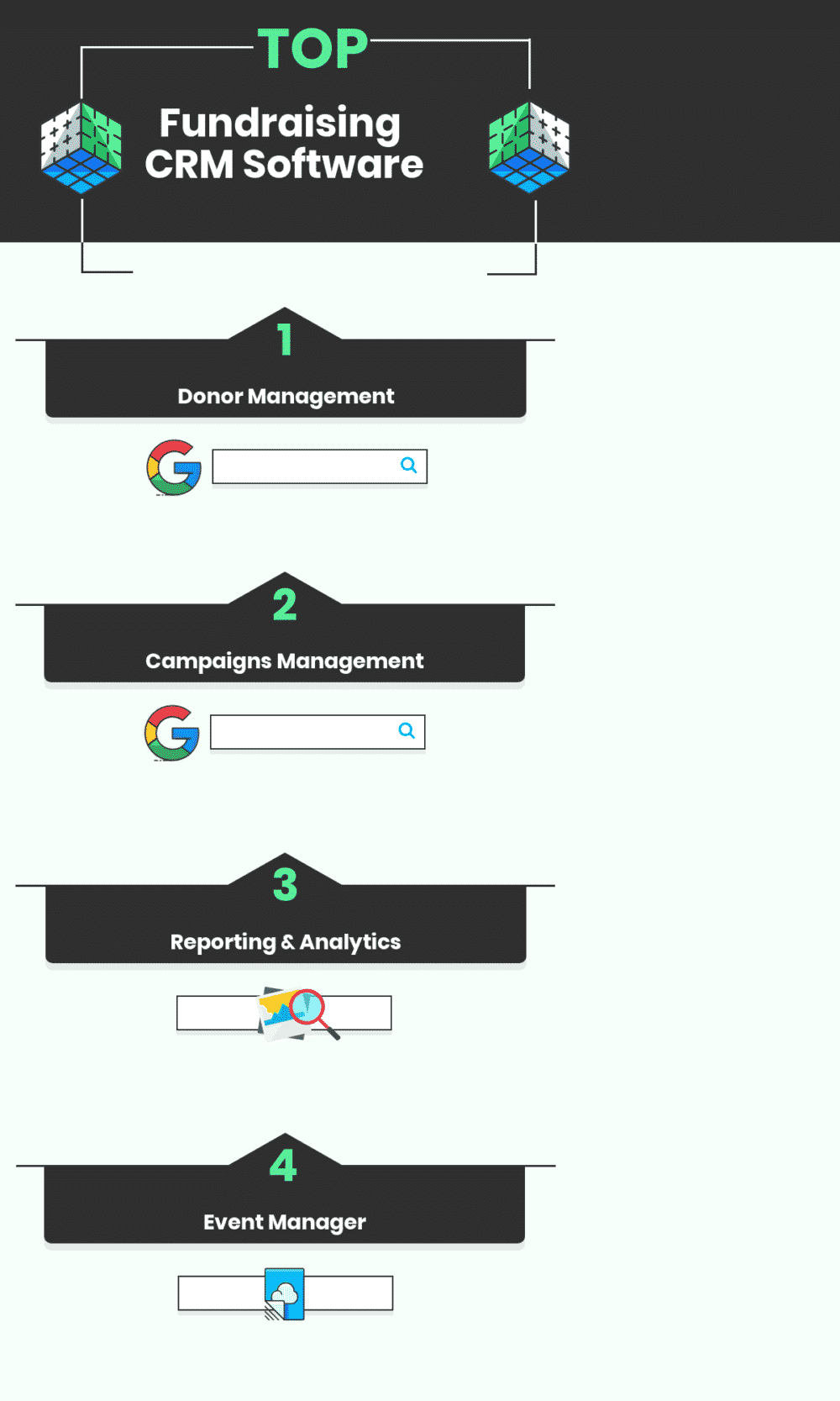 A majority of charity and non-profit organizations rely on donations to raise finances to run their operations. Fundraisers must organize campaigns and events to promote their cause and to appeal to new donors. They also need to retain the current donors, engage them in volunteer activities and raise additional pledges or boost contributions.
A campaign is vital, and fundraisers must launch campaigns to promote their cause and to send it to all the donors and constituents. It is essential for fundraisers to plan and manage events and perform such tasks as schedule events, monitor RSVPs, and send invitations to the donors.
It is necessary to integrate the payment processing system for debit and credit cards and add flexible payment options to be able to collect donations from several channels. Fundraisers must manage and process the donation that they receive. They need to budget and keep proper records to account for the donations.
Example of Fundraising CRM Software: Eprisa CRM, Luminate CRM, CharityEngine, Neon CRM, Blackbaud CRM, Agilon's One Donor CRM, Aegis CRM, Salsa CRM, Raiser's Edge NXT, ClearView CRM, Panorama, Little Green Light, FastFund Donor CRM, AccuFund CRM are some of the Top Fundraising CRM Software.
What are Fundraising CRM Software?
Fundraising CRM software is a tool designed to streamline fundraising operations and enables fundraisers to run their operations seamlessly. It helps them organise, analyse and communicate with donors. Fundraising CRM software is an essential tool for political parties, non-profits and charity organizations that engage in fundraising campaigns to help run their fundraising operations smoothly.
Donor Management: Donor management feature help fundraisers manage donors and donations. It has provided a donor profile that donors can access and edit. It gives fundraisers an option to make notes on the platform and ask donor custom questions. It helps the user to gather donors contact addresses. Fundraisers also can monitor donations and maximize their efforts to increase donations. It enables users to reach different types of donors and gives them a smooth experience.
Campaigns Management: It allows the user to launch & promote their campaigns, attract new donors and communicate with donors. Fundraising CRM software helps the user to spread the word and reach more donors from anywhere around the world. It offers social sharing, pop-up donation forms, and use of multiple languages in campaigns among other features.
Payment Integration: Fundraising CRM solutions are integrated with different payment options to enable the donors to send their payments seamlessly.
Reporting & Analytics: Fundraising CRM software offers reports and analyses that will allow fundraisers to plan. The user can monitor their fundraising efforts and progress which can help them know what works and what doesn't.
Security: Fundraising CRM software keeps donors and donations protected with SSL & TSL encryption. It allows the user to detect fraud easily and to tokenise donors' financial data.
Event Manager: It enables the user to plan and manage events, schedule events, send invitations and monitor the fundraising event.
You may like to read: Top Fundraising Software and How to Choose the Best Nonprofit CRM Software
Top Fundraising CRM Software

Eprisa CRM, Luminate CRM, CharityEngine, Neon CRM, Blackbaud CRM, Agilon's One Donor CRM, Aegis CRM, Salsa CRM, Raiser's Edge NXT, ClearView CRM, Panorama, Little Green Light, FastFund Donor CRM, AccuFund CRM are some of the Top Fundraising CRM Software.
Top Fundraising CRM Software
PAT Index™
1
Eprisa CRM
Saturn's Cloud Based Eprisa© CRM system operates on the SaaS (Software-as-a-Service) model. The Eprisa application runs on a state of the art, high performance, object-oriented DBMS (Database Management System) - Intersystems' Caché. Eprísa functions as a flexible "framework", tailored to each customer's business rules and processes. Specific modules can be enabled / disabled by clients. The Constituent record is positioned as the "hub", and all other forms of engagement are linked back to the Constituent. The Eprisa Major Gifts Module allows your charity to track proposals, house all documentation, create and track team / client contacts, build pipeline reports for…
Overview
• Point-And-Click Customized Ad Hoc Reports
• Corporate Matching Gifts
• Major Gifts Module
• Campaign Management
• Real-time Biographics
• Chapter / Branch Management
• Online Module with Donor Facing Portal
2
Luminate CRM
Luminate is a complete cloud-based constituent engagement solution. Luminate combines the industry's most successful online fundraising suite with the world's most powerful CRM platform, leading analytics technologies, and expertise to meet the complex needs of enterprise nonprofits. Luminate CRM enables organizations to consolidate constituent data and business processes onto one solution by unifying the leading CRM and online technologies, developed and supported by the expertise of the sector's leading nonprofit technology company. Luminate CRM is the most complete and best supported solution available for nonprofit organizations today. Luminate CRM is used by both fund development department and programs department to…
Overview
• Integrated Cross-Channel Messaging
• Easy Content Creation & Management Tools
• Embedded SKY Reporting Dashboard
• Custom Constituent Profiles
• Actionable Results & Reports
• Constituent Task Management
• Integrated Marketing Tools
3
CharityEngine
CharityEngine gives nonprofits a technology platform for integrated online and offline donor management that comes out of the box ready for multi-channel fundraising, direct mail, events, major gifts, moves management & payment processing. CharityEngine's all-in-one platform features donation forms, email marketing, direct mail, multi-channel campaign management, events, peer-to-peer, eCommerce and more in a data warehouse style CRM with actionable reporting and business intelligence. Create easily reportable segmentations for acquisition or renewal mailings that pull data from across the entire organization, delivered production-ready to your mail fulfillment partners. CharityEngine makes it easy to make real-time connections between offline and online giving…
Overview
• Multi-Channel Tracking
• Integrated Sustainer Management
• A/B Testing & Automated Drip Campaigns
• Dynamic Segmentations for Audiences
• Daily Dashboards
• Offline Management & Analytics
• Comprehensive Reporting & Workflow Automation
4
Neon CRM
Neon CRM is a tool that helps non-profits grow their mission with a people-focused donor database instead of a transaction-based solution. It allows organizations to engage donors, manage memberships, plan events, and track volunteers through its cloud-based functionality. With Neon CRM, non-profits can also design and build memorable websites without breaking the bank, and ensure a solid web presence to enhance online donations. Neon CRM also offers personalized training and consulting for existing clients, performed by a number of industry experts who provide one-on-one dedicated services. The solution aims to help organizations grow communities, scale impact and inspire audiences to…
Overview
• Built-in mail merge
• Automatic tax receipting
• Easy P2P campaign tracking
• Fully-branded donation forms for any campaign — customize the branding, form fields, and page content.
• Progress thermometer widgets
• High-level overview of organization's fundraising performance with comparative visualizations of nonprofit's results
• Fundraising executive reports
• Essentials - $50 to $250 / month
• Impact - from $110 / month
• Empower - from $200 / month
5
Blackbaud CRM
Blackbaud CRM brings industry-leading fundraising, online applications, actionable prospect research and analytics, and multichannel direct marketing together in one platform to enable an integrated view of the constituent experience across the organization. Nonprofits face a variety of fundraising challenges, such as identifying and cultivating prospects, increasing stewardship, strengthening donor relationships, and improving donor retention. Blackbaud CRM provides organizations with a flexible, scalable, and secure nonprofit CRM solution to address the most sophisticated fundraising programs. Blackbaud CRM features best-in-class prospect research tools that enable your organization to build in-depth prospect profiles, including analytics offerings that provide guidance around a prospect's propensity…
Overview
• Analytics' Benchmarking Tools
• Prospect Research Tools
• Robust Relationship Capabilities
• Multichannel Marketing Outreach
• Direct Marketing & eMarketing Communications
• Acquisition Management & Identification
• Alumni Management
6
Agilon's One Donor CRM
Agilon's One is a future-ready, Donor Management and CRM solution to help non-profit organizations manage their donors, alumni, board members and corporate partners. Agilon's solutions have been adopted by top-tier non-profit higher-ed, healthcare and member-based organizations. Agilons' modern web-services based platform has proven scalability supporting organizations with hundreds of fundraisers in multiple locations. Agilon's approach is to integrate the entire constituent demographic, donation, membership, communication and outreach information into a single comprehensive data base, giving a full 360-degree view of the constituents. Agilon philosophy is to give the team the tools and information they need to maximize productivity and achieve…
Overview
• Agilon's Donor CRM
• Business Intelligence
• Campaign Management
• Events Management
• Membership Management
• Multichannel Fundraising
• Scholarships & Endowments
• Stewardship Management
• Integrated Wealth Screening
• Automate Ratings, Scores and Rankings
• Unlimited configurable attributes
• Comprehensive Profile Templates & Fundraising
7
Aegis CRM
Aegis CRM provides the donor management and fundraising tools the user need to help plan and execute fundraising campaigns, manage campaigns and make adjustments by gaining quick insights from Aegis CRM's analytics and reporting tools. In December 2016 Bernard Data Solutions integrated with Aegis Premier Solutions and became Aegis Premier Technologies. Software integrations allow for in-depth donor insights, easier email campaign management and the ability to receive gift transactions from donation landing pages. With a 99% guaranteed uptime, the user will have the data at their fingertips when they need it the most. Aegis CRM uses state-of-the-art best practices in…
Overview
• Merchant & Data Services
• Custom-Designed Programs/Reports
• Exception Handling
• Aegis CRM
• Donation processing & Caging
8
Salsa CRM
Salsa brings online and offline fundraising and donor management together on one unified platform that was purpose-built for nonprofit teams. It connects multiple constituents by relationships as well as households and categorizes/tracks donors, volunteers, employees, attendees, and board members. By hosting fundraising, communications, and prospect data in the same place, Salsa will maximize staff efficiency and save time. Automation and intuitive data entry tools cut manual, time-consuming tasks. Salsa allows creating unlimited fields for constituent records, which can easily be searched for better reporting. It also makes it easy to keep track of donation history and tie donations to specific…
Overview
• Donor Management and Fundraising Performance Dashboard
• Donor Cultivation: Custom workflows, priority settings, ownerships, and task reminders
• Grant Management
• Built-in word processor for creating professional letters
• Bar code scanning for large scale direct mail solicitations
• Double the Donation integration
• Powerful mail merge tools for organized email management
9
Raiser's Edge NXT
Raiser's Edge is a fundraising system designed especially for non-profit organizations. It's also a customer relation management tool and a unique performer the market has to offer to fundraising institutions. Raiser's Edge leads the user to the complete accomplishment of their funding targets by keeping in loop more donors than the ones they have considered. It also gives the user the opportunity to organize and promote webinars and non-profit events to turn fundraising management into an interesting and enjoyable experience. Raiser's Edge NXT allows organizations to operate more efficiently by streamlining data, reporting, and processes to set a stable foundation…
Overview
• Regular releases & Donor Management
• SKY Reporting & Lists &Work Centers
• Attachments &Notes
• Record Security &Batch Gift Entry
• SKY API , Donor Base & Segmentation
• Simplified Payment Process
• E-Marketing & CRM and Event Mobile App
• Data Health Scorecard & Mobile Payments
• Address Finder & Integrated Wealth Ratings
• Volunteer Management, Reporting &Analytics
• Single User Charge – Starts at $5000
• Multi-user Charge – $5000 to $9000+
• Yearly Support for Single User – $700
• Yearly Support for 2 or More Users – $1000+
• Training Vendor Location – $1500+/student
• Additional modules – $2000/module
10
ClearView CRM
ClearView CRM by Softrek is a software solution that gives nonprofits the tools they need to manage both their fundraising activities and their donor relationships. ClearView CRM includes a suite of applications that bring together donor and fundraising information, both on and offline, into a single customizable database. Using this information, organizations can analyze donor relationships, stay up-to-date on staff activities and have access to real-time data. ClearView CRM's user interface can be customized both at the individual and organizational level. It is suited for a number of nonprofit verticals: animal welfare, environmental, faith-based, health care and museums. It tracks…
Overview
• Ad hoc reports that can troubleshoot operations issues
• Online event registration and team management
• Detailed reports that track the dates and status of grant requests
• Donor portal: A safe, easy-to-use channel for donor connection with targeted, relevant information and valuable tools
• Caging service integration
• Direct Mail Marketing
• Personal fundraising: effortless, effective tools that allow donors to fundraise and advocate for the organization
11
Panorama
Panorama benefits organization with all fundraising apps in one place with a single login, comprehensive donor insight and data flow across all fundraising activity, personalized widgets to create meaningful at-a-glance dashboards, and unlimited records and emails to grow your donor base. Panorama gives one constituent ID across all different fundraising activities, powered by Intelligent Engagement Platform. Manage national run/walk/rides or major campaigns with multiple locations and start times, unique team configurations, complex registration requirements and more. All fundraising pages and donation forms are automatically mobile-optimized. The Panorama dashboard is a customizable snapshot of data from all your sources and campaigns.…
Overview
• Customized Fundraising Campaigns
• Donor & Volunteer Management
• Ready-To-Go Reporting
• Intuitive Smartlist Generator
• Searchable Knowledge Base
• Embeddable Widgets
• Branded Fundraising Pages
12
Little Green Light
Little Green Light helps small and midsize nonprofits manage fundraising and development efforts by offering a cloud-based constituent relationship management database, as well as event planning, activity tracking, mail merges and queries. Little Green Light helps establish workflows, such as entering and retrieving donor information, adding donations, recording event attendance and creating mail campaigns. It also offers search capabilities. Little Green Light is a CRM designed for management of a nonprofit organization's donor base. It is a web-based tool that can be accessed via the Internet. This allows for quite a bit of flexibility, as users in the system can…
Overview
• List Creation & Management
• Built-In Custom Reporting
• Donor / Fundraising Management
• Constituent Management
• Acknowledgements / Receipts
• In-Kind Donations
13
FastFund Donor CRM
FastFund Online Nonprofit Software Solutions provides cloud-based fund accounting, fundraising, and payroll. FastFund provides an easy and affordable way to help the nonprofits become more sustainable and accountable to their funding sources. FastFund Online Fundraising can be used to track all of the constituents the user do business with, whether they are donors, members, alumni, clients, vendors, employees or constituents. Campaign management tracks all of the fund-raising activities by campaign appeal and gift designation. It helps record donations, pledges and in-kind contributions. FastFund Fundraising can be a stand-alone package or can be integrated with the FastFund Nonprofit Fund Accounting Software.…
Overview
• Constituent Management & User-Defined Codes
• Campaign Management, Membership Management & Alumni Management
• Volunteer Management & Moves Management
• Cash, Pledge, In-Kind Gift Processing
• Track Donor Gift Designations & Recurring Gifts
• Duplicate Search and Merge
• Automated Receipts & Pledge Reminders
• Multiple Year-End Closing Entries & Comprehensive Reports
• Customized Query & Duplicate Donors
• Integrates With FastFund Accounting
• Data import, Data export and Reports.
• $17/month if bundled with FastFund Nonprofit Fund Accounting with up to 2,500 names
• As Low As $38/month standalone for up to 5,000 names
• No setup fee or hidden charges
• Free Support
14
AccuFund CRM
AccuFund CRM for Salesforce is a cloud-based fundraising and constituent relationship management (CRM) solution designed to improve the nonprofit's development activities by optimizing the Salesforce donor database. Salesforce is a cloud-based constituent relationship management (CRM) tool. AccuFund CRM offers a quick set up and configuration service of these core components, NPSP settings, automation activations, and more to deploy a smart Salesforce database as quickly as possible. AccuFund CRM's goal is to provide an organization with a Salesforce donor management solution that fits their needs, educate the organization on lesser-known Salesforce features/tips, and help the user stay up-to-date with new features…
Overview
• Donor/Constituent Management
• Donation, Grant Membership In-Kind, and Matching Gifts
• Grant Deliverable Deadlines
• Free Address Verification
• Constituent Activity and Communication Tracking
• Third Party Integrations with Applications on the AppExchange
• Volunteer Management
• Forecasting and Performance Reports
You may like to read: Top Fundraising Software and How to Choose the Best Nonprofit CRM Software