29 Free & Top Mind Mapping Software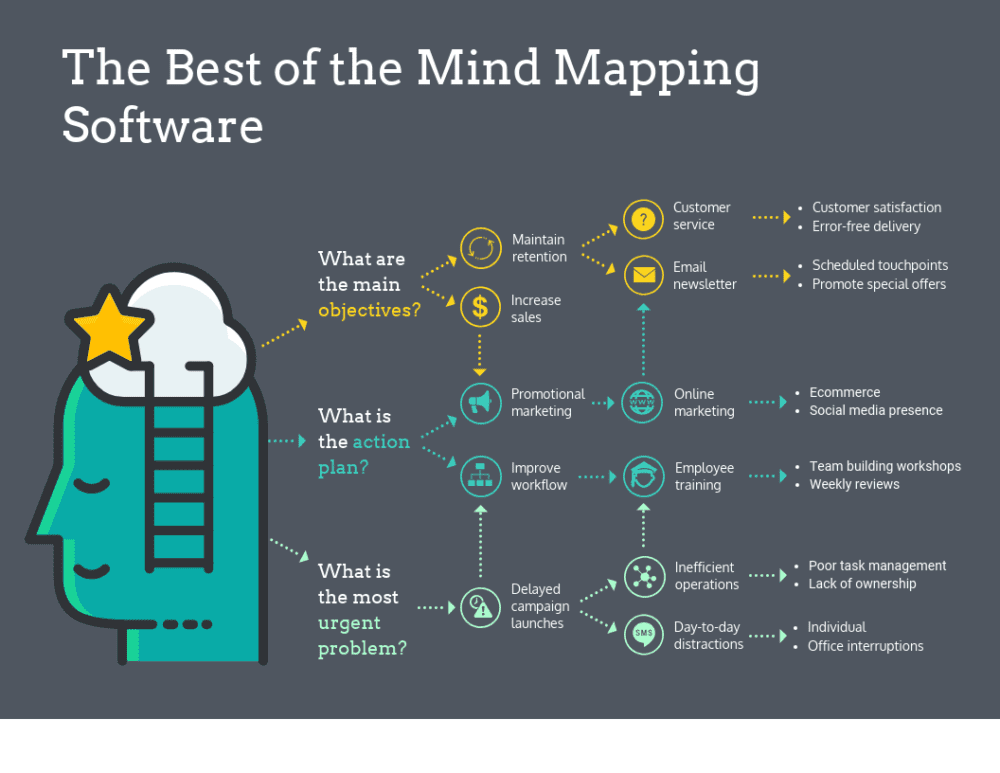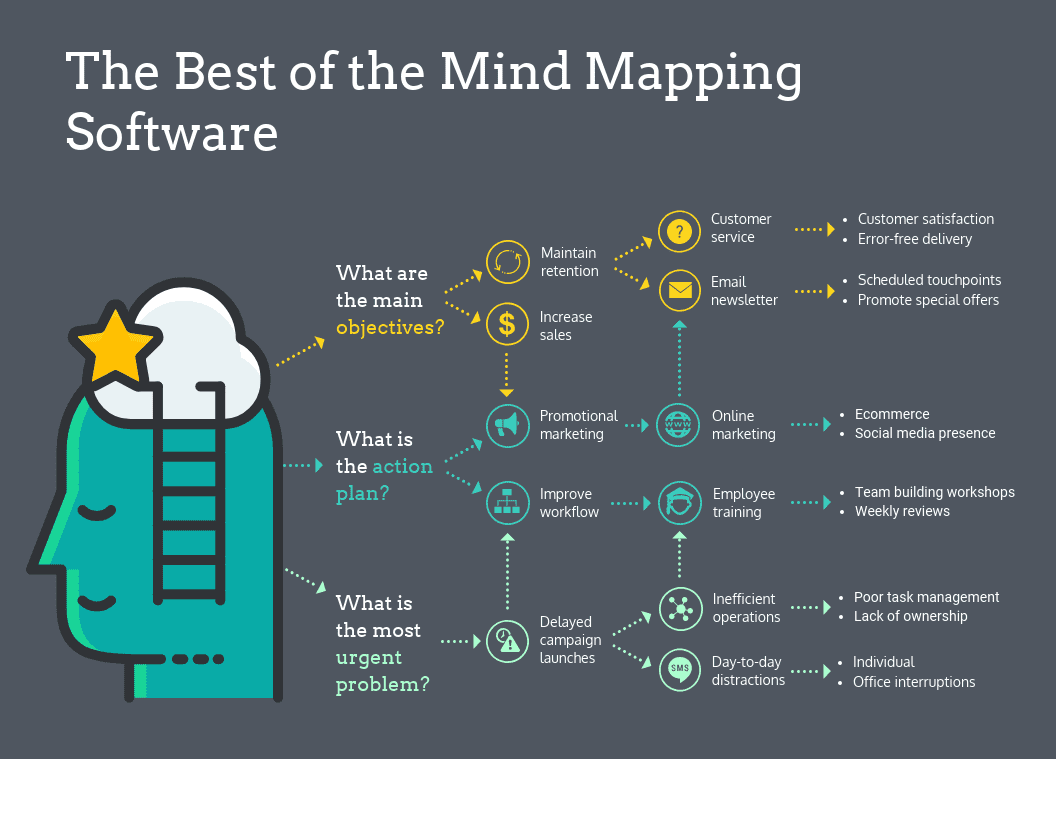 Mind mapping is a fantastic way of laying out/ visualizing your thinking process. It is an alternative and more exciting way of writing down your ideas and brainstorming on paper.
Mind mapping software products literally map out your thoughts and ideas into something structured and visible and have become very popular in the world today. Almost everyone is using mind maps! Doctors, teachers, students, lawyers, nurses, business owners; the list is endless! And why is this the case? Because mind maps can easily be made. You only need an idea to start.
Mind Map will provide you with the tools to further expand on it. Mind maps are also extremely flexible. You can basically utilize them for brainstorming on solutions, for explaining highlighting information, and for the step-by-step recording of processes. More importantly, mind maps are an effective way of explaining complex information to others.
Example of Free Mind Mapping Software: FreeMind, Edraw Mind Map, Docear, VUE, Freeplane, Coggle, Xmind, WiseMapping, Mind42, 3D Topicscape are some of the Top Mind Mapping Software Free.
Example of Mind Mapping Software: MindGenius, iMindMap, Lucidchart, SmartDraw, MindMup, MindMapper, ConceptDraw MINDMAP, Textografo, Novamind, Openmind, Mindomo, MindMeister, TheBrain, iMindQ, Cacoo, MindView, Goconqr, MindManager, Bubbl.us, Canva are some of the Top Mind Mapping Software.
You may like to read: How to Select the Best Mind Mapping Software for Your Business
What are Mind Mapping Software?
Mind Mapping Software are used to create diagrams of relationships between concepts, ideas, or other pieces of information. Mind Mapping Software technique can improve learning and study efficiency over conventional note-taking.
A mind map software product is simply a tool that enables you to visually present your ideas. It can turn a long boring list of ideas into a colorful, well organized and remarkable flowcharts. Mind mapping begins with a single idea. From there, you then work your way down to sub-ideas and even sub-sub-ideas. And with the right mind mapping software, you can easily alter your data. This means that your mind map can change with your plans; without the untidy crossing-out of course! Modern mind mapping software are unbelievably fast and this ensures that you get to capture your ideas as quickly as they pop into your head.
What's more, they are highly practical. All your mind maps are stored in one location and you can connect them, search within them, and even quickly switch from one to another. And that's not all! You can also enrich every idea in your map with videos, images, notes or links to other websites among others.
Topic notes: Notes are a nice of capturing extra thoughts without "littering" up your mind map's visible part. A note can be anything from one sentence to a few paragraphs. So, if you have extended ideas or thoughts that you would like to capture, this is the feature to use.
Links and attachments: A good mind mapping software should be capable of supporting a good number of links and attachments; i.e. web pages, folders, files and others.
Keyboard shortcuts: Many mind mapping software require the user to utilize the toolbar buttons to add content to their map. However, when you are brainstorming, you ought to be able to quickly capture your ideas without the software's user interface getting in your way. This is where this feature comes in! They allow you to quickly come up with new topics and sub-topics.
Export formats: This feature allows your mind map to export to several formats such as PDFs, Microsoft Word, PowerPoint, and web pages.
Templates: Inbuilt and useful mind map templates to get started easily with mindmaps.
You may like to read: How to Select the Best Mind Mapping Software for Your Business
Top Mind Mapping Software Free
FreeMind, Edraw Mind Map, Docear, VUE, Freeplane, Coggle, Xmind, WiseMapping, Mind42, 3D Topicscape are some of the Top Mind Mapping Software Free.
Top Mind Mapping Software Free
PAT Index™
1
FreeMind
FreeMind is a free mind mapping software which gives users the flexibility to organize thoughts on a page as they connect to each other and to the larger picture and also lets users edit Mind maps, XML/HTML documents, and directory trees. FreeMind offers features, including scads of icons and color formatting options to help users visually organize concepts, provides support hyperlinks, which allow users to link Web sites and even documents to a map and users will be able to export their landscape of thoughts in a variety of formats, including HTML, PDF, and JPEG. FreeMind lets users keeping track…
Overview
• Fully functional following of HTML links stored in the nodes, be it www links or links to local files.
• From very early versions, Freemind supports folding which is its essential property.
• Fast one-click navigation, including folding / unfolding on one click and following links on one click at the same time
• Undo
• Smart Drag'n Drop, including the possibility to copy nodes or copy style of nodes; dragging and dropping of multiple selected nodes; dropping of texts or list of files from outside
• Smart copying and pasting into, including pasting of links from HTML or structuring the pasted content on the basis of the number of leading spaces in a line; pasting of lists of selected files
• Smart copying and pasting from, including plain text and RTF (MS Wordpad, MS Word, MS Outlook messages).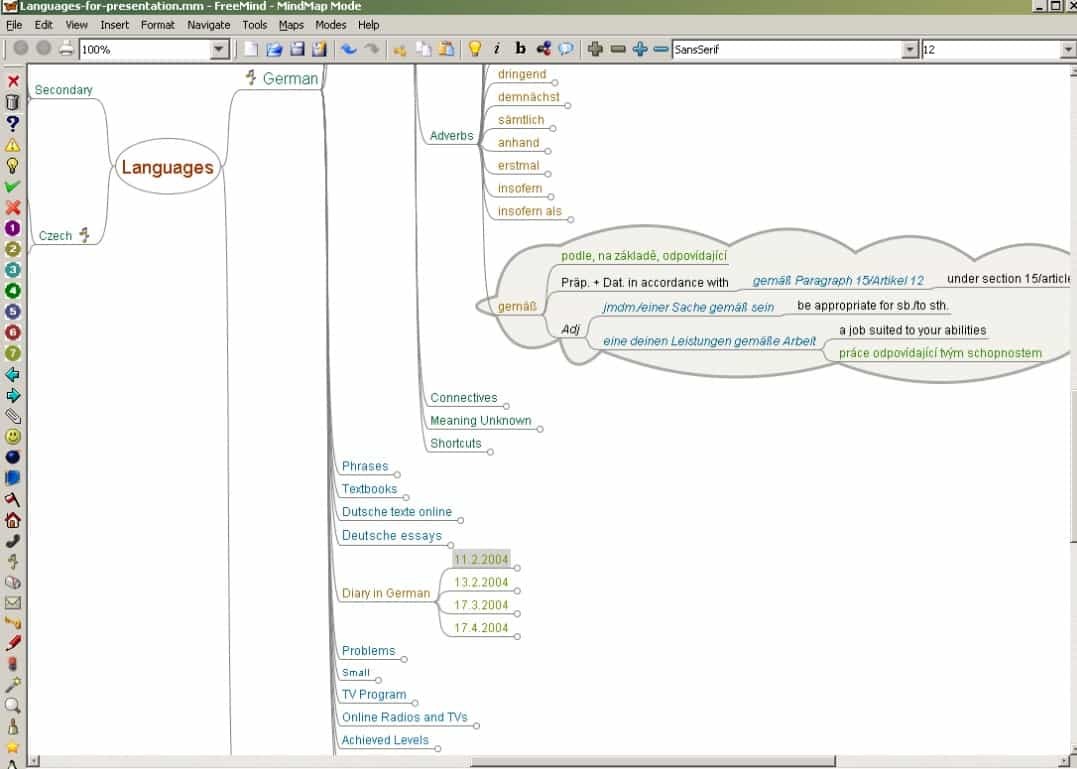 2
Edraw Mind Map
Edraw provides different products and tools that can be used for mind mapping and which can be accessed for free. Edraw Mind Map if a freeware software that allows users to use their samples and templates to create mind maps or charts of all kinds, to brainstorm ideas, to connect and associate complex data, and to share information. It is a compatible with Microsoft applications, easy to use diagram creation software, and does not require any payments for monthly fees or for updates. Edraw Max is another software optional extension, compatible with it, which can be used to extend its…
Overview
• Mind Maps and Charts creator
• Examples and Templates
• Smart drawing guide
• Integrates with Microsoft Office
• Ready-made symbols
• Smart mind mapping guide
• Automatic layout making mind maps
• Importing and Exporting capabilities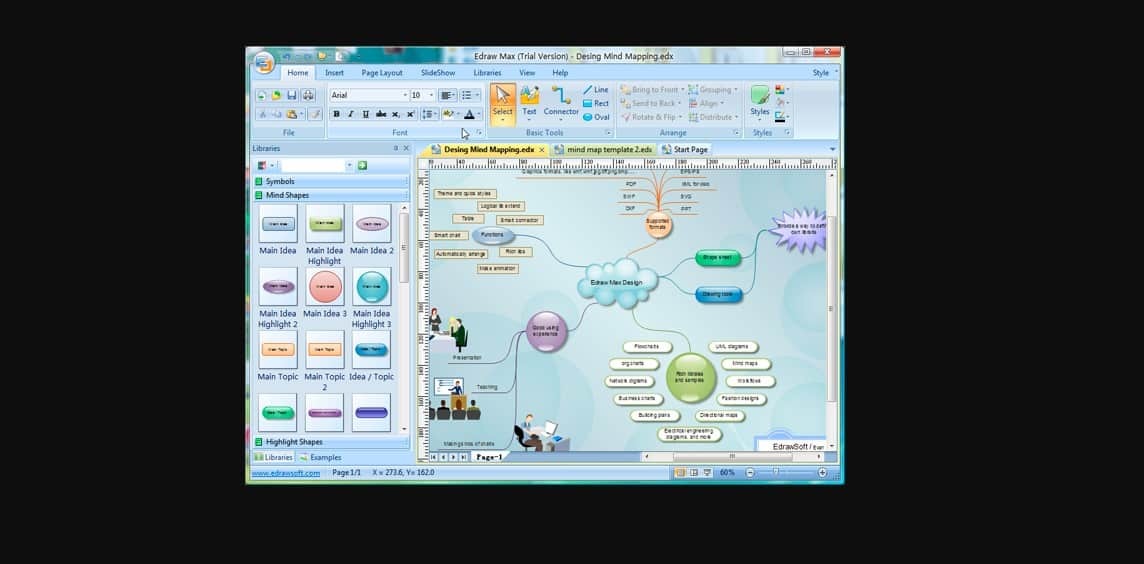 3
Docear
Docear is a literature management tool or academic literature suite that allows you to create notes and mind maps, and to store documents and papers, all in one single place. It is a freeware open source online solution that has three main features. It allows to organize literature with emphasis on the comments and notes made, instead of on the documents themselves; it allows you to draft and write papers and assignments; and it recommends papers free to download from the web, which are related to your fields based on the content you have uploaded and created. One of the…
Overview
• Single-section user-interface
• Focus on annotations
• Mind mapping
• PDF annotation import
• Reference and files management
• Academic search engine
• Search and filter function
• Formatting options
• Multi language support
• Online backup optional
• Real-time collaboration
• Synchronization with other devices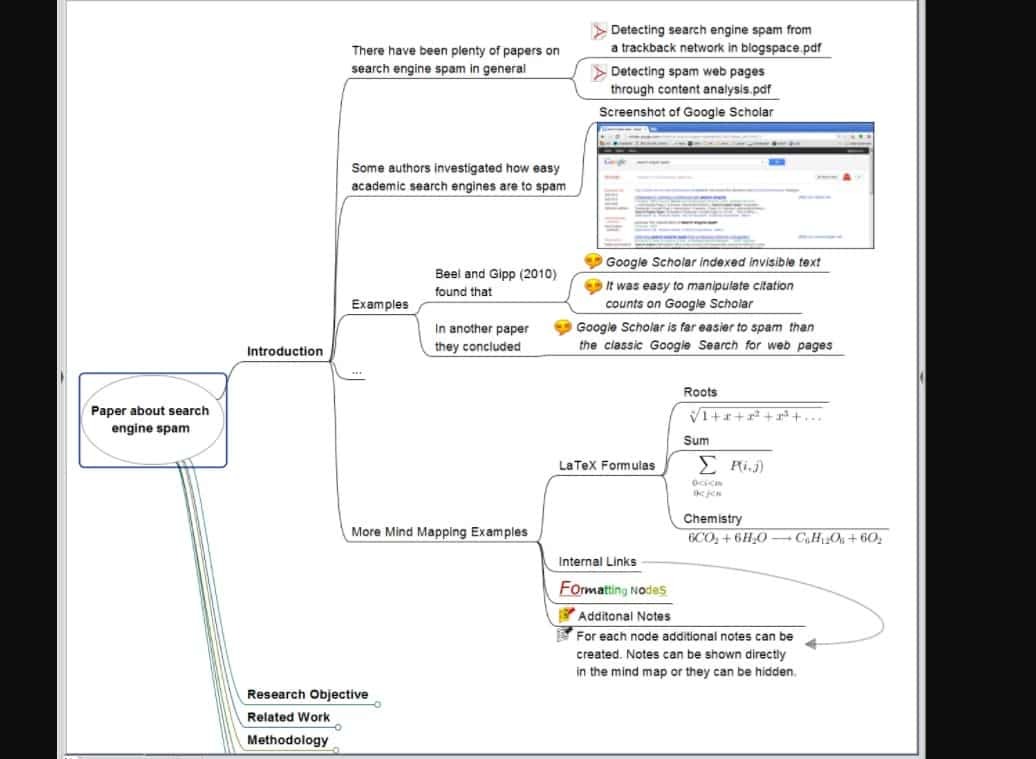 4
VUE
Visual Understanding Environment (VUE) is an application for concept and content mapping for students, academic workers, CEOs, managers and writers which provides a simple yet powerful set of tools and a basic visual grammar consisting of nodes and links, and maps relationships between concepts, ideas and digital content to organize, contextualize, and access digital information. Visual Understanding Environment (VUE) provides features such as make mind maps and charts, format easily and annotate items, use layers, analyze charts, add semantic relations, share users' work, export in several image formats and pdf (the latter is usually available only in commercial apps), map…
Overview
• Enhanced Pathways and Presentation Tools
• Visualization
• Dynamic Content Mapping
• Semantic Mapping Tools
• Search
• Resources
• Publish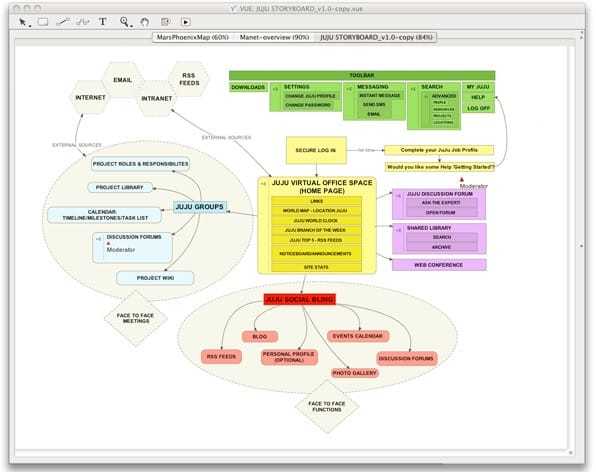 5
Freeplane
Freeplane is a software application for knowledge management that allows users to write down thoughts and organize information as is found on the mind, and to connect and share it; it can be described as a tool between an editor and a diagramming instrument. The information is stored in mind mapping form, which means it is contained in mind maps. These include central topics, subtopics, and free topics, all of which can be formatted and linked, and also hidden, or they can include calculation formulas or hyperlinks. The topics include the content freely entered by the users. The application can…
Overview
• Simple script invocation
• Simple hotkey assignment
• Add-ons (packaged scripts, see below)
• Format panel
• Formulas
• Node formats
• Attributes panel
• Integration with Docear
• 1.3.x: Inline LaTeX ("LaTeX in core") with LaTeX syntax highlighting editor
• Node details,
• Freely positionable nodes,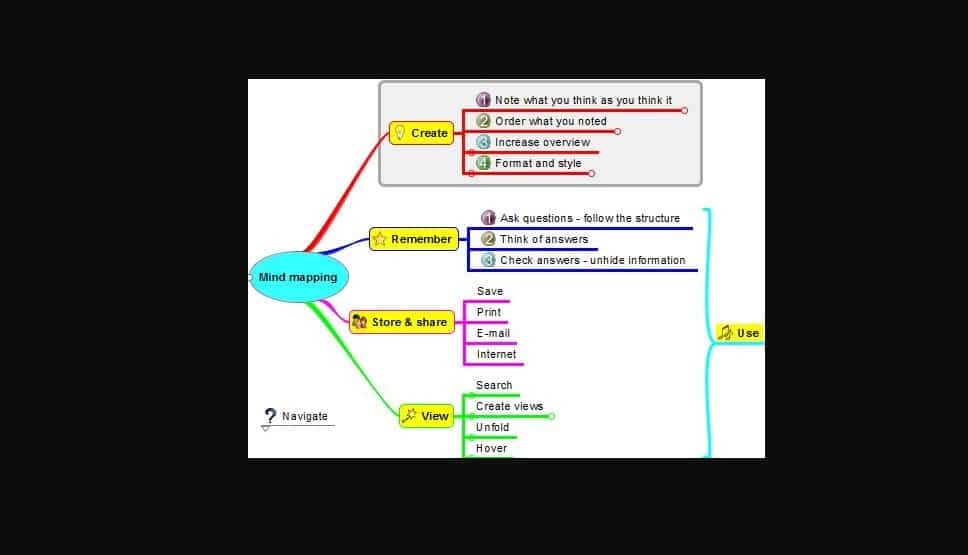 6
Coggle
Coggle is an online tool that allows to create collaborative mind maps to easily share complex information. With it, users can create information to share with friends and work together on their ideas, brainstorm, plan, or make something creative in real-time collaboration and online. It works directly in internet browsers and it does not need to install any applications. Changes made to charts are immediately seen by others, and multiple users can work on changes at the same time. It is possible to introduce new versions and to have a history of all changes done to the charts, and thus…
Overview
• Collaborative mind maps
• Real-time collaboration
• History of changes
• Unlimited images upload
• Unlimited private charts
• Connectors and loops for process flows
• Multiple starting points
• Free - $0 – 3 private charts
• Awesome - $5 per month – unlimited private charts, high-resolution images, multiple starting points
• Organization- $8 per user per month – administration of users, invoice consolidation, exporting volumes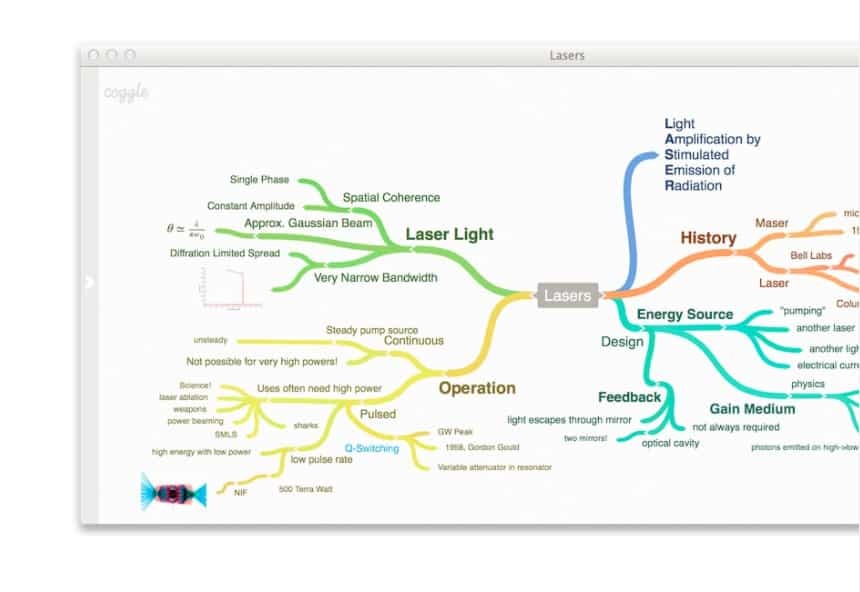 7
Xmind
XMind is a mind mapping software which helps users to manage complex information, clarify thinking and get work organized by developing robust mind mapping, brainstorming and collaboration software and services. XMind offers features such as local network sharing support, exporting to Excel, CSV, PDF or SVG format, a good collection of templates, markers, support for adding clip arts, improved IME support, brainstorming mode, presentation mode, advanced filtering, task management and powerful search features, basic mind mapping, organizational chart, tree chart, logic chart, business chart, brainstorming, slide-based presentation, workspace user interface, office/PDF compatibility, drill down, multi-page print, map merge, map shot,…
Overview
• Mind Mapping
• Business Charts
• Brainstorming
• Presentation Mode
• Slide-based Presentation
• Gantt View
• Fresher workspace UI
• Brand New Clip Art
• New Useful Templates
• Working with Office/PDF
• Mind Toolbox
• Save to Evernote
• Themes & Fonts
• XMind Cloud
• New Share Dialog
• 60,000+ Pretty Icons
• XMind 8 – Free
• XMind 8 Plus - $79
• XMind 8 Pro - $99
8
WiseMapping
WiseMapping is an open-source web-based free mind mapping editor that can be used to store and share information easily. It can be used both by individuals, for education, and by corporations, to aid in the decision making process. Information can be shared rapidly by embedding it in any website, and different people can collaborate together to develop ideas without needing to install the product in their computers. WiseMapping can also be downloaded and installed on the company's servers to comply with security concerns, create user access restrictions, and take care of backups of information. WiseMapping uses vector graphics animation technology,…
Overview
• Open-source
• Web-based compatible with all modern browsers
• Vector graphics animation technology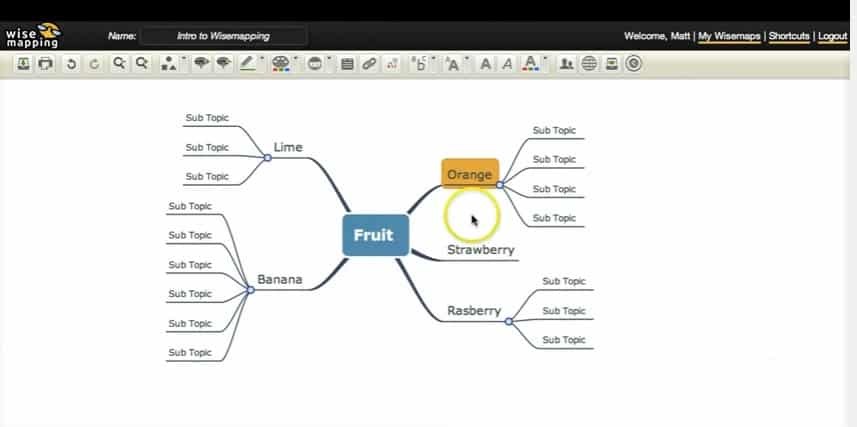 9
Mind42
Mind 42 which was created to be called Mind FOR TWO, is an online project management software that can be used for free to create mind maps inform of a structured diagram on your computer. Create to do list, brainstorm ideas, organize events and lot more with this product. It is completely free but allows advertisements. It is private by default and you can share your mind with lot of people across the globe. It helps you visualize your thinking with the help of proven mind mapping method. It manages time and has a good organization tools. It features also…
Overview
• Ability to manage time with its organization tools
• Input images from another site and share worldwide
• Productive and unique output
• Collaborate, edit and utilize GoogleTalk gadgets
• Export projects to FreeMind, Mind manager, Mind 42 XML and PDF
• It is free to use
• Works can be save in Google Drive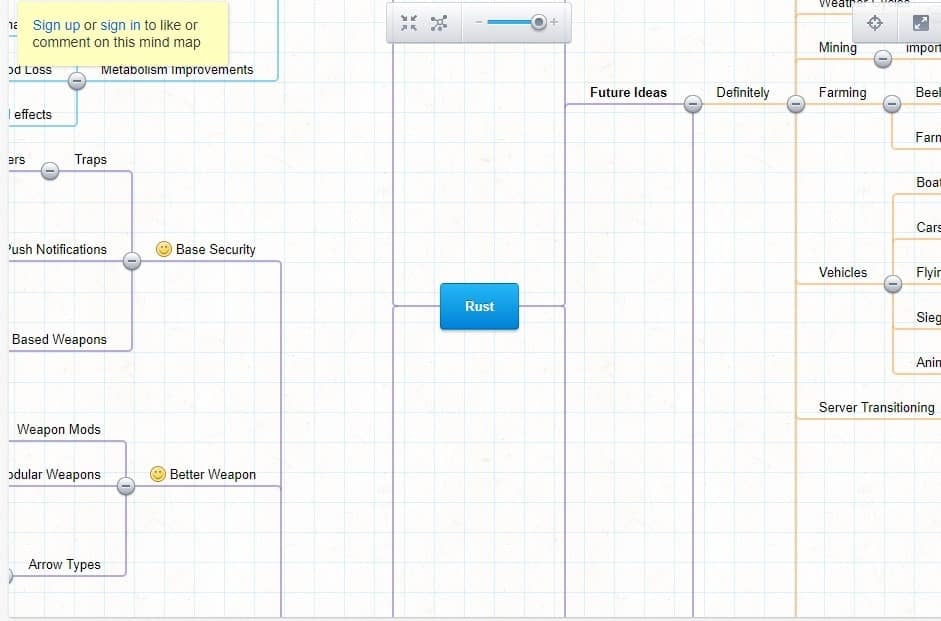 10
3D Topicscape
Topiscape is a 3D information and ideas organizer content management software. If allows for files storing, content structuring, and research and retrieval of information. Its searching capabilities include searching options in titles, in tags or within the content. Information is viewed in 3D mind maps or in flat panels, and it is possible to zoom in on any topic or to change the central topic in a structure for another one, and see how the application restructures the content. It supports multiple importing and exporting options and integrations with other tools. You can import an existing folder structure you have…
Overview
• 3D content structuring
• Multiple importing and exporting options, compatibility with other products
• Integration with other applications
• Use of other installed searching tools
• Rich appearance options
• Details Panel
• Information management features
• Web research support
• Topiscape Pro 2 - $39 / lifetime license
• Topiscape Lite - $29 / lifetime license
• Topicgrazer - $5 / lifetime license
• Upgrade: Lite to Pro 2: $15
• Upgrade: Pro 1 to Pro 2: $22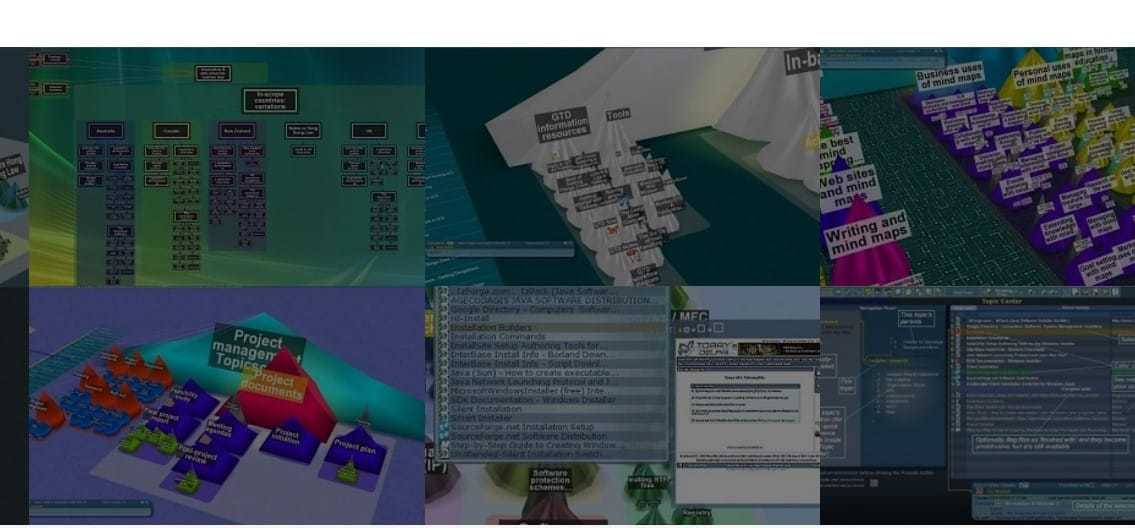 Top Mind Mapping Software
MindGenius, iMindMap, Lucidchart, SmartDraw, MindMup, MindMapper, ConceptDraw MINDMAP, Textografo, Novamind, Openmind, Mindomo, MindMeister, TheBrain, iMindQ, Cacoo, MindView, Goconqr, MindManager, Bubbl.us, Canva are some of the Top Mind Mapping Software.
Top Mind Mapping Software
PAT Index™
1
MindGenius
MindGenius is a practical project management tool designed for users eager to increase personal, team and organisational effectiveness. MindGenius helps you capture and visualise information easily, and seamlessly turning ideas into actionable project plans and tasks allowing you plan, schedule and manage all project related tasks. Break down ideas and information to understand Project Scope and determine requirements and engage the relevant stakeholders to agree Project Scope and vision. Easily create your Work Breakdown Structure from your plan. Dynamic views allow you to switch easily between, planning, Gantt chart and tasks. Identify dependencies, milestones, constraints and critical. MindGenius integrates with Microsoft Office,…
Overview
•Ideas & Innovation
•Product Management
•Project Management
•Perpetual £294 including VAT
•Subscription £174 including Vat and then Year 2 onwards at £42
•Education Version available at £57 including VAT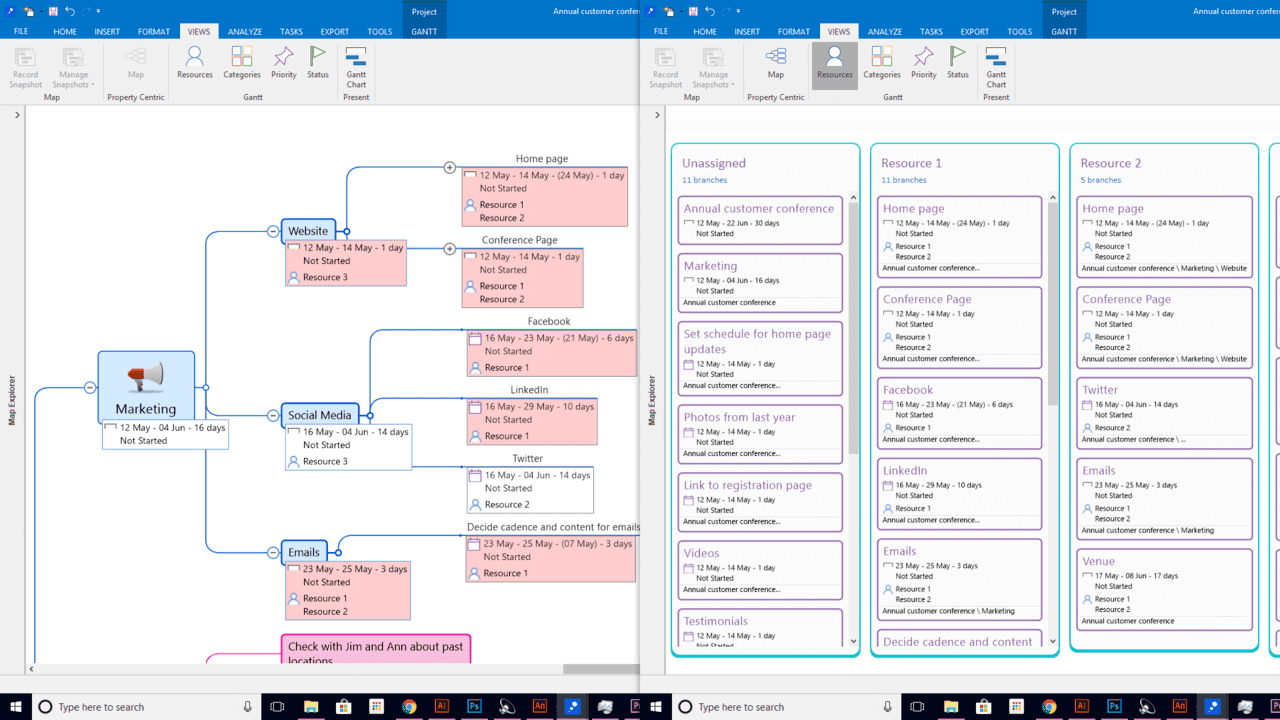 2
iMindMap
imindmap is a complete mind mapping software which has an organic mind map view, unique free form brainstorm view, responsive fast capture view and accessible presentation view, with the addition of the new time map view and refined branch drawing tool. The possibilities are endless with imindmap10. imindmap can be integrated with visual task management app drop task Drop task. The imindmap is a work space to capture ideas, organize, develop, collect info in a single hub, effortlessly play with your ideas, action them, turn ideas into reality, manage tasks to completion, present ideas with a difference and share your…
Overview
•Capture ideas
•Organise ideas
•Develop ideas
•Collect info in single hub
•Manage tasks to completion
•Flowcharts
•Brainstorm view.
•Basic mind map editor
•Home and student_$100.00.
•Ultimate_$235.00.
•Ultimate plus+_$310.00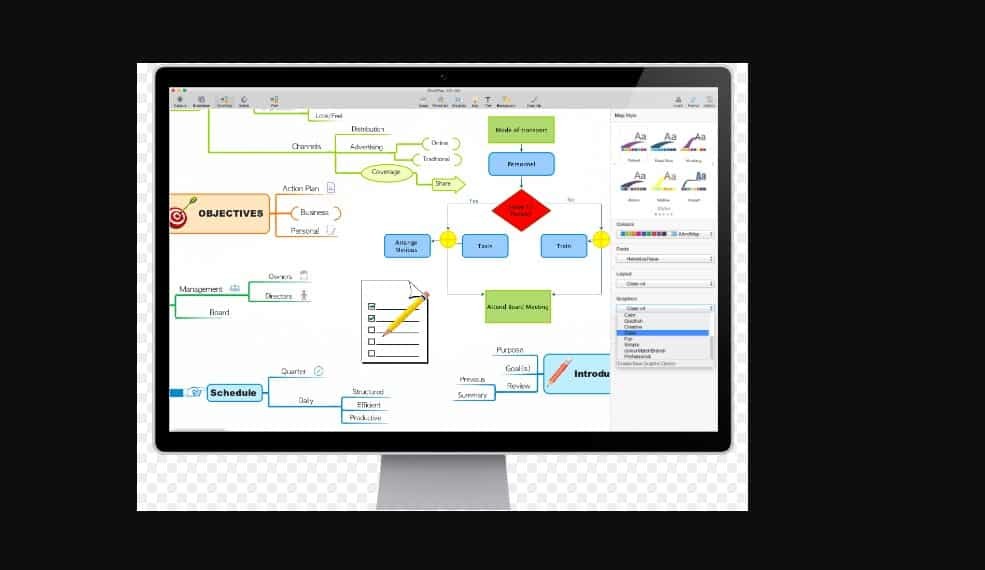 3
Lucidchart
Lucidchart provides an intuitive and collaborative diagramming solution for the company's entire organization. It focuses on quality, security, and affordability which make the decision making easier. Lucidchart's simple admin interface makes it easy to configure permissions and auto-provision new accounts. Users can even move all other users onto a single master account to simplify document management. That way, important documents won't leave when their creators do.Lucidchart is secure and reliable. It provide options to limit sharing by domain and to require SSO authentication via Google, OneLogin, Okta, or Ping, admins don't have to wonder about security. Meanwhile, all docs are…
Overview
•Data Encryption
•Robust Backup
•Secure Data Centers
•Embedded Documents
•Drag and Drop Functions
•Dedicated Support Team
•Basic $4 .95/mo
•Pro $8 .95/mo
•Team $20/mo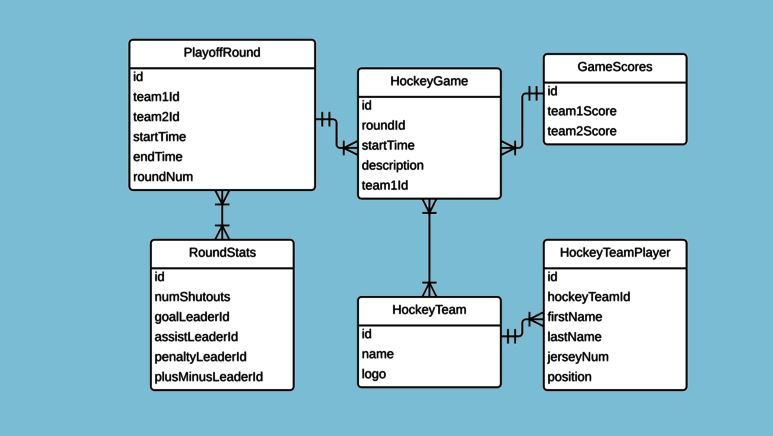 4
SmartDraw
SmartDraw is easy to use, fast, cost effective drawing tool .SmartDraw is accessible via the web and mobile devices. SmartDraw is Effective, because it's a living, electronic document that is easy to keep up to date. SmartDraw is designed specifically for process management and documentation. All of the templates and symbols users need are included. SmartDraw gives users simple commands (or keyboard shortcuts) to add shapes, automatically placing them and adding connecting lines. To add text, just click and type. It's so fast, there's no need to take notes and fill in a form later—with SmartDraw one can do it…
Overview
• Smart formatting
• Smart templates
• Smart integration
• SmartDraw cloud
• Visio Compatibility
• Standard $ 197
• Business $297
• Enterprise $497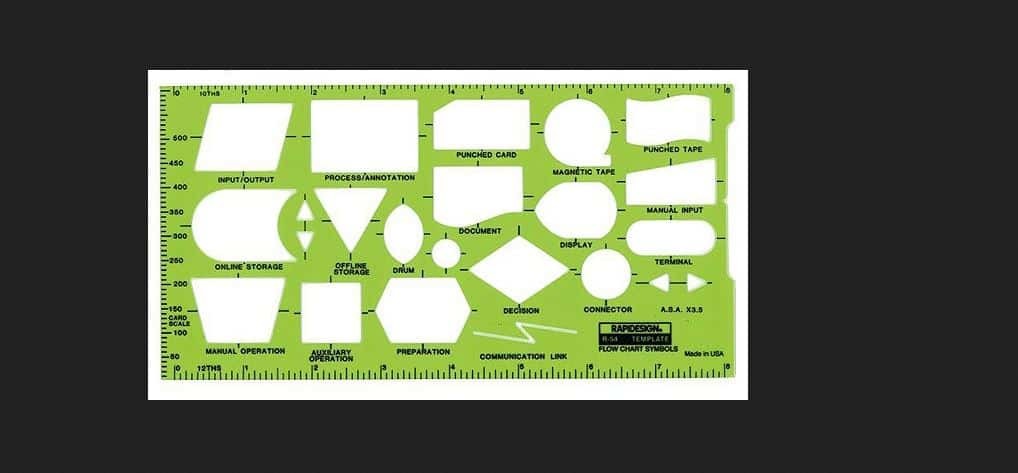 5
MindMup
MindMup is an amazing online product that capture ideas quickly while you are still thinking about it. It primary purpose is to help you focus on your ideas and discard all distractions while mind mapping. Your created MindMap is sent instantly, everywhere from any device. It helps in brainstorming, creating presentations and also outlining documentation, which can be published online and social media. It major features include; note taking, team planning and classrooms work with the help of shortcut keyboard that can speed up your work and frictionless interface that helps to be focused. The software can convert maps easily…
Overview
• Fast in capturing ideas within short time
• Brainstorm, create and document presentations outlines.
• Shortcut keyboard speed up works
• No friction interface
• Convert Maps easily to PDF and Power Point
• Publish and share maps online
• Simply save to Google Drive and manage using Google Apps.
• Structure writing and create storyboard
• Enable or block MindMup similar to any other GAFE apps
• Add images by MindMup Atlas
• Free User - forever free
• Individual Hold Accout - $2.99/month
• Domain Gold Account - $100/ year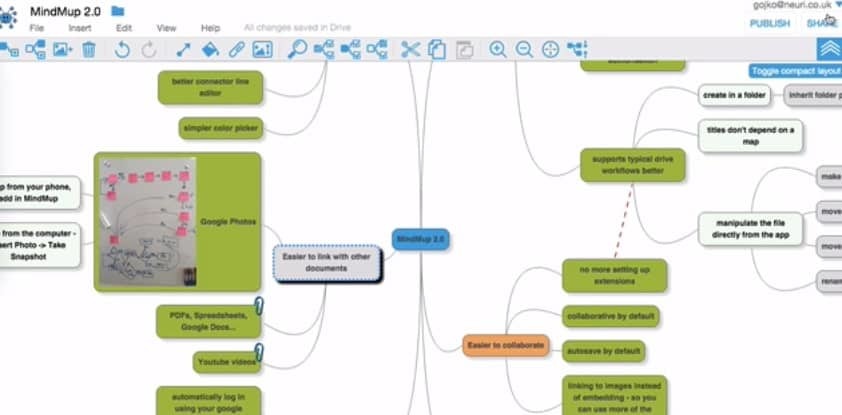 6
MindMapper
Mind mapper is a versatile and mapping project management software with built-in planner and dashboard. The major characteristics of this software is to capture ideas, visualize and organize information, and implement plans. By integrating its three productivity elements, Mind Mapper can help to be more productive, more creative and more successful with your plans. This software can conveniently help with generating information, exploring and viewing information or ideas from different perspectives. It usefulness goes beyond project management, annual planning in which objectives are defined, information are gathered, setting of goals and milestone objectives and referencing the past, present and future…
Overview
• It is versatile
• Very fast in organizing thoughts
• Uses google calendar to its fullness potential
• Collaborate without emails
• Visual and creative thinking
• Fast in decision making
• Unique in implementing information
• Arena for PC - $ 249/month
• Professional for PC - $ 120/ month
• Standard for PC - $100/month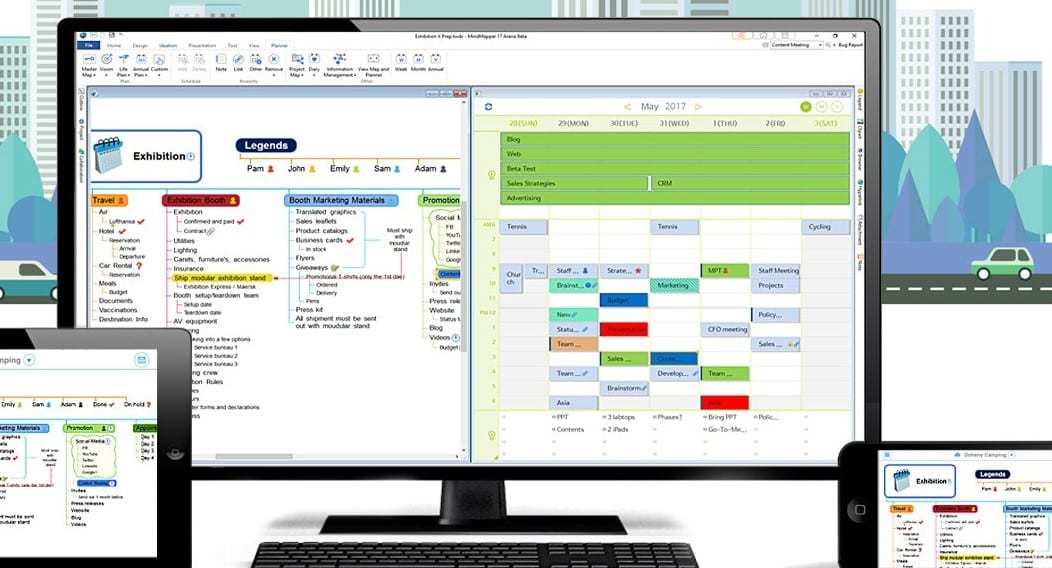 7
ConceptDraw MINDMAP
ConceptDraw MindMap software is a professional software made for designing and building time saving mind maps. It comprises of a comprehensive set which can design mind maps that illustrate your thought process. It major features include ability to organize ideas and data with a massive productivity tool that can be maneuver and simple to use. It can also produce large document styles and templates. Your presentations can be produced live and export them to Microsoft power point or websites. It is excellent for project management, planning, brainstorming, management of meetings, note taking and lots more. A lot of brain storm…
Overview
• Adding attachments in any format
• Use of Hypernote
• Enables graphic image
• Building technical scheme and diagrams
• Ability to exchange data with Microsoft project,
•Microsoft office, Concept Draw project, Mind manager, XMind and FreeMind.
• Ability to created slideshow for presentation.
• One-click brainstorm Mode is featured.
• Concept Draw office 4 - $499/ month
• Concept Draw Pro 11 - $ 199/ month
• Concept Draw Project 8 - $ 299/ month
• Concept Draw Mind Map 9 - $199/ month
• Concept Draw Mind Map for Project 4 - $399/ month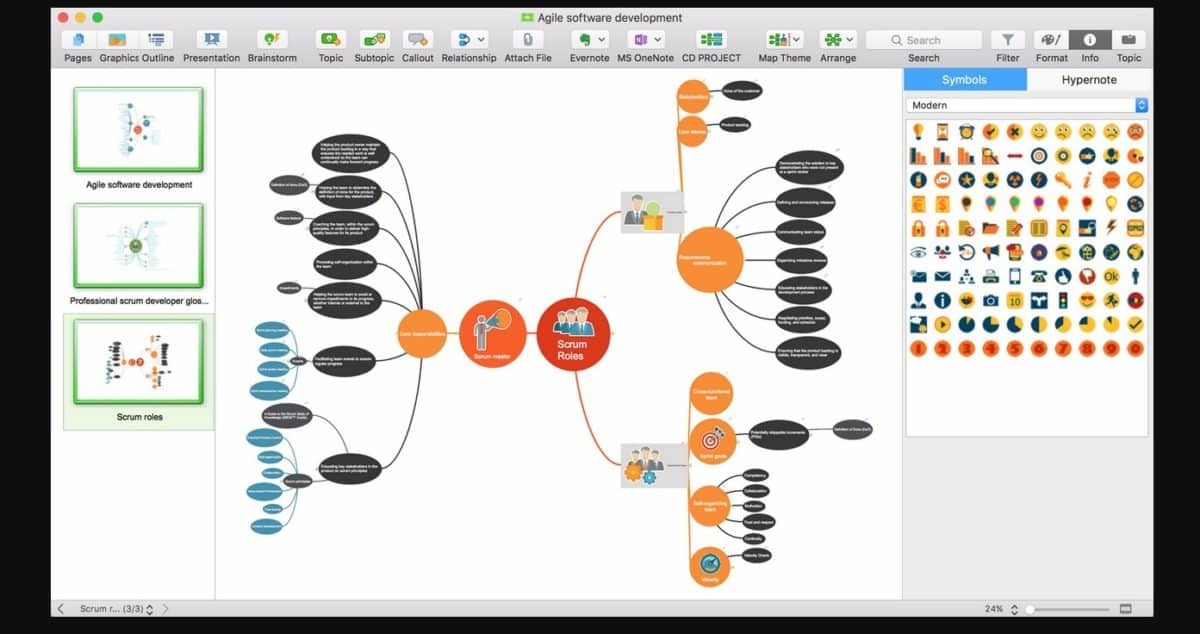 8
Textografo
Textografo is a cloud-based diagramming tool which enables users convert text to diagram, edit in real time saving users hours of work in just one click and provide comments with no account needed. Textografo provides features such as multi-format exports, organizational charts, API-based integrations, real-time feedback integration, revision histories, text-to-diagram, one-click animations, nested diagrams, flowcharts, mindmaps, decision trees, sitemaps, customizable themes, cloud collaboration, links to external content and white label. Textografo enables users to produce a variety of static and animated diagrams which can be created from text using hashtags and keywords, or Markup, to create and link decisions, processes…
Overview
• Flowcharts & diagrams at lightning speed!
• Present with impact
• Dress it up
• Involve everyone
• Highlight roles
• Never lose an idea
• Focus on the details
• Simplify complexity
• Wherever you need them
• Keep on perfecting
• Essentials - $8 a month Billed annually (save $48) Or $12 month-to-month
• Premium - $14 a month Billed annually (save $60) Or $19 month-to-month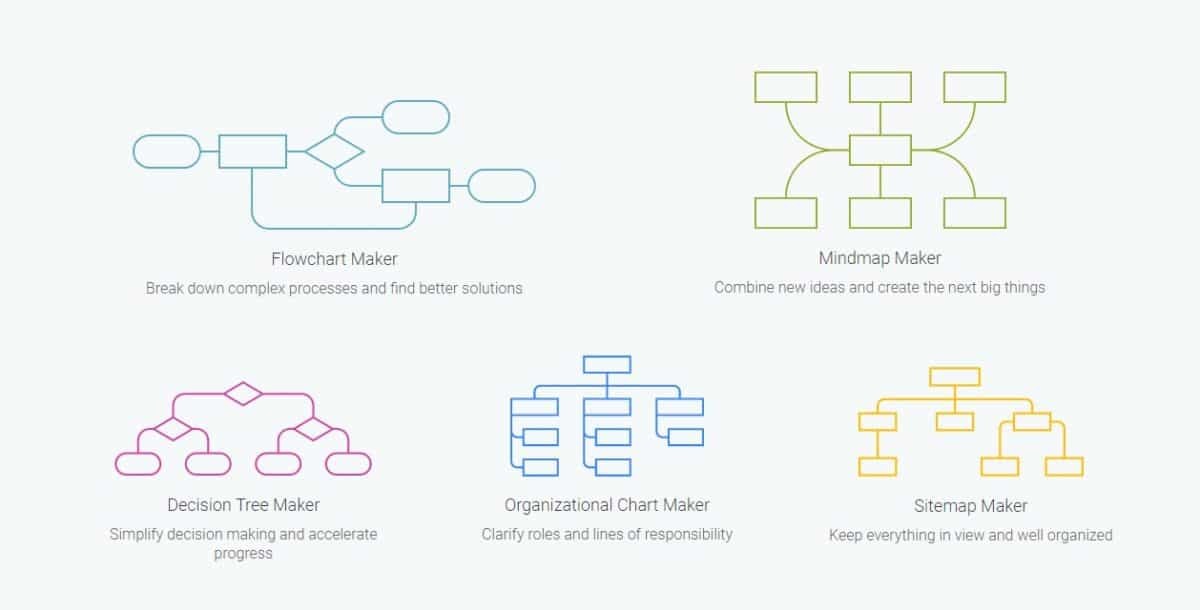 9
Novamind
NovaMind is a mind-mapping software which helps users visualize and organize ideas for their business through brainstorming and creative development to organize, remember, communicate and implement ideas. NovaMind offers features such as NovaMind Connect, NovaMind toolbar, Quartz animation, templates, themes, an upgraded graphics library, task management features, and a presentation mode. NovaMind Connect is similar to YouTube and other sharing sites where users post their mind maps, and others in the community can rate and comment on them and where visitors to the site can view the posted mind maps, and registered users can download files in NovaMind, JPEG, or…
Overview
• Sophisticated and approachable
• Quick and elegant
• Easy to organize
• Looks matter
• Effortless presentation
10
Openmind
Open Mind is an intuitively laid-out program that lets users create mind maps to help organize the user's ideas for their own projects or to share with others and allows users to integrate various types of multimedia. Open Mind offers features such as Chart Wizard, Spell Checking, 50+ Shapes, List Wizard, Search, Export and Import and common and advanced flowchart shapes. Open Mind integrates charts and lists into the users' mind maps straightforwardly and conveniently through entering in the data that the users want to include, and then choose the type of output format they would like such as pie,…
Overview
• Attach files
• Encrypt with Password
• Spell Checking Feature
• Chart Wizard
• Over 50 Shapes
• Themes
• Search
• Updates
• List Wizard
• Export and Import
• Cross Platform
• Line Styles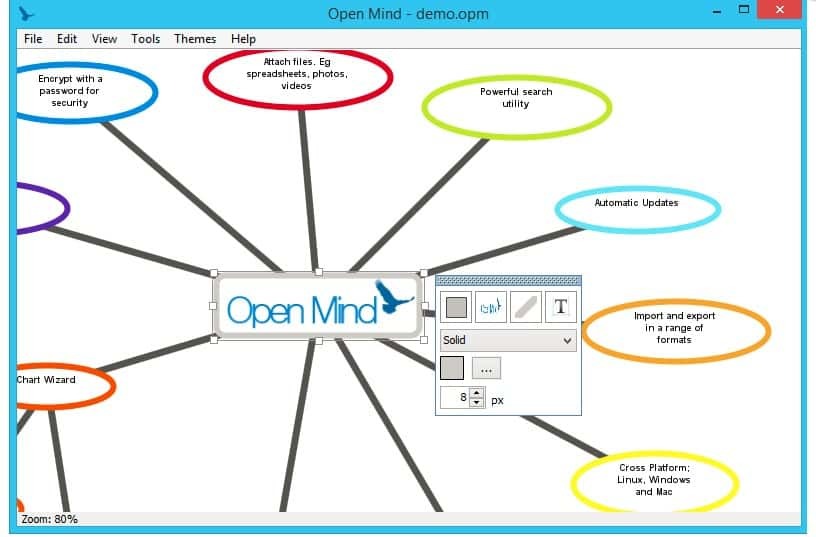 11
Mindomo
Mindomo is a superior mind mapping web based software which enables the user to layout complex ideas using relevant data. The visual mapping solution features the ability to creatively generate ideas and transform them into presentations, customize maps using various themes, colors, styles and icons, use numerous layouts with the option to work in real time, whilst being able to collaborate and share with others. Mindomo can be used for various projects whether it be for business, academic or personal goals. The platform also allows you to sync and work offline, visualize topics using notes, links or tasks, and to…
Overview
• Document Upload
• Video and audio embedding
• Password protected
• Offline work and sync
• iPad and Android sync
• 11 Export formats
• 8 Import formats
• Administration interface
• Team shared folder
• Subdomain
• Give students access to Mindomo premium features
• Easy-to-create mind map assignments
• Provide students with feedback
•PREMIUM - €36/6 months - 1 User
•PROFESSIONAL - €90/6 months - 1 User/5 Guests
•TEAM - €162/6 months - 5 Users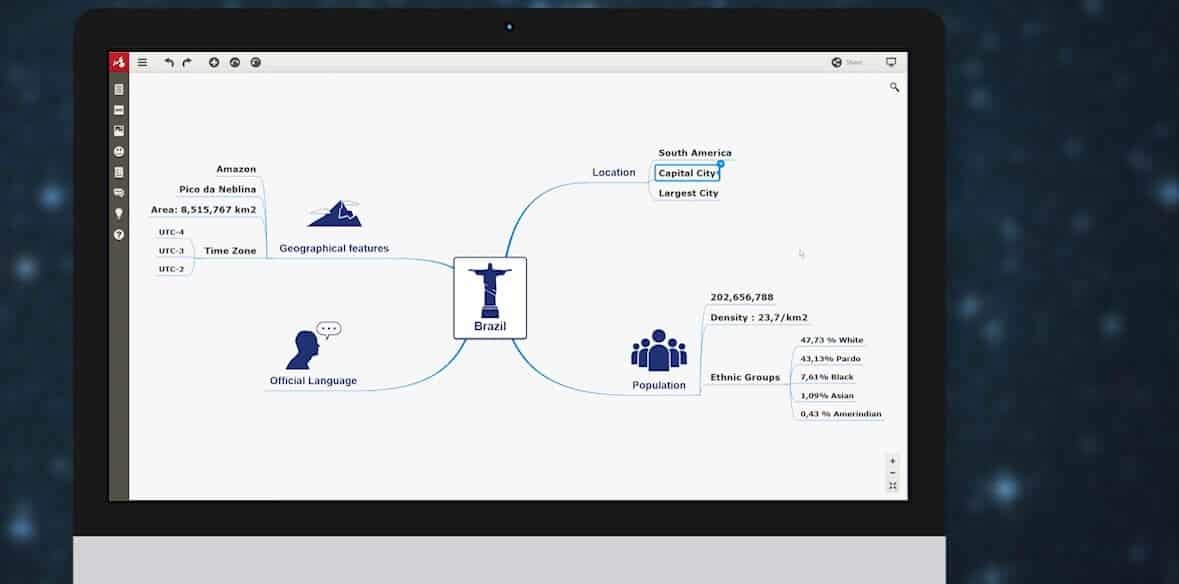 12
MindMeister
MindMeister is a powerful yet simple mind-mapping tool. The software is available for PC, Mac, Android, and iOS, which runs in your standard web-browser providing a collaborative space where an unlimited number of users can brainstorm in real-time with no installation or plugins, required. Create, edit and share professional graphical mind maps, whether it be for business or educational purposes. When using the tool for business projects MindMeister transforms your maps giving presentations a special edge with the ability to publish or embed them on a website or blog. Whether you're a freelancer, a startup or a multinational enterprise, the…
Overview
• Available for PC, Mac, Android, and iOS
• Runs in web-browser
• Unlimited number of users
• Can brainstorm in real-time
• No installation or plugins required
• Create, edit and share maps
• Use for business or educational purposes
• Customize templates
• WunderTools
• Upload directly from numerous platforms
• History Mode
• Export PNG, PDF and Word
• Import from plain text and other mind mapping software files
• Personal - £4.99 / Month
• Pro - £8.33 / Month
• Business - £12.49 / Month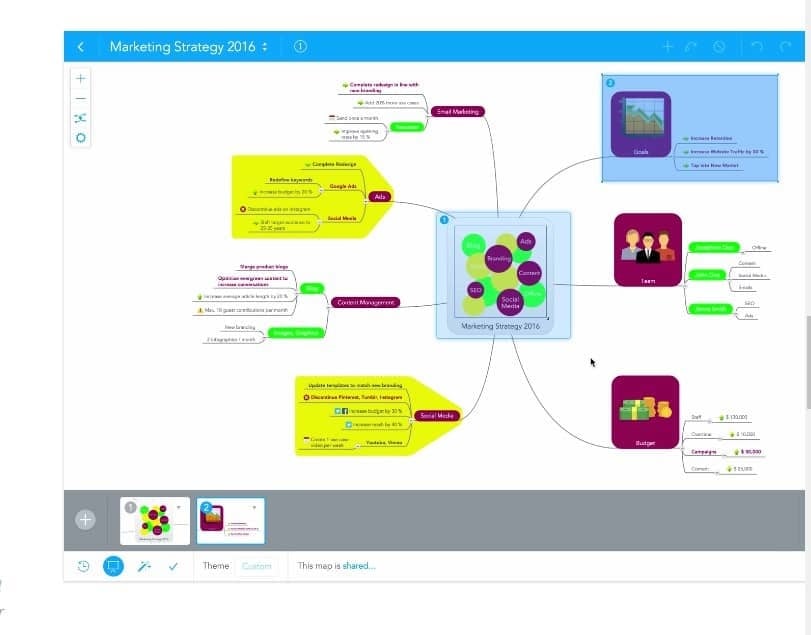 13
TheBrain
TheBrain provides ways to create digital thoughts for all of your projects, ideas, files and contacts with the ability to arrange information in a digital format of mind mapping. The program is broken down into different elements which consists of a mix of business and personal information organised into a visual format, connecting all thoughts and processes. Business users can apply the software to manage projects, create presentations, develop and share ideas easily, with colleagues through cloud services. Students can record their theories using TheBrain, which is designed to organize research and studies, whilst capturing ideas and setting goals. Quickly…
Overview
• Connect and Visualize Your Files
• Advanced Search and Indexing of Files
• Expanded and Outline Views
• Thought Reminders and Built-in Calendar
• Outlook and Mac Apps Integration
• Google Calendar Synchronization
• Link Types
• Integrated Screen Capture
• Custom Reports and Thought Filtering
• Spellcheck, Printing, Merging, Exporting
•Free Edition - Free/Basic Cross-Platform Application
•Pro License - $219/Desktop Application with Perpetual License
•Pro Service - $180/year/Cross-Platform Application with Cloud Services
•Pro Combo - $299/Renews at $159/year Cross-Platform Application with Perpetual License
and Cloud Services
•TeamBrain - $299/year/person/Collaborative Cross-Platform Application with Cloud Services

14
iMindQ
iMindQ is an easy-to-use, visual thinking software which brings various components together offering a selection of features for presentations, creative brainstorming, planning projects and team collaboration. The tool enables users to practice various tasks with MS Office and SharePoint integration, which incorporate commands to import and export data whilst linking to your iMindQ account. Users are also able to share mind maps easily with external cloud storages such as iCloud, Google Drive, and Dropbox. Complete assignments using one-click presentations and interactive mind maps, available on all cross-platforms as well as apps for Android and IOS. iMindQ has a flexible whiteboard…
Overview
For Windows:
• Advanced MS Office integration
• Interactive HTML mind maps
• Presentation of mind maps and diagrams
• Extensive Project Planning Options
• Compatibility with other mind map formats
• Concept maps and diagrams
For Mac:
• Integration with iCalendar and iReminder
• Presentation of mind maps and diagrams
• Microsoft Excel and Microsoft Project integration
• Extensive Project Planning Options
• Compatibility with other mind map formats
• Concept maps and flowcharts
•Windows - $119/1 Year SMA
•Windows - $159/2 Years SMA
•Windows - $183/3 Years SMA
•Windows - $49/Yearly Subscription
•Windows - $569/1 Year SMA 5 Pack
•Windows - $1069/1 Year SMA 10 Pack
•Mac - $79/1 Year SMA
•Mac - $135/2 Years SMA
•Mac - $155/3 years SMA
•Mac - $39/Yearly Subscription
•Mac - $375/1 Year SMA 5 pack
•Mac - $715/1 Year SMA 10 pack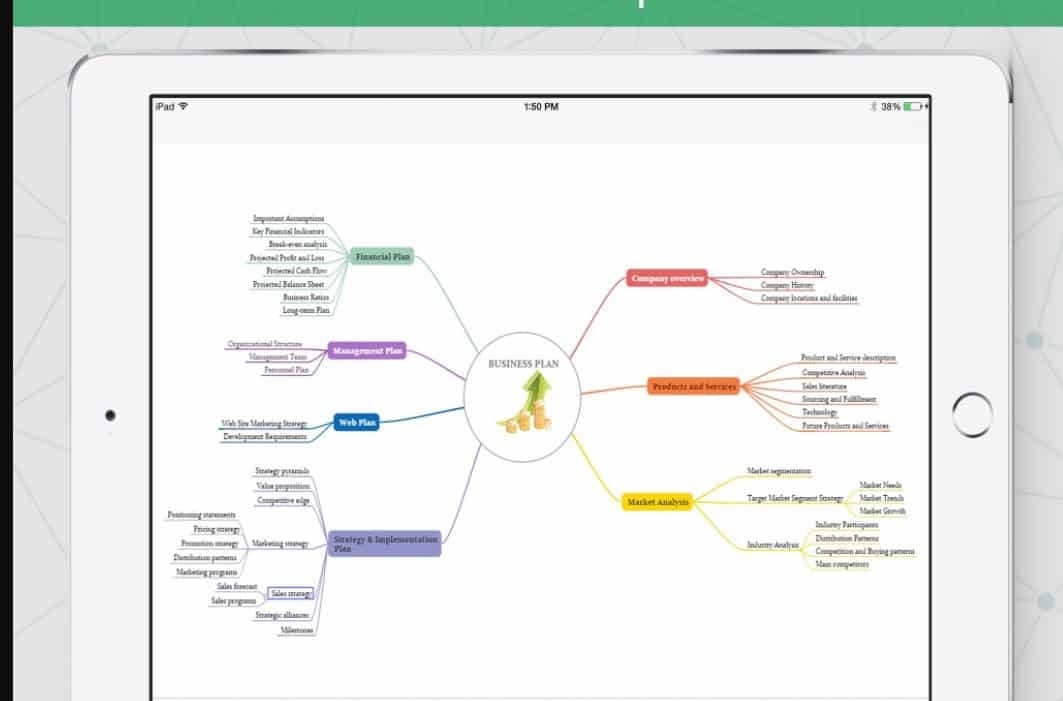 15
Cacoo
Cacoo is an online drawing software which helps users create a wide range of diagrams such as wireframes, flowcharts, UML, org charts, mind maps, share plans and layouts, and work schedules instantly with team members in the same office or around the world. Cacoo offers features such as real-time collaboration, a wide variety of stencils, multiple background and sheets, flexible connectors, editing history, export support in SVG and PDF, diagram sharing and chat with collaborators features, post comments on public projects, powerful app integrations including Google Drive, Confluence and Visio, vast amount of templates and shapes and easy sharing options…
Overview
• Cloud-based Collaboration
• Templates & Shapes
• Easy Sharing
• Project Folders
• Revision history
• Exporting options
• Commenting
• Embedded diagrams
• Visio alternative
• Integrations
• Plus - Single-user plan, $4.95/mo
• Team - Multi-user plan, $15/mo
• Enterprise- Install on your private server, get a quote on site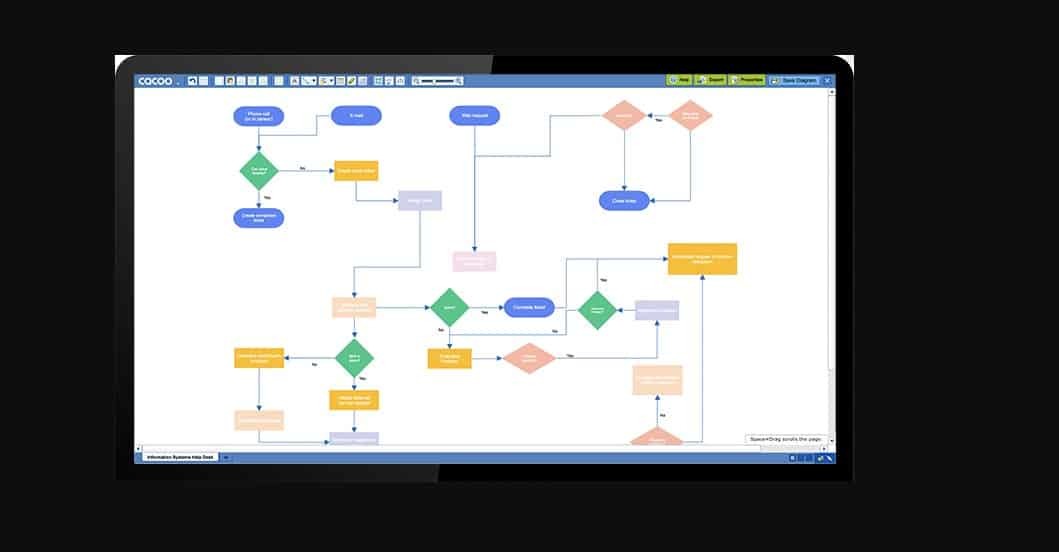 16
MindView
MindView is a professional Mind Mapping software that allows you to optimize brainstorming sessions and present ideas visually. MindView's Mind Mapping capabilities are an effective way to organize and develop ideas, outline reports and streamline decision-making.MindView is a powerful WBS software that utilizes mind mapping to develop a project scope. MindView is a comprehensive Gantt Chart software. Use mind mapping to develop the project scope and transfer it directly to the Gantt Chart view. MatchWare MindView is a comprehensive, visual learning tool designed to help you develop and organize ideas. MatchWare MindView's brainstorming mode is an invaluable tool for capturing…
Overview
•Brainstorm WBS effectively.
•Different layouts available,including Gantt chart
•Gantt chart .
•SWOT analysis
•Built in Gantt chart
•Built in project timeline.
•Export/import to ms office Intergration with Ms project.
•XML export/import
•Mindview 7PC:_single user license-$379. 5User license;$1799,10 User License;$3409
•MindView 6Mac:Single User License-$349. 5 user License-$1658.10User license-$3141 .
•Mindview Online:1 Year-$15/m. 2Year-$13.50/m. 3Year-$12/m.Annual subscription-$99.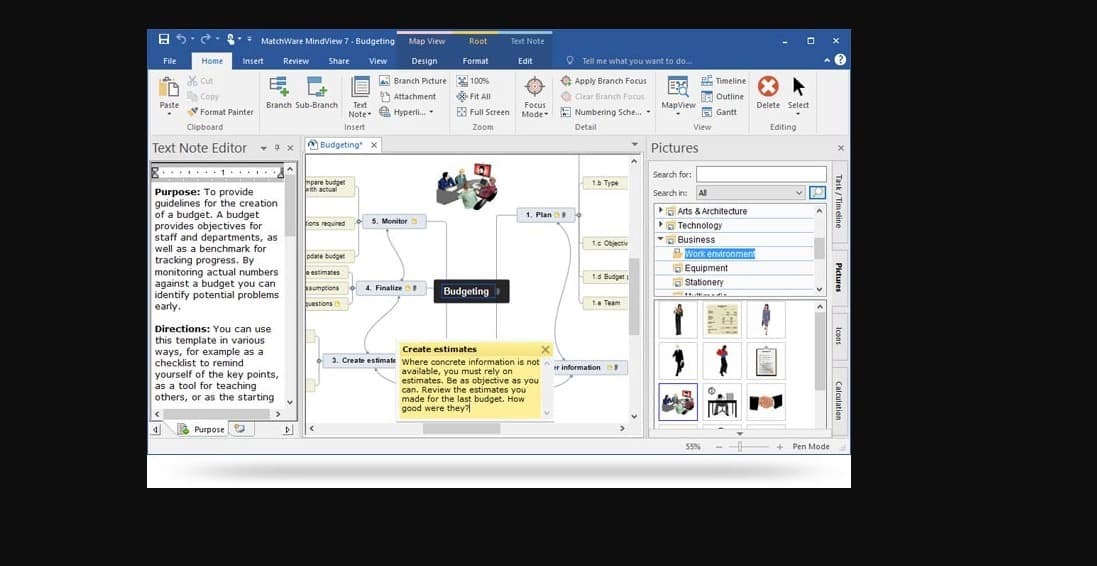 17
Goconqr
GoConqr is a social learning network which helps promote a culture of learning in the organization and empowers the user's talent to communicate and share knowledge, provides a unique blend of learning applications and community-based features to help nurture and motivate people whether the user's staff¬ onboarding, talent nurturing or executive knowledge share. GoConqr offers features such as content import / export, instructor-led courses, self-paced courses, storyboarding, test / quiz creation, course publishing, branded campus portal, reporting and analytics, private campus groups, community announcements, course authoring tools, private links for external shares, complete user management, multi-license disc, mind maps, flashcards,…
Overview
• Course Builder
• Mind Maps
• Flashcards
• Quizzes
• Notes
• Slides
• Flowcharts
• Groups
• Study Planner
• GoConqr Library
• Basic – Sign up for free
• Premium - $1.83 per Month / Billed Annually
• SmartLinks - Prices start at $99 for 100 links starter pack
• Campus - Prices start at $14.90 per month for 10 users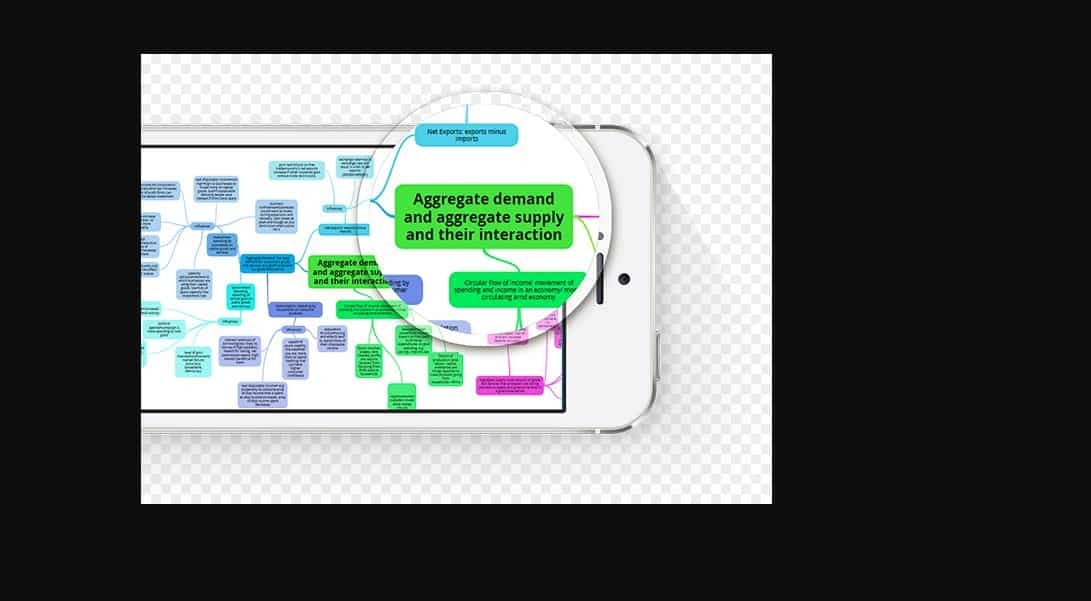 18
MindManager
Mindmanager is a mind mapping software with universal files export, connections to seven hundreds plus app and timelines. The Mindmanager supports the creative brainstorming process and assists with thinking and understanding. Mindmanager increases the productivity of each individual and within the team. It also simplifies information and knowledge management within teams and within the company. Mindmanager is also ideal for enabling employees to document their knowledge. Mind manager offers other structure and diagram types alongside the classic mind map such as the org chart, timeline, flowchart or concept map. Mindmanager is often used as the key tool for project planning…
Overview
•Task and project management
•File storage
•Creativity and problem solving.
•Productivity.Information and knowledge management
• Mindmanager for windows_buy for $349 or upgrade for $179
•Mindmanager for mac_ buy for $179 or upgrade for$89.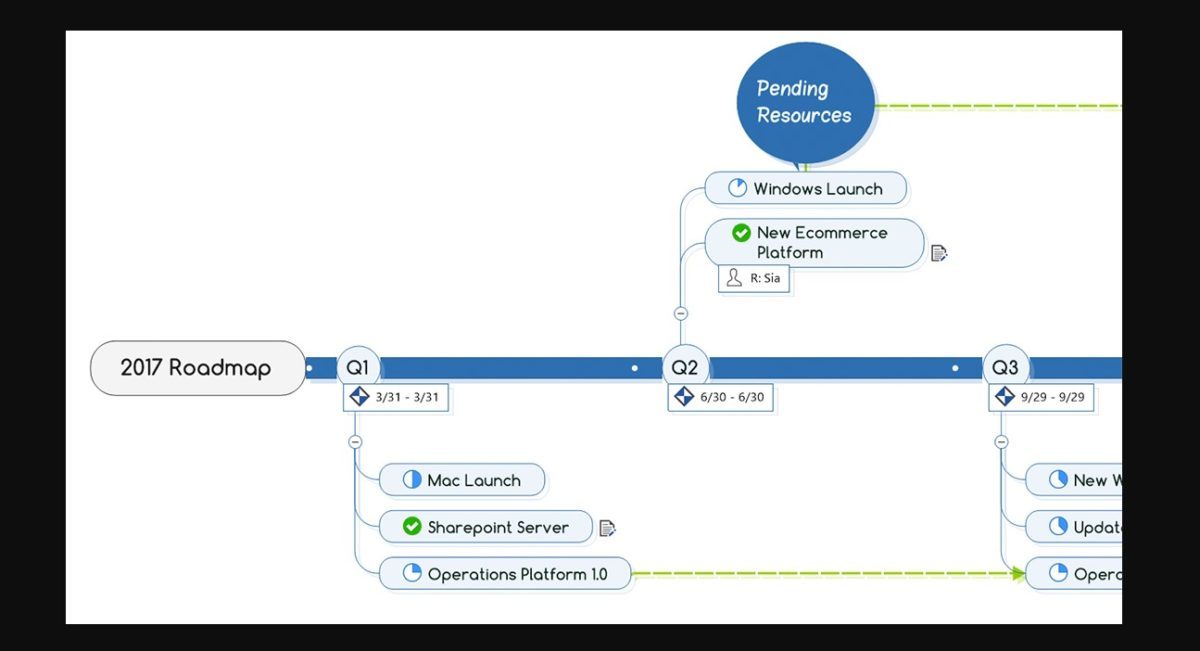 19
Bubbl.us
bubbl.us is a brainstorming and mind mapping software. A mind map is a graphical representation of ideas and concepts. It is a visual thinking tool for structuring information, helping one to better understand, remember and generate new ideas. With bubbl.us you can create book outline, design a process, present your big ideas and map a team hierarchy. It involves signing up for one to be a member and it only takes a minute . Bubbl.us works the same to all platforms, for both desktop and mobile. Bubbl.us has a free signing up, premium and team signing up both monthly and…
Overview
• Graphical presentation of ideas and concepts.
• Visual thinking tools for structuring information
• Helps in better understanding and generate new ideas.
• Share minds maps
• Free-free forever
•Premium-$4.91/month;$59 billed annually .
•Team-$6.00/monthly billing:$59/year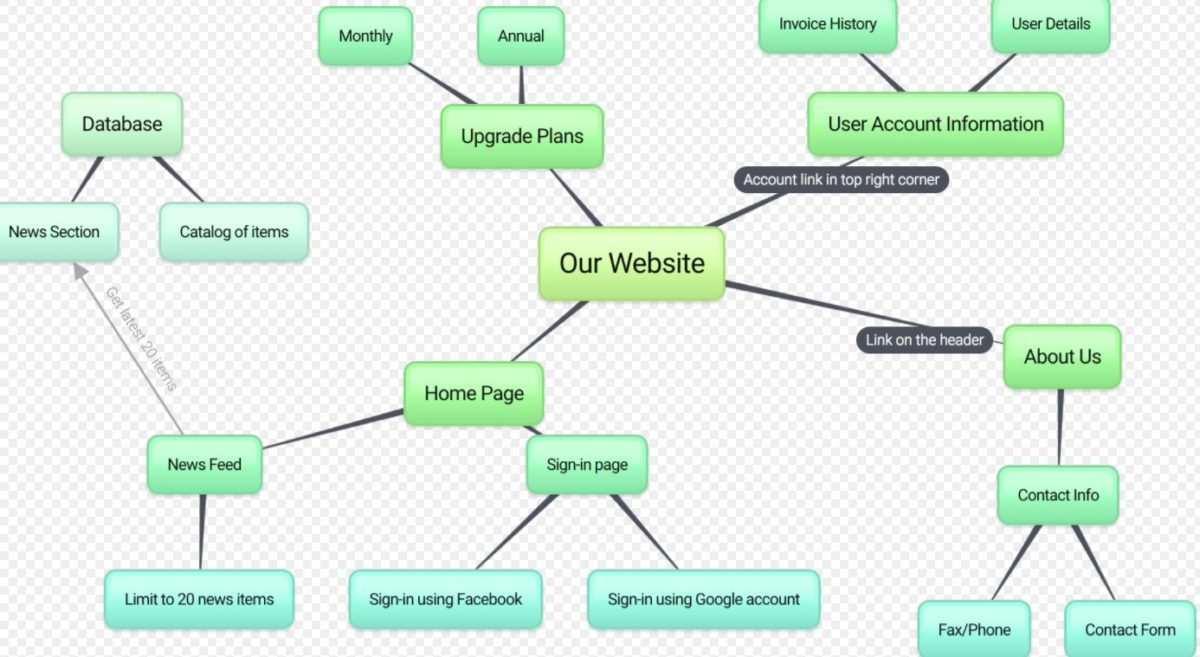 20
Canva
Canva is a user-friendly, reliable and simple design platform for businesses, organizations, and even individual professionals which enables them to create amazing and professional quality graphic designs. Canva offers features such as photo straightener, image cropper, add text to photos, speech bubble maker, image transparency tool, photo enhancer, 8,000 templates, photo blur, photo vignette, design grids, free icons, photo frames, web wireframe, stickers, badges and add texture. Canva has a powerful drag and drop editor with its vast selection of images, fonts, and templates which makes it easy for users to build documents and designs from scratch. Canva lets users…
Overview
• Two folders to organize designs
• Up to 10 team members for free
• 1GB storage for photos and assets
• Access to over 8,000 templates
• Upload your own images
• Access millions of photos for $1 each
• Magically resize your designs
• Upload custom fonts for your brand
• Set color palettes for your brand
• Save templates for you and your team
• Organize your photos with folders
• Easily find your designs with search
• Priority support
• Canva - Free forever
• Canva for Work - $12.95 per user per month
• Canva Enterprise – Contact on site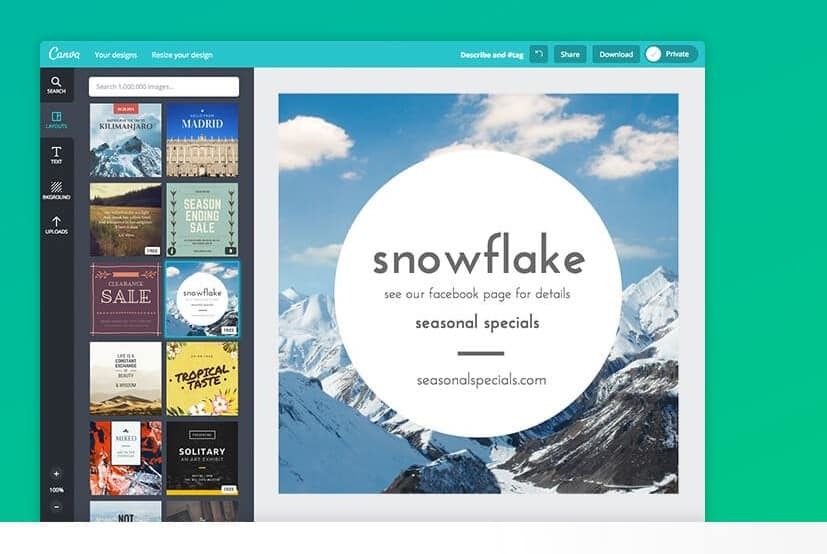 You may like to read: How to Select the Best Mind Mapping Software for Your Business
What are Mind Mapping Software?
Mind Mapping Software are used to create diagrams of relationships between concepts, ideas, or other pieces of information. Mind Mapping Software technique can improve learning and study efficiency over conventional note-taking. A mind map software product is simply a tool that enables you to visually present your ideas. It can turn a long boring list of ideas into a colorful, well organized and remarkable flowcharts.
What are the Top Mind Mapping Software?
MindGenius, iMindMap, Lucidchart, SmartDraw, MindMup, MindMapper, ConceptDraw MINDMAP, Textografo, Novamind, Openmind, Mindomo, MindMeister, TheBrain, iMindQ, Cacoo, MindView, Goconqr, MindManager, Bubbl.us, Canva are some of the Top Mind Mapping Software.
What are the Top Free Mind Mapping Software?
FreeMind, Edraw Mind Map, Docear, VUE, Freeplane, Coggle, Xmind, WiseMapping, Mind42, 3D Topicscape are some of the Top Mind Mapping Software Free.