Top 56 ETL Tools for Data Integration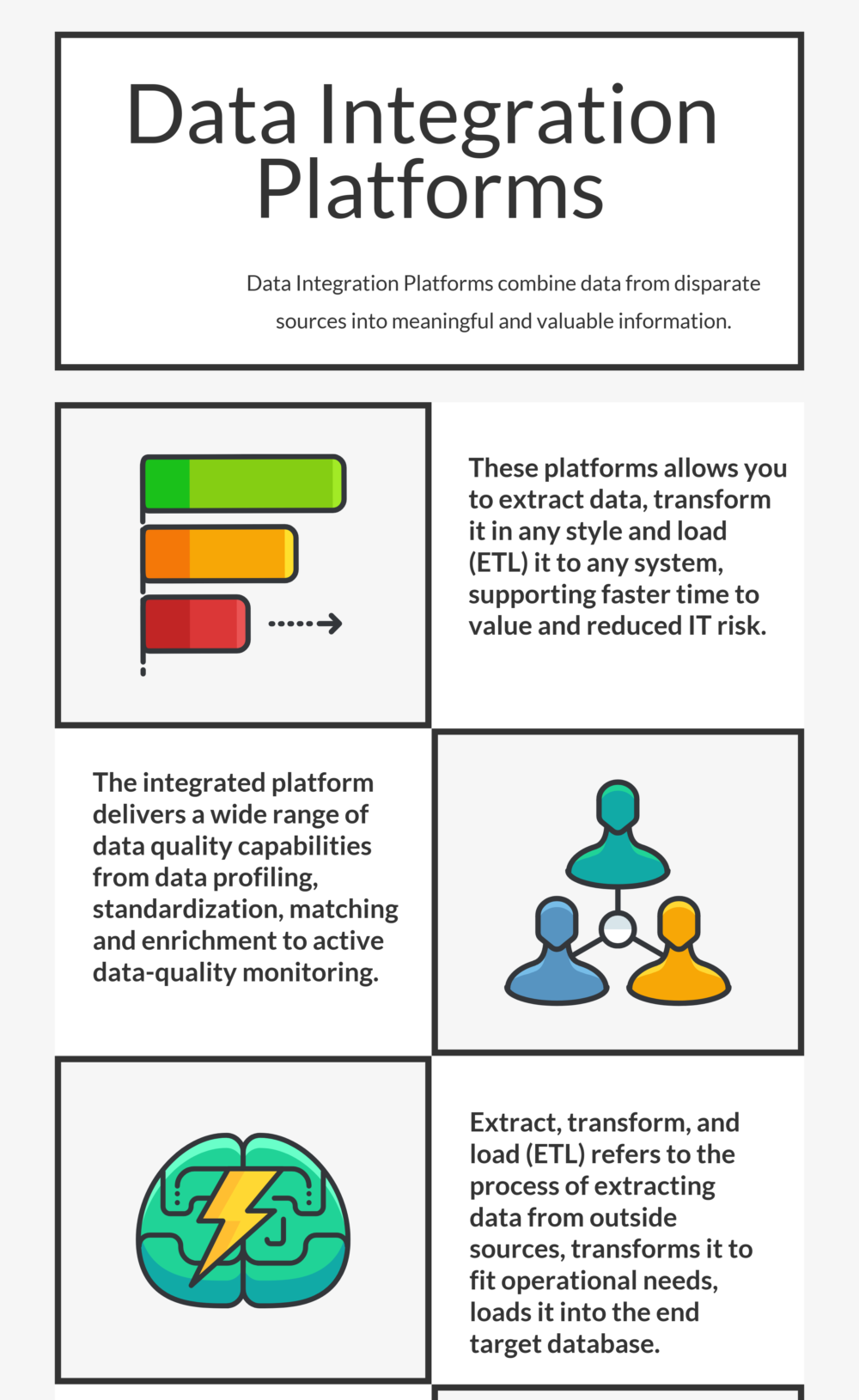 Data Integration Platforms combine data from disparate sources into meaningful and valuable information. These platforms allows you to extract data, transform it in any style and load (ETL) it to any system, supporting faster time to value and reduced IT risk. The integrated platform delivers a wide range of data quality capabilities from data profiling, standardization, matching and enrichment to active data-quality monitoring.
Extract, transform, and load (ETL) refers to the process of extracting data from outside sources, transforms it to fit operational needs, loads it into the end target database, more specifically, operational data store, data mart, or data warehouse.
ETL systems are commonly used to integrate data from multiple applications, typically developed and supported by different vendors or hosted on separate computer hardware. The first part of an ETL process involves extracting the data from the source systems. The transform stage applies a series of rules or functions to the extracted data from the source to derive the data for loading into the end target. The load phase loads the data into the end target, usually the data warehouse (DW) and this process vary depending on the requirements of the organization.
What are Data Integration Platforms?
ETL refers to Extraction, Transform, and Load software. Extract reads the data into a single format from multiple sources. Transform, in this step, data is linked and made consistent from various systems. Load process ensures that the transformed data is now written out to a warehouse.
Since 1970s ETL has been used by business and organizations to acquire an associated view of data to enable improved business decisions. Today, many organizations have adopted this data integration software which collects data from multiple sources as their main data integration toolbox.
The system performs the data integration into three processes extracting, transforming, and loading. The three processes are interconnected and they are launched after one has successful executed. The system supports all types of data formats. For the system to perform its duties, all the three processes must run smoothly. When an organization uses the ETL software it assured of better information and excellent decision which are well analyzed and organized for the best performance and growth of the organization.
You may like to read: How to Select the Best ETL Software for Your Business and Top Guidelines for a Successful Business Intelligence Strategy
What are the features of Data Integration Platforms?
ETL software supports the integrations with operational data stores, master data management hubs, BI platforms and the cloud. Also, organizations integrates libraries of inbuilt ETL transformation with their transaction and interaction data system for it to run on Hadoop. ETL refers to the process of extracting data from multiple sources and transforming it to suit businesses and loading it into a database.
There are several reasons why you need ETL software. First, it helps in data flow management. Using ETL software allows you to manage different data flows. Second, Using ETL software makes work easier to work as a team therefore, you need this software
ETL Software enhances business intelligence. The software is designed with high speed for the data retrieval and analysis. It is able to store high amount data and at the same time querying it. It enhances timely data access. Through the use of this software, users, investors, managers and other stakeholders in the organization can access the data whenever they need it. It leads to higher return on investment because it is able to generate a higher amount of revenue as a result of cost savings. ETL software generally integrate data from several systems that are developed and supported by different dealers or hosted on separate computers.
You may like to read: How to Select the Best ETL Software for Your Business and Top Guidelines for a Successful Business Intelligence Strategy
Top Data Integration Platforms
Etlworks, AWS Glue, Striim, Talend Data Fabric, Ab Initio, Microsoft SQL Server Integration Services, StreamSets, Confluent Platform, IBM InfoSphere DataStage, Alooma, Adverity DataTap, Syncsort, Fivetran, Matillion, Informatica Powercenter, CloverETL, Oracle Data Integrator, Experian Pandora, Adeptia ETL suite, Apatar ETL, SnapLogic Enterprise Integration Cloud, Back office Data Stewardship Platform, SAS Data Management, SAP Data Services, DataMigrator, Elixir Data, OpenText Integration Center, RedPoint Data Management, Oracle Warehouse Builder, Vero Analytics, Sagent Data Flow, Actian DataConnect, Enlighten, iWay Service Manager, Stitch, IRI Voracity, Toolsverse, Mule Runtime Engine, Uniserv Data Quality Service Hub, Actian DataCloud are some of the Top Data Integration Platforms.
1
Etlworks, a SaaS start-up helping businesses of any sizes connect various systems and APIs through the common gateway, has introduced Etlworks Integrator, a contemporary data integration platform that supports numerous highly configurable data integration scenarios. Etlworks Integrator is the most powerful, yet cost effective, cloud data integration tool in the market. This system integrates all data on the cloud and on premise easily and helps implement features requested by the customers in no time. Etlworks provides data integration solutions for everyone, such as data export or import, data synchronization, cloud data backup, HL7 transformations, automation, building or connecting to APIs,…
2
AWS Glue is a cost-effective and fully managed ETL (extract, transform and load) service that is simple and flexible. With this ETL service it's easier for your customers to prepare and load their data which is for analytics. With just a few clicks you can create and run an ETL job in the AWS Management Console. How this is done is that you just point AWS Glue to the data that you have already stored on AWS. The next thing that happens is that the AWS Glue will discover your data and stores the associated metadata in the AWS Glue…
3
Striim is an end-to-end, real-time data integration and intelligence and streaming platform. It ingest data in real-time from a wide variety of sources and it data more valuable while it's streaming before loading it to common data targets. Striim enables smart decisions by analyzing all of your data in-flight for relevancy. It is driven by customer requirements and demand. it focuses on facilitating real-time, hybrid Cloud integration, and simplifying the management of applications running on streaming data. The latest striim version include several hybrid cloud integrations with Microsoft® data solutions running on Azure®. Before data lands on SQL database striim…
4
Talend Data Fabric efficiently handles all your data integration and integrity challenges — on-premises or in the cloud, from end to end. Users can collect data across systems; govern it to ensure proper use, transform it into new formats and improve quality, and share it with internal and external stakeholders.Fully integrated functionality that speeds up all your projects—batch, real-time, APIs, and big data—through one vendor and support organization. Talend Open Studio also support for highly scalable distributed ETL data load execution that can leverage a grid of commodity computers. You may like to read: Top Extract, Transform, and Load, ETL…
5
Ab Initio specializes in high-volume data processing applications and enterprise application integration. The Ab Initio products are provided on a user friendly homogeneous and heterogeneous platform for parallel data processing applications. These applications perform functions relating to fourth generation data analysis, batch processing, complex events, quantitative and qualitative data processing, data manipulation graphical user interface (GUI)-based parallel processing software which is commonly used to extract, transform, and load (ETL) data. Ab Initio has a single architecture for processing files, database tables, message queues, web services, and metadata. This same architecture enables virtually any technical or business rule to be graphically…
6
Microsoft Integration Services is a platform for building enterprise-level data integration and data transformations solutions. Integration Services is used to solve complex business problems by copying or downloading files, sending e-mail messages in response to events, updating data warehouses, cleaning and mining data, and managing SQL Server objects and data. The packages can work alone or in concert with other packages to address complex business needs. Integration Services can extract and transform data from a wide variety of sources such as XML data files, flat files, and relational data sources, and then load the data into one or more destinations.…
Microsoft SQL Server Integration Services
7
Stream sets is an open source software for building any-to-any batch and any streaming data flows. It is deployed on edge, on cluster or in could to move data from big data sources to numerous destinations through smart pipelines. Its Data Performance Manager (DPM) acts as a single source of operational management for all data movement providing a leading data map of the flow and data. Stream sets requires minimal coding and maximum flexiblty for design ciding and streaming of data. Monitors and act on dataflow performance and data quality. Steam sets provide real time data statistics and metrics for…
8
Confluent Platform which is built on the Apache Kafka, works to provide a central stream data pipeline to solve the challenges that come with data integration. It's open source and free. It's good for enabling streaming of data for your organizations data flow. It's mainly created to help your organization cope with the large-scale data ingestion and requirements for processing of your business networking service. It's excellent for turning your organization's data into low-latency streams that are readily available. In addition, the platform acts as a buffer between your systems that are capable of producing or even consuming your data…
9
IBM InfoSphere DataStage provides a powerful, scalable ETL platform that supports the collection, integration and transformation of large volumes of data, with data structures ranging from simple to complex. It Support for big data and Hadoop and enables you to directly access big data on a distributed file system, and helps clients more efficiently leverage new data sources by providing JSON support and a new JDBC connector. IBM InfoSphere DataStage integrates data across multiple systems using a high performance parallel framework, and it supports extended metadata management and enterprise connectivity. The scalable platform provides more flexible integration of all types…
10
Alooma is a data integration platform that enables your data teams to have visibility and control. It brings all your data sources together into Redshift, BigQuery, Redshift among others. Alooma works by bringing together data from different data silos to your data warehouse. It does all this in real-time. Alooma is able to stream your data from various sources, transform and enrich that data and then finally store it in your own Amazon Redshift cluster. With Alooma you have access to real-time insights. It has the advantage of taking care of any complexity so that you don't have to. Alooma…
11
Adverity DataTap is a next generation cloud-based ETL platform. DataTap combines different data streams before normalizing the data to allow users to explore new correlations and discover new insights into their marketing performance. With the platform, users can integrate server data, email data, e-commerce data, retail data, social data, databases, and spreadsheets to make quicker decisions based on real data to optimize return on advertising expenditure. Adverity DataTap allows its users to connect all sources provisioned by the API without having to use a single line of code and it maintains and updates data connector library, meaning there's no groundwork…
12
Syncsort provides enterprise software that allows organizations to collect, integrate, sort and distribute more data in less time, with fewer resources and lower costs. Syncsort software provides specialized solutions spanning "Big Iron to Big Data," including next gen analytical platforms such as Hadoop, cloud, and Splunk. Syncsort offers fast, secure, enterprise grade products to help the world's leading organizations unleash the power of Big Data. With Syncsort, you can design your data applications once and deploy anywhere: from Windows, Unix & Linux to Hadoop; on premises or in the Cloud. Syncsort DMX-h was designed from the ground up for Hadoop…
13
Fivetran is an intergrated system for cloud services, databases and business intelligence. It extracts all your data from cloud to your warehouse, analyze the queries and leads it to tons of different cloud and BI tools. Fivetran as a cloud middleware, integrates data from all your Saas service and databases to a single hub directly through completely secure connections. It uses sophisticated caching layer to move data from point A to point B without storing copy of your data on its application server. It centralizes your company performance indicators (KPIs) helping business focus on its top metrics. Fivetran integrates all…
14
Matilion is a modern powerful Exact Transformation Load (ETL)and Exact Load Transform (ELT) tool specific for amazon Redshift. It makes loading and transforming data on redshift fast, easy and affordable. Sets and delivers results faster than other ETL technologies. It is easy to load data from dozens of sources including S3 and RDS, multiple databases and ATIs systems like google analytics even on social media like Facebook. Matillion makes orchestration and automation of data load, transformation and integration with other systems an AWS services. It transforms data speedily in a graphical job development environment. Matilion reduces ETL development and maintenance…
15
PowerCenter jumpstarts and accelerates data integration projects to deliver data to the business up-to five times faster. Role-based tools lets analysts and developers rapidly prototype, iterate, analyze, validate, and deploy projects in days instead of months. PowerCenter scales to support growing data volumes from more data types, sources, projects, and users. It delivers performance and reliability while providing visibility to the business via data lineage and impact analysis. A common business vocabulary keeps business and IT in sync. Real-Time Engine provides real time and "right-time" integration. PowerCenter automatically tests and monitors critical data integration processes through a repeatable, scalable, auditable…
16
CloverETL is a rapid, end-to-end data integration solution. Businesses choose CloverETL for its usability and intuitive controls, along with its lightweight footprint, flexibility, and processing speed. CloverETL is a Java based data integration framework which can be used to transform/map/manipulate data in various formats such as CSV,FIXLEN,XML,XBASE,COBOL,LOTUS. CloverETL can be used standalone or embedded(as a library) and connects to RDBMS/JMS/SOAP/LDAP/S3/HTTP/FTP/ZIP/TAR. You may like to read: Top Extract, Transform, and Load, ETL Software, How to Select the Best ETL Software for Your Business and Top Guidelines for a Successful Business Intelligence Strategy
17
Delivers Extract Load and Transform (E-LT) technology that improves performance and reduces data integration costs—even across heterogeneous systems. Provides High-performance bulk data movement and data transformation, E-LT architecture for improved performance and lower TCO, Heterogeneous platform support for enterprise data integration, Knowledge modules for optimized developer productivity and extensibility and Service-oriented data integration and management for SOA environments. An easy to use user interface combined with a rich extensibility framework helps Oracle Data Integrator Enterprise Edition improve productivity, reduce development costs and lower total cost of ownership among data centric architectures. Oracle Data Integrator Enterprise Edition is fully integrated with…
18
Experian Pandora is a data management platform that provides greater proactive data insight. It allows your users to completely understand their data through robust profiling functionality; improve their information through cleansing, standardization and enrichment capabilities; and then control data over time through proactive monitoring and reporting. It allows your business users to get more from their data, faster. Using Experian Pandora, you can execute complex data processing tasks that would otherwise take many hours or even days to execute and execute in a matter of seconds. Experian Pandora gives you immediate visibility into what's really happening with your organizations data,…
19
Adeptia Integration Suite is a leading Data Integration and Extract Transform and Load (ETL) software for aggregating, synchronizing and migrating data across systems and databases.Adeptia offers "self-service ETL" capability because it enables business users and data scientists to themselves create simple data integration connections. Adeptia Integration Suite is a comprehensive ETL solution that provides a powerful data conversion capability. This is graphical, wizard-driven, easy to use software that supports any-to-any conversion. Adeptia Integration Suite is an enterprise-class data integration software that is centrally administered and managed to ensure smooth performance and uptime. Detailed logs are maintained and audit trails are…
20
Apatar brings innovative and powerful data integration to end-users, partners and developers. Apatar offers features such as flexible deployment options, mapping, visual job designer and bi-directional integration. Apatar allows connectivity to Oracle, MS SQL, MySQL, Sybase, DB2, MS Access, PostgreSQL, XML, InstantDB, Paradox, BorlandJDataStore, Csv, MS Excel, Qed, HSQL, Compiere ERP, SalesForce.Com, SugarCRM, Goldmine and any JDBC data sources. Apatar offers easy customization since Java source code is included so no coding is required. Apatar supports cross systems such as source system, FTP logic, application to application, queue to queue and flat files. Apatar can be used anywhere, even in…
21
SnapLogic is a web-based solution that is open-source. It offers an innovative data flow solution for your organization that allows you to connect with popular SaaS applications like Salesforce, Newsuite including SugarCRM, with limitless connectors that are available through SnapStore. SnapLogic also has a scalable architecture which handles your organizations data flow from any number of sources to any number of destinations. This is beneficial to your business in that you will be able to acquire, keep and grow your customers. This SnapLogic architecture scales and works just like web servers do. SnapLogic also offers versatility for your organization. For…
SnapLogic Enterprise Integration Cloud
22
Back office Data Stewardship Platform orchestrates manages, designs and builds lifecycle for your data. It optimizes data quality migration and governance initiatives using the back-office stewardship platform, which provides information governance orchestration across data migration, archival, quality analytics, master data management and business process governance. DSP creates an environment of collaboration by connecting your IT business users in a "decide once and reuse everywhere" environment. You will benefit over and over again from prior efforts and improve governance of your data ecosystem regardless of your downstream ecosystem in use. Helps run your business by reducing complexity costs. It will increase…
Back office Data Stewardship Platform
23
SAS Data Management enables your business users to update data, tweak processes and analyze results themselves, freeing you up for other projects. Plus, a built-in business glossary as well as SAS and third-party metadata management and lineage visualization capabilities keep everyone on the same page. SAS Data Management manage processes with an intuitive, role-based GUI that offers drag-and-drop functionality, source system access and a customizable metadata tree.Provides integrated process designer. Build and edit data management processes with a visual, end-to-end event designer. Connect in real time or batch to more data sources on more platforms than most other solutions. Provides…
24
SAP Data Services allow users to unlock meaning from all of their organization's data irrespective of whether it is structured or not. This data management software provides best-in-class functionality for data integration, quality, cleansing, and more. It enables organizations to transform their data into a trusted, ever-ready resource for business insight – and use it to streamline processes and maximize efficiency.SAP Data Services enable users to quickly discover, cleanse, and integrate data – and make it available for real-time analysis. The platform enables businesses to boost productivity and cut costs using an all-in-one solution for data quality and data integration.…
25
DataMigrator is a powerful and comprehensive automated tool designed to dramatically simplify extract, transformation, and load (ETL) processes, including the creation, maintenance, and expansion of data warehouses, data marts, and operational data stores. DataMigrator enables fast, flexible, end-to-end ETL process creation involving heterogeneous data structures across disparate computing platforms.DataMigrator provides greater reach and range than any other ETL offering by employing iWay Software's award-winning data adapters. DataMigrator can create tables in any major relational database, as well as create fixed or delimited flat files and XML documents as described by an XML-schema definition. Web Console provides efficient management of ETL…
26
Elixir Data ETL is designed to provide on-demand, self-serviced data manipulation for business users as well as for enterprise level data processing needs. Its visual-modeling paradigm drastically reduces the time required to design, test and implement data extraction, aggregation and transformation - a critical process for any application processing, enterprise reporting and performance measurement, data mart or data warehousing initiatives. Elixir Data ETL allows business users to quickly obtain the critical information for their business decisions and operational needs, freeing up the IT group to focus on enterprise level IT issues - the way it should have always been. Provides…
27
The OpenText Integration Center helps organizations fuse traditional data management and enterprise content management approaches into a single comprehensive information management strategy. This kind of fusion allows organizations to realize the true value of their people, processes, and information. By supporting a complete view of the relevant information across the enterprise, the Integration Center helps organizations ensure that all critical business decisions are based on current and complete information, regardless of its location or format, for the purposes of business intelligence, governance, and process optimization. Serving as the hub of the information system, the OpenText Integration Center gives organizations the…
28
Redpoint global is a data management expert. Redpoint makes data management easy by integrating and transforming data to make it useful for businesses. Its main goal is to empower data driven organizations by unlocking the full value of their data to drive customer engagement, profitable and sustainable growth. Redpoint empowers customer success by optimizing customer engagement. Its customer engagement capabilities are customer engagement hub, customer interaction platform, customer data platform and convergent marketing platform. Redpoint provides a connected, open ecosystem therefore getting started is simple and fast. Redpoint offers support in all stages of data management to your business: Pre-implementation planning, deployment,…
29
Oracle warehouse builder is a data integration solution that is data warehouse-centered. It's a tool that caters to all aspects of your data integration. It takes advantage of the oracle database to transform your data into information that is of high-quality. It provides you with data quality, data auditing, fully integrated relational and also dimensional modelling, and also a full lifecycle management of data and metadata. Oracle warehouse builder is a data integration from Oracle that allows you to create data warehouses, migrate data from legacy systems, consolidate data from disparate data sources, clean and transform data to provide quality…
30
Vero is an SQL IDE that can Write SQL. It goes beyond providing basic keyword hinting to generating complete queries, automatically resolving complex join trees and providing Alias Aware code completions. Vero generates Multi-Pass SQL Scripts that Data Engineers and Analysts write manually. This makes automatic join resolution, in database blending and federated queries easier. Vero also allows its users to run queries across separate databases as if they are collocated. Users can drag and drop to generate a data blending query scaffold and then proceed to hack the query. Vero's high performance data blending tech takes care of moving…
31
Sagent Data Flow from Pitney Bowes Software is a powerful and flexible integration engine that collates data from disparate sources and provides a comprehensive set of data transformation tools to enhance its business value. Moreover, the solution allows users to address the two most daunting parts of achieving sound reports which are: accessing data from various sources and; manipulating it to create meaningful reports.It allows for the analyzing of information and creating meaningful reports to aid better understanding of business. One of Pitney Bowes' Location Intelligence solutions, Sagent Data Flow provides customer profiling, data warehousing, ETL and business intelligence -…
32
Actian data connect is an integration solution that allows you to be able to easily design, deploy, manage integrations on premise or in the cloud, or even in environments that are hybrid with no limits whatsoever on volumes or data types. Actian data connect emphasizes on reuse and adaptability. It's mainly designed to assist you to integrate diverse data cost-effectively and also applications from various endpoints. Actian data connect is useful to you in that it helps your organization to visually create integration maps, schemas, artifacts, rules and job schedules in a matter of minutes. All this without coding or…
33
Enlighten is an automated data management product suite. Its users can accurately and efficiently determine the true picture of their organization's data and understand it in detail. This gives its clients accurate and efficient data from the beginning and ability to maintain it over time.Enlighten has an end-to-end data quality suite that offers customizable and comprehensive solutions for organizations regardless of their size. Enlighten has data analyzer that provides profiling assessment, monitoring and evaluation tools. It offers data solutions by industry and by business need. There is the option to choose any deployment method to meet your data security, data privacy,…
34
iWay service manager enables your organization to create, compose and also manage services and micro services. iWay service also helps your organization to reuse existing application and infrastructure investments so as to create web services that are powerful. It lays the foundation for integration that is real-time, web-oriented architecture and also event-driven architecture. It provides more interoperability and superior ease of use. iWay service manager provides complete unhindered visibility by including end-to-end business activity monitoring (BAM) of all the key business activities that pass through it. Due to this, your users can immediately identify and correct inefficiencies. iWay service manager…
35
Stitch is a software that enables business to house data in the warehouse in minutes. Stitch has no API maintenance, scripting, cron jobs or JSON wrangling. It has a REST API that allows for replication of data from any source, the REST API recognizes schema based on the data you send. Stitch technology allows you to spend more time on surfing for valuable insights and less time on managing data. It has flexible UI that allows for configuration of data pipeline. Stitch integrations are powered by singer and open source ETL standards. You can create your own integrations with standard…
36
IRI Voracity is the only end-to-end software platform for fast, affordable, and ergonomic data life-cycle management; it combines data discovery, integration, migration, governance, and analytics in a single pane of glass. Voracity bends the multi-tool cost, complexity, and risk curves away from mega-vendor ETL packages, disjointed Apache projects, and specialized software since it includes data: profiling and classification, integration and federation, cleansing and enrichment, unification and validation, masking and encryption, reporting and preparation, subsetting and testing. IRI Voracity total data management is powered by CoSort or Hadoop and front-ended in Eclipse, and it delivers the outcomes that businesses need, the…
37
Toolsverse LLC is a privately-held software company based in Pittsburgh, PA, USA. The firm specializes in custom data integration solutions. It has three main products, and they are: platform independent tools for ETL; data integration and; database development. The Data Explorer allows users to create complex data integration and ETL scenarios using drag&drop visual designer and scripting languages such as JavaScript. The best-in-class universal database development IDE is integrated right into Data Explorer. It works equally well with SQL and NoSQL data sources, as well as popular file formats and APIs. ETL Framework is a compact, modular, high performance and…
38
Mule Runtime Engine is a universal building block for connectivity. It connects world's applications, data and devices by combining data and application integrations across legacy systems, Saas applications and APIs. The engine provides integration both on premise and in the clouds. It supports millions of transactions in the largest clouds. It enables splunk to orchestrate across multiple cloud and on premise in a matter of weeks versus months. Mule runtime technology uses hybrid technology for maximum flexibility. It manages and sources connectivity in one powerful yet light weight package. It is light enough to run in a developer's laptop in…
39
Uniserv Data Quality Service Hub provides a combination of powerful tools, experienced consultants and proven methods to offer data management solutions. Its main projects are data quality initiatives, data warehousing, data migration and data master management. Uniserve optimizes client data for the best possible quality levels with best performance; it is centred on data quality. The ultimate goal is to maintain data quality at the highest level through its life cycle.The data quality service hub offers four unique data management products which are: data analyzer, data cleansing, data protection and data governance. These incorporate seamlessly to your business data to meet demand.…
Uniserv Data Quality Service Hub
40
Actian data cloud is an integration platform that is cloud-based and hybrid. It's a very secure platform. It works by integrating both on-premise and cloud data applications. With Actian data cloud, your organization will get sophisticated and also fully customizable data integration capabilities that are able to scale and perform in the most demanding environments. In addition, they are also able to accommodate changing endpoints that expand quickly. You can depend on Actian data cloud to remove any friction from data integration while at the same time providing universal connectivity, scalability and also enterprise security. With Action data cloud, you…
Top Free Data Integration Platforms
Apache Airflow, Apache Kafka, Kettle, Apache NIFI, No Frills Transformation Engine, Apache Oozie, Scriptella ETL, GeoKettle, Jaspersoft ETL, EplSite ETL, Anatella, GETL, Apache Falcon, Apache Crunch, Cascading, Apatar are some of the top free Top Data Integration Platforms.
1
Apache Airflow is an open-source tool for authoring, scheduling and monitoring workflows. In other words, it performs computational workflows that are complex and also data processing pipelines. Airflow is ideal for your business if you are involved in executing very long scripts are even keeping a calendar of big data processing batch jobs. Apache airflow has an airflow scheduler that executes your tasks on an array of workers while following the specified dependencies. It has a rich command line utility that makes performing complex surgeries on DAGs (Directed Acyclic Graph- a collection of all the tasks you want to run,…
2
Apache Kafka is an open-source message broker project to provide a unified, high-throughput, low-latency platform for handling real-time data feeds. Kafka is a distributed, partitioned, replicated commit log service. It provides the functionality of a messaging system, but with a unique design. Kafka has a modern cluster-centric design that offers strong durability and fault-tolerance guarantees Kafka is designed to allow a single cluster to serve as the central data backbone for a large organization. It can be elastically and transparently expanded without downtime. Data streams are partitioned and spread over a cluster of machines to allow data streams larger than…
3
Kettle delivers powerful Extraction, Transformation, and Loading (ETL) capabilities, using a groundbreaking, metadata-driven approach. Pentaho ETL is an intuitive, graphical, drag and drop design environment and a proven, scalable, standards-based architecture. Pentaho Data Integration also called Kettle is the component of Pentaho responsible for the Extract, Transform and Load (ETL) processes. Features include migrating data between applications or databases, exporting data from databases to flat files, loading data massively into databases, data cleansing and integrating applications. The Data Services and Kettle JDBC driver enable you to deliver data from multiple data sources, while enriching, cleansing, and transforming the data. PDI…
4
Apache NIFI supports powerful and scalable directed graphs of data routing, transformation, and system mediation logic. Some of the high-level capabilities of Apache NiFi include Web-based user interface, Seamless experience between design, control, feedback, and monitoring, data Provenance, SSL, SSH, HTTPS, encrypted content, etc, pluggable role-based authentication/authorization. Apache nifi is highly configurable with loss tolerant vs guaranteed delivery, low latency vs high throughput, dynamic prioritization, flow can be modified at runtime, back pressure. You may like to read: Top Extract, Transform, and Load, ETL Software, How to Select the Best ETL Software for Your Business and Top Guidelines for a…
5
"No frills transformation" (NFT) is intended to be a lightweight transformation engine, having an extensible interface which makes it simple to extend with Source Readers, extend with Target Writers and extend with additional Operators (if you can't do with the Custom Operators) Out of the box, NFT will read from CSV files in any encoding Salesforce SOQL queries, SQLite Databases, MySql Databases, Oracle Databases, SQL Server Databases and from SAP RFCs if they have a TABLE as output value and write to CSV files in any encoding (including with or without UTF-8 BOMs), Salesforce Objects (including Upserts and using External…
No Frills Transformation Engine
6
Oozie is a workflow scheduler system that is designed to manage Apache Hadoop jobs. Oozie Workflow jobs are Directed Acyclical Graphs (DAGs) of actions. Oozie Coordinator jobs are recurrent Oozie Workflow jobs triggered by time (frequency) and data availability. The platform is integrated with the rest of the Hadoop stack supporting several types of Hadoop jobs out of the box (such as Java map-reduce, Streaming map-reduce, Pig, Hive, Sqoop and Distcp) as well as system specific jobs (such as Java programs and shell scripts). The system is a scalable, reliable, and extensible hence it ensures that developers make the most…
7
Scriptella is an open source ETL (Extract-Transform-Load) and script execution tool written in Java. Its primary focus is simplicity hence users don't have to study yet another complex XML-based language - use SQL (or other scripting language suitable for the data source) to perform required transformations. Its main areas of application are executing scripts written in SQL, JavaScript, JEXL, and Velocity, database migration and Interoperability with LDAP, JDBC, XML and other datasources and cross-database ETL operations, import/export from/to CSV, text and XML and other formats. The solution features simple XML syntax for scripts and all users need is to add…
8
GeoKettle is a powerful, metadata-driven Spatial ETL tool dedicated to the integration of different spatial data sources for building and updating geospatial data warehouses. GeoKettle enables the Extraction of data from data sources, the Transformation of data in order to correct errors, make some data cleansing, change the data structure, make them compliant to defined standards, and the Loading of transformed data into a target DataBase Management System (DBMS) in OLTP or OLAP/SOLAP mode, GIS file or Geospatial Web Service. GeoKettle is a spatially-enabled version of the generic ETL tool Kettle (Pentaho Data Integration). GeoKettle also benefits from Geospatial capabilities…
9
Jaspersoft ETL is easy to deploy and is used to extract data from your transactional system to create a consolidated data warehouse or data mart for reporting and analysis. Jaspersoft data integration software extracts, transforms, and loads (ETL) data from different sources into a data warehouse or data mart for reporting and analysis purposes. It let to leverage and combine several disparate relational or non-relational data sources. Features include business-oriented models for early design collaboration, drag-and-drop process designer, activity monitoring dashboard tracks job execution and performance, native connectivity to ERP and CRM applications such as Salesforce.com, SAP, and SugarCRM, support…
10
EplSite ETL is a tool to do easy the data migrations, doing extraction, transformation, validation and load in a very fast way. It was built by people involved in data migrations so, it contains the necessary to do the migration(Extract Transformation, validation and load) and do it well. Features include Easy to use, Low resources consumption, just the necessary tools to do the job, Web interface and it is possible to run transformations using cron jobs on Linux or task manager on Windows. You may like to read: Top Extract, Transform, and Load, ETL Software, How to Select the Best…
11
Business-Insight distributes a free version of Anatella to promote their main suite of software tool: The "TIMi suite" which includes Anatella, TIMi and Stardust.Anatella was developed with some unique set of functionalities that allow users to dramatically reduce the time required to develop new data transformations. Developing new scripts with Anatella is usually a lot shorter (from ½ to 1/10 of the time) than to develop the equivalent transformations using any competitor tool.The Anatella integrated-development-environment (IDE) is based on a unique hybrid technology. Using, creating and debugging new data-manipulation-scripts is extremely simple & intuitive. Users can develop new data transformations…
12
GETL is a set of libraries of pre-built classes and objects that can be used to solve problems unpacking, transform and load data into programs written in Groovy, or Java, as well as from any software that supports the work with Java classes.GETL based package in Groovy, which automates the work of loading and transforming data. GETL taken into account when developing ideas and following requirements: The simpler the class hierarchy, the easier solution.The data structures tend to change over time, or not be known in advance, working with them must be maintained. All routine work ETL should be automated…
13
Falcon is a feed processing and feed management system aimed at making it easier for end consumers to onboard their feed processing and feed management on Hadoop clusters. The platform gives users the ability to establish the accurately relationship between various data and processing elements on a Hadoop environment. The solution allows for Feed management services such as feed retention, replications across clusters, archival and more. The platform makes it easy for users to onboard new workflows/pipelines, with support for late data handling, retry policies. It provides for integration with metastore/catalog such as Hive/HCatalog. It provides notification to end customer…
14
The Apache Crunch Java library provides a framework for writing, testing, and running MapReduce pipelines. It runs on top of the Hadoop MapReduce and Apache Spark, and its goal is to make pipelines that are composed of many user-defined functions simple to write, easy to test, and efficient to run.Crunch supports different output options via the WriteMode menu, which can be passed along with a Target to the write method on either PCollection or Pipeline. Listed below are the some of the supported WriteModes:Many of the most common aggregation patterns in Crunch are provided as methods on the PCollection interface,…
15
Cascading is a proven application development platform for building Big Data applications on Apache Hadoop. Whether solving simple or complex data problems, Cascading balances an optimal level of abstraction with the necessary degrees of freedom through a computation engine, systems integration framework, data processing and scheduling capabilities. Uniquely, the platform offers Hadoop development teams portability. As new, more interesting, compute fabrics are developed, teams will need the ability to move existing applications without incurring the cost to rewrite them. With Cascading, it is simply a matter of changing a few lines of code and a Cascading application is ported to…
16
Apatar is an innovative and powerful suite of software tools designed to provide extraordinary productivity benefits to those organizations that need to move data in and out of different sources. Applications include data warehousing, data migration, synchronization and application integration.Apatar can be used anywhere users have data in diverse databases or applications that need to be captured in a new application, data warehouse, or presented with a single front end. Additionally, Apatar is user-friendly, and for even a non-technical user it would take just a couple of hours to get trained.Training to perform complex transformations may take up to three…
You may like to read: How to Select the Best ETL Software for Your Business and Top Guidelines for a Successful Business Intelligence Strategy
What are the Best Top Free ETL Tools for Data Integration?
Apache Airflow, Apache Kafka, Kettle, Apache NIFI, No Frills Transformation Engine, Apache Oozie, Scriptella ETL, GeoKettle, Jaspersoft ETL, EplSite ETL, Anatella, GETL, Apache Falcon, Apache Crunch, Cascading, Apatar are some of the top Free Data Integration Platforms.
What are the Best Top ETL Tools for Data Integration?
Etlworks, AWS Glue, Striim, Talend Data Fabric, Ab Initio, Microsoft SQL Server Integration Services, StreamSets, Confluent Platform, IBM InfoSphere DataStage, Alooma, Adverity DataTap, Syncsort, Fivetran, Matillion, Informatica Powercenter, CloverETL, Oracle Data Integrator, Experian Pandora, Adeptia ETL suite, Apatar ETL, SnapLogic Enterprise Integration Cloud, Back office Data Stewardship Platform, SAS Data Management, SAP Data Services, DataMigrator, Elixir Data, OpenText Integration Center, RedPoint Data Management, Oracle Warehouse Builder, Vero Analytics, Sagent Data Flow, Actian DataConnect, Enlighten, iWay Service Manager, Stitch, IRI Voracity, Toolsverse, Mule Runtime Engine, Uniserv Data Quality Service Hub, Actian DataCloud are some of the Top Data Integration Platforms.
What are the ETL Tools for Data Integration?
ETL refers to Extraction, Transform, and Load software. Extract reads the data into a single format from multiple sources. Transform, in this step, data is linked and made consistent from various systems. Load process ensures that the transformed data is now written out to a warehouse.