Top 17 Free Drawing Software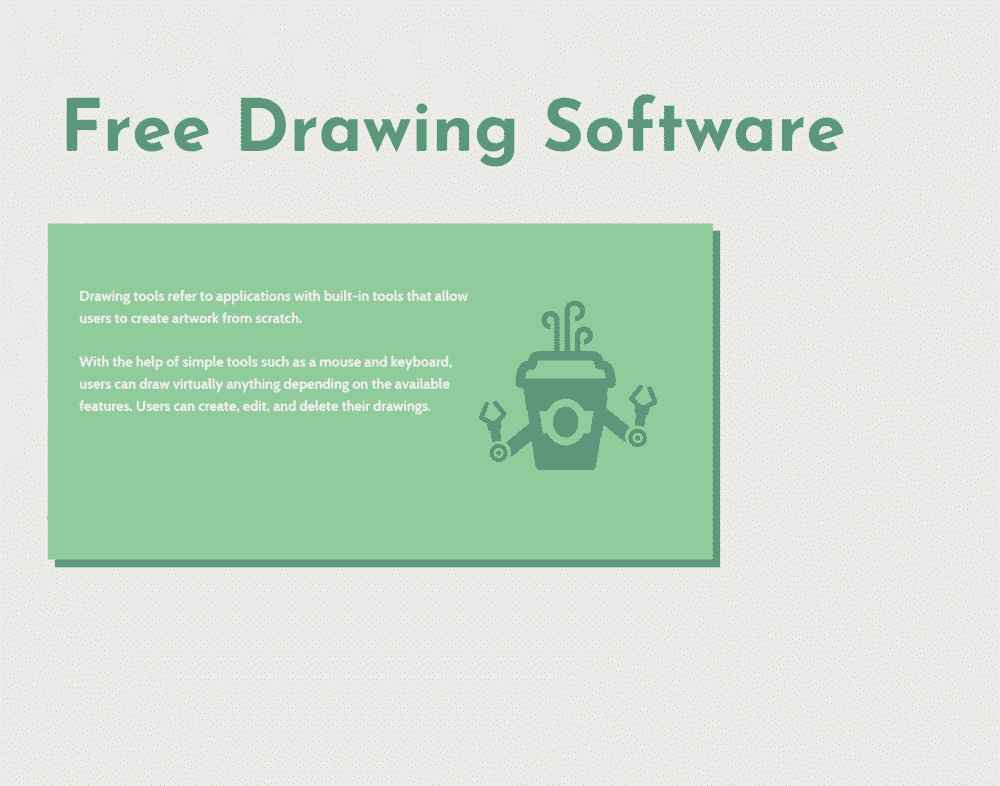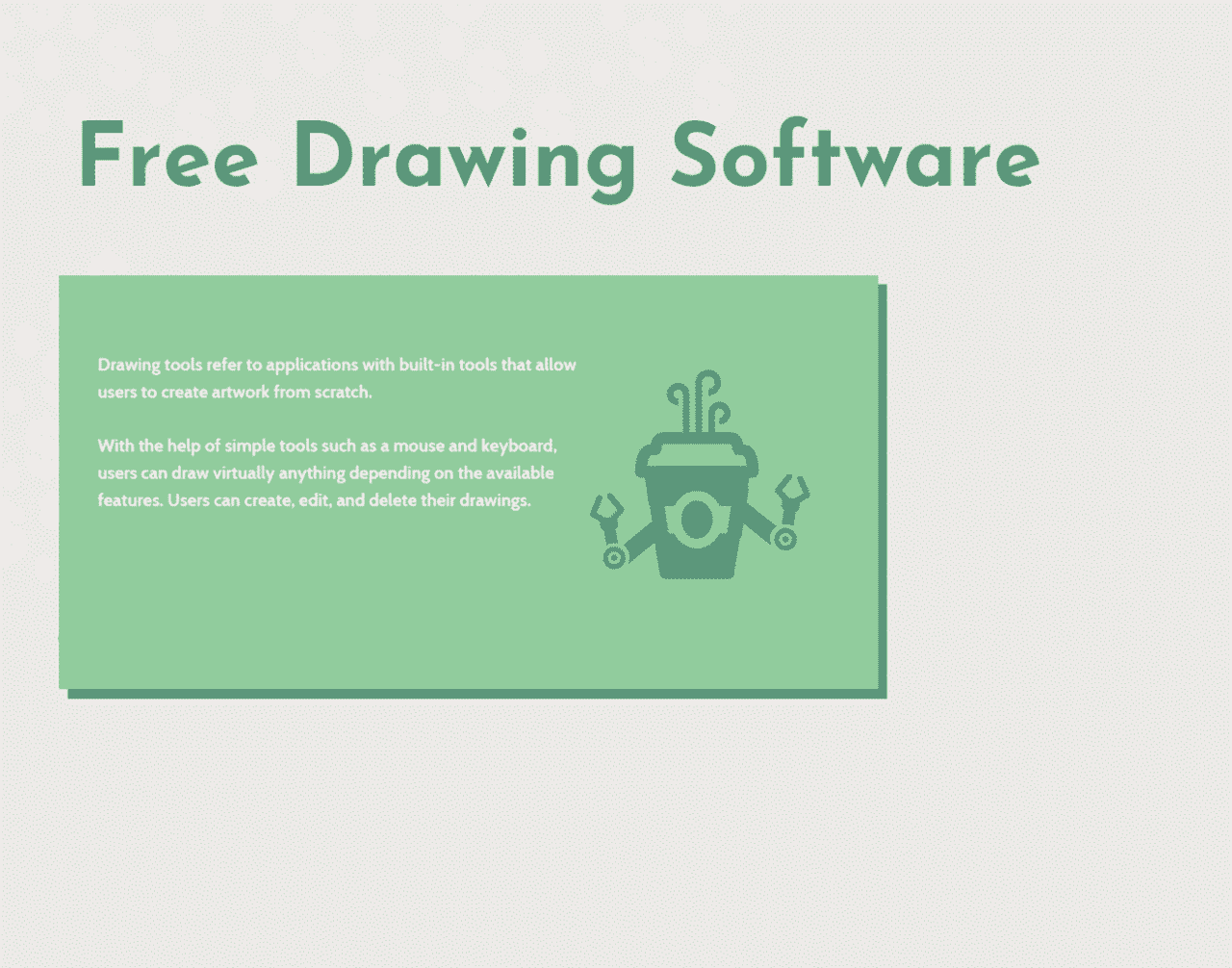 As an artist, designer or illustrator, it is important to use drawing tools with features that will help you achieve the desired results. Whether you want to draw sketches, illustrations, flowcharts, network diagram, or shapes, the ability to achieve good results will not only depend on your artistic skills, but also the kind of drawing tool you choose.
In most cases, you need to adjust the first draft to meet your needs or the needs of your client. With the appropriate drawing tool, you can adjust your drawing several times by adding and deleting some elements at the click of a button. People in different fields such as engineering, architecture, and design need to consult each other when working on the same project.
The best drawing tools facilitate effective sharing and management of the same project by several users. Moreover, good drawing tools are faster and accurate.
What are the Top Free Drawing Software: Adobe Spark, Autodesk Sketchbook, GIMP, Krita, Mischief, Vectr, Inkscape, MyPaint, Expression Design are some of the Free Drawing Software.
What are the Top Drawing Software: Adobe Photoshop, Illustrator Draw, Adobe Lightroom, CorelDRAW, Photoshop Sketch, Adobe Illustrator, Astropad Studio, Affinity Designer are some of the Top Drawing Software.

What are Free Drawing Software?
Drawing tools refer to applications with built-in tools that allow users to create artwork from scratch. With the help of simple tools such as a mouse and keyboard, users can draw virtually anything depending on the available features. Users can create, edit, and delete their drawings. They can also save their work and load existing projects in different formats such as JPEG, GIF, and PDF among others.
Drawing tools are usually available as downloadable software programs or online drawing tools.  The best drawing tools on the market today can run on various platforms including Windows Mac OS, Linux, and Android. Your choice will depend on the device you are using, the features you are looking for, and what you want to achieve.
Basic and Advanced Toolsets: All drawing tools have a basic toolset with the necessary drawing tools such as a drawing area, pencils, markers, paintbrushes, text tools, ink tools, rubbers, lines, shapes (circle, oval, rectangle, square, oval, star, e.t.c), and erasers. Most drawing tools also come with a color palette that is easy to customize depending on the user's needs. The most advanced features found on some modern drawing tools include 3D effects, 3D brushes, animations, and clone tools.
Built-in Effects: Usually, drawing tools come with all kinds of effects to enhance your drawing with a single click. For example, you can choose the appropriate texture/gradient, blur your drawing, use filters, and add shadows to your drawing. You can also change parameters such as brightness and contrast levels.
Integration: Drawing tools may integrate with the tools you use every day such as design tools, photo editing applications, MS Word, and MS PowerPoint. Some applications allow users to integrate external devices such as electronic sketchpads that translate images onto the screen to make their work easy. Additionally, many drawing tools are accessible on almost all devices including desktop computers, laptops, smartphones, and tablets.
Export and Import Features: The export feature allows users to save drawings in various formats while the import feature allows users to load drawings in various formats.
Templates: Some drawing tools come with professionally designed templates for various purposes.
Top Drawing Software
Adobe Photoshop, Illustrator Draw, Adobe Lightroom, CorelDRAW, Photoshop Sketch, Adobe Illustrator, Astropad Studio, Affinity Designer are some of the Top Drawing Software.
1
Photoshop is graphic design software that enables you to create and improve photographs, SD artwork as well as illustrations. You can also design websites together with mobile applications. Photoshop gives you the power to do anything from editing videos to stimulating real-life photos. Photoshop offers millions of designers from all over the world the ability to make what's impossible possible. Designers can cause a wide array of designs using Photoshop to form breathtaking icons, striking logos, official websites that move everyone around the world. Even beginners are not left behind since there are numerous intuitive tools as well as easy…
2
Illustrator Draw is cloud-based drawing software designed to create beautiful free-form vector designs on the users' mobile device with Illustrator Draw. The app also lets the user turn the user ideas into production-quality artwork wherever inspiration strikes. Some of its features include exceptional drawing tools, shape integration, creative cloud libraries, and more. With the shape integration, the user can capture inspiring shapes anywhere using capture on their mobile device and bring them into Draw as vector outlines that the user can use in their compositions. The users' shapes from Shape can be saved to Creative Cloud Libraries for quick access…
3
Adobe Lightroom is a cloud-based service that's great for people with a passion for photography. You can be able to manage everything and anything that you need to organize, store, edit and share all your photos across the web, on mobile devices as well as your desktop. You can design your photos from anywhere through the Lightroom together with cloud storage ITB. Adobe Lightroom comes along with powerful photo editing tools plus an interface that's super easy to use. You can easily change the resolution shots and back your originals and edits to the cloud. Adobe Lightroom eliminates the challenges…
4
CorelDraw is premium graphic design software that allows you to find the entire professional photo editing, layout, vector illustration as well as design tools that make it easier for you to work faster, more intelligently and in many more places. With the CorelDraw software, you can be creative, in control, and efficient at the same time. You will be in the position to manage your design and dictate how you purchase. You will enjoy advanced capabilities designed on your platform, be it Windows or Mac is able to work on the go. Through CorelDraw, you can experience premium capabilities as…
5
Photoshop Sketch is a cloud-based solution that lets the user create expressive drawings anywhere using natural drawing tools like pencils, pens, markers, and watercolor brushes to get all the textures and blending effects the user would get on paper. Sketch gives the user the drawing tools that interact naturally with the canvas, including a graphite pencil, ink pen, and blending markers. It has built-in brushes open up even more creative possibilities. The user can use a split view to keep their drawings and toolbox side by side on the same screen. Then send their sketches directly to desktop Photoshop to…
6
Adobe illustrator is software that allows designers to develop icons, typography, illustrations and logos for mobile, video, print and web. The software is used by millions of designers. Adobe illustrator offers all the tools that you will need to create anything from stunning graphics to captivating icons. The topography designs that come with adobe illustrator enable you to customize your taste as you express your messages. Adobe Illustrator lets you use your illustrations anywhere such as social media, pieces, websites, presentations, and blog. Adobe Illustrator enables you to focus on the design rather than the process. You can be able…
7
Astropad is a cloud-based graphics tool built for creative professionals. Astropad Studio turns the users iPad into a completely customizable graphics tablet. It's the highest performance tool for the most demanding creative work. Astropad Studio has been designed from the ground up for professionals Creating Astropad required innovative new technology we call Liquid. The result is stunning image quality and responsiveness. Liquid features color-corrected output and retina resolution. What a user sees on their iPad is the same as on their Mac. A built-in Velocity Control analyzes network conditions dozens of times per second to balance image quality and latency.…
8
Affinity Designer is a cloud-based graphic design software. Affinity Designer was created to thrive on the electric pace of the latest computing hardware. Live, responsive, and incredibly fluid. It has a Pan and zoom at 60fps, live gradients, effects and adjustments, real-time blend mode previews and all transforms and curves edits previewed live. The engine behind Affinity Designer is built to handle huge documents so the user can be confident in adding all those tiny details without any compromise to performance. The solution offers optimized for documents of any complexity, handles 1000s of objects with no lag, Organize with layer…
Top Free Drawing Software

Adobe Spark, Autodesk Sketchbook, GIMP, Krita, Mischief, Vectr, Inkscape, MyPaint, Expression Design are some of the Top Free Drawing Software.
1
Adobe Spark is a suite of design tools that allow users to make posters, videos and web pages using a computer or iOS mobile device. Adobe Spark simplifies content creation to a level that anyone can master on the first day. Adobe Spark's flyer maker helps your flyers look professional while keeping the design process quick and easy. Flyer design is important, and images speak for themselves and can go a long way toward communicating tone and feel. Spark flyer maker users can better promote their cause with easily shareable content that is sure to inspire. Spark Post lets users…
2
Autodesk is on-premise and mobile drawing software that helps the user from quick conceptual sketches to fully finished artwork designed for product designers, architects, automobile, and industrial designers to iterate quickly and communicate their ideas. SketchBook has a gorgeous interface that maximizes the drawing space of every device. The solution helps capture ideas whenever inspiration strikes. With the app, the user can refine their sketches into illustrated art. The user can draw without distraction. The user transfer paper to digital in a snap. The users' device's camera becomes a scanner and can scan, sketch, and import the users' line art…
3
GIMP is a free, open-source image editing platform. The program packs an array of professional-quality features which can genuinely rival Adobes Photoshop capabilities. Its remarkable montage features allow the user to easily fine tune photos / images and create artwork from scratch. The selection includes noise reduction, cropping, automatic image enhancement tools, color adjustment tools, gradients, customizable brushes, and much more. GIMP also provides plenty of features for the advanced user including filters, Bezier curves, layer masks, and an animation package. The software is a force to reckon with among the best free image editing applications, and the ideal package…
4
Krita is a free and open source painting program which is exclusively designed for both amateur and professional artists. Based on most of its users' feedback, the sketching and painting tool is described as an alternative to Photoshop due to its fully-featured interface and fast painting functionality. As an artist tool, it has been providing an innovative solution for concept and texture artists, illustrators, and VFX (Visual Effects) artists in the filmmaking industry. In addition, the program is ideal for 2D or 3D artists in the games industry. Krita is using traditional painting techniques; but, regarded also as having the…
5
Mischief is built for both Mac and Windows, and is designed to be as smooth and accessible as a physical pencil, and has features such as an infinite canvas and infinite zoom. The realistic brushes are great as is the ability to export any area of the canvas as an image in PNG, JPG or PSD formats. Mischief works well with drawing tablets such as Wacom Intuos as well as Astropad on an iPad. Mischief's unbelievable responsiveness delivers a natural drawing experience, like actually sketching with pen and paper. Create authentic feeling pencil roughs and silky smooth line work that…
6
Vectr is a simple, yet powerful free vector graphics platform. The reliable cross-platform program enables project managers, software engineers, social media specialists, and bloggers to generate vector graphics more intuitively and easily. The application can be deployed either on desktop devices (support Windows, Linux, Mac, and ChromeOS) or used in any modern browser. Vectr is a well-designed application with a shallow learning curve. It's built with an eye on collaboration and sharing of vector graphics. It provides all the basic tools and features. Some of its key tools include: pen tool, shape tools, arrange elements, align elements, pathfinders, fills and…
7
Inkscape is an open-source vector graphics editor similar to Adobe Illustrator, Corel Draw, Freehand, or Xara X. What sets Inkscape apart is its use of Scalable Vector Graphics (SVG), an open XML-based W3C standard, as the native format. The design process may begin by doodles on a napkin, a sketched mindmap, a photo of a memorable object, or a mockup in software which really wouldn't work to complete the project. Inkscape can take the user from this stage to a final, professional-grade design format which is ready for publication on the web or in physical form. If the user is…
8
MyPaint is free and open source raster graphic editor for digital painters with a focus on painting rather than image manipulation or post processing. MyPaint is available for Microsoft Windows, OSX, and Linux. MyPaint is a nimble, distraction-free, and easy tool for digital painters. It supports graphics tablets made by Wacom, and many similar devices. Its brush engine is versatile and configurable, and it provides useful, productive tools. The standard brushes can emulate traditional media like charcoal, pencils, ink, or paint. It's easy to make expressive, artful new brushes that don't respond like anything conventional. MyPaint has a custom procedural…
9
Expression Design is Microsoft's professional-level editing program for vector and bitmap graphics. It was based on a 2003 Microsoft acquisition, Creature House Expression. The program only runs on Windows XP, Windows Vista and Windows 7 environments. Expression Design enables the user to create and manipulate sophisticated vector graphics. It was designed to work seamlessly with Microsoft's Expression Blend or Expression Web for website development. While the program works best with Windows Metafile (WMF), Enhanced Metafile (EMF), and Enhanced Metafile Plus (EMF+) files, it can also import projects created in Adobe Illustrator and Adobe Photoshop. Other supported file formats are .psd,…