Top 10 Fleet Management Software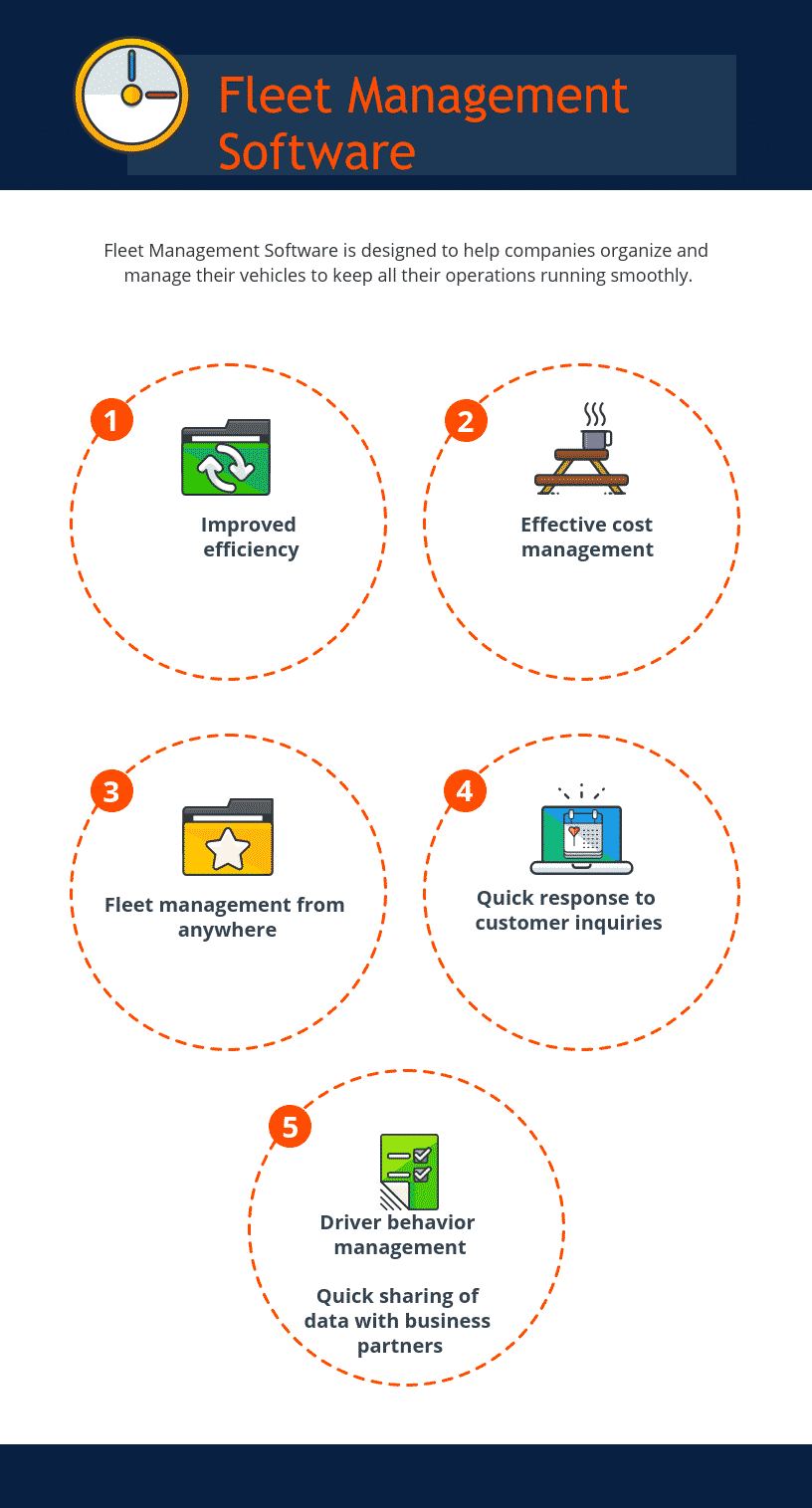 Fleet management can be a tedious, costly, and time-consuming activity regardless of the size of your fleet. The truth is that it's not easy to keep track of all vehicle management tasks such as maintenance scheduling, registration, tracking, driver management, and operations costs. It's also a hassle to record and manage all the relevant data even if you are managing just three vehicles.
Things can quickly get out of hand if you are managing several company vehicles. Moreover, it's a great risk to give your employees control over expensive assets like company vehicles. This can lead to stress irrespective of how much you trust your drivers. That's precisely why you need fleet management software (FMS) to manage your company vehicles. FMS allows companies to perform various tasks regarding all their vehicles in order to improve efficiency, control costs, keep track of vehicles, manage drivers, and improve business operations.
Examples of Fleet Management Software: MyGeotab, Chevin FleetWave, Fleet Genius, Trans Plus, Fleetio, FleetFocus, Ultimo, Fleet Tracker, Latitude, Fleet Bip are some of the best examples of Fleet Management Software.
What are Fleet Management Software?
Fleet management software is designed to help companies organize and manage their vehicles to keep all their operations running smoothly. The software can coordinate work vehicles such as cars, vans, trucks, forklifts, backhoes, golf carts, and excavators. It comes with various features that allow managers and dispatchers to access real-time data on the operations of individual vehicles. Fleet management software can record data on different aspects such as driving routes, idle time, and speed.
Companies can also utilize fleet management software to track vehicles and take immediate action if there is a problem such as when the driver breaks driving laws. In addition, companies use fleet management software to monitor mechanical problems, keep track of vehicle maintenance operations, acquire new vehicles, get rid of unwanted vehicles, manage licenses, and manage insurance information. FMS comes in the form of standalone applications or Software-as-a-Service (SaaS). Your choice will depend on the features you want.
Fleet Management: Vehicle management involves a wide range of tasks such as inventory management, preventive maintenance, repair maintenance, tax management, vehicle insurance, cost management, vehicle acquisition, and vehicle disposal. It's also about driver profiles, license management, driver penalties, fuel usage updates, recording opportunity costs, remote control (such as limiting speed and switching off the engine), vehicle health monitoring, incident management, and vehicle booking.
Vehicle Tracking: Tracking systems utilize vehicle telematics like cellular triangulation, GLONASS, and GPS to track vehicles in real time. You can view your fleet on a map at any given moment and use GPS information to optimize routes or create business-relevant maps.
Automated Logistics: Allows companies to set parameters into their operations systems and define an automated process with ease.
Data Reporting: This feature helps companies obtain detailed reports in different formats in order to monitor operations. FMS users can email, print, or export from different types of reports including simple listing reports and comprehensive cost analysis reports. Moreover, FMS allows companies to keep a detailed maintenance record.
Mobile Apps: The best fleet management software products have a mobile version of the desktop application. Mobile fleet management apps allow companies to manage vehicles on the go and include the most important features of FMS.
You may like to read: How to Select the Best Enterprise Resource Planning (ERP) Software for Your Business
Some of the benefits include:
Improved efficiency
Effective cost management
Fleet management from anywhere
Quick response to customer inquiries
Driver behavior management
Quick sharing of data with business partners
Crime prevention using advanced security features
Top Fleet Management Software

MyGeotab, Chevin FleetWave, Fleet Genius, Trans Plus, Fleetio, FleetFocus, Ultimo, Fleet Tracker, Latitude, Fleet Bip are some of the Top Fleet Management Software.
Top Fleet Management Software
PAT Index™
1
MyGeotab
With Geotab's fleet management software, businesses have powerful tools at their disposal for generating new opportunities for growth and savings. To extend the value of the data, fleet managers can leverage MyGeotab's Software Development Kit (SDK), customizing the software to meet exact fleet needs. Geotab's fleet management software, MyGeotab, takes the complexity out of collecting data and transforms it into useful information that businesses can act on. For example, most Geotab customers want to understand how fuel consumption is impacted by driving habits, time of day spent driving, and the vehicle make and model. Geotab normalizes the data to a…
Overview
• Active Tracking — premium quality tracking solution that delivers location information with higher frequency and precision
• Rich reporting functionality — editable, customizable, trends
• Web-based software reporting platform (SaaS) capable of supporting unlimited vehicles and users
• Custom mapping: Flexibility in map views, legends and zone shapes and sizes allow for further customization
• Robust data engine reporting: Geotab collects and responds to common status information in the vehicle
• Driver behavior management: Influence safe driving behavior with in-vehicle driver feedback and coaching tools
2
Chevin FleetWave
The complete lifecycle of cars, vans, trucks, trailers, tractors, forklifts, cranes, containers and every other asset in the entire fleet can be managed using the award-winning fleet management software, FleetWave - from acquisition to disposal. FleetWave can incorporate all fixed costs and variable operating expenses, from utilization, maintenance, compliance and accidents through to remarketing. Easily query, sort, filter, and report on data within the system. FleetWave is proven to help businesses streamline processes, tackle inefficiencies and improve performance, as well as ensure compliance, reduce costs and mitigate risk. FleetWave gives access to the tools and information fleet managers, drivers, technicians,…
Overview
• Flexible dashboards: Oversee fleet operations from a graphical menu with KPIs and status updates
• Definable workflows: Create workflows to update and track the status of tasks such as vehicle ordering, maintenance approvals
• Automated alerts: Send alerts and scheduling reminders of key events to personnel via text and email
• Sort & Filtering: Organize, search and audit data with extensive sorting and filtering tools
• Report builder: Easily build the reports you need using FleetWave's Query Builder and KPI tool
• Vin decoder: Instantly populate vehicle specification fields within the system with VIN Decoding
3
Fleet Genius
Comprehensive and easier to use than a spreadsheet, Fleet Genius vehicle fleet maintenance management software helps its users manage vehicle maintenance schedules, track vehicle fleet maintenance expenses, track and monitor fuel use and fuel receipts, monitor driver usage and behavior. Hosted in the cloud, the software provides access to critical fleet vehicle data from any web browser and mobile device. The software includes both a vehicle computer maintenance management system (CMMS) and fleet management systems (FMS) in a single application. The Fleet Genius fleet maintenance software dashboard shows the maintenance status of fleet vehicles and highlights any alerts affecting driver…
Overview
• Spreadsheet reports module offers complete reporting flexibility
• Historical vehicle maintenance log
• Vehicle fuel receipt tracking;
• OBD-2 driver safety monitoring provides analyis of driver performance
• OBD2 vehicle diagnostics and DTC code alerts and decoding
• Fleet Genius telematics data export helps fleet owners and fleet managers upgrade their existing fleet maintenance systems and software
• Annual Plan - $30 / year in advance
• Pay as you go plan - $3.5 / month / asset
4
Trans Plus
Fleet Manager Professional is an event-based, trucking dispatch and freight brokerage software system for integrated fleet and logistics management. It was designed for asset-based, broker, 3PL and private fleet companies providing LTL, city P&D, cartage, truckload, line haul, freight consolidation, and inter-modal container shipping services. Fleet Manager Professional uses a Microsoft SQL database structure. Fleet Manager Professional simplifies back office procedures including order entry, rating, and quotation, load planning, dispatch, compliance management, asset management, customer service, order tracking & tracing, sales, invoicing & settlements and fuel tax reporting. It also interfaces to most accounting packages and offers business analysis capabilities…
Overview
• Drug & Alcohol Testing History
• Productivity Tracking: Monitor performance tracking against time standards
• Fleet maintenance software dashboard shows the maintenance status of fleet vehicles and highlights any alerts affecting driver performance
• Trip Revenue & Expense per Mile
• Document Imaging & Archiving: Drivers can take photos of delivery receipts, bills of lading, fuel receipts
• Satellite Tracking of Resources
5
Fleetio
Fleetio's suite of cloud- and mobile-based fleet management solutions enables fleets of all sizes to automate fleet operations, manage asset lifecycles and truck drivers. Fleets can track, score and rank drivers, manage maintenance, fuel, vehicle inspections, parts, vendors and more. Data about asset utilization, maintenance costs, fuel efficiency, parts, and labor can all be tracked within Fleetio. Fleetio improves fleet communication and streamlines issue resolution with its mobile apps, email notifications, and reminders. The Fleetio system allows for unlimited users and offers bulk data imports, data reports and the creation of custom fields in report modules. Fleetio features include collaboration,…
Overview
• Driver-centric measurement— A clearer picture of real-time location and driving behaviors such as phone usage, something OBD hardware solutions miss
• Inspections: Maintain airtight compliance with electronic vehicle inspections
• Work orders: Plan, schedule and track detailed maintenance tasks and costs
• VIN Decoding: Retrieve vehicle specs and maintenance schedules to use in Fleetio using VIN numbers
• Reports: Unlock powerful insights into fleet maintenance and operations trends
• GPS & Telematics integration: Sync odometer readings, import and manage DTC alerts, see a vehicle's current location
6
FleetFocus
FleetFocus provides better data in less time to aid in making decisions that have long-term benefits for the organization. With a proven track record of over thirty five years, FleetFocus is the premier fleet management software solution for public and private fleets alike. FleetFocus can track and handle all the operations that go into maintaining the user's vehicular fleet. Users have complete control over each vehicle's lifecycle, allowing them to work with all vehicle budgeting, procurement, maintenance, and disposal. In the event of an accident, the system can work with the user's claims, move repair parts around the user's inventory,…
Overview
• Complete vehicle equipment life-cycle management
• Technician certification and training management
• Purchasing and parts inventory management
• Seamless, real-time integration with AssetWorks FuelFocus fuel management system
• Comprehensive reporting functionality, including over 200 out-of-the-box reports
• Vehicle Use Outside Authorized Hours
7
Ultimo
Ultimo is a flexible and user-friendly business software for Maintenance Management, Fleet Management, IT Service Management, Facility Management. Ultimo has been developed in close collaboration with customers to ensure it solves real problems and truly makes their lives easier. Ultimo Fleet Management lets users take full control of administrative and technical fleet management. It provides better insight into asset performance, gives a complete overview of contracts, insurances and damages, increases the life cycle of assets and makes it easier for management to make well-informed decisions. Better decision-making coupled with deep insights into the Total Cost of Ownership allows users to…
Overview
• Interfaces: Integrate Ultimo with various other business systems to work even more efficiently
• Email import: Import e-mails into Ultimo and convert them into reports
• Dashboards: Steer on important Key Performance Indicators (KPI)
• Authorization management: Increase the user-friendliness and the acceptance
• Refuelings: Read in refueling information from fuel cards in a simple way
• Ultimo customization tool: Regulate authorizations, adapt screens, menus, fields, workflows and create new menus and screens
8
Fleet Tracker
Fleet Complete's Fleet Tracker provides real-time insight into fleet locations and allows users to monitor unauthorized activity, driver performance, accidents, engine issues, vehicle health, and more. Automated alerts notify users of any unauthorized activity, such as after-hours use or theft, and give second-by-second data in the event of a crash. The asset tracker also allows users to set up geo-fences and utilize motion-activated sensors to generate alerts for unauthorized movements of containers or equipment. Reports on fleet performance, efficiency, asset positions, and more can be easily generated. Employee safety through proper conduct is important. With Fleet Tracker, gain insight into…
Overview
• Crash detection: Receive instant notifications when a vehicle has been detected in an accident
• Driver behavior monitoring: Get detailed reports on speeding, braking, cornering, idling and rapid acceleration
• Unauthorized activity alert: Gain visibility on any unwarranted vehicle activity to prevent theft or after-hours use
• Point of Interest shows if assets were at a location within the specified working hours
• Authorization management: Increase the user-friendliness and the acceptance
• Geofencing: Send managers an alert if a truck departs from its assigned boundary — and help hasten recovery in the event the vehicle is stolen
9
Latitude
Latitude is GFI System's newest fleet management platform available to all clients regardless of the GPS tracking device they choose to use. Using Latitude, clients will have all of the tools needed to effectively manage fleet from a single login. View vehicle locations, monitor drivers' behavior and use in-depth reports to improve fleet performance. Start tracking fleet instead of relying on set time increments. Latitude uses a complex algorithm triggered by changes in vehicle speed, direction, and input status to offer the best location reporting frequency in the industry. So, whether GPS tracking data is sent via cellular or satellite…
Overview
• Administration: Data summaries, exports, and fleet adjustments
• Fleet Analytics & Reports: Fleet performance analysis and behavior reporting
• Employee Management: Contact info, unit assignment, and notifications
• Live Map: GPS fleet tracking, geofencing, and history replays
• Electronic forms: Increase internal transparency and have existing paper forms digitized
• Driver ID: Without driver authentication, vehicle alarms sound and managers are notified
10
Fleet Bip
Fleet Bip is specifically designed and developed for the fleet management. The software includes asset management, inventory management, work order management, and preventive maintenance. This exceptional software will help its users to reduce the liabilities of their fleets and manage it in a phenomenal way. This fleet management software is the best when it comes to managing fleets in an effortless fashion. Fleet Bip helps users to track the information about the vehicle inventory, asset status, driver assignments, and important dates etc. At the same time, users can access the documents from any place. Fleet Bip sends the notifications automatically…
Overview
• Robust Engine Data Reporting: Collect and respond to the common status data in the vehicle
• Driver Behavior Management
• Fleet Bip's Driver ID NFC technology
• Fleet administration manages a fleet of services which includes driver management, vehicle-replacement policy management
• Vehicle and equipment management helps to display the service records and also display its related details for reference in future
• VIN decoding: Immediately return the valuable information about the vehicles to store and thus by saving a huge amount of time
You may like to read: How to Select the Best Enterprise Resource Planning (ERP) Software for Your Business