Top 6 Fashion ERP Software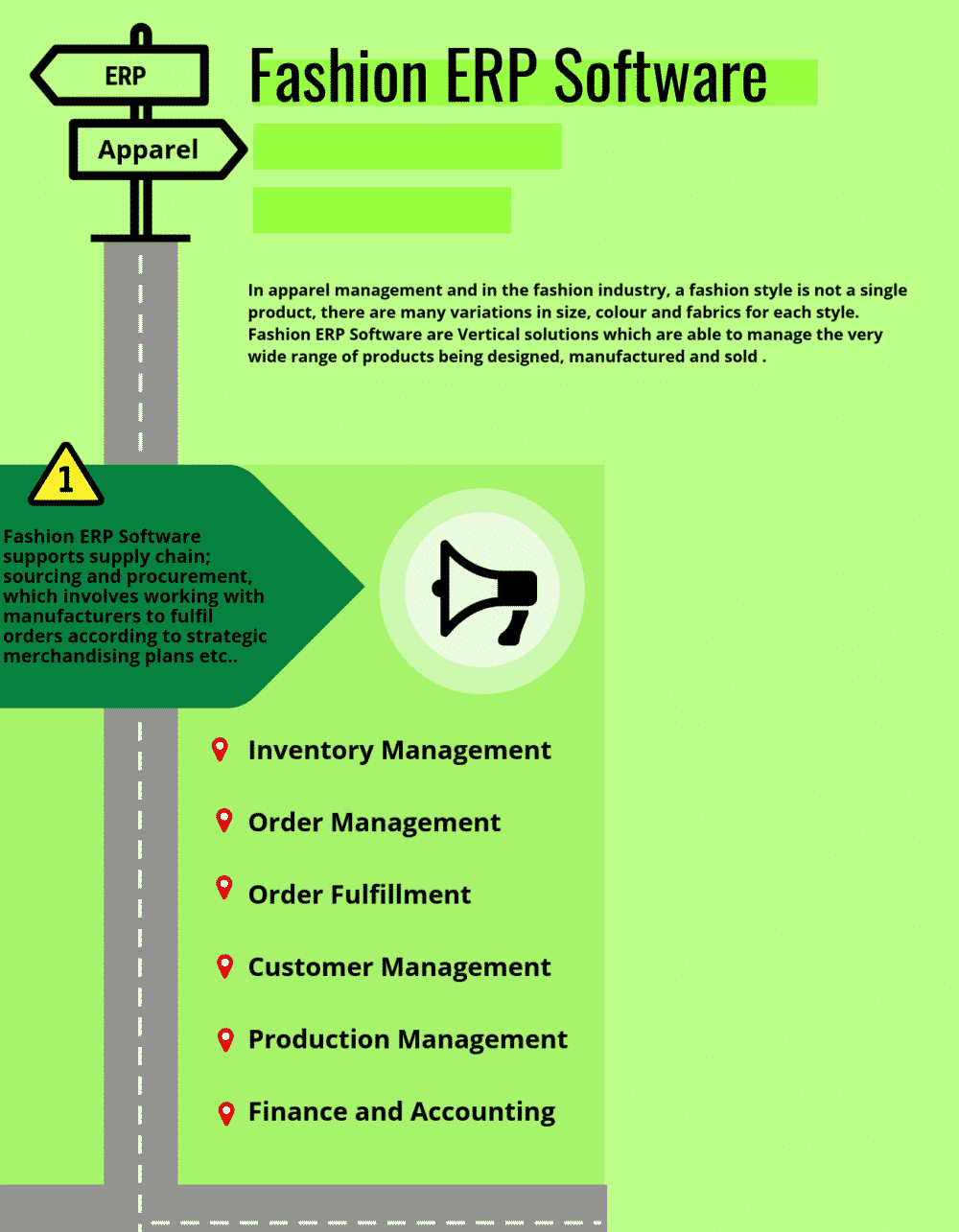 In the apparel industry where little aspects such as the fade or shade matters, a fashion ERP software becomes the ultimate solution to managing all business processes smoothly while also ensuring satisfactory customer and vendor service. One good reason why you need a fashion ERP software is the unity of business processes. Every department has their own set of software and data processing programs. A lot of time will be used up when data is being transferred, and it is likely that some confusion may arise. Fashion ERP software integrates all this data into one centralized system where authorized persons can access such data without going through long processes. The software also makes accounting and financial data analysis easier; data entry is automating, and you can easily keep track of all transactions while also requesting reports on the same. Generally, the software makes the management of your fashion business a lot easier.
Top Fashion ERP Software: AIMS 360, ApparelMagic, S2K Enterprise for Apparel Distributors, LOGIC AFS, Cantel Apparel ERP, WFX are some of the Top Fashion ERP Software.
What are Fashion ERP Software?
Fashion ERP software are Industry specific ERP software to manage a fashion business. This system helps to manage their fashion business by making it easier to monitor, control, analyze and understand all business process such as inventory management, procurement, production, processing, logistics, and even warehousing.
In apparel management and in the fashion industry, a fashion style is not a single product, there are many variations in size, colour and fabrics for each style. Fashion ERP Software are Vertical solutions which are able to manage the very wide range of products being designed, manufactured and sold .
Fashion ERP Software supports supply chain; sourcing and procurement, which involves working with manufacturers to fulfil orders according to strategic merchandising plans, handling the logistics of moving finished goods from the source into stores and overseeing global trade and procurement requirements; selling goods across a variety of channels to customers.
Inventory Management : Features for controlling and overseeing, and  ordering inventory, and storage of inventory. Helps to maintain complete control over your entire inventory, including future arrivals
Order Management : Features for automating and streamlining the order processing for businesses. Helps to manage your order processing by using powerful reporting and Business Intelligence capabilities.
Order Fulfillment: Features for receiving, processing and delivering orders to end customers.
Customer Management: Manage your customer details, including contacts, stores and ship to locations
Production Management: Managing your production accurately and on time by managing vendors, materials, and operations
Finance and Accounting : Features for summary, analysis and reporting of financial transactions pertaining to a business.
Warehouse Management: To support and optimize warehouse functionality and distribution center management including  inventory management, picking processes and auditing
Top Fashion ERP Software
AIMS 360, ApparelMagic, S2K Enterprise for Apparel Distributors, LOGIC AFS, Cantel Apparel ERP, WFX are some of the Top Fashion ERP Software.
Top Fashion ERP Software
PAT Index™
1
AIMS 360
AIMS360 is a cloud-based enterprise resource planning (ERP) solution for the fashion industry, offering a fully integrated business management suite for manufacturers, wholesalers, distributors, and importers. It offers features for inventory and order management, production tracking, shipping, styles management, integrated EDI, intelligent allocation and more. AIMS360 includes over 30 integrations including B2B and B2C e-commerce, and it connects with third-party solutions such as JOOR, NuOrder, Brandboom, and Shopify. It also is able to integrate to the Quickbooks accounting system. AIMS360 RemoteLink is a stand-alone option that provides sales teams with remote order entry from the field without any internet connection.…
Overview
• Commission Management: Calculate commissions due to salesreps and consider non-payment accounts and returns
• Salesrep Management: Manage salesreps, assign them to accounts and create sales reports
• Order Fulfillment: Receive, process and deliver all orders with ease and control
• Case Packs/Kits: Meet customers' unique size and quantity requirements by packing products together in a case pack
• Physical Inventory: Ensure accuracy and assess shortages by quickly recounting inventory
• Inventory Management: Maintain complete control over entire inventory, including future arrivals
• Drop Ship: Move goods directly to the customer through any major retailer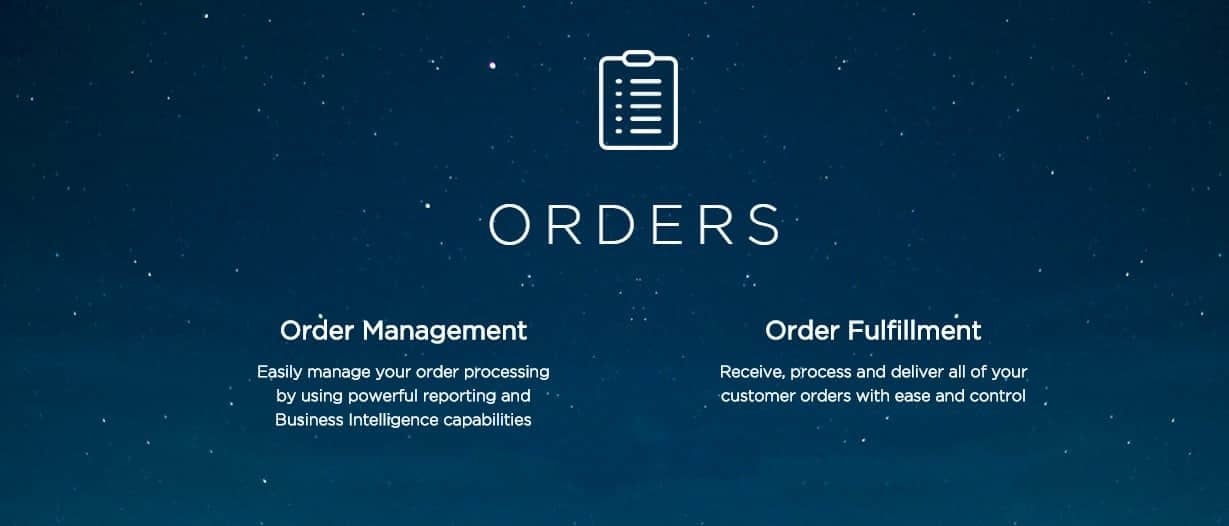 2
ApparelMagic
ApparelMagic is an ERP for apparel, retail, and fashion businesses with advanced management tools and a scalable cloud architecture. Because of the latter, it can pull information from the SQL database with lightning-fast speed, allowing users to handle even the toughest management challenge. ApparelMagic makes sure of that by automatically creating information duplicates in its servers that can be restored in the case of emergency or calamity. Furthermore, ApparelMagic is an economical solution even for a small business. ApparelMagic does not require installation as it is fully cloud-based. Because of this, one can access the application from a web browser…
Overview
• Accounting: Accounts Receivable, Accounts Payable, Purchasing, Check Register...
• Allocation, Picking & Invoicing: Pick orders by style, inventory, location, and picking of partial or complete shipments
• Precise Production Control: Get instant Open to Sell Status for any style to keep the business moving seamlessly
• Powerful Sales Management: Up-to-the-second visibility of products, requirement planning, and future availability
• Robust Style Management: Style information screens give a complete overview of sales history, production requirements, and inventory control
• Breathtaking Graphics: Customize dashboard with charts and graphs of your choice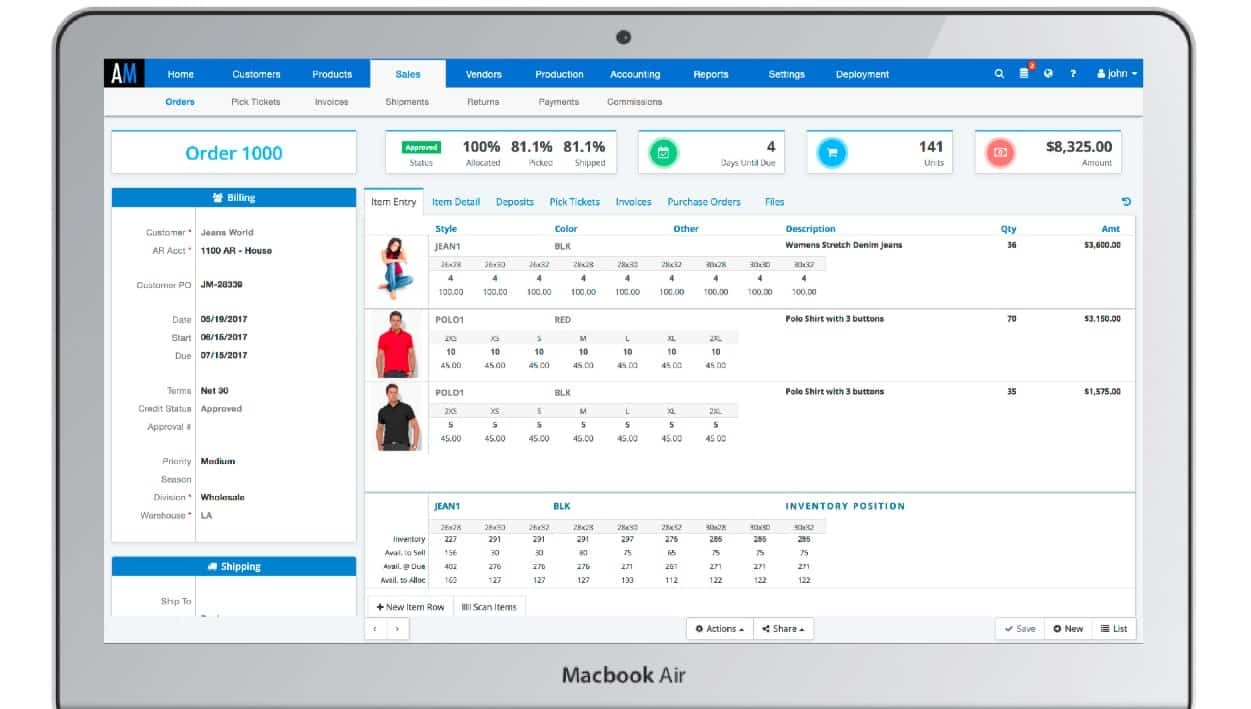 3
S2K Enterprise for Apparel Distributors
VAI's completely integrated S2K Enterprise for Apparel Distributors is apparel ERP software that includes modules focusing on all your company's processes. With increased competition, retail consolidation challenges and reliance on overseas manufacturing, apparel distributors face challenges, unlike other industries. S2K Enterprise for Apparel combines advanced IBM technology with apparel ERP software designed by professionals who understand the apparel industry. This comprehensive apparel industry software suite will enhance and improve all aspects of this highly specific business. S2K Enterprise in the cloud offers midsized growth companies the advanced technology they require to improve efficiencies, reduce costs, and grow - all in…
Overview
• Standard coding of problem codes and resolution codes
• Material Requirement Planning module eliminates purchasing and scheduling problems and speeds up the work process
• Finite Scheduling creates a finite capacity schedule based on the planned capacity reflected in the shop calendar for each department
• Order generation rules and preferences
• Be proactive with Real-Time Work Flow Alerts
• Pre-configured dashboards help the user gain immediate visibility into sales, revenue, and productivity 
S2K Enterprise for Apparel Distributors

4
LOGIC AFS
Logic AFS is a total integrated ERP Software solution that facilitates organizational process related to Production, Sales, Distribution, Retailing & repair oriented businesses. It is a complete system to take care of all information management needs across different business functions. Integrated architecture reduces information silos and facilitates accurate information recording and processing to cater unique/dynamic needs of business functions like manufacturing, retail, supply chain, etc. Consolidated architecture with great versatile features makes Logic AFS much appreciated multi-vertical, multi-company business solution. The online-hosted cloud-based application helps to save on implementation costs, service costs and triggers custom information flow as required by…
Overview
• Innovative Loyalty Points Administration
• Centralized Merchandise Replenishment Plan & Execution
•  Simplified program performance analysis
• Real-time Inventory visibility across POS and Channel partners
• Order processing, order handling, order generation
• Complete retail customer database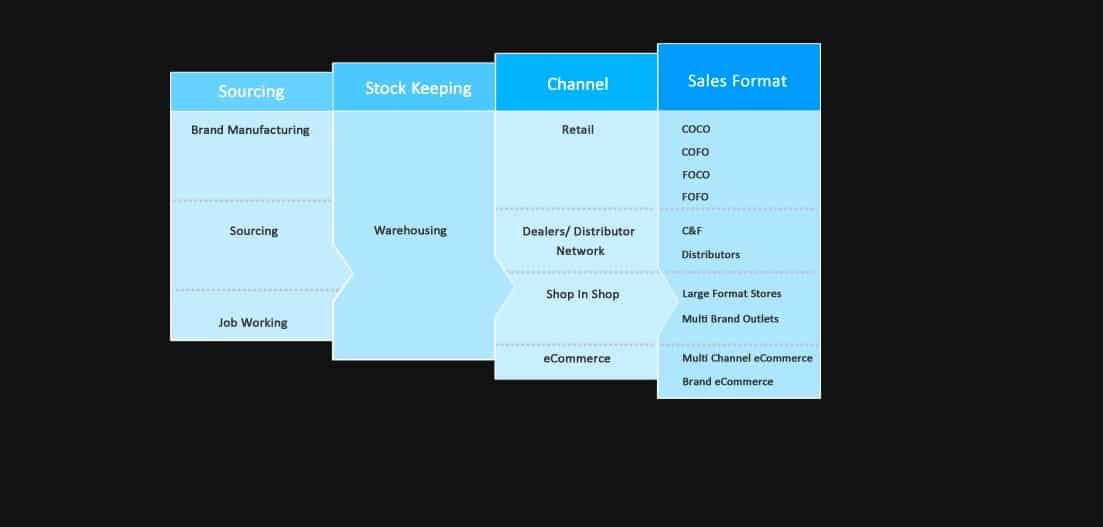 5
Cantel Apparel ERP
To stay ahead, the Apparel and Footwear Industries must respond with technology, innovative systems, and information. Cantel Apparel ERP addresses these challenges with state-of-the-art systems solutions. With the Cantel Apparel Management Solution, users will achieve a new level of integration. All aspects and modules of Cantel 10i are integrated with each other eliminating errors and duplication of effort. This new functionality is designed with the user in mind with features such as task scheduling and assignment, Cantel SmartMail alerts, user accountability and follow-up, and contact management. Cantel Apparel ERP extends the user base to the broader community of sales reps,…
Overview
• Trim and label kits for private label and collections
• The KPI dashboard cues and prepares the reports and graphs for viewing by management
• Warehouse worksheet in PDF or on screen
• Alerts, messages sent directly to rep's dashboard for immediate follow-up
• Catalog browsing for order taking and stock status
• Customer Order Query Check status of other orders and shipments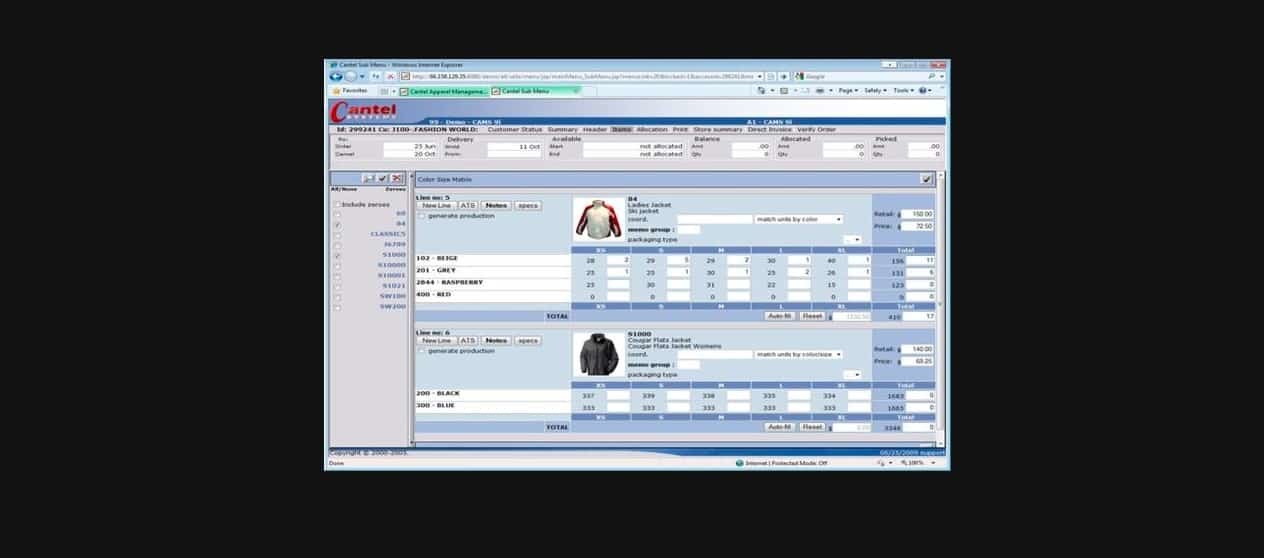 6
WFX
WFX solutions are used to design, develop, and deliver more than $9 billion worth of products for the world's leading fashion manufacturers, brands and retailers. WFX is the first company in the world to offer a true cloud-based solution for the fashion and apparel business. WFX offers a cutting-edge fashion industry software operating on Microsoft  Dot Net Technology. This allows offices, users and trading partners to access information in real-time, anytime from anywhere, through a web browser using PCs, Macs, and iPads. WFX is the perfect apparel management software solution for any size apparel industry business. It provides an affordable,…
Overview
• All Style Info - Create design, specs, grading, labels, construction and packing info
• Easy-to-read layout and navigation
• Design Collaboration - Shorten development cycles by collaborating with global product management teams
• Capture Measurements: Quickly record actual measurements and instantly highlight points of failure
• Google maps integration to track inspection locations with the ability to tag inspection start and logs start and stop times
• Fabric & Trim Library - Upload and manage all fabrics, trims and apparel data into a searchable library for quick reference