Top 9 Engineer to Order (ETO) ERP Software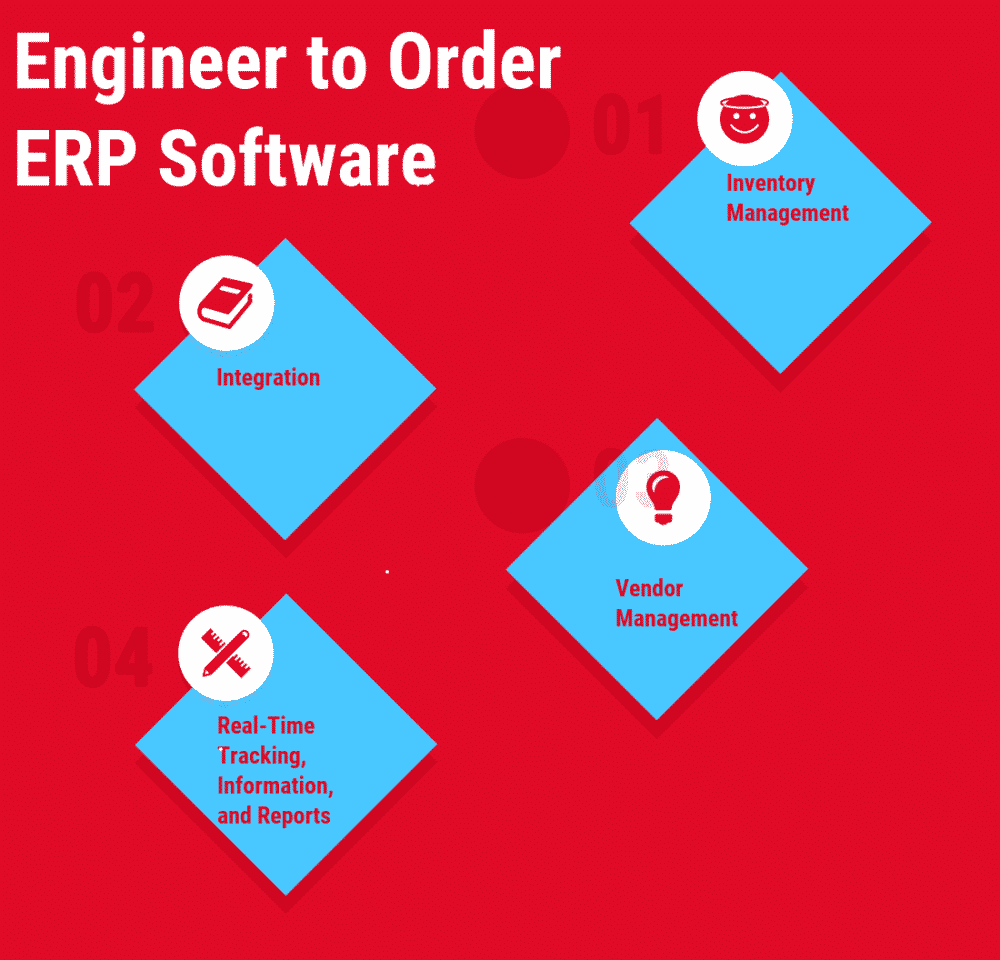 All enterprise resource planning (ERP) implementations face a number of challenges related to project management, business, and change management processes within an organization.
However, businesses that operate in an Engineer to Order (ETO) manufacturing environment face additional challenges that are unique to the industry. ETO companies produce highly engineered unique products, so standard manufacturing ERP systems are unlikely to meet their needs.
Some of the problems experienced by ETO manufacturers are related to product configuration, material resource planning (MRP), project management, serialization, warranties, returns, engineering changes, commitment dates, unique orders, complex products, customer involvement, and long lead times for raw materials.
With these challenges in mind, ETO manufacturers need to use software products that can handle their specific ERP system requirements. In addition to meeting these requirements, the right ERP software for ETO companies can track and cost all project activities including labor, expenses, and materials.
Examples of Engineer to Order (ETO) ERP Software: Total ETO, Deltek Costpoint, SYSPRO, Jobscope, Infor M3, Aptean Encompix ERP, Infor LN, Cincom CONTROL, Finesse ERP are some of the best examples of Engineer to Order (ETO) ERP Software.
What are Engineer to Order ERP Software?
Engineer to Order ERP software is  designed to address the challenges faced by companies in the ETO manufacturing environment. Most ETO companies have unique manufacturing processes, resources, and products depending on the needs of their customers. For this reason, they use ETO ERP software because standard ERP systems cannot meet their manufacturing needs. ETO ERP systems are designed to support the unique engineering design needs of customers who order products from ETO manufacturers.
ETO companies need ETO ERP software to support manufacturing activities such as scheduling, vendor management, inventory management, financial management, estimation, CRM, and production control. Moreover, ETO companies use ETO ERP systems to support their unique processes with regard to resource planning, product design, communication, cost allocation, materials planning, and customer interactions. With the right ETO ERP software in place, engineer to order companies gain real-time insights into their daily manufacturing operations.
Integration: ETO ERP software allows manufacturers to integrate the areas of materials planning, cost control, engineering, labor collection, estimates, production controls, CRM, financials, material planning, and order entry. ETO companies can integrate their bill of materials (BOM) with 2D and 3D computer-aided design (CAD) applications. ETO ERP systems also integrate with various financial applications.
Inventory Management: This feature allows ETO companies to monitor and manage inventory levels. It helps manufacturers allocate stock and track inventory levels, orders, deliveries, and sales. Moreover, ETO manufacturers use it to create production-related documents such as work orders and BOM. Manufacturers can also track change orders and expedite orders.
Vendor Management: ETO ERP systems include a feature that enables manufacturers to manage all records and documents related to individual vendors and suppliers. This feature makes it possible to manage contracts, assess risks, manage resources, and comply with auditors and regulators. The system alerts users if something needs attention.
Real-Time Tracking, Information, and Reports: Engineer to order ERP software allows companies to access current technical and financial data in the form of reports. Manufacturers can also track project data, job data, costs, and labor in real time.
You may like to read: Top Cloud ERP Software, Free and Open Source ERP Software, Top ERP Software for SMB, and ERP Software for Large Business.
Some of the benefits include:
Accurate real-time tracking of manufacturing processes
Reduced job costs
Improved and on-time product deliveries
Effective inventory management ensures availability and avoids duplication
Better project management and business decisions due to real-time information and reports
Better product designs
Accelerated production schedules
Realistic future estimates
Improved profitability
Fewer errors
Shorter lead times
Top Engineer to Order (ETO) ERP Software
Total ETO, Deltek Costpoint, SYSPRO, Jobscope, Infor M3, Aptean Encompix ERP, Infor LN, Cincom CONTROL, Finesse ERP are some of the Top ERP Software Engineer to Order.
Top ERP Software Engineer to Order
PAT Index™
1
Total ETO
Formerly known as Questica ETO, Total ETO is a highly specialized ERP solution designed exclusively for Engineer to Order ETO manufacturers, covering the entire business process of small to mid-sized custom design Manufacturers from sales to shipping. Total ETO's CRM capabilities allows all departments to view and add to client activities, conversations, personal notes and documents. Total ETO provides users with the key information and tools to create quotations with greater accuracy. Spares and Parts orders can be created without involving engineers as users can lookup pertinent data and historical jobs with ease. Total ETO's 2-way CAD add-ins seamlessly synchronize…
Overview
• Prospecting orders and projecting profits.
• Detailed estimates from past jobs, or load pre-designed estimate templates.
• Quotation and Negotiation
• Dynamic Nested BOMs
• Purchase Orders and revisions as change orders occur.
• Product Launch
• Engineering and Design
• Committed Job Costing in addition to Actual Costing
• CAD integration with SolidWorks, Inventor and others
• Accounting integration with QuickBooks, Sage and others
• Very affordable, subscriptions start at $85/user/month including all modules, implementation, training, support and product upgrades!
• $85/month per end user, including all modules, implementation, training, support and product upgrades

2
Deltek Costpoint
Deltek Costpoint is a suite of Enterprise Resource Planning (ERP) solutions designed for businesses and government contractors. Costpoint is available as both web-based and on premise application. The solution helps to streamline processes like project billing, revenue management, expense tracking and compliance management, enabling businesses to monitor all operations through a single screen. Costpoint Analytics module lets you visualize data with engaging, state-of-the-art graphics. It offers role-based analytical dashboards that are invaluable to today's government contractor; Revenue, Profit, Labor Utilization, Projects at Risk, and Days' Sales Outstanding. This helps contractors solve crucial business questions and make smarter, informed decisions. Costpoint's…
Overview
• Payroll management
• Cloud platform
• Budgeting & Planning
• Enterprise insights
• Enterprise Reporting
• Human Resource management
• Contract management
• Labor management
• Time & Expense management
• Analytics
• Advanced manufacturing
• Subcontractor management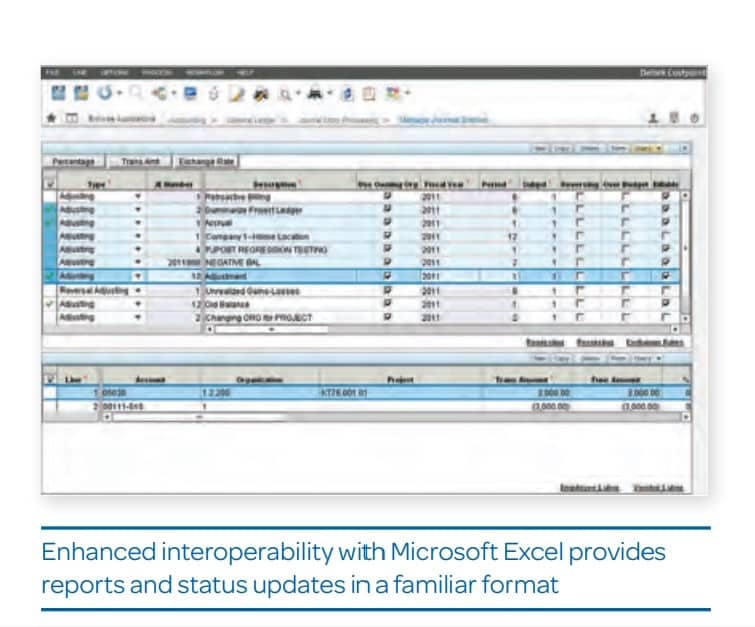 3
SYSPRO
SYSPRO is an enterprise resource planning (ERP) software which helps companies in automating and integrating core business processes to support the control, integration and synchronization of all aspects of the manufacturing process and accommodates both short and long production runs in several manufacturing environments. SYSPRO offers features such as ERP integration, order management, scheduled reporting, work order management, automated scheduling, accounting management, project accounting, electronic payments, general ledger, inventory control, automated billing, forecasting, inventory optimization, invoice processing, quote management, activity dashboard, document planning, user access controls, supply chain planning, fraud detection, multi-currency, auditing, API, invoices and order Processing. SYSPRO helps…
Overview
• Trust and Innovation Combined
• The Power of One
• Connect to the World
• Flexibility
• Customized Fit
• Security
• Fast Return on Investment
• Industry-Built
• Role-Specific
• Adaptable
• Deployment Choice

4
Jobscope
Jobscope is a platform in which many businesses intend to have reduced job cost and inventories together with lowered labor and material costs. This platform has quite a variety of features, there is the manufacturing software for Engineer to Order, Make to Order, Job Shop, Government Contractor, Sign & Crane, & Maintenance Repair and Overhaul provides an integrated ERP manufacturing software solution that allows your manufacturing company to collaborate internally and externally more effectively. When your workforce has more timely and accurate information, it pushes your business forward and increases your customer's and employee's satisfaction. That translates into a more…
Overview
• Jobscope Manufacturing Software for Engineer to Order
• Jobscope's Engineer to Order ETO ERP software solution
• Jobscope develops, installs, and supports comprehensive project ERP software
• help government contractors meet AS9100, ISO9000, and DCAA compliance requirements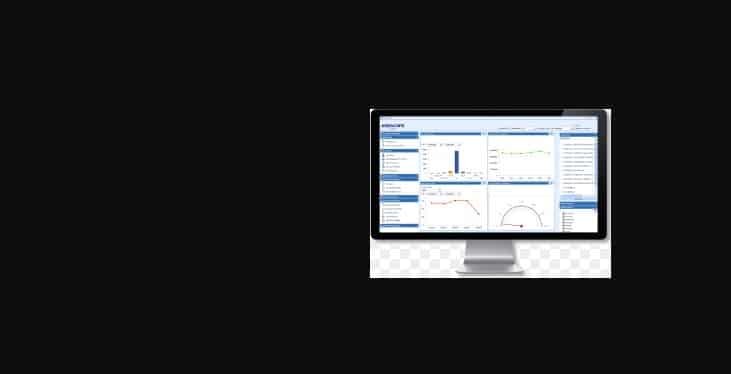 5
Infor M3
Infor M3 uses the latest technologies to provide an industry-leading user experience, powerful analytics and provides good practice industry-specific process support and functionality. Flexible deployment options and implementation accelerators offer a low total cost of ownership and a short time to value. M3 is available on-premise or in the cloud and is the hub for a number of Infor's industry CloudSuites. Infor® M3 and Infor M3 Cloud offer multi-functional capabilities—combined with highly productive new technologies to support mobility and team collaboration—developed over years of working with some of the best companies in the world. Designed for medium to large national…
Overview
• Infor Implementation Accelerators—a set of preconfigured, industry-specific processes and content to speed up implementation
• M3's prepackaged industry analytics provide fast, easy-to-use business intelligence that yield comprehensive, detailed, and contextualized information
• Personalized homepages that centralize processes and information by role
• Product Data & Attribute Management
• Risk & Cash Flow Management
• Product & Equipment Costing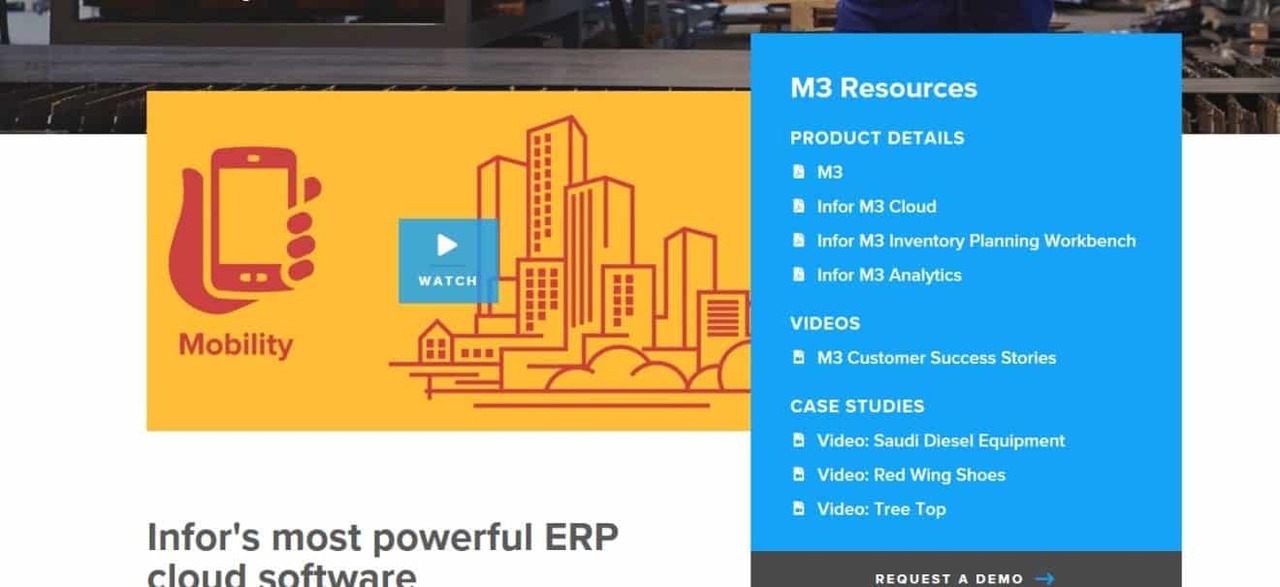 6
Aptean Encompix ERP
Aptean Encompix ERP is a complete enterprise resource planning solution designed specifically for engineer-to-order (ETO) and project-based manufacturers. With support for actual project costing, milestone billing, revenue recognition, contribution reporting, bill-of-material (BOM) management, and more, Encompix delivers dramatic business improvements to manufacturers that design and build complex, highly engineered products. Encompix ERP helps you develop accurate cost estimates for customer quotes, manage all aspects of complex projects, and deliver on time and on the budget—all while keeping a close eye on cash flow. Many ETO manufacturers generate significant revenue from spare parts sales, where margins are typically higher. Encompix provides…
Overview
• Advanced Reporting – Easily generate robust financial and operational reports to display key metrics in spreadsheets or dynamic visual dashboards
• Shop Floor Data Collection (SFDC) – Automate the entry of data for material transactions, inventory
transactions, and labor entry
• Bill-of-Material Management – Easily manage BOMs with thousands of parts and multiple levels of
subassemblies
• Advanced Planning & Scheduling is a user-friendly and robust tool that helps manufacturers schedule and sequence activities
• Warranty & Service Tracking
• Contribution Reporting – Leverage user-defined contribution codes to analyze the costs associated with
a particular item across all points in a project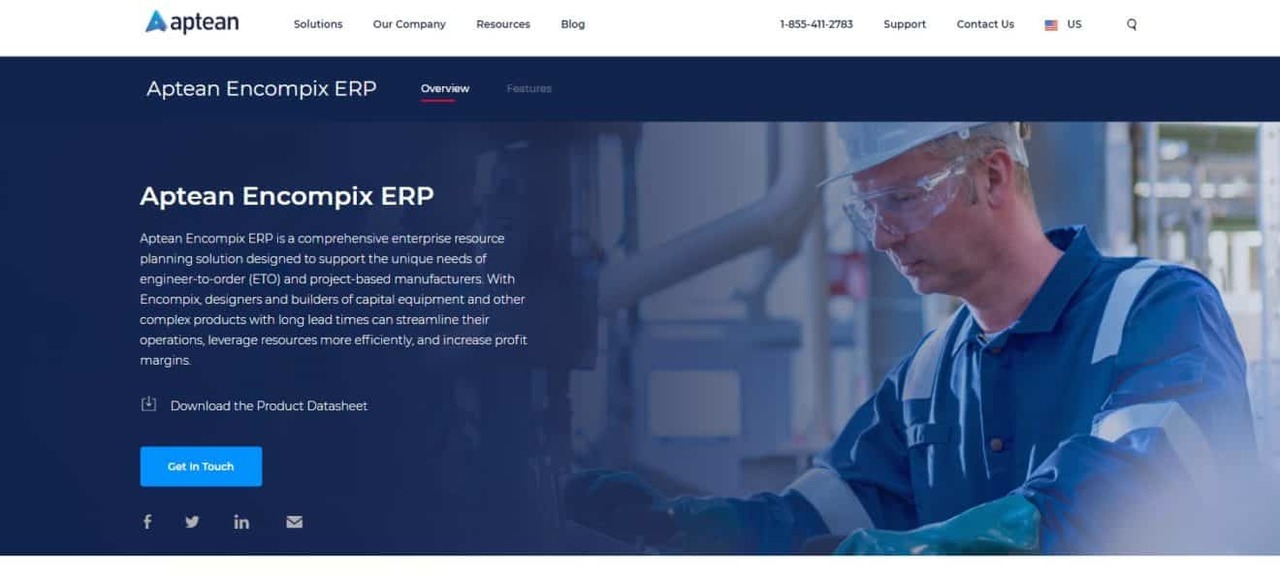 7
Infor LN
Infor LN gives users ERP capabilities that combine a pioneering, state-of-the-art user experience design with robust industry-tailored manufacturing functionality. Available on an open source technology stack, Infor LN now provides even greater flexibility to enhance manufacturing processes. It also includes new capabilities to ease implementation, along with innovative features for repetitive manufacturing and improved resource management. Infor LN gives rich specialized industry capabilities, developed over many years of working with the best manufacturing companies in the world, and combines those with highly productive new technologies, including support for mobile devices, team collaboration, and social networking. Infor LN supports all critical…
Overview
• Industry-specific KPIs, dashboards, and reports with drill-down
• Quality Management: Improve control and gain predictability
• Project lifecycle management: Manage everything from single contracts to complex multi-year projects
• Extensive out-of-the-box analytics, including a powerful and intuitive project manager workbench, enable continuous tracking of key performance indicators
• Automatic creation of manufacturing bills of materials and routings eliminate the need for super bills of materials
• Integrated rules-based configurator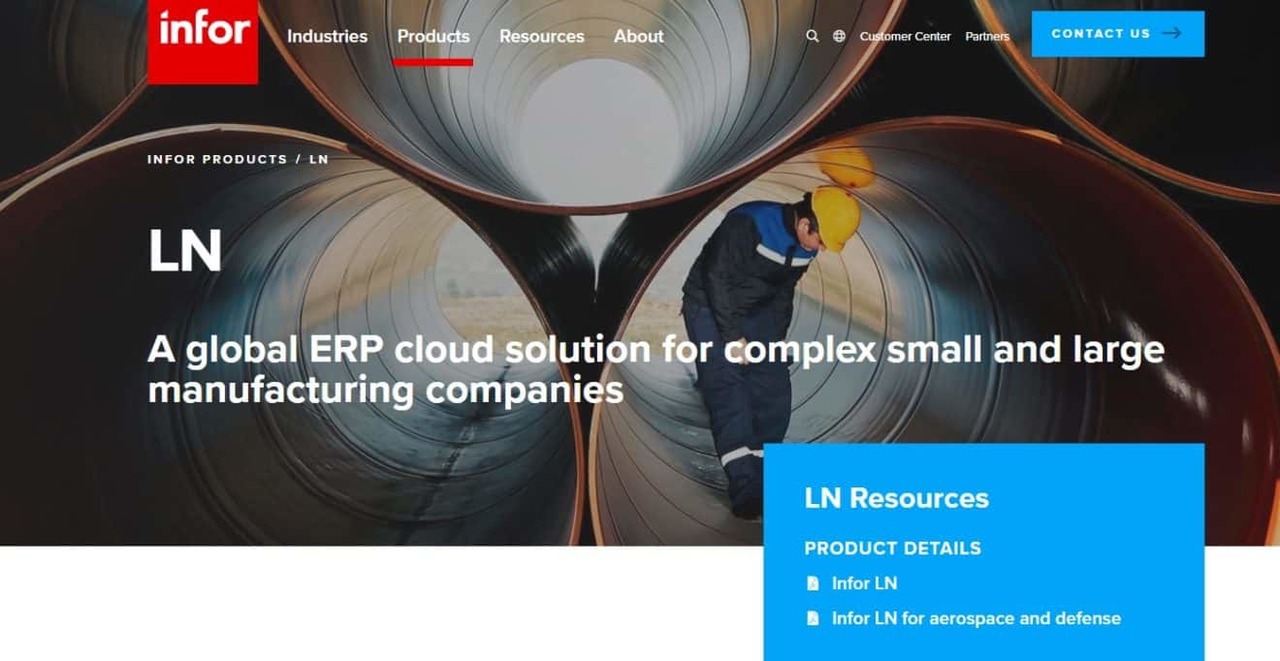 8
Cincom CONTROL
Cincom CONTROL offers advanced manufacturers high efficiency, precision production controls and innovative capabilities like lean, demand flow and supply chain management within a stable, high-performance platform. CONTROL displays key performance indicators, leading measurements, flow tasks and alerts all on a single screen. Refreshed every ten minutes, users see the most accurate information continuously updated at the speed of business. Compressing reaction time between roles allows mid-course adjustments to be executed in time to affect the outcome or performance of an operation. Cincom CONTROL delivers fast, new-user productivity through a minimized learning curve. No need to learn all aspects of all…
Overview
• Customizable business activity monitors
• Activity-driven material requirements planning (MRP Now)
• Real Time Information Monitoring: Keep track of important information as it occurs
• KPIs, flow tasks, leading measurements, and critical alerts can all be viewed from a unified screen
• Innovative capabilities like lean, demand flow and supply chain management
• Role-based architecture and collaborative workflow streamline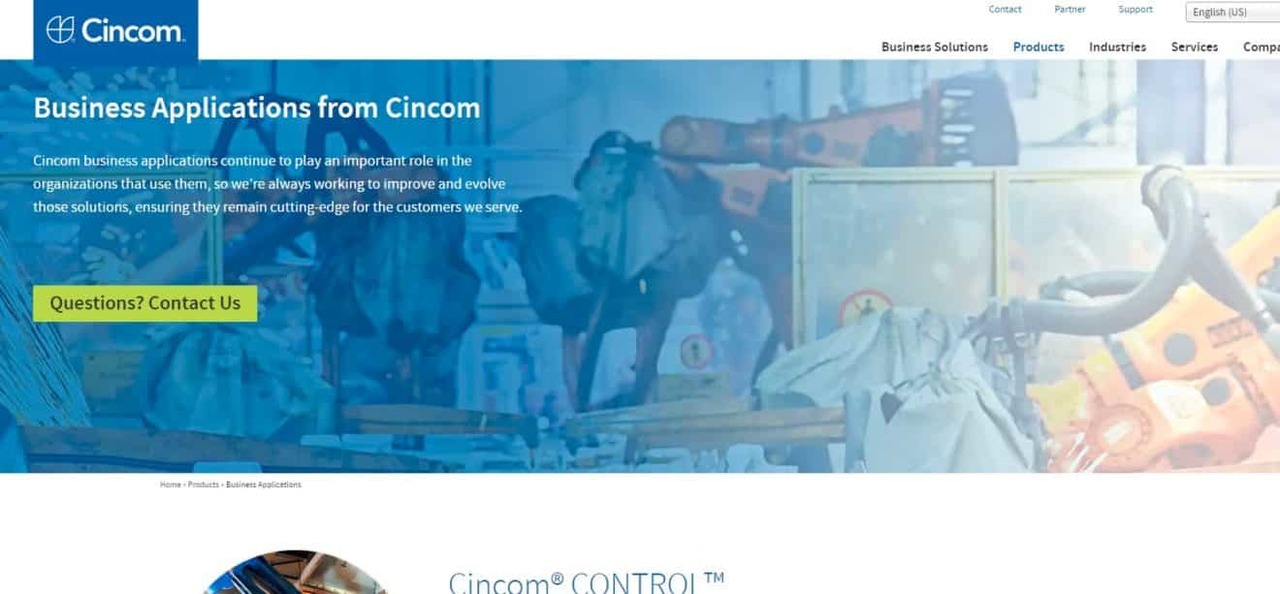 9
Finesse ERP
The Finesse ERP system is a sophisticated suite of accounting, engineering, project management, manufacturing and supply chain modules, each offering individual strengths and functional depth. Developed from day one in a 4GL programming language and relational database, these business tools perform on client/server and web-based configurations including Windows NT/2000. The Work Breakdown Structure (WBS) enables one to define each phase and task of the project in order to plan all the resources necessary: material, capacity, and labor. Powerful analysis screens and reports are interactive and detail the exact status of all project activities across the enterprise. Clients achieve quick and…
Overview
• System Consulting helps maintain and enhance system efficiency and effectiveness as well as staff productivity
• Business rules and alerts help users manage their business proactively
• Familiar, easy-to-use Graphical User Interface (GUI) interface with intuitive windows
• Work Breakdown Structure - Users can clearly define each project phase, task, and sub-task
• The Product Data Management system pulls engineering, research and development into a single integrated database
• Quotation capabilities including status and vendor responses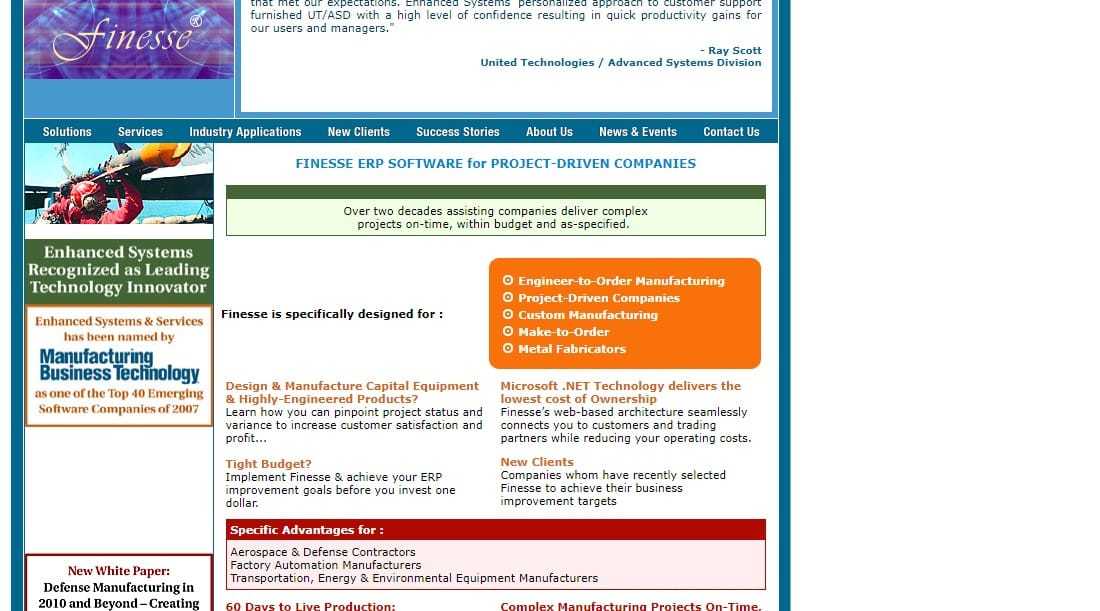 You may like to read: How to Select the Best ERP Software for Your Small Medium Business