Top 16 ERP Integration Tools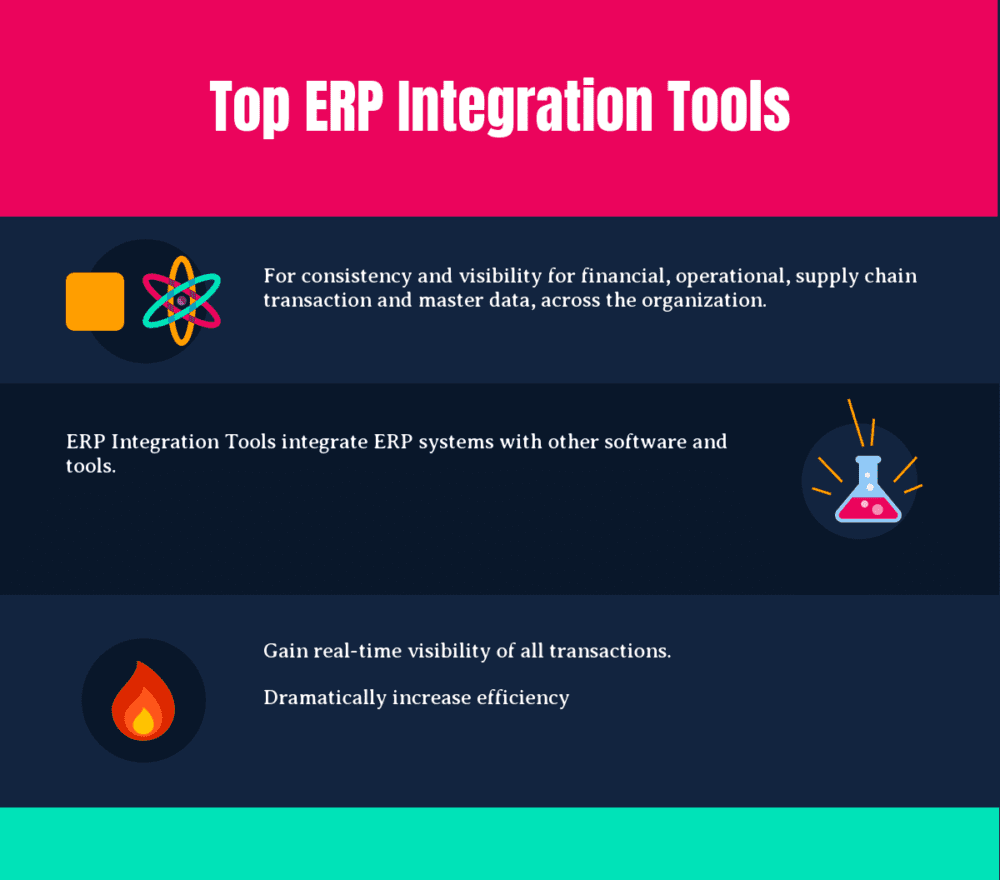 Many organizations run multiple ERP systems or multiple instances of a single ERP system. Information and business processes often remain siloed in these landscapes and ERP Integration Tools integrate these systems for consistency and visibility for financial, operational, supply chain transaction and master data, across the organization.
Examples of ERP Integration Tools: Syft Analytics, Winshuttle, Commercient SYNC, Panaya, Syslink Xandria, Taggun, Pronto Xi, Every Angle, NavXtender, IntelliCorp, Skyforge, Web GST, OmniReports, Dynamic Ship, Empire Suite, Cybus Connectware, Paper-Less are some of the best examples of ERP Integration Tools.
You may like to read: Top Cloud ERP Software, Free and Open Source ERP Software, Top ERP Software for SMB, and ERP Software for Large Business.
Top ERP Integration Tools
Syft Analytics, Winshuttle, Commercient SYNC, Panaya, Syslink Xandria, Taggun, Pronto Xi, Every Angle, NavXtender, IntelliCorp, Skyforge, Web GST, OmniReports, Dynamic Ship, Empire Suite, Cybus Connectware, Paper-Less are some of the Top ERP Integration Tools.
Top ERP Integration Tools
PAT Index™
1
Syft Analytics
Syft Analytics is a free, on-demand analytics add-on that tracks business performance and enhances decision making where users can link their Sage One or Xero account. Syft Analytics features instant management accounts, key accounting ratios, customer exposure reports, customer growth and activity reports, sales trends and concentration risk reports and cash and bank balance reports. Syft Analytics links directly into user's existing cloud accounting software. This provides real-time graphs and analysis on user's accounting information and automatically updates when any of their accounting data changes. Syft is optimized for any device and enables users to view their financial information anywhere.…
Overview
• Instant Integrations
• Anywhere Analytics
• Customer Metrics
• Inventory Trends
• Cash Flow
• Variance Reports
• Stakeholder Reporting
• Visualize variance analysis
2
Winshuttle
Winshuttle is a data management solution. It empowers business users to quickly move data in and out of SAP using standard business applications. It allows you to improve your productivity, reduce repetitive manual labor and also harness the power of your data so as to fuel your business. With Winshuttle you have the ability to replicate and deploy powerful applications, reduce the need for multiple manual processes, and create better transparency throughout your organization. Winshuttle helps you to trust your data again, by adhering to each company's SAP and security requirements, its solutions provide the accountability your team needs to…
Overview
• Data movement where SAP data using Excel is seamlessly moved and maintained.
• Workflow applications where your data-centric business processes are automated using web forms and Excel.
• Data governance where your data management is streamlined to improve data quality and governance.
3
Commercient SYNC
Commercient's SYNC application makes it possible to see users' ERP data in their CRM. Commercient SYNC features add-ons such as custom objects, tables and fields, notes, attachments, sales territory set up, customized reports, sales security, grant exclusive account access to designated team members, automatically set up parent accounts, industry specifics (SIC Codes ,safety codes, shipping codes, medical licensing numbers), Commercient's SYNC features include invoices, line items, quotes, purchase orders, billing of material (BOM), billing, general ledger, contacts, items (products), inventory availability (by location/warehouse), price books, CPQ, docusign, accept credit cards within CRM, native email attachments with documents, projects, jobs, recurring…
Overview
• Sales order detail lines
• Sales order history
• Customer Account
• Parent Accounts
• Contact information attached to account
• Account owner
• Account history
• Notes and attachments
• Sales order number
• 11-25 CRM Users- $17.00 Per CRM User Per Month
• 26-50 CRM Users - $16.00 Per CRM User Per Month
• 51-75 CRM Users - $14.00 Per CRM User Per Month
• 76 + CRM Users - $10.00 Per CRM User Per Month
4
Panaya
Panaya is the leader in continuous delivery of innovation to the world of enterprise IT applications. With Panaya, IT and Business leaders can accelerate and promote change so that enterprise applications meet the rising pace of today's business. Panaya provides a cloud based Enterprise Agile Delivery platform that includes test management, test automation and application lifecycle management solutions. Panaya enables faster release velocity while ensuring quality and also ensuring visibility and collaboration between Business and IT. Panaya provides a unique processcentric approach to application life cycle management with Panaya Release Dynamix (RDx), a cloud-based enterprise agile delivery platform. From initial…
Overview
• End-to-End Testing
• Application Lifecycle Management
• Impact Analysis & Risk Mitigation
5
Syslink Xandria
Syslink Xandria is a SAP monitoring and management solution that provides organizations with 24/7 real-time monitoring and daily automated checks for all SAP environments. It comes preconfigured with monitoring best practice built in and can be installed and fully operational in a day. With Xandria you will get preventive monitoring techniques like trend analysis and forecasting which will help your staff to detect potential problems early in advance therefore allowing them to react in time. Syslink Xandria has a feature-rich toolbox that allows your users to build checks that are custom required. You will also get monitoring results that are…
Overview
• Real-time Monitoring where you are provided with a comprehensive overview of your current systems health state including using trend analysis and forecasting so as to be able to detect important trends instead of single events.
• Configuration management where SAP instance and database profiles/parameters are collected and stored automatically with your central management server.
• User management where your users get access to a fine-grained role based access control scheme, hiding UI elements that your user may not have permissions for.
• Inventory data management where your data is automatically collected and stored with your management server and displayed in the SLR.
6
Taggun
Taggun is one of best receipt recognition software in the market. It provides a set of super accurate and easy-to-integrate API to perform receipt OCR scan which turns any paper receipts to machine-actionable data. It makes receipt OCR scanning very easy. Taggun offers you receipt OCR API with real-time processing. With Taggun, you get an 82.26% accuracy in just 5 seconds. Other than English, other languages like French, Japanese, Hebrew and more are also supported. Taggun has a razor-sharp engine that can extract information for you in any format. For example, if you have a sales receipt over the counter,…
Overview
• Receipt scan, data extraction, OCR API
• Sales receipts, invoices, quotes, POs and bank deposit receipt.
• No buzzwords. Receipt OCR API that just works.
• Developer friendly OCR APIs for mobile apps.
• Receipt OCR: Expense management & accounting software.
• Receipt validation: Loyalty programs, discount and rebates apps.
• Receipt processing OCR API: Money transfer services.
7
Pronto Xi
Pronto Xi comprises a technology stack consisting of dozens of modern-languages including Angular JS, XML, JQuery, Java, Google Closure, MVC Framework (Mithril), RESTful web-services and HTML5 (CSS). Pronto Xi has a Point of Sale which is a powerful, secure and flexible system that allows users' staff to concentrate on customers' needs rather than the mechanics of transaction processing. It combines real-time integration with ease of use to deliver an optimum work environment for all personnel, from point-of-sale (POS) operators to senior management. Pronto Xi has a CRM (Customer Relationship Management) which helps users successfully adopt a customer- focused approach within…
Overview
• Technology management module
• Intelligence management module
• Financials management module
• Distribution management module
• Sales & Marketing module
• Supply Chain management module
• Manufacturing management module
• Facility Management module
8
Every Angle
Every angle is an online operation management system that enable the simple, flexible and fast production of valuable business content from SAP database and to enhance it using intelligent algorithms. Every angle transforms SAP data into actionable insight. It empowers the business with governed data discovery and self-service analytics. Every angle features include cross-process analytics , real business self service, SAP configuration ,plug and play SAP certified. Every angle's cross – process analytics understands, analysis and highlights bottlenecks, issues and connections across the value chain. Real business self – service analyze, interrogate and answer ad – hoc critical business questions…
Overview
• Cross- process analytics
• Real business self- service
• Understands SAP configuration
• Plug and play
• SAP certified
9
NavXtender
NavXtender is a product from insight. It is a free utility that enables users attach documents to any Microsoft dynamics NAV record simply by dragging and dropping. You do not have to maintain an independent file storage system or pass around documents using email. With documents on NAV you access them when you need them. You can associate customer POs to orders, invoices to POs, quality documents to receipts or any other file to any card in NAV. Navxtender can be easily set it up without involving IT specialists because you need not make changes to the pages in your…
Overview
• Easy to use
• Drag-and-drop files
• Creates "Record Links" in NAV
• Configuration requires NAV object import
• Cost per user
10
IntelliCorp
IntelliCorp is a company that provides software and services which enable your business to be able to integrate enterprise customer relationship management (CRM) software made by SAP with back-office functions such as logistics, accounting, and order processing. IntelliCorp gives you access to its products including applications for business process management (LiveModel), efficiency monitoring (LiveCompare), and data management (DataWorks). LiveCompare which is one of the products of IntelliCorp, is the catalyst for change that enables fast, low-cost and safe upgrades for customer releases, support packs, enhancement packs and SAP HANA transformations. It delivers real-time insights, which help SAP business and IT…
Overview
• Fast, low-cost and safe SAP HANA transformations.
• Devops solutions for SAP applications that allow you to accelerate the pace of change and support business innovation faster.
• Governance solutions that provide a 360-degree view of your SAP systems.
11
Skyforge
Skyforge is a software solution for external customers adopting additive manufacturing who wish to leverage Jabil's manufacturing expertise. Skyforge features modules such as engineering module (PLM lite) with design versioning, design sharing and track print results for each design version; catalog module (E-commerce lite) with repository of qualified designs, pricing, and mfg. instructions and catalog for common parts; sales operations module (ERP lite) with order management and notification system; and production module (MES lite) with 3D printer management and UM3 real time control. Skyforge additive manufacturing, or 3D printing, is the technology that builds parts directly from digital instructions. With…
Overview
• Simplify additive manufacturing workflow
• Log every step in the additive manufacturing process
• Connect additive manufacturing to software platforms
12
Web GST
Web GST is a platform that offers a complete solution for GST compliances that equip the user with impact analysis, accounting and also ensures appropriate measures are taken. Different organizations use different Accounting systems like Tally, Busy, Marg, SAP, JdEdward, Xapta, Baan, Microsoft Navision, Oracle, RAMCO or any other ERPs. Primarily above changes in any of the accounting systems will be made by the provider of these software's. Webtel has middleware/connections to pull data in defined structure from any of these software's. In case of few software's like Tally and Busy we have already done end to end integration and…
Overview
• Integrated with Accounting Software(s)
• Auto Import of Import/Outward Supplies and Expenses from Accounting Software(s)
• Dynamic GST Computation
• Generation and Upload of GSTR 1,2,3,4,5,6,7,8,9 and 9A
• Download GSTR 1A/2A from GSTN
• Creation of ISD Master and Distribution of Input Tax Credit
• Print Computation and Return Forms
• Status of Uploaded Invoices
13
OmniReports
OmniReports is an Enterprise Report Management (ERM) platform that helps maintain years of data online and eliminates the cumbersome process involved in data retrieval from storage media. It relieves the core applications from resource hungry activities of Reports Management, allowing focus on core functions and responding to requests. OmniReports supports multiple methods of report distribution via web, through a CD with a viewer to offline branches, by printing searched reports and through fax/ mail. OmniReports integrates with various back-end systems such as billing applications, ERP, CRM, etc. and captures the report output into a single Enterprise Report Warehouse. OmniReports empowers…
Overview
• Report Acquisition, Archival & Access
• Electronic Bill Presentment
• Print Management
• Report Visualization & Workflow
• Duplicate Bill Printing
• Application Extension at Low Investment
14
Dynamic Ship
Dynamic ship is a platform that helps you streamline tedious and error-prone shipping tasks by seamlessly integrating dynamic ship into your Dynamics NAV ERP system. This tool integrates with all your favorite carriers. By this, it lowers shipping costs. Real-time rates ensure proper carrier service selection and accurate customer billing. Dynamic Ship offers integration with all major domestic and international carriers including UPS, DHL, FedEx, USPS, Canada Post, Purolator and over 100 more. It is also accurate, credible and reliable. Dynamic Ship provides carrier service information and rates based on package weight, dimensions, and destination through direct connectivity to the…
Overview
• Savings in the warehouse from streamlined processes that provide information in real-time
• Detailed package management
• Enhanced accuracy in shipping fees based on based on actual package dimensions
• Carrier integration with over 100 carriers including UPS and FedEx
• Fully integrated with Insight Works Warehouse Insight
• Functionality at a price point SMBs can afford
15
Empire Suite
Empire Suite is a powerful software suite that provides business solutions. The Empire Suite software package consists of features that are required to take a project from inception to completion. The main features include PTO, project management, time and expenses, resource scheduling, and financial management. Empire Suite presents the PTO feature that facilitates managing of user's employees' personal time off efficiently and more effectively. PTO consists of TIME OFF features that facilitate handling of any kind of vacation time, personal time, sick time, and time in lieu. The TIME OFF feature in the PTO product enables managers or administrators to…
Overview
• Project management
• Time and Expenses
• Resource scheduling
• Financial management
• Basic - $10/user/month
• Pro - $18/user/month
• Business - $21/user/month
• Entreprise – call for pricing
16
Cybus Connectware
Cybus Connectware is a locally installed and managed software that connects all possible data from machines, components and sensors with all possible users of this data. It takes care of data acquisition ("translating" protocols from different sensors and machines), data security and management (offering fine-grained data-point level access rights management) and easy data usage (with edge computing capabilities and a "factory API"). The users retain data sovereignty and can gradually connect all their machines, sensors and external service providers. Why Cybus? Firstly, we offer data management independent of devices and applications (avoidance of lock-ins from specific hardware or software applications…
Overview
•The Cybus Connectware is installed and managed locally.
•The Cybus Connectware can be used in various industries to provide integration and supervision of production lines, for collecting data from machines, equipments, IoT devices (e.g. sensors, wearables) and integrating them into the plant, existing local systems or external cloud applications.
•It allows factories to integrate machines into existing IT-landscapes up to 90% faster; cut critical reaction times and data transfer and storage costs; build customized systems; separate data management from applications as well as stay future-proof (for scalability, security and data governance).
•Service providers benefit from being able to focus fully on their application instead of nitty-gritty of customers' IT and to offer an independent and secure IoT Gateway for higher acceptance by their customers.
17
Paper-Less
Paper-Less is a technology leader and pioneer in Manufacturing Execution Systems (MES) software and services, providing solutions and real-time insight for better management of complex manufacturing environments. For over 20 years, Paper-Less has consistently helped discrete manufacturing companies gain a competitive edge in an ever-evolving global market. Paper-Less has solution features such as attendance / labor / production, material tracking, paperless shop packets, paperless scheduling & dispatch, product traceability, quality testing and electronic Kanban. Paper-Less also provides MV2 Production which operators will work on and report against the right job at the right time, errors are reduced or eliminated, ERP…
Overview
• Time & Attendance, Inventory, Kanban and Quality
• Scheduling tool is included with visual alerts to help supervisors
• Replaces manual time reporting systems
• Controls and management are critical to managing costs
• Accelerate and simplify the adoption of lean manufacturing processes
• Provides tremendous, real-time visibility into details about quality-related concerns
You may like to read: Top ERP Software and Why Small Businesses Need Enterprise Resource Planning Software