Top 6 Data Virtualization Software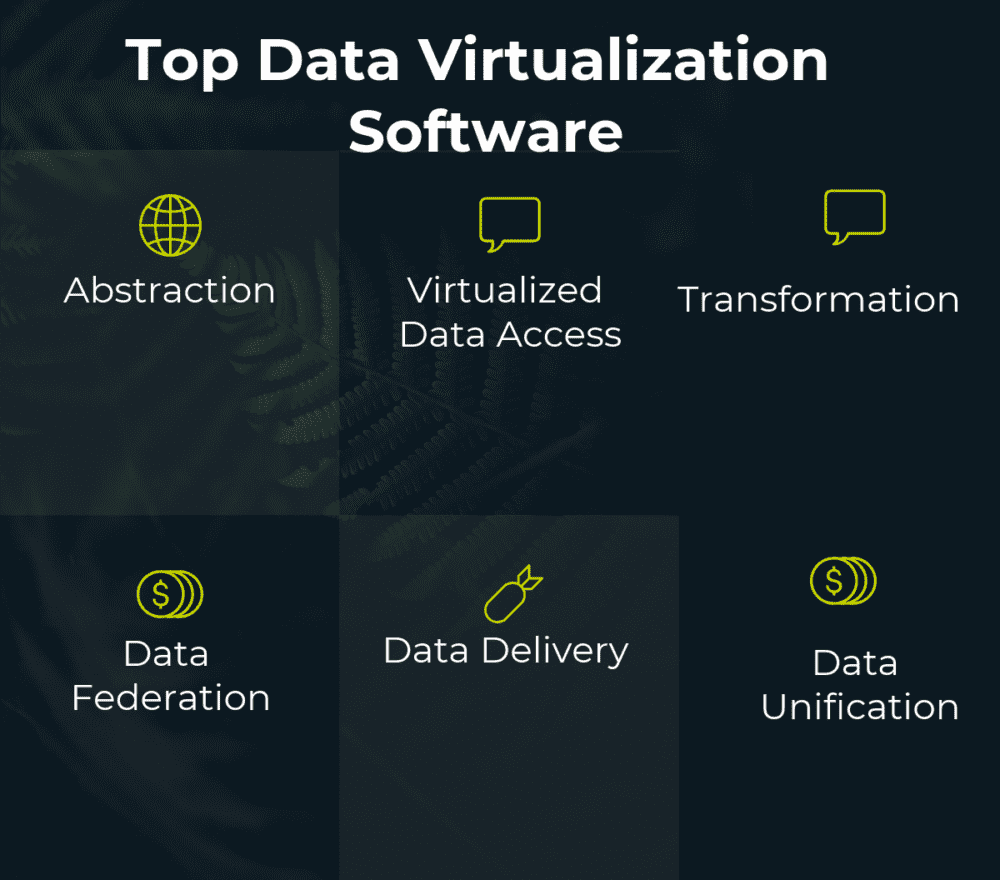 Most organizations run a number of data management systems such as SQL, Oracle, and other servers to help in the consolidation of data.
However, these systems rare work well with each other. Thus, the organization faces challenges in integration and storage of large data. To provide a solution to the queries and challenges posed by a huge amount of data, Data Virtualization software provides real-time and reliable information quickly, which in turn assist in impacting the major business decision.
Data Virtualization software main goal is to provide a single access to information by deriving it from a wide range of database.
What are the Top Data Virtualization Software: IVMware, Parallels Desktop, Denodo, Red Hat Cloud, Cisco Systems, Amazon Elastic Compute Cloud (EC2), Rocket Data Virtualization, Stone Bond, Informatica are some of the Top Data Virtualization Software.
What are Data Virtualization Software?
Data virtualization is any approach to data management that allows an application to retrieve and manipulate data without requiring technical details about the data and can provide a single customer view (or single view of any other entity) of the overall data.
Data virtualization is considered  to be an alternative to data warehousing and ETL. Unlike the ETL  process, the data remains in place, and real-time access is given to the source system for the data. This reduces the risk of data errors, of the workload moving data around and a single data model.
Data Virtualization is the process of abstracting, modifying, merging and delivering data from different sources without interfering or replicating the data. Data Virtualization allows the user to access data or applications without worrying about its exact location. The recent application of Data Virtualization is cloud computing technology.
Data Virtualization determines the optimal way to retrieve data from a specific location upon the submission of a query by the user. The system eliminates the user information such as the absolute path of obtaining the data, or the format. Data Virtualization can be viewed as a modern integration and can replace traditional data integration as it delivers real-time data with lower cost, more speed and agility.
Data Virtualization are considered to improve business intelligence by allowing a huge amount of data analyzation. Here are some of the Data Virtualization tools features they provide to a business:
Data Catalog: Data Virtualization provides an organized system that allows the user to search discover and consume data from different sources.
Data services layer: Data Virtualization can be used between original and derived data, applications or devices to provide flexibility and organize components that perform the same function.
Data lifecycle management features: Data Virtualization automates the processes involved in organizing the data into different tiers depending on age or size and automates the migration of data from one tier to another based on the criteria.
Data Unification: Data Virtualization system allow user obtain data from different sources regardless of location and structure and display it to the user in one unified form, thus simplifying the data for further processing and analysis.
Integrated Management: Data Virtualization has highly integrated graphics that allow the system to perform intuitive and approachable analytic capabilities.
Data Virtualization software offers the user ability to improve and grasp information hiding in their data. The primary advantages offered by Data Virtualization to any organization include:
Quick Access to Relevant Information: Visual data discovery provide a faster access to data that improves decision making in a business.
Provide High performance transaction processing systems. In addition to Business Intelligence reporting, Data Virtualization provides products have been integrated in transaction processing systems and in addition the power innovativeness search.
Easy Business analytics: Data Virtualization makes data available for business analytics. The system removes the need of moving data in to a single data base.
Reduced data governance complexity: Data Virtualization makes it to manage data availability, usability, integration and improves the security of data within an organization.
Top Data Virtualization Software
VMware, Parallels Desktop, Denodo, Red Hat Cloud, Cisco Systems, Amazon Elastic Compute Cloud (EC2), Rocket Data Virtualization, Stone Bond, Informatica are some of the Top Data Virtualization Software.
Top Data Virtualization Software
PAT Index™
1
VMware
VMware Cloud Management Platform delivers a complete solution for managing a heterogeneous, hybrid cloud. Cloud Management Platform supports companies addressing cloud management requirements related to day one and day two IT operations for compute, storage, network and application-level resources across a hybrid and heterogeneous IT environment. The platform provides the underlying management capabilities to address two key IT initiatives: Streamlined and automated data center operations Application and infrastructure delivery automation. vRealize cloud management platform delivers intelligent operations that address the need to manage everything from applications to the complete infrastructure stack (compute, storage and network) across a hybrid landscape. VMware…
Overview
Data Center & Cloud Infrastructure
Networking and security
vSphere with Operations Management
vRealize Suite for addressing intelligent operations, automated IT.
Virtualization management
vSphere Hypervisor having built-in management tool, advanced memory management
VMware vSphere Standard:
$1,268.00
VMware vSphere Enterprise:
$3,479.00
VMware vSphere Essentials Kit:
$560.00
VMware vSphere Essentials Plus Kit:
$5,439.00
2
Parallels Desktop
Parallels RAS is a cost-effective application delivery and VDI solution that allows the employees and customers to access and use applications, desktops, and data from any device. It's easy to deploy, configure, and maintain, Parallels RAS provides organizations of any size with a seamless application delivery and VDI experience—while reducing total cost of ownership (TCO) and improving security. Parallels solutions enable seamless delivery of virtual desktops and applications to any device, running Windows on a Mac, Mac management with Microsoft. Parallels RAS empowers thousands of organizations to embrace digital transformation by making remote applications and virtual desktop infrastructure (VDI) delivery…
Overview
• Monitoring and reporting
• Automation with REST API
• Auto-scaling
• Straightforward management
• Easy migration
• Security
• Flexible deployment
• Application and desktop application
• Not indicated on the website
What is best?
• Straightforward management
• Easy migration
• Security
What are the benefits?
• Transforms raw data into visual reports that can show traffic and resource usage from Microsoft RDSH and VDI.
• Enables instant access to a predefined set of management tools directly from the Parallels RAS Console
• Prevent unauthorized remote access to confidential network information through advanced access control.
3
Denodo
Denodo provides data virtualization, unmatched performance, unified access to the broadest range of enterprise, big data, cloud and unstructured sources, and the most agile data services provisioning and governance . Denodo Platform offers the broadest access to structured and unstructured data residing in enterprise, big data, and cloud sources, in both batch and real-time, exceeding the performance needs of data-intensive organizations for both analytical and operational use cases, delivered in a much shorter timeframe than traditional data integration tools. The Denodo Platform 6.0 speeds up the process of adopting a solution with brilliant data virtualization in the cloud. It also…
Overview
•An intuitive Web-based user interface, with Google-like search capabilities for both data and metadata
•Special support for, and connectivity to, the broadest array of big data sources
•Supports workload management with advanced monitoring and
•Diagnosis capabilities, suited for even very large deployments
What is best?
•Special support for, and connectivity to, the broadest array of big data sources
•Supports workload management with advanced monitoring and
•Diagnosis capabilities, suited for even very large deployments
What are the benefits?
• Automate our processes for web-based knowledge extraction
• Deliver superior services
• Implement data virtualization across your entire enterprise
4
Red Hat Cloud
Red Hat is an open hybrid cloud infrastructure which makes a comapany's IT organization do better in serving the business by delivering more agile and flexible solutions while protecting business assets and preparing for the future. To better provide services to their customers, Red Hat has different products that organizations can select from to see what fits their needs the most. Red Hat Cloud Infrastructure is a combination of tightly integrated Red Hat technologies that lets the business build and manage an open, private Infrastructure-as-a-Service (IaaS) cloud—at a much lower cost than alternative solutions. Users can deploy any combination of…
Overview
High performance
Integrated Life-Cycle Management
Heterogeneous Coverage
Choice and Interoperability
Flexible Cloud Management
5
Cisco Systems
Cisco Intercloud Fabric for Business is deployed on premises, and allows connectivity to a large ecosystem of cloud providers to support hybrid cloud deployments for enterprises.Cisco Intercloud Fabric is a highly secure, open, and flexible solution that gives you complete freedom in workload placement, based on business needs. It applies the same network security, quality of service (QoS), and access control policies in public clouds that you enforce in the data center. And as capacity is added, there is no demarcation between internal and external clouds. Cisco Systems builds highly secure hybrid clouds and extend company's existing data center to…
Overview
Intercloud Fabric Director
Intercloud Fabric Secure Extender
Data Center Management and Automation
Network Management for IT Organizations
Network Management for Small Businesses
6
Amazon Elastic Compute Cloud (EC2)
Amazon Elastic Compute Cloud (Amazon EC2) is a web service that provides resizable compute capacity in the cloud. It is designed to make web-scale cloud computing easier for developers. The software's interface allows users to obtain and configure capacity with minimal friction while providing them with complete control of their computing resources and lets them run on Amazon's proven computing environment.Amazon EC2 reduces the time required to obtain and boot new server instances to minutes, allowing customers to quickly scale capacity, both up and down, as their computing requirements change. The program changes the economics of computing by allowing a…
Overview
Easy to Start
Inexpensive
Secure
Reliable
Flexible Cloud Hosting Services
Elastic Web-Scale Computing
Completely Controlled
Can be purchased On-Demand (hourly).
Can be purchased as a Reservation for up to 70% off the On-Demand price.
Amazon Elastic Compute Cloud (EC2)
7
Rocket Data Virtualization
Rocket Data Virtualization (RDV) creates virtual, integrated views of data, and enables users to access mainframe data in place without having to move, replicate, or transform it. By bringing analytics closer to the data, RDV saves time and money. Rocket Data Virtualization solutions make it easy to (virtually) integrate data from multiple, disconnected sources into a new single, logical data source that can be accessed in real-time by your applications (BI, analytics, cloud, or mobile), without regard to location or format. Valuable information can be shared across the enterprise, giving users insight into evolving customer expectations, competitive threats, and emerging…
Overview
• Unified dashboards with comprehensive customer data for csrs and account
• Offload data prep from developers
• Machine generated data - Ability to capture mainframe machine generated data
• MapReduce significantly reduces the query elapsed time when accessing large mainframe non-relational databases
• Support for SQL queries
• Landing Zone Support: Ability to combine disparate data and make it available to landing zones supporting ETL, Hadoop, analytics, data quality
What is best?
• Machine generated data - Ability to capture mainframe machine generated data
• MapReduce significantly reduces the query elapsed time when accessing large mainframe non-relational databases
• Support for SQL queries
What are the benefits?
• Effective: Use less mainframe capacity while getting real-time data for applications
• Accelerate digital transformation: Unleash highest-value data assets to the API economy
• Reduce demands on mainframe staff and bridge skills gap
8
Stone Bond
Stone Bond is a one of a kind data virtualization platform that unifies information silos for visibility across multiple data sources all in real-time. This means user can analyze business data as it is occurring to maximize the use of assets, minimize costs, and improve / refine business processes. Stone Bond integration projects are completed in up to 90% less time than other data integration solutions and eliminate the need of costly data storage and warehouses. With its exceptional easy to use graphical interface and its Integration Integrity Manager (IIM), configure, modify, and manage corporate data flows and systems without…
Overview
• Multiple User Constituencies (Business Analysts, Developers, DBAs)
• One Click Generation and Hosting of Web Services (REST, SOAP, JSON, OData, ADO.Net, JDBC, ODBC, BCS, BDC)
• Bi-Directional Data Access
• Single Integrated Development Environment to configure, test, deploy, and monitor data virtualizations
• Full CRUD (create, read, update, write) with security and transaction assurance (rollback)
• Proprietary AppComm™ that communicates live directly and natively between the endpoints and the Transformation Engine
What are the benefits?
• Reduce Costs: Remove the costs associated with populating and maintaining Data Warehouse
• Significantly reduce the need for multiple copies of any data
• Improve Productivity in IT and by business data users
9
Informatica
Informatica provide solution that is optimized to collect both structured and unstructured stream and machine data directly into a high performance data warehousing appliances, including Hadoop as well as other analytic platforms. Accessing and integrating new data sources for maximum advantage to the company as well as allowing data streaming collection using LAN or WAN. Informatica also corrects, standardize and replicate information before they are loaded. Informatica allows users to redirect workloads for better performance as well. This program provides quality insights that are valuable for the business to ensure better data management as well as solution providing. Informatica's big…