Top 41 Free Data Analysis Software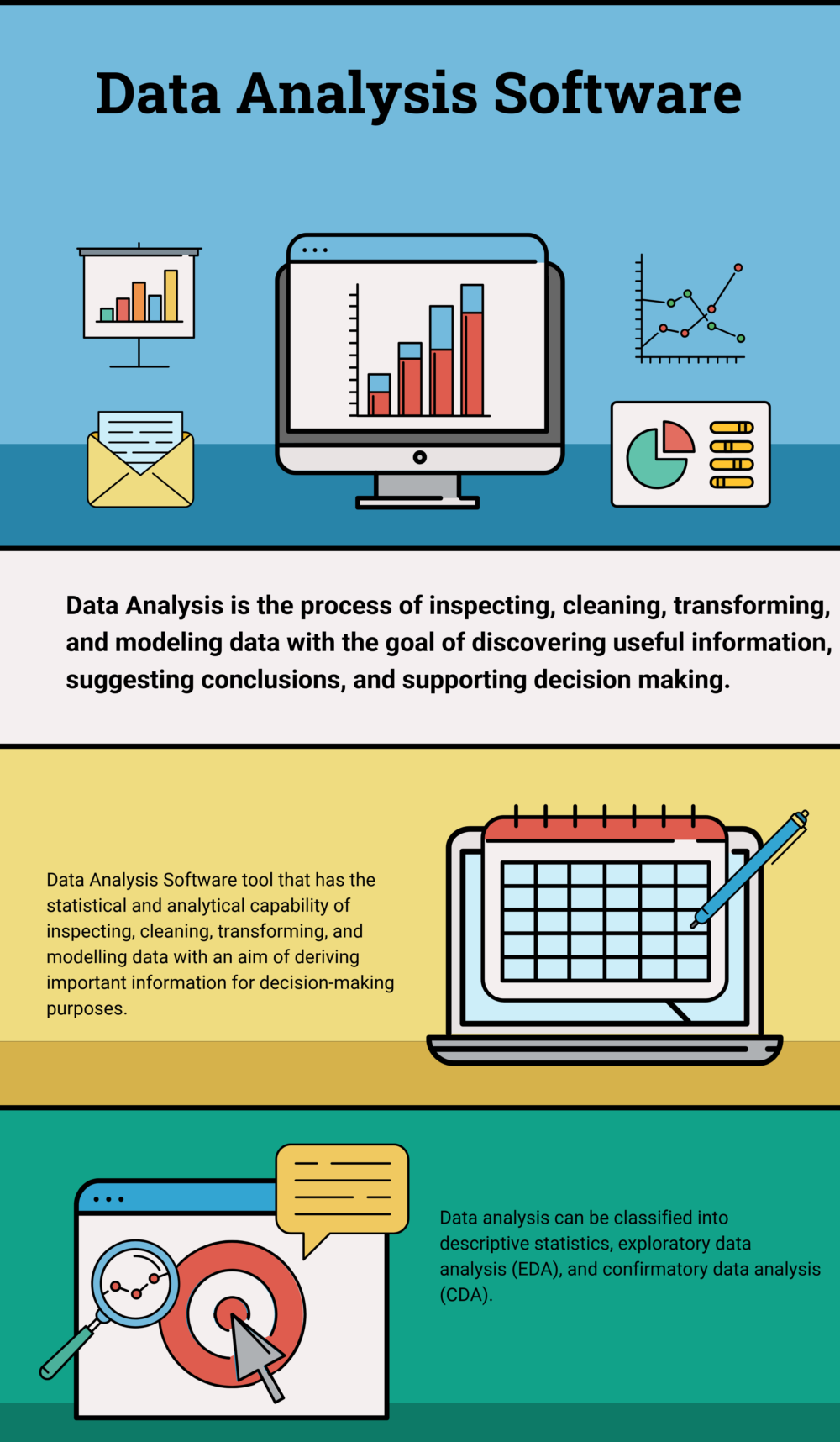 Data Analysis is the process of inspecting, cleaning, transforming, and modeling data with the goal of discovering useful information, suggesting conclusions, and supporting decision making.
For an organization to excel in its operation, it has to make a timely and informed decision. More often than not, decision making relies on the available data. What does this mean? Data alone is not enough; to get the best out of your data, you must ensure that it is authentic. For data to be authentic it has to be current, accurate, and reliable.
The hardest part for any organization is the retrieval and analysis of relevant data in order to gain important business insight that can be used in decision making. To effectively analyze data, most organizations are now shifting their focus to data analysis software. With advancement in technology, software developers have come up with modern data analysis software that makes it easy to retrieve, interact, and visualize the available data with an aim of improving delivery of goods and services.
What are the Top Free Data Analysis Software: Orange Data mining, Anaconda, R Software Environment, Scikit-learn, Weka Data Mining, Shogun, Tableau Public, DataMelt, Microsoft R, Trifacta, SciPy, ELKI, KNIME Analytics Platform Community, Scilab, TANAGRA, Dataiku DSS Community, DataPreparator, ITALASSI, HP Vertica Advanced Analytics, Google Fusion Tables, NodeXL, Fluentd, Displayr, NumPy, OpenRefine, Julia, Massive Online Analysis, DataWrangler, EasyReg, Matplotlib, Ipython, SymPy, FreeMat, jMatLab, PAW, ILNumerics, ROOT, NetworkX, Arcadia Data Instant, SIGVIEW, Gephi are some of the free or open source top software for data analysis.
What are Data Analysis Software?
Data Analysis Software tool that has the statistical and analytical capability of inspecting, cleaning, transforming, and modelling data with an aim of deriving important information for decision-making purposes. The software allows one to explore the available data, understand and analyze complex relationships. Besides statistical analysis, the tool also has a powerful visualization capability which allows one to share the data with other stakeholders.
Data analysis can be classified into descriptive statistics, exploratory data analysis (EDA), and confirmatory data analysis (CDA). Descriptive Statistics deals with quantitatively describing the main features of a collection of information. Exploratory Data Analysis focuses on discovering new features in the data.Confirmatory Data Analysis deals with confirming or falsifying existing hypotheses.
You may also like to review the top free data mining software list :
Top Free Data Mining Software
You may also like to review the top proprietary data mining software list:
Top Data Mining Software
Top Free Data Analysis Software
1
Orange is an open source data visualization and analysis tool. Orange is developed at the Bioinformatics Laboratory at the Faculty of Computer and Information Science, University of Ljubljana, Slovenia, along with open source community. Data mining is done through visual programming or Python scripting. The tool has components for machine learning, add-ons for bioinformatics and text mining and it is packed with features for data analytics. Orange is a Python library. Python scripts can run in a terminal window, integrated environments like PyCharm and PythonWin, or shells like iPython. Orange consists of a canvas interface onto which the user places…
2
Anaconda is an open data science platform powered by Python. The open source version of Anaconda is a high performance distribution of Python and R and includes over 100 of the most popular Python, R and Scala packages for data science. There is also access to over 720 packages that can easily be installed with conda, the package, dependency and environment manager, that is included in Anaconda. Includes the most popular Python, R & Scala packages for stats, data mining, machine learning, deep learning, simulation & optimization, geospatial, text & NLP, graph & network, image analysis. Featured packages include: NumPy,…
3
R is a free software environment for statistical computing and graphics. It compiles and runs on a wide variety of UNIX platforms, Windows and MacOS. R is an integrated suite of software facilities for data manipulation, calculation and graphical display. Some of the functionalities include an effective data handling and storage facility, a suite of operators for calculations on arrays, in particular matrices, a large, coherent, integrated collection of intermediate tools for data analysis, graphical facilities for data analysis and display either directly at the computer or on hardcopy, and well developed, simple and effective programming language which includes conditionals,…
4
Scikit-learn is an open source machine learning library for the Python programming language.It features various classification, regression and clustering algorithms including support vector machines, random forests, gradient boosting, k-means and DBSCAN, and is designed to interoperate with the Python numerical and scientific libraries NumPy and SciPy. Classification : Identifying to which category an object belongs to Applications: Spam detection, Image recognition. Algorithms: SVM, nearest neighbors, random forest. Regression : Predicting a continuous-valued attribute associated with an object. Applications: Drug response, Stock prices. Algorithms: SVR, ridge regression. Clustering :Automatic grouping of similar objects into sets. Applications: Customer segmentation, Grouping experiment outcomes.…
5
Weka is a collection of machine learning algorithms for data mining tasks. The algorithms can either be applied directly to a dataset or called from your own Java code. Weka features include machine learning, data mining, preprocessing, classification, regression, clustering, association rules, attribute selection, experiments, workflow and visualization. Weka is written in Java, developed at the University of Waikato, New Zealand. All of Weka's techniques are predicated on the assumption that the data is available as a single flat file or relation, where each data point is described by a fixed number of attributes Weka provides access to SQL databases…
6
Shogun is a free, open source toolbox written in C++. It offers numerous algorithms and data structures for machine learning problems. The focus of Shogun is on kernel machines such as support vector machines for regression and classification problems. Shogun also offers a full implementation of Hidden Markov models. The toolbox seamlessly allows to easily combine multiple data representations, algorithm classes, and general purpose tools. This enables both rapid prototyping of data pipelines and extensibility in terms of new algorithms. It now offers features that span the whole space of Machine Learning methods, including many classical methods in classification, regression,…
7
Tableau Public is a free data storytelling application used to create and share interactive charts and graphs, stunning maps, live dashboards and fun applications and publish it anywhere on the web. Tableau Public is a free service that lets anyone publish interactive data to the web. Tableau Public includes a free desktop product which can be downloaded and use to publish interactive data visualizations to the web. There is a 10 gigabyte limit on storage space for data. Tableau Public can connect to Microsoft Excel, Microsoft Access, and multiple text file formats. There is a limit of 1,000,000 rows of…
8
DataMelt, or DMelt, is a software for numeric computation, statistics, analysis of large data volumes ("big data") and scientific visualization. The program can be used in many areas, such as natural sciences, engineering, modeling and analysis of financial markets. DMelt is a computational platform. It can be used with different programming languages on different operating systems. Unlike other statistical programs, it is not limited by a single programming language. DMelt can be used with several scripting languages, such as Python/Jython, BeanShell, Groovy, Ruby, as well as with Java. Most comprehensive software. It includes more than 30,000 Java classes for computation…
9
R is the world's most powerful, and preferred, programming language for statistical computing, machine learning, and graphics, and is supported by a thriving global community of users, developers, and contributors.The Microsoft R product family includes: Microsoft R Server, Microsoft R Client, Microsoft R Open, SQL Server R Services. Microsoft R Server is the most broadly deployable enterprise-class analytics platform for R . Supporting a variety of big data statistics, predictive modeling and machine learning capabilities, R Server supports the full range of analytics exploration, analysis, visualization and modeling based on open source R. Microsoft R Client is a free, community…
10
Trifacta, helps individuals and organizations unlock the potential of their data by providing a new approach to how data is explored and prepared for analysis. Whether you're trying to improve the efficiency of an existing analysis process or utilize new sources of data for an analytics initiative, Trifacta's data wrangling solutions will empower you to do more with data of all shapes and sizes. Trifacta's Visual Data Profiling features provide immediate visibility into unique elements of the data set like data distributions and outliers to inform the transformation and analysis process.Trifacta uses data inference techniques to introspect the data and…
11
SciPy Stack, is a collection of open source software for scientific computing in Python, and particularly a specified set of core packages. SciPy is an open source and free python based software used for technical computing and scientific computing. SciPy is commonly used in solving science, engineering and mathematics problems. SciPy features core packages that provide computing tools for Python. The first package is the Python whose general purpose is acting as the programming language in SciPy. The python provides users with an interactive interface with the ability of interpretation and dynamically typing and suited for interactive work and fast…
12
The ELKI framework is written in Java and built around a modular architecture. Most currently included algorithms belong to clustering, outlier detection and database indexes. A key concept of ELKI is to allow the combination of arbitrary algorithms, data types, distance functions and indexes and evaluate these combinations. When developing new algorithms or index structures, the existing components can be reused and combined. ELKI is modeled around a database core, which uses a vertical data layout that stores data in column groups (similar to column families in NoSQL databases). This database core provides nearest neighbor search, range/radius search, and distance…
13
KNIME Analytics Platform is the leading open solution for data-driven innovation, helping you discover the potential hidden in your data, mine for fresh insights, or predict new futures. With more than 1000 modules, hundreds of ready-to-run examples, a comprehensive range of integrated tools, and the widest choice of advanced algorithms available, KNIME Analytics Platform is the perfect toolbox for any data scientist. A vast arsenal of native nodes, community contributions, and tool integrations makes KNIME Analytics Platform the perfect toolbox for any data scientist. https://www.youtube.com/watch?v=fw0Vb2gLsgA
KNIME Analytics Platform Community
14
Scilab is an interpreted programming language that is associated to a detailed collection of numerical algorithms that solve many aspects of scientific problems. Users do not pay for Scilab therefor making it a free software. The binaries used in Scilab provide users with a good platform to process the 32 and 64-bit type of data. Scilab has main features that enable users interact more and easily with Scilab. They include optimization, statistics, maths and simulation, signal processing, application development, 2-D and 3-D visualization and the control system design and analysis. Scilab through the signal processing feature provides users with the…
15
Tanagra represents free data mining software for academic and research purposes. It provides several data mining methods from exploratory data analysis, statistical learning, machine learning and databases area. It is a successor of SIPINA which means that various supervised learning algorithms are provided, especially an interactive and visual construction of decision trees. Because it contains supervised learning but also other paradigms such as clustering, factorial analysis, parametric and nonparametric statistics, association rule, feature selection and construction algorithms, Tanagra is very powerful. The main goal of this project is giving researchers and student's easy-to-use data mining software and second goal is…
16
Dataiku DSS is the collaborative data science software platform for teams of data scientists, data analysts, and engineers to explore, prototype, build, and deliver their own data products more efficiently. Dataiku develops the unique advanced analytics software solution that enables companies to build and deliver their own data products more efficiently. Dataiku DSS is a collaborative and team-based user interface for data scientists and beginner analysts, to a unified framework for both development and deployment of data projects, and to immediate access to all the features and tools required to design data products from scratch. The visual interface of Dataiku…
17
DataPreparator is a free software tool which is designed to assist with common tasks of data preparation (or data preprocessing) in data analysis and data mining. DataPreparator offers features such as character removal, text replacement, date conversion, remove selected attributes, move selected attributes, equal width, equal frequency, equal frequency from grouped data, delete records containing missing values, remove attributes containing missing values, impute missing values, predict missing values from model (dependence tree, Naive Bayes model), include missing value patterns, Z-score metho. Box-plot method, create binary attributes, replace nominal values by indices, reduce number of labels, decimal, linear, hyperbolic tangent, soft-max,…
18
ITALASSI is a freeware program which facilitate interpretation of regression models (2 independent variables) with an interaction term. The program allows you to enter several regression models (two bivariate, one multiple additive, and one multivariate with interaction) in the form of equations or compute those equations from raw data and displays the various models using 2D and 3D graphs. The program may also be used in advanced stat courses to illustrate statistical interactions or applied multiple regression.
19
Vertica Advanced Analytics manages and organizes data for businesses users. It analyzes data quickly and rapidly. The software can manage both structured and semi structured data. HPE Vertica is the most advanced SQL database analytics portfolio built from the very first line of code to address the most demanding Big Data analytics initiatives. HPE Vertica delivers speed without compromise, scale without limits, and the broadest range of consumption models. Choose Vertica on premise, in the cloud, or on Hadoop. With support for all leading BI and visualization tools, open source technologies like Hadoop and R, and built-in analytical functions, Vertica…
20
Fusion Tables is a web application for visualizing data that allows users to share data sets and combine them together to build data visualization online. The application is still experimental and its API has released V2. It allows users to easily create data visuals and publish them online instantly with provided subsets and an easy format similar to online files. Fusion Tables supports the ability to work through larger data sets including filtering, sorting, summarizing them in collaboration with other users online. Fusion Tables lets users combine multiple tables between users and publicly available data then merge them into one…
21
NodeXL is a graphic application of networks. NodeXL comes in two packages; basic and pro. Basic is free, and the NodeXL application is available for Microsoft® Excel® 2007, 2010, 2013 and 2016 which makes exploration of network graphs easy. NodeXL pro, on the other hand, extends features of the basic NodeXL and provides additional features such as access to social media network data streams, text analysis as well as sentiment analysis and advanced network metrics. Both the basic and pro-NodeXL features Graph Metric Calculations, the only difference is that the pro can calculate the degree of centrality, PageRank, clustering coefficient…
22
Fluentd is an open source data collector, which lets you unify the data collection and consumption for a better use and understanding of data. Fluentd offers features such as a community-driven support, ruby gems installation, self-service configuration, OS default Memory allocator, C & Ruby language, 40mb memory, requires a certain number of gems and Ruby interpreter and more than 650 plugins available. Fluentd tries to structure data as JSON as much as possible which allows Fluentd to unify all facets of processing log data such as collecting, filtering, buffering, and outputting logs across multiple sources and destinations (Unified Logging Layer).…
23
Displayr provides building apps that brings data science, visualization, and reporting to everyone. The two main products are Displayr, the world's first complete data science tool; and Q, the complete toolkit for market researchers. Now you can discover the story in your data, and create impressive reports, dashboards and visualizations without the need to reformat your data, have specialist coding knowledge, or involve IT or other outside consultants. Displayr is the only BI tool built specifically with survey data in mind. Displayr makes it easy to connect your data from virtually any source (without complex reformatting) letting you focus on…
24
NumPy provides a comprehensive package for scientific computing using a python programming language. The NumPy library provides support to big multi-dimensional arrays and matrices. NumPy fully integrated package contains several features that makes it ideal for scientific computing, calculation of multi-dimensional arrays, matrices and even high level mathematics calculations. The first feature of NumPy is the powerful N-dimensional array object that is used in the multi-dimensional arrays. Data scientists and developers performing broadcasting are also sorted out as NumPy provides detailed and easy to use functions. NumPy also provides C or C++ tools to developers and data scientists. The C++…
25
OpenRefine is a sophisticated tool for working on big data and perform analytics. OpenRefine is able to perform various tasks on data. The tasks are, cleaning data, transformation of data from one form into the other format, and also extend with web services and data that are external. OpenRefine provides the explore data feature that enables data scientists go through large data sets with ease. The explore data feature is easy to be used as it also comes with a video explaining how it is used. The clean and transform data feature provided by OpenRefine enables data scientists also clean…
26
Julia is a sophisticated programming language that is of high performance used for numerical computation. Julia provides a comprehensive compiler, parallel execution that is distributed, a function library that is extensive mathematically and numerical accuracy. All of Julia programs encircle several dispatches by defining and compiling up functions used in argument types of different combinations which in other cases can be defined by the user. The multiple dispatch provides scientists with the ability of defining function behaviors across several combinations of arguments. Julia also features a dynamic type system which is able to deal with various types of documentation, dispatch,…
27
Massive Online Analysis (MOA) is a framework that is open source used in stream mining of data. Massive Online Analysis consists of a collection of machine learning algorithms such as regression, classification, clustering, detection, outlier, recommender systems, and concept drift detection. Massive Online Analysis also features tools used in evaluation of data stream mining. Massive Online Analysis is ideal for data scientists as it performs big data stream mining in real time and also perform large scale machine learning. The mining algorithms available in MOA can be extended and achieve new stream generators or evaluation measures. Massive Online Analysis features…
28
DataWrangler is a web-based service which is designed for cleaning and rearranging data so it is in a form that other tools such as a spreadsheet app can use. DataWrangler offers features such as exports transformation script as code which is a useful option for handling large data sets where the users first transform a sample of their data in the Wrangler interface, then run the resulting script on the full data set and supports output scripts in two languages such as Python (for data-crunching on the back end) and JavaScript (for transforming in the browser, or using node.js). DataWrangler…
29
EasyReg is an open source software that conducts several testing tasks and econometric estimation on all Windows platforms that use 32 and 64 bit form and also the Windows 7. Users using Windows 8 are also able to use EasyReg by only setting EasyReg compatibility mode to Windows XP. EasyReg is programmed to be able to work in Visual Basic 5 and also Visual Basic 5 Enterprise Edition. EasyReg is configured to be used in teaching econometrics and empirical research. The software is referred to as international because it is able to accept commas and dots as delimiters in decimal…
30
Matplotlib is a library for making 2D plots of arrays in Python which produces publication quality figures in a variety of hardcopy formats and interactive environments across platforms. Matplotlib offers features such as The top level matplotlib module, afm (Adobe Font Metrics interface), animation module, artist Module, Axes class, axis and tick API, backends, cbook, cm (colormap), collections, colorbar, colors, container, dates, dviread, figure, finance, font_manager, gridspec, image, legend and legend_handler, lines, markers, mathtext, mlab, offsetbox, patches, path, patheffects, projections, pyplot, rcsetup, Sankey, scale, spines, style, text, ticker, tight_layout, working with transformations, triangular grids, type1font, units and widgets. Users can…
31
IPython is open source (BSD license) which provides an easy to use, high performance tools for parallel computing. IPython offers features such as Jupyter notebook and notebook file format, Jupyter Qt console, kernel messaging protocol, ipyparallel (formerly IPython.parallel), ipykernel (minimal docs, only release notes for the ipykernel package), ipywidgets (formerly IPython.html.widgets), Traitlets, the config system used by IPython and Jupyter, interactive interpreter, an enhanced interactive Python shell, a decoupled two-process communication model and an architecture for interactive parallel computing. IPython is known to work on Linux, Most other Unix-like OSs (AIX, Solaris, BSD), Mac OS X and Windows (CygWin, XP,…
32
SymPy is a Python library for symbolic mathematics which simplifies expressions, compute derivatives, integrals, and limits, solve equations and work with matrices. SymPy includes features such as modules for plotting such as coordinate modes, Plotting Geometric Entities, 2D and 3D, Interactive interface, Colors and Matplotlib support, printing like 2D pretty printed output of math formulas, or LATEX, code generation, physics, statistics, combinatorics, number theory, geometry and logic, Conversion from Python objects to SymPy objects, Optional implicit multiplication and function application parsing, Limited Mathematica and Maxima parsing: example on SymPy Live and Custom parsing transformations and Shift cipher, Affine cipher, Bifid…
33
FreeMat is an environment for rapid engineering and scientific processing which is similar to commercial systems such as MATLAB from Mathworks and IDL from Research Systems, but is Open Source. FreeMat offers features such as a codeless interface to external C/C++/FORTRAN code, parallel/distributed algorithm development (via MPI), and advanced volume and 3D visualization capabilities. FreeMat now supports function handles, or function pointers where a function handle is an alias for a function or script that is stored in a variable. FreeMat now also supports the so called dynamic-field indexing expressions where the fieldname is supplied through an expression instead of…
34
jMatLab is a free platform for mathematical and numerical computations which is a clone of Matlab and Octave and runs on any platform where Java is installed or on the Web browser. jMatLab provides features such as Arithmetic, Variables, String Manipulations, Commands and Operators, Functions, Polynomials, Vectors, Differentiation, Equations (Differential), Equations (Linear Systems), Equations (Nonlinear), Equations (Nonlinear Systems), Indefinite Integrals, Input and Output, Matrices, Numerical Integration, Plots, Programming, Statistics (Data Fitting), Statistics (Descriptive), Statistics (Histograms), Statistics (Random Numbers), Taylorpolynomial and Transformations. jMathLab has its own help system where all programming modules are arranged in groups and users can list all…
35
PAW is an instrument conceived for assisting physicists in analyzing and presenting of data. PAW facilitates an statistical or mathematical analysis and a graphical presentation that are interactive. The interactive graphical presentation enables physicists work on objects familiar to them such as event files, vectors, and histograms. The PAW presentation feature provides a set of slides majorly in PostScript format that provides a general overview of the entire PAW system. The set of slides in PostScript format provides physicists with an almost complete review of the PAW functionalities. The PAW functionalities presented in set if slides in PostScript format are…
36
ILNumerics is based on modern software frameworks and provides tools and solutions for scientists and engineers in all industries. ILNumerics modern software framework enables data scientists and engineers to develop and deploy highly configured technical applications in the shortest time possible. ILNumerics features the ILNumerics array visualizer. The array visualizer is simply a graphical watch window used in Visual Studio. The array visualizer enables scientists debug large and big data in a broad range of technical applications. The array visualizer has a visual representation of arbitrary data that enables it prototype your algorithms and find bugs quickly and also have…
37
ROOT is a sophisticated scientific software application that provides functions required to deal with statistical analysis, large data processing, storage, and visualization. ROOT is mainly in C++ language but it can be converted into several natural languages such as R, Python and many more. The Save data feature provided by ROOT enables users to save their data using C++ object language or in a binary form that is compressed in their own file. The ROOT files are self-descriptive therefore making it easy for users to save their object format in the same ROOT file. The ROOT file contains information that…
38
NetworkX is a software package in Python language used in creating, manipulating, and study of the functions, structures, and dynamics of the networks that are complex. NetworkX is simply a software ideal for analyzing complex networks. NetworkX enables results to be presented in a unique and graphical way. The data structures are present for graphs, multigraphs, and digraphs. Since NetworkX is a Python package it facilitates fast prototyping and provides an easy to teach and multi-platform. Data scientists are also provided with several standard graph algorithms that are useful when dealing with complex networks. NetworkX also features generators. The generators…