Top 24 Collaboration Software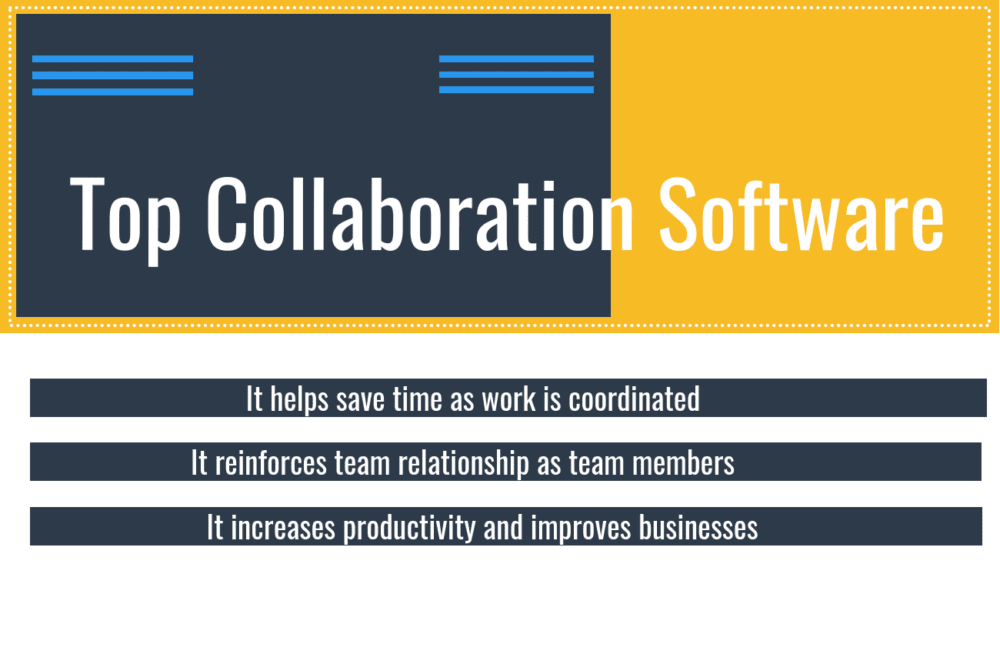 People within an organization are more often involved in team work when they want to do a common task to achieve a particular goal. In the past, for a group to engage each other they had to schedule a physical meeting to deliberate everything regarding a particular project. Leaps in technology today have allowed businesses to carry out meetings with people from anywhere around the world and at anytime. They are no longer limited by physical boundaries and can keep projects going.
People doing a common task can now setup a meeting to share, communicate, and coordinate with each other in a single easy to use online workspace. This has allowed businesses to expand and source experts and professionals from anywhere around the world. A business can now work with people while in the field or who are not within it region and still achieve its objectives with the help of Collaboration Software.
What are the Best Collaboration Software: G Suite, Hive, Jive, Asana, Clarizen, Smartsheet, Wrike, Microsoft SharePoint, ConnectWise Manage, Scoro, Kolab, Nuclino, Zoho Projects, TeamWox, Kopano, Zimbra, Monday.com, Microsoft Teams, Skype for Business, Flock, Samepage, Slack, Confluence, ALE Rainbow are some of the Top Collaboration Software.
You may like to read: How to Select the Best Collaboration Software for Your Business
What are Collaboration Software?
Collaboration Software is a platform that allows groups within an organization to manage, share and process files and other types of data online to achieve a particular goal.
It allows users to coordinate tasks and create individual workspace and then have workflows and other kinds of data added to it. Team members can access, view and edit the documents and the new changes are synchronized across in real time for all members to see. This ensures that every group member is on the same page and has the most up-to-date version of the project that is ongoing.
Some useful features of collaborative software include:
Document Management: Document Management is a key feature of Collaboration software that allows team members to manage, share and make changes to files and documents in real time. Members are able to share files, find and retrieve old files and create content for internal and external audience. It allows simultaneous editing of documents and instant integration and synchronization.
Task Management: Collaboration Software allows the users to delegate tasks to groups or individuals.  It also allows the users to set deadlines, priority, reminders and recurrence for the projects and tasks.
Project Management : Collaboration software is the best platform to use to carry out a project management. It allows team members to communicate, delegate tasks, share files and documents in real-time, and coordinate with each other to realize a common goal. It helps teams of all sizes to manage and monitor tasks and projects and get more done in a single workspace.
Team Communication: Collaboration Software helps in exchange of information amongst group members. It allows direct messaging where the team members are able to share files through various tools of communication such as emails, instant messaging, chat, voicemail, VoIP or video calls.  It also allows real time conferencing and discussions among the project members through a virtual meeting room with a moderator whose job is to oversee the sharing of information. Team members can also ask questions and give feedback from any device.
Workflows: Collaboration Software helps the user to easily manage and monitor the tasks, projects, and workload and produce instant reports. The team members are able to access real-time dashboard and create project plans and timesheets.
The benefits of Collaborative software include :
It helps save time because work is coordinated which saves efforts and resources.
It reinforces team relationship because team members work together to complete tasks and projects.
It increases productivity and improves businesses because of real time track of what has been done and what needs to be done in task workflows
Collaboration Software is a perfect system that every business should embrace to create smooth and real time project workflows and to easily coordinate and collaborate with project members.
You may like to read: How to Select the Best Collaboration Software for Your Business
Top Collaboration Software?
G Suite, Hive, Jive, Asana, Clarizen, Smartsheet, Wrike, Microsoft SharePoint, ConnectWise Manage, Scoro, Kolab, Nuclino, Zoho Projects, TeamWox, Kopano, Zimbra, Monday.com, Microsoft Teams, Skype for Business, Flock, Samepage, Slack, Confluence, ALE Rainbow are some of the Top Collaboration Software.
Top Collaboration Software
PAT Index™
1
G Suite
G Suite includes Gmail business email, Docs word processing, Drive cloud storage, Calendar shareable calendars, Hangouts Meet video conferencing and other productivity and collaboration software. With G Suite, the organization can move faster together, using intelligent, cloud-based apps to collaborate from anywhere, in real time. Share files easily, collaborate quickly and unite employees across different locations. G Suite helps teams move forward faster and get more done every day. G Suite has been built from the ground up to mitigate the unique threats for cloud systems. Google's standards for performance and reliability apply to businesses, schools and government institutions around…
Overview
• Hangouts Chat makes it easy for teams
• Analyze responses with automatic summaries
• Professional looking surveys
• Mobile device management
• Smarter chat with bots
• Schedule interviews quicker and easier with Google Calendar integration
• Basic - $5 / month / user
• Business - $10 / month / user
• Enterprise - $25 / month / user
2
Hive
Hive is a powerful project management and collaboration software. Give teams the flexibility to plan their projects in the way they work best. Organize projects in a Gantt chart, kanban board, table, or calendar, and easily switch between each layout. Updates are reflected across all project views so the whole team is informed no matter what option they use. Easily access all the information needed to complete a task by assigning team members, attaching files, creating subactions, and setting dependencies directly in the action card. Comment and mention team members, ensuring everyone can clearly track the progress of each action.…
Overview
• Analytics: Monitor and report on projects in real-time, spotting risks proactively
• Resourcing: Plan and schedule team's time for current and upcoming projects
• Messaging: Easily collaborate by sending messages directly to individuals or groups
• Forms: Eliminate constant emails and collect all necessary information through forms
• Plan and repeat tasks easily using action templates
• Predictive alerts: Never be surprised by late projects or an overbooked team
• Pro - $12 / month / user
3
Jive
Jive is the leading provider of modern communication and collaboration solutions for business. The products apply powerful technology that helps employees, partners and customers work better together. The various communication tools which are offered by Jive include a searchable employee directory to locate people by expertise, skill and reputation. Jive also offers the ability to create blog posts to share knowledge. Further enterprise social networking tools offered by Jive include live activity streams, groups and discussions. It can be used to assign tasks to coordinate with documents, groups and discussions; and also to see all project information from one place,…
Overview
•Impact metrics.
•Smart recommendations.
•Advanced gamification module.
•Shared communication portal.
•Detailed user communication activity data
4
Asana
Asana is a project management software which facilitates team collaboration and communication where users use Asana to create projects, and then to create tasks within these projects, add users' teammates to tasks and projects, add them as task followers, share projects with them or mention them in task comments to keep everyone in the loop. Asana provides features such as real-time changes, multiple workspaces, activity feed, iPhone Support, HTML5 mobile site, email bridge, set priorities and due dates, task and project creation, set project permissions, automatic updates to inbox/ email, add hearts to tasks, get reminders and notifications, set due…
Overview
• Task Dependencies
• Custom fields
• Find the info you need
• Priority support
• Free – sign up
• Premium - $9.99 per member per month billed annually
• Enterprise – contact on site
5
Clarizen
Clarizen is an industry-leading collaborative work management solution designed to manage projects, automate workflows, and collaborate on projects. The software is engineered to connect and engage workforces, transform project management, create configurable workflow, manage automation and encourage collaboration. Clarizen's planning feature allows users to create possibilities, think about the size of a project, estimate budgets, and schedule, whilst keeping participants engaged. The software solution enables teams to automate and repeat creation of projects, plan initiatives and capture ideas, with automated demand management. Clarizen aligns projects and portfolio optimization through setting goals, allowing users to focus on timescale and budgets. Track…
Overview
•Scheduling
•Collaborative Planning
•Task Management
•Issue Tracking
•Bug Tracking
•Portfolio Optimization
•Gantt Chart
•Time Tracking
•Sharing Tools
6
Smartsheet
Smartsheet is a platform which manages and automates collaborative work. Smartsheet is the world's leading SaaS platform for managing and automating collaborative work. Over 69,000 brands, and millions of information workers, trust Smartsheet to help them accelerate business execution and address the volume and velocity of today's collaborative work. Smartsheet makes it easy to share the users' work with other team members, or simply collaborate on a specific task where the users can invite people anywhere to collaborate on their entire project by sharing the sheet with them, or simply send them a row with all attachments to get updates.…
Overview
• Collaboration
• Mobile
• Web Forms
• Activity & History
• Cell Linking
• Reporting
• Resource Management
• Enterprise – Custom- Contact Us
• Business - $25/per user per month when billed annually
• Team - $15/ per user per month when billed annually
• Individual - $14/per user per month when billed annually
7
Wrike
Wrike helps every team to perform the best across the hall or across the globe. In order of achieving better results, it enhances communication, transparency and accountability. It helps project management teams to set priorities and to align team to work faster and smarter across the organization. It gives needed flexibility for managing multiple projects and teams in one tool. Users can also use real-time reporting and analytics for guiding team and adjusting it on the fly. Wrike can be configured to fit the way of team works. Because it owns customizations, collaboration tools, and email integrations it saves time…
Overview
•Enhances communication, transparency and accountability
•Owns customizations, collaboration tools, and email integrations
•Allows planning by assigning, scheduling and balancing team's project management workload
•Creating, prioritizing and assigning requirements or users stories
•Free up to 5 users
•Professional – starting from 9.80 USD/user/month
•Business - starting from 24.80 USD/user/month
•Wrike for Marketers - starting from 34.60 USD/user/month
•Enterprise – contact for pricing
8
Microsoft SharePoint
Microsoft SharePoint empower individuals, teams and organizations to intelligently discover, share, and collaborate on content from anywhere and on any device. Microsoft SharePoint provide simple and powerful file sharing on any device. Simply store, sync, and share, and easily collaborate on files with Office Online integration. Microsoft Sharepoint helps in building team websites that are primarily mini intranets. a range of free on-line apps are out there to feature onto the account and overlay SharePoint on-line. a corporation can bundle Microsoft SharePoint on-line with the aforesaid Microsoft office 365 for Enterprise E3, that adds on-line and desktop versions of Microsoft…
Overview
•Set up team websites.
•Track projects.
•Manage documents on dashboard.
•Add as many apps as per the team needs.
Microsoft SharePoint online has two paid plans, named merely plan one and plan two. plan one (which begins at $5.00 per user per month) includes team websites, work management, external sharing, content management, records management, and SharePoint 2013 workflow
9
ConnectWise Manage
ConnectWise is a comprehensive business management suite that consolidates multiple business processes from procurement, sales, marketing to service delivery and support. As all these processes are accessed, visible and managed under one platform this allows a unified and complete view of the customer profile and journey as well allow collection of data through connecting different workflows and relationships between business processes. Having a centralized view of the various business sections in reporting and analytics also allows the managers and executives to form well-considered and data-driven strategies and business decisions. Its helpdesk ticketing feature is simple but provides powerful functions like…
Overview
• HelpDesk
• Agreements
• Account Management
• Sales and Marketing
• Procurement
• Time Tracking & Billing
• Project Management
• Reporting
10
Scoro
Scoro is a task management software designed to manage to-do lists, assign tasks, and get real-time updates on projects. The software features calendaring, task and project management, quoting and billing, enterprise-level reporting and a real-time dashboard.Users can plan and utilize time more efficiently with Scoro by creating, managing, and tracking a number of projects with the ability to set priorities and deadlines, schedule meetings and plan tasks. With Scoro's planner subscribers can schedule work and assign tasks using the instant visual overview of workload, realistic deadlines, potential overbookings & available slots. Track actual and billable time spent on a project…
Overview
•Project Management
•Work Scheduling & Tracking
•Billing Automation
•CRM & Quoting
•Reporting & Dashboard
•Customization
•Integrations
•Mobile App
•PLUS - 19€/MO - Min 5 users
•PREMIUM - 29€/MO - Min 5 users
•ULTIMATE - 49€/MO - Min 5 users
11
Kolab
Kolab is a highly scalable and secure collaboration platform that provides shared email, calendaring, notes, tasks, file cloud & tagging. At the heart of Kolab is the ability to communicate with ease and reliability. Its powerful email, contact management and file storage services are the foundations of this. Kolab allows organizations handle their email fast and efficiently at any scale. With its focus on being a collaboration platform, Kolab excels at helping people share goals and information with each other. Kolab allows people to collaborate in confidence no matter where they are. On mobile devices, from the desktop, or over…
Overview
•Search & Tagging
•Notes    
•Resource Pools
•ActiveSync  
•GPG signing and encryption
•QuickView  
•Filter Configuartion  
•File Management
•Flexibility & Adaptation  
• Individual Account $4.54 / month per user        
• Group Account $5.38 / month per user                             
• Enterprise $2.84 / month per user
12
Nuclino
Nuclino is a cloud-based team collaboration software which allows teams to collaborate and share information in real-time. Use the tree, board, and graph view to explore and organize your knowledge visually. It's great for meeting notes, product requirements, docs, decisions, and more. Nuclino is a simple and fast real-time wiki that makes teamwork more productive and fun. Teams can instantly capture, share, and find the knowledge they need to get things done. Nuclino Smart Tags can be said as pointers that can be used to access some specific pages. The Smart Tags section from the dashboard contains a list of…
Overview
• Live Editing            
• Automatic Save
• Instant Search
• Markdown Formatting            
• Real-time Collaboration 
• Standard -  $5 / month per user • Premium - $10 / month per user
13
Zoho Projects
Zoho Projects is a task management software, designed to complete tasks in less time, tracking key milestones, setting dependencies whilst carrying out tasks. With the milestones feature, users can create projects and assign end dates for milestones and due dates for tasks within them. Users have centralized access to projects with deadlines and schedules integrated into timelines helping to shape workflows. The tasks module has a dependency view where users can identify constraints, organize tasks, assign subtasks write comments, and log hours. The Kanban allows users to visualize workflow with various parameters such as "Percentage completed," "Priority," or "Task List."…
Overview
•Google Apps
•Issue Tracking Software
•Mobile Apps
•Project Chat
•Project Forums
•Dropbox Integration
•Project Pages
•Resource Utilization Chart
•EXPRESS - €25/MO - 20 Projects/10 GB Storage
•PREMIUM - €50/MO - 50 Projects/100 GB Storage
•ENTERPRISE - €80/MO - ∞Projects/100 GB Storage
14
TeamWox
The enterprise management system designed for small and medium-sized companies. TeamWox will make companie's management process more transparent, improve productivity of your employees and reduce the costs.Users can install TeamWox, create accounts for their employees and move their company's activity to the system. You will quickly learn the program's features and find out how it can benefit their business.The unified client base, sales funnel, free VOIP telephony, electronic document flow, automated reports, integration with company websites, technical support module - all that can be found in TeamWox basic delivery. If a company employs less than 5 people, it does not…
Overview
•Cost-cutting
•Boosts productivity
•Boosts business productivity
•Time-saving
•The license price already includes one year's subscription to the technical support and the system updates.
•The optional annual prolongation of the subscription costs 180 USD.
15
Kopano
Kopano is built on open source. Kopano gives you flexible control of your data. Keep it either on-premises or in the cloud. Use S/MIME add-on to focus on the identity of the sender and the privacy of your email. Kopano works on mobile as well. Push synchronization means you are always up to date whether you are in the office or on the road. Kopano helps you work smarter with people within and outside your organization. A single interface gives you email, contacts, advanced calendaring, file sharing, web meetings and more. Web meetings take advantage of high-quality audio, video, chat…
Overview
• Archiver
• Support Blocks    
• Files for Teams   
• File Sharing      
• Setup & Deployment
• Vide Meetings
• Basic - $15 / month per user
• Pro - $37 / month per user
• Enterprise -  $55 / month per user
16
Zimbra
Zimbra is an enterprise-class email, calendar and collaboration solution built for the cloud, both public and private. With a redesigned browser-based interface, Zimbra offers the most innovative messaging experience available today, connecting end users to the information and activity in their personal clouds. Transform Zimbra into a customized "collaboration hub" by integrating external applications and web services – such as Salesforce and enterprise applications including Oracle and SAP. Migration Wizards enable customers to rapidly and easily migrate from Microsoft Exchange and Domino environments to Zimbra. Rich browser-based experience for Zimbra email, contacts, calendar and files on any xHTML-capable device. Zimbra…
Overview
• Hiearchial Storage Management        
• Archiving & Discovery      
• Two-factor authentication      
• Push Sync
• Dedicated Logging                    
• Shared Folder Sync                          
• Real Time Backup 
• Starter Edition - $399 /  year      
• Standard Edition -  $625 / 25 pack          
• Professional Edition - $875 / 25 pack 
17
Monday.com
Monday.com is the new name of a product previously known as dapulse, namely one of the market's leading collaboration and communication apps for teams. It syncs all information in a single, accessible hub, and empowers agents and team members to make important decisions together. Monday.com has a user-friendly interface to share all the information with the clients. A client board allows the user to invite clients to view their project roadmap. On that board, the user can list all the projects/tasks they are working on, share deadlines and plan ahead. There are various options to visualize the work for the…
Overview
• Collaboration ,communication & motivation tool
• Lead management & lead tracking
• Email notifications & Email updates
• Integrations to Dropbox, Google Drive, Pipedrive
• Video Production Management & Client Management
• Franchise Business & Post Merger Integration
• Workflow Management & Product Manager Solution
• Designer Project Management & Venture Capital
• Basic – $25/month (billed annually)
• Standard – $39/month (billed annually)
• Pro – $59/month (billed annually)
• Enterprise – $118/month (billed annually)
18
Microsoft Teams
Microsoft Teams in Office 365 provides a complete online meeting solution. With Microsoft Teams, the user can initiate a private or group chat, share files or co-author content. From team meetings to live streaming, or dialing into a conference call, Microsoft Teams is designed for all the users meeting needs. The user can experience Microsoft Teams meetings on desktop, mobile or Skype Room Systems with HD video. The user can make, receive, and transfer calls using phone, PC, Mac, and mobile. It helps to shift away from expensive, proprietary telephony hardware to simplify the management of the user's phone system.…
Overview
• Online meetings
• Phone system & calling plans
• Communicate across devices
• Integrated Office 365 apps
• Enterprise security and compliance
• Online meetings
• Live Broadcasts
• Audio Conferencing is available for a $4.00/month add-on fee.
• Office 365 Pro-Plus $10.00 user/month (annual commitment) 1 year $10.00 user/month
• Office 365 Business $10.00 user/month (annual commitment)1 year $10.00 user/month
• Office 365 Business Premium $12.50 user/month (annual commitment) 1 year $12.50 user/month
• Office 365 Business Essentials $5.00 user/month (annual commitment) 1 year $5.00 user/month
19
Skype for Business
Skype is a web-based communications tool that offers video chat, international calls, and texting via the web. Dubbed by users and experts as one of the best VoIP solutions providers in the world, Skype offers instant messaging, group video conferencing, video chat, group chat, collaboration functionalities such as document and image sharing. With Skype contacting actual landlines and mobile phones is also offered for super low rates with no peak times. Currently, Skype is owned by Microsoft, and brings on board all functionality and responsiveness expected from this reputed provider. Skype is very popular for its free video chat and…
Overview
• Screen sharing & Group screen sharing
• Group calls & Forward calls
• Skype Number & Caller ID
• One-to-one video calls, Group video calls and Skype to Skype calls
• Video messaging, Instant messaging, Send texts (SMS) and Voice messaging
• Skype is a free communications app
• Business communication $2 per user per month.
• Online Plan 2 (Skype for Business online meetings): $5.50 user/month
• Office 365 Business Essentials: $5.00 user/month
• Office 365 Business Premium: $12.50 user/month
20
Flock
Flock is a messaging app for teams. Packed with tons of productivity features, Flock drives efficiency and boosts speed of execution. Flock lets you connect with your team, get on video calls, manage projects with to-dos, polls and reminders and integrate your most favorite apps. Meet all your tasks and timelines with Flock as your personal assistant. Prep for every client meeting or call to perfection, by creating and assigning tasks to your sales team via Shared To-Dos. Add your clients as guests on Flock and jump onto a video conference with them to discuss their needs. Set up a…
Overview
•Communication Management
•Collaboration Tools
• Instant Messaging
•Projections
•File Transfer
•Search
•Discussion Board
•Live / Video Conferencing
 • Pro Plan – $3 / month per user
•  Enterprise - charged based on the needs of the organization.
21
Samepage
Samepage is a comprehensive collaboration solution for business teams. It is a single platform that enables team collaboration through functionalities such as scheduling, discussion topics, meeting agendas, files, instant messages, conversations, and task lists. With online collaborative tools including team chat, video conferencing, task management, file sharing, real-time document collaboration, and more, Samepage is helping teams of all sizes manage projects and get more done in a single easy-to-use workspace. Samepage compiles files, images, videos, conversations and maps on one page to facilitate easy collaboration. The user can share pages in Samepage with anyone. The vendor offers native mobile apps to…
Overview
• Collaboration management
• Collaborative workspace & Discussion board
• File management, synchronization & transfer
• Group scheduling & Instant messaging
• Meeting management
• Mobile access & Multi-platform
• Task scheduling &Team conversation
• User access controls
• 30-day free trial available for the Pro package that allows you to try out their service first.
• Free $0USD free for any number of members
• Pro $7USD per member per month* billed annually
• Pro – $8/member/month ($7 when billed annualy)
• 40% discount for educational and non-profit organizations.
22
Slack
Slack is a messaging app that brings all communication together in one place. It offers real-time messaging, archiving and search for modern teams. The user can have all their team communication in one place, instantly searchable, available wherever they go. Slack offers built-in internal and external sharing options to ensure the user can get and share files with anyone. The app has advanced search, filters and sorting that make it simple to get the right files. The user can filter results by recent type, relevance or file type to find exactly what they need. Slack offers fully native apps for…
Overview
• Built-in internal and external sharing option
• Configurable notifications for desktop, mobile push and email
• Open channels creation
• Desktop and mobile messaging, file sharing and notifications
• Flexible file browsing
• Flexible notifications
• Google Docs and Dropbox integrations
• Mobile native & Native apps for iOS and Android
• Free – No limits on time or users
• Standard – $6.67 per user/month billed annually ($8 billed monthly)
• Plus – $12.50 per user/month billed annually ($15 billed monthly)
• Enterprise – By quote
23
Confluence
Atlassian Confluence is a tool that allows the users to align their team and workplace to share valuable information that they will find useful in their business. Confluence is a tool that allows the business to create, organize and discuss the work that needs to be done with a team. The user can create, share, and collaborate on projects all in one place to keep the projects moving forward, faster. The user will get the knowledge that is usually lost in email inboxes as well as shared in network drives. Data become much easier to find, use, and update with…
Overview
• Team documentation & collaboration
• Agile development
• Add-ons and templates
• Document management
• Page and file versioning
• Space Directory & Rich Text Editor
• OnDemand or Hosted
• Knowledge Base
• Drag and Drop Editing
• Try it free for 7 days
• Up to 10 users $10 monthly flat fee special price for small teams
• 11-100 usersb$5 per user/month larger and expanding teams
• Server $10 (One-time payment)
• Data center $12,000 (soon
24
ALE Rainbow
Rainbow is a highly advanced communications and collaboration platform by Alcatel-Lucent Enterprise. With this, you can connect with your teams, friends and communities online, giving you the power to chat, call, host video meetings, store and share files, all for free. ALE Rainbow is a Unified Communication as a Service (UCaaS) and Communication Platform as a Service (CPaaS); a hybrid cloud solution - integrating the cloud and hardware capabilities for enterprise communications which aims to connect people and systems optimally. Rainbow can combine with your existing private business exchanges (PBX), business processes, team-based messaging applications, and third-party apps, thereby ensuring…
Overview
•Business Messaging
•Free Audio Video Call
•Group Video Call
•Instant File Sharing
You may like to read: How to Select the Best Collaboration Software for Your Business