Top 28 Church Management Software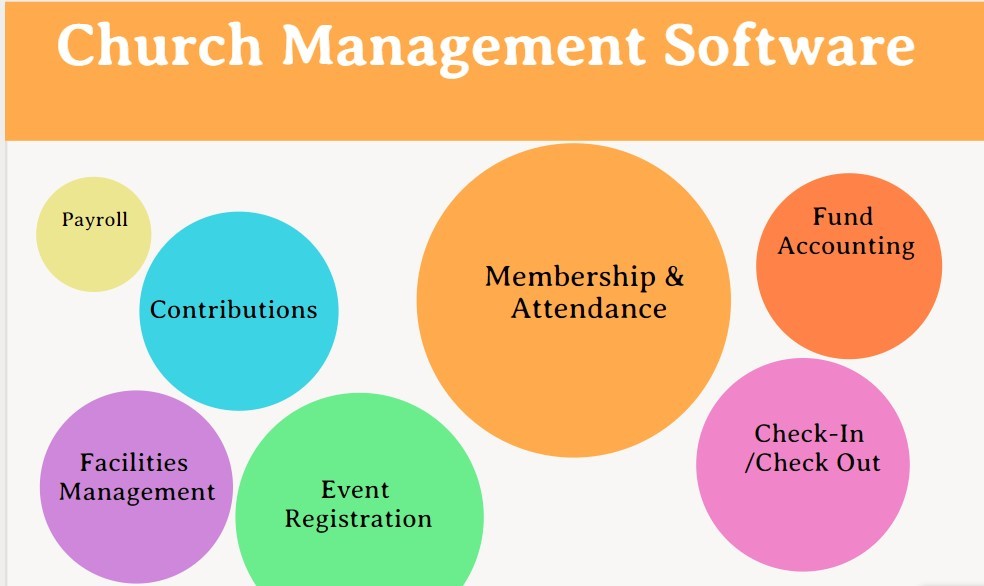 Proper church administration involves putting in place measures that ensure effective management of the church resources. Churches rely heavily on donations and volunteer programs, and they need to ensure effective management of both money and people resources.  Church leaders need to oversee the ministry operations to ensure different activities, and events run smoothly in different church groups such as worship ministry, child ministry, teen and youth ministry among others. The church leadership team also need to ensure that church groups communicate and collaborate efficiently. Church also require to place the relevant measures to ensure that the church premises and every member of the church are secure during church events and activities. Compliance with the legal and relevant authorities is also essential when running a church. Keeping track of the church attendance is also crucial to allow proper resource management. For churches to achieve their purpose effectively, they need to embrace a church management software.
Churches have to reach their cities, build life-sharing small groups, preach and teach the Bible, and develop children and youth ministries. But today's Churches are too busy in running through list of issues in church administration. In order to focus on the ministry, Churches need a proper management software which has the features for management of finances, the liabilities of staff or volunteer misconduct, the handling of paperwork, tax compliance, and the upkeep of a facility so that Churches can do what they are intended for. Selecting an information management software solution for your church or ministry is a key step in empowering your staff. The access to information in the Church Administration must be balanced against important privacy and security concerns all within the context of responsible stewardship. A Church Management Software helps to utilizing staff and volunteer resources without becoming vulnerable if a change occurs in their availability.
Top Church Management Software: Flocknote, Servant Keeper, PowerChurch, ChurchSuite, Elexio, Breeze, ACS, FellowshipOne GO Complete, ParishSOFT, ChurchTrac, SimpleChurch, Church Community Builder, ShelbyNext Membership, Church Windows, Excellerate, Shepherd's Staff, IconCMO, Church Office Online, CCIS Shield, By the Book, Parish Data System, Realm, Icon Rubix, Ministry Tracker, Logos II, FellowshipOne Premier, Shelby Arena, Kyrios ChMS are some of the Top Church Management Software.
What are Church Management Software?
Church Management Software helps to stay the Church organized and secure, ensure clear communication with your members and streamline your workflows. The Church Management Software provides features for membership, contributions, small groups, communication, check-in, fund accounting and payroll.
Church management software is a tool used by churches and other organizations of similar settings, to assist in managing, organizing and also automating all the church operations. It deals with operations and processes such as communication, member attendances, church databases management among others. It is a software which is specifically designed to assist churches and other religious entities in managing, organizing and automating their operations for smooth running of the organizations. This management software helps the churches in a great way to manage their resources since most of its finances are from donations thus need to be spent with a lot of transparency.
Church management software is vital to automate and manage church resources and to allow the church to achieve its purposes effectively.
Church Membership management: Church Management solutions help in keeping an up to date databases of the church membership details. It includes the permanent members, volunteers and visitors details which includes their contacts, home addresses, among others
Financial accounting: The system assists in the management of resources, tracking of the expenses and in reporting of all the revenue received and expenditures in the church.
Communication tools: Church Management Software facilitates in all the communication aspects and needs of the church which includes community-wide communications which together with outreach activities may increase the participation of members.
Contributions/donor management: Church Management helps in providing a secure channel of collection and management of donations and contributions from donors and individual members and also pledges
Volunteer management: Church management software helps to organize volunteer's data including their contact details, availability, and their attendance history among others.
Check-in and Sunday school security management: Church Management helps at recording members and visitors' attendance in church events such as seminars and retreats. It also assists in keeping track of children in church and their specific locations to avoid misplaced kids scenarios.
Events management: Church Management makes it easy to organize and manage activities and events in the church in a smooth and orderly manner. It organizes and manages events and activities by planning, offering payment process support, event listing and search. All this helps avoid situations of double booking.
Top Church Management Software
Flocknote, Servant Keeper, PowerChurch, ChurchSuite, Elexio, Breeze, ACS, FellowshipOne GO Complete, ParishSOFT, ChurchTrac, SimpleChurch, Church Community Builder, ShelbyNext Membership, Church Windows, Excellerate, Shepherd's Staff, IconCMO, Church Office Online, CCIS Shield, By the Book, Parish Data System, Realm, Icon Rubix, Ministry Tracker, Logos II, FellowshipOne Premier, Shelby Arena, Kyrios ChMSare some of the Top Church Management Software.
Top Church Management Software
PAT Index™
1
Flocknote
Flocknote is a text messaging email tool that is created for ministries, teams, churches and other community organizations. It helps you to communicate with the people you care about. Whether it's a long newsletter or short messages, Flocknote is the perfect way to send text or messages to any number of audiences. The tool provides you with essential features that you will always make use. By organizing your ministry or church into different groups on Flocknote, the message can get precisely to does that need it. And you members can directly reply any letter or email you send to them.…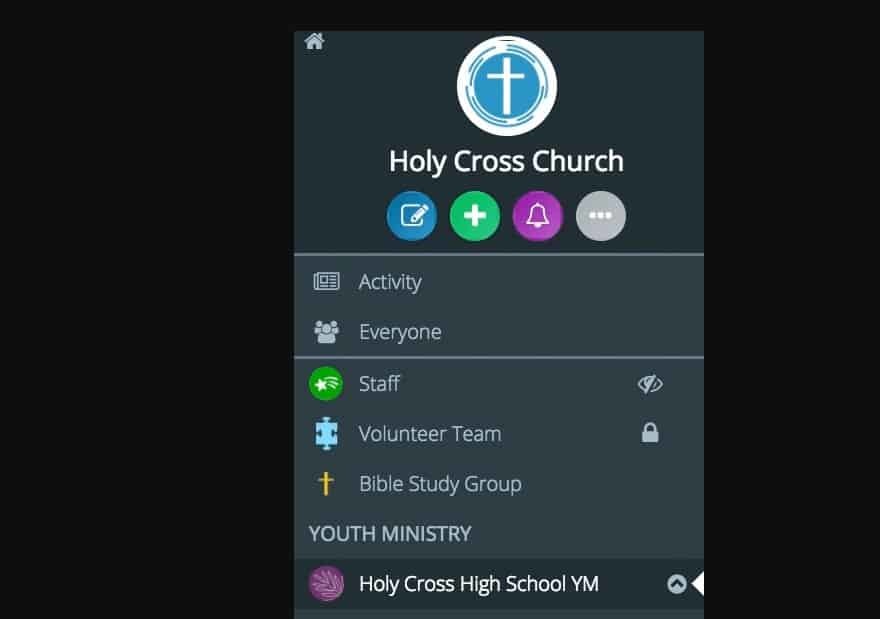 2
Servant Keeper
Servant Keeper is a volunteer and member management solution which is suitable for mid to large size faith-based organizations and churches. It offers a robust set of tools which makes it possible for churches to manage their program more efficiently. The software solution allows churches to look through their congregation to identify specific skills among the member of the church. It also makes it possible to communicate via email with the constituent or track attendance. Address, name, and phone number are automatically copied when entering the details of a family or new member into the system. The solution enables you…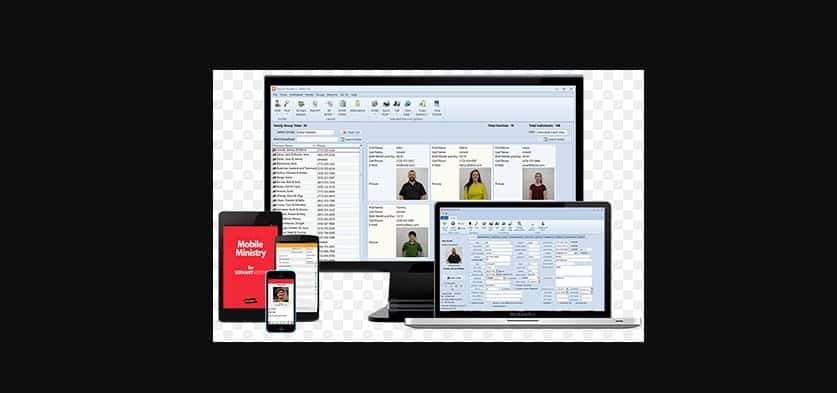 3
PowerChurch
PowerChurch Plus allows you to maintain Membership, Contributions, Accounting, Event Scheduling, and general Record Keeping in one complete church administration software package. It's complete, it's powerful, and it's user-friendly. It includes PowerChurch Plus, PowerChurch Online, PowerChurch Check In, PowerChurch Mailroom, OneBody Hosting, Data Conversion. All of your church's information is available at your fingertips in PowerChurch Plus. Keeping records up-to-date and you can enter and maintain all related information about families or individuals from a single screen. The communications tools in PowerChurch Plus allow you to stay in touch and keep your members informed on the latest happenings. It helps…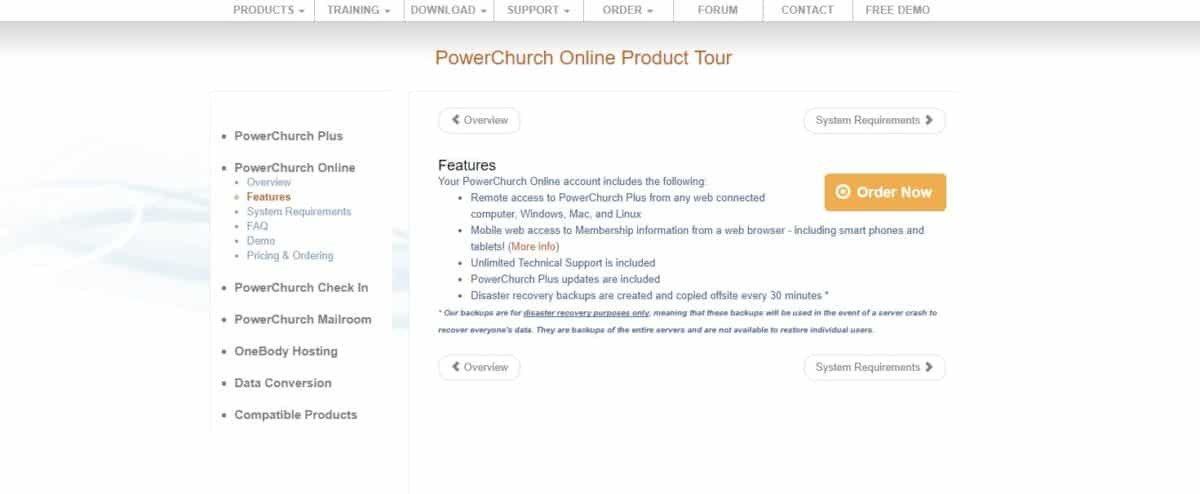 4
ChurchSuite
ChurchSuite is a cloud and web-based church management software, suitable for churches and denominations of all sizes. It is carefully designed to manage unlimited amounts of information, adult contacts, mass emails, reports and attendance statistics. ChurchSuite allows pastors, leaders and administrators to track and manage people and also share contact data appropriately and securely for greater team collaboration among users. ChurchSuite has free and full-function iOS and Android application for tablets and smartphones, enabling easy access to church database. Member facing system called My ChurchSuite gives the opportunity to church members to manage their own personal data and engage in…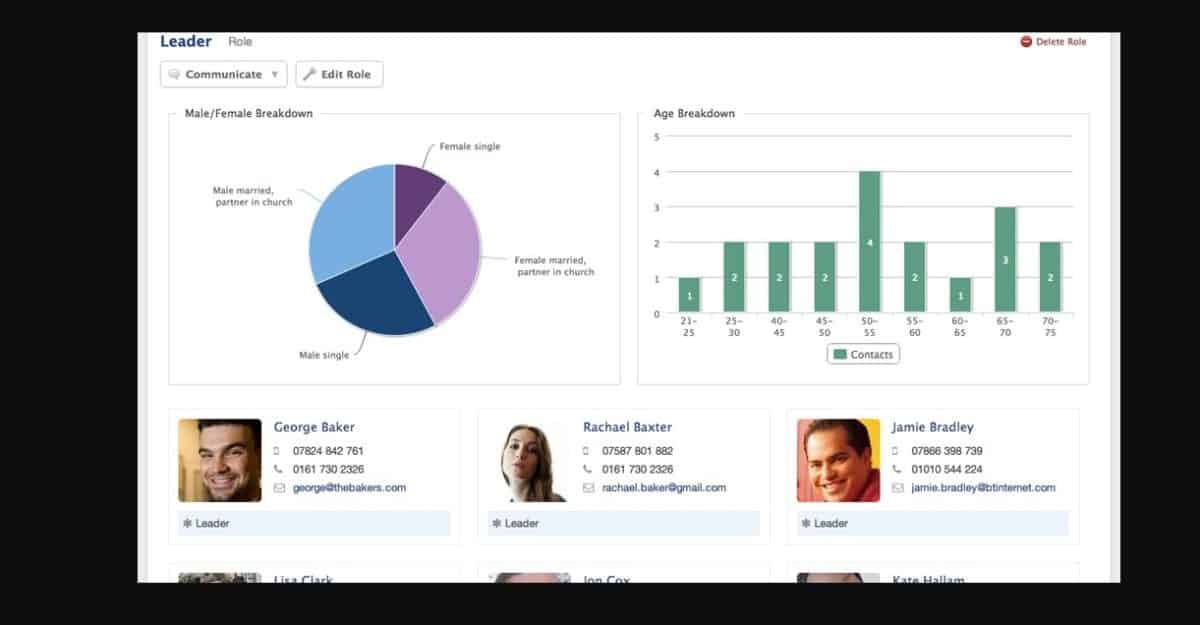 5
Elexio
ELEXIO's Church Management software(ChMS) provides church solutions which includes church management software, online giving, church accounting and an online website. Church management system helps you organize and communicate with your church. The Community mobile app makes it simple to update group member information or interactions from any device. You can send a mass text to any group directly from the app to keep your ministry organized and moving on-the-go. And the ability to download members directly into your contacts means that important phone call is only a button away. Interactions empower you to engage your congregation in the work of…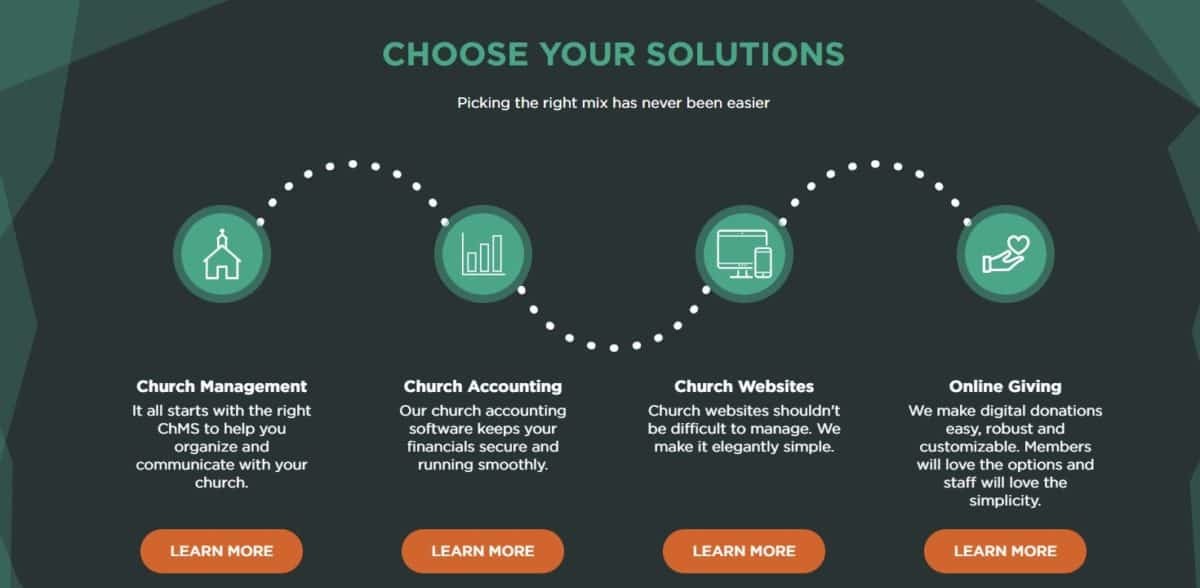 6
Breeze
Breeze is simple and easy-to-use cloud-based church management software, specially designed for small and medium churches. Breeze, with its intuitive design and fast response time, searches and finds information on people in seconds. Custom fields provide storing an unlimited amount of information on each person. Breeze is user friendly church management system – access from anywhere, at anytime, without downloading or updating software. Breeze has a feature that easily groups people by assigning them a tag. Tag can be used for communications with the group, adding members to events, grouping volunteers and various administrative tasks. Breeze tracks giving, generate giving…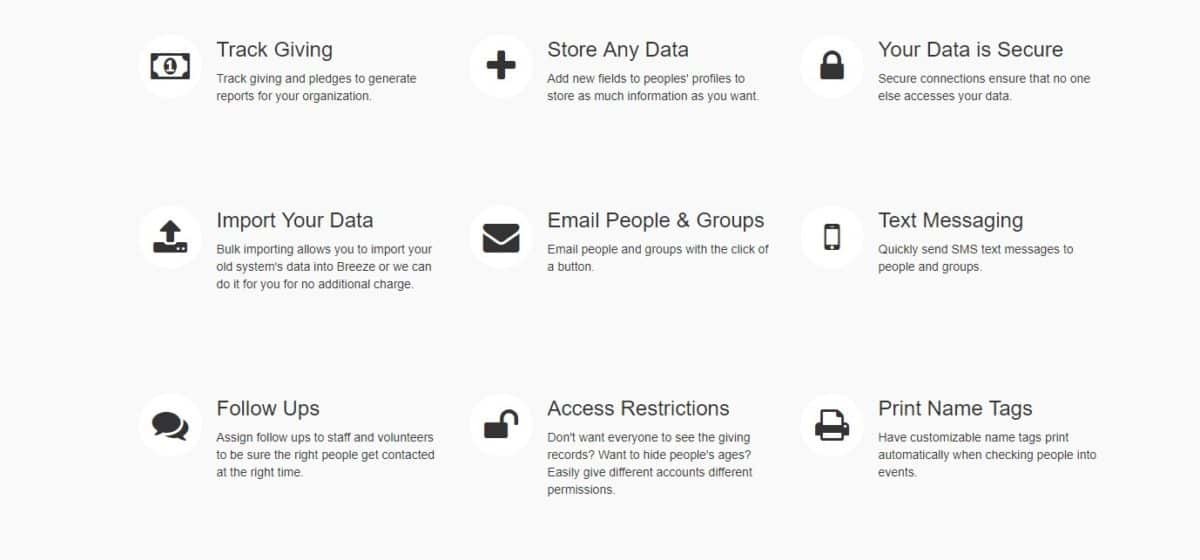 7
ACS
Every day tens of thousands of churches rely on ACS church management software and church accounting software to run their church. ACS can either be accessed online via our cloud-based OnDemand service or it can be installed locally throughout your networked church office. ACS keeps your staff in touch with what's going on at your church and provides insight into important areas. ACS covers several functional areas and can be customized to match your exact ministry goals and staff needs. Modular approach fits all budgets and church objectives. ACS includes a collection of church accounting apps that are specifically designed…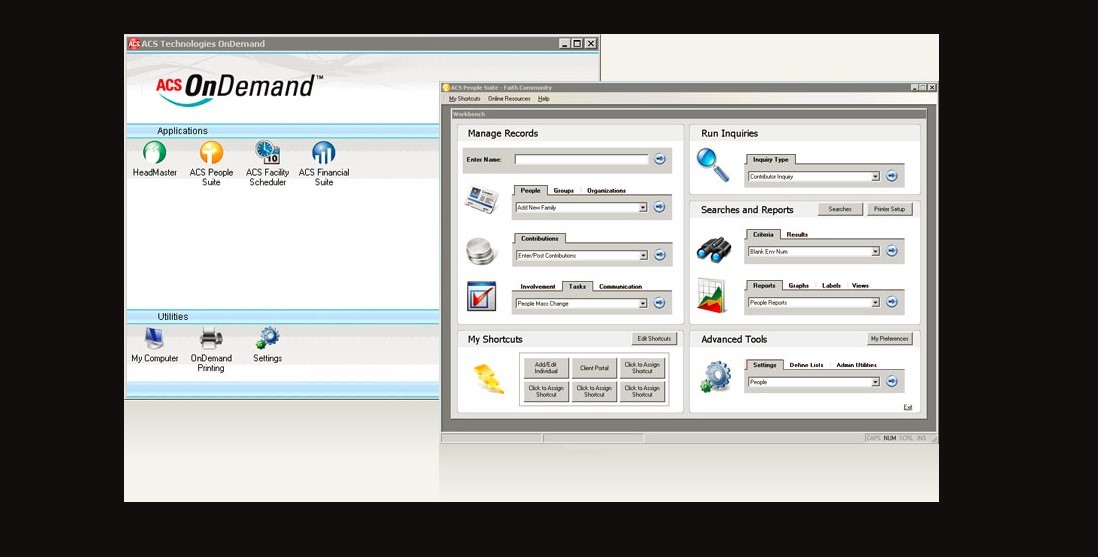 8
FellowshipOne GO Complete
FellowshipOne GO Complete gives you complete church management, in one package. FellowshipOne GO Complete is the one-stop-shop for all your church management needs. Minimize administration and maximize ministry when all the tools you need are at your fingertips. FellowshipOne is a Church Software solutions for church management, online giving and church accounting. Fellowship one takes the hassle of managing your church through use of the church management software where you can access membership data, attendance data, giving trends, and event management from your mobile device. It also helps to manage the entirety of your church's financial needs with one software…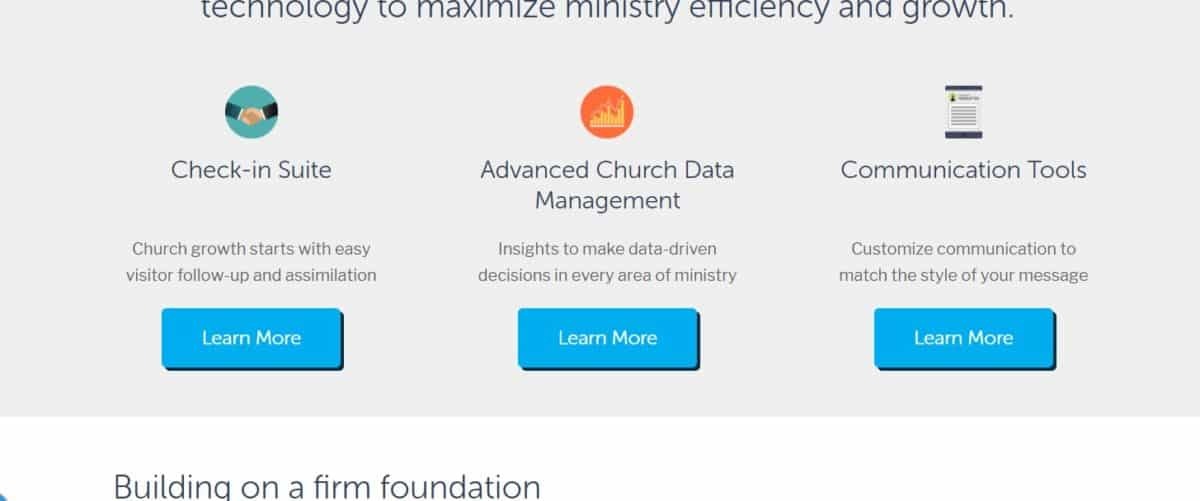 9
ParishSOFT
ParishSOFT data management is a software solution that is designed for churches. The integrated software product has a shared database with everyone in the room, and they can use it to access up-to date information they need. It has proven security protocols that ensure that only an authorized user can only access all the data. The packages are supported by web-based and desktop accounting systems which include AP, GL, and Payroll. It has a fund account that has about five chart segments, and the reports are flexible while providing a detailed fund reporting. The web-based system is easy to use,…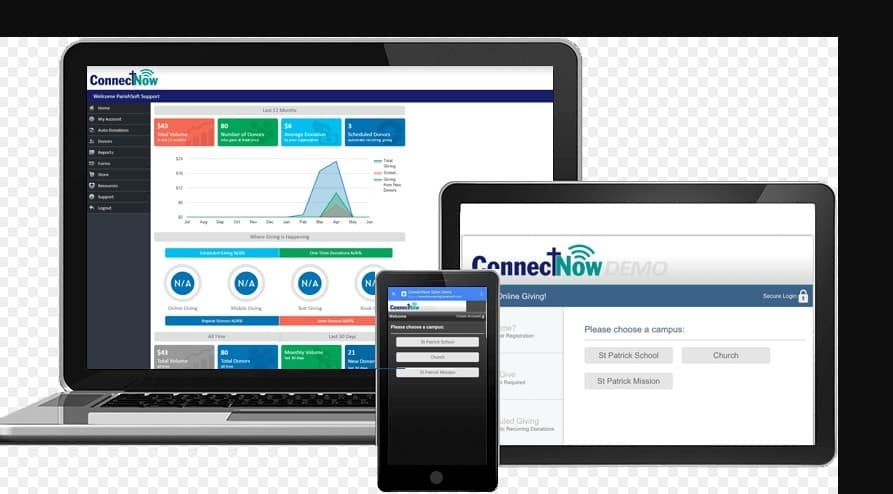 10
ChurchTrac
ChurcTrack is cloud based, easy-to-use church membership software which is used for keeping track of people, groups and attendance, events, contributions and finances. ChurchTrack is created in order to support the mission of ministries and churches - spreading the message of God and His Son Jesus Christ. The major features are membership management, group and attendance tracking, volunteer and event management as well as child check-in and security and customized directories and reports. ChurcTrack enables sending messages and generating payroll. Church Track can also be used for creating personalized picture directories and generating balance sheets, income statements and other reports.…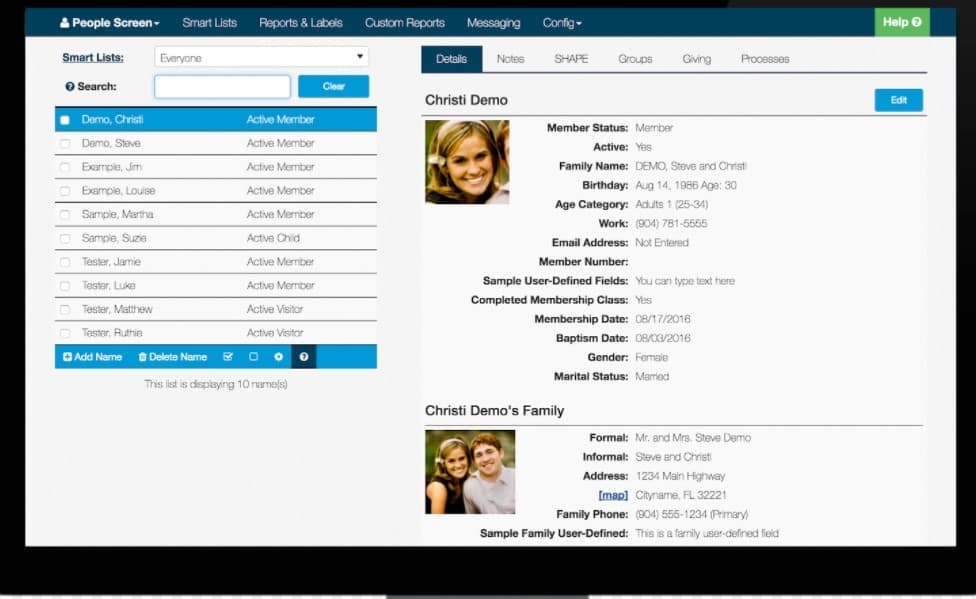 11
SimpleChurch
SimpleChurch is powerful church management software, easy to use and with many features. SimpleChurch organizes members and prospects by their commonalities, carefully collecting information and details. SimpleChurch uses interaction assignments that involve pastors, small group leaders and members and enables easy communication. SimpleChurch easily tracks giving for congregations and identifies slumps by using simple but precise graph methods. With online giving services it is possible to use debit or credit cards to collect donations from members. SimpleChurch can import giving data from other giving services. SimpleChurch has a powerful attendance tracking system that creates trends, finds and contacts absentees. SimpleChurch…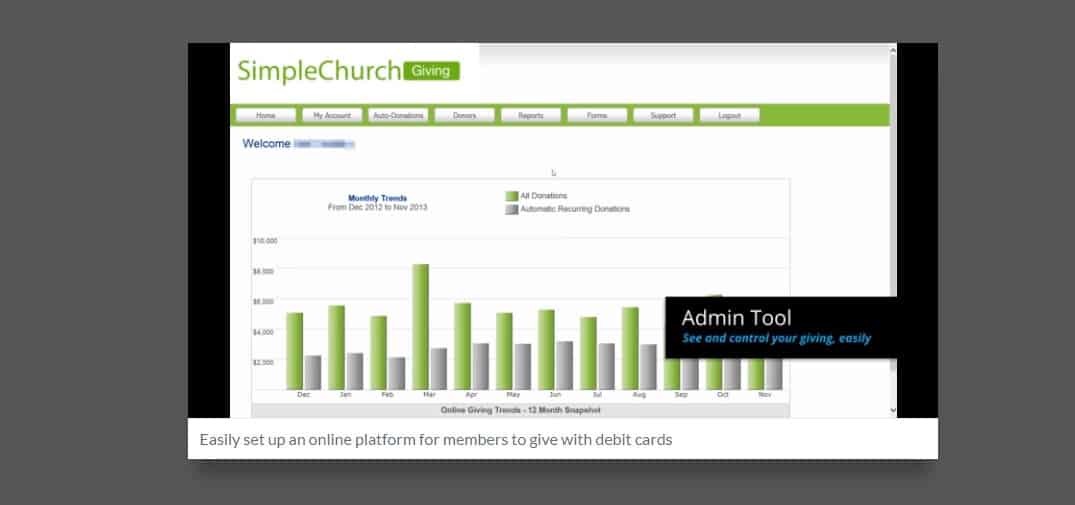 12
Church Community Builder
Church Community Builder is a cloud-based church management solution designed to help church leadership engage with members of the congregation. Church Community builder features include check-in, contribution management and online giving, forms, volunteer management, guest follow-up, metrics dashboards, mobile apps and much more. Church Community Builder also provides software implementation coaching to ensure platform success. Online contribution and payment tools make it simple for members to make pledges, one-time or recurring donations and payments for retreats, concerts and other events. The volunteer management application enables staff to notify volunteers of available positions and send reminders when they're scheduled to serve.…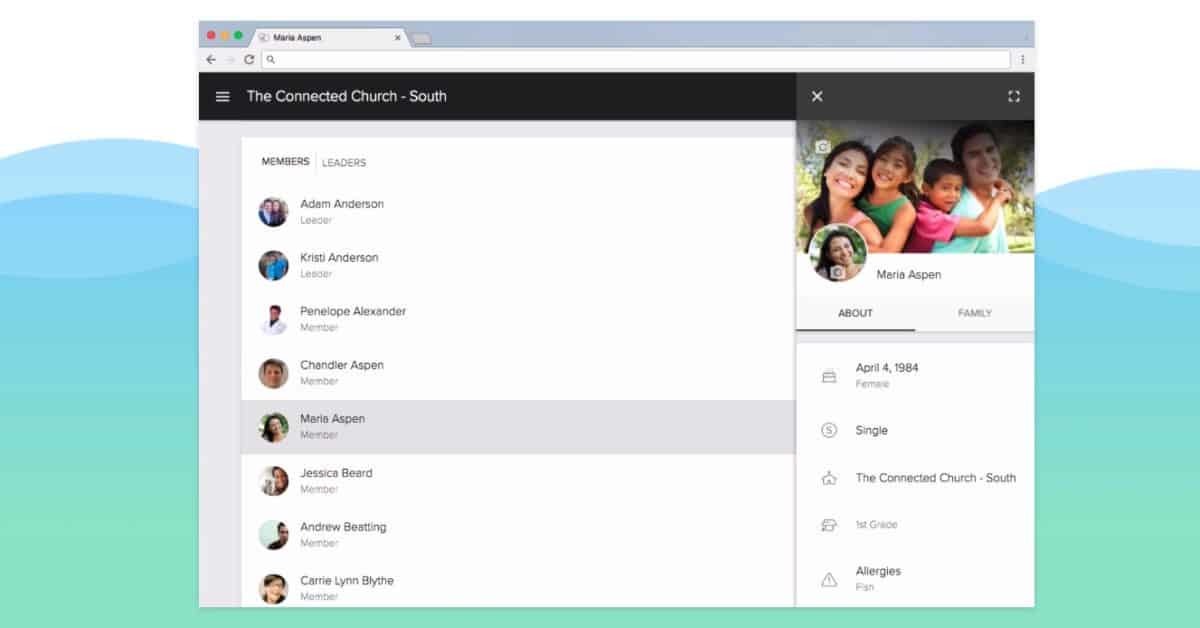 13
ShelbyNext Membership
ShelbyNext Membership provides an all-new, ministry-focused, cloud-based Church Management Software created to build and engage your church community, fostering growth both inside and outside the walls of your church. Shelby Systems is a software company that offers a comprehensive portfolio of solutions for managing church members and finances. Their technology features state-of-the-art products for membership monitoring, attendance recording, and managing volunteers. There are also tools to help manage a congregation's financial transactions, such as contribution processing, online giving, and online fund accounting and financial reporting. Features for small groups and contact management, nursery security and check-in, and event registration are…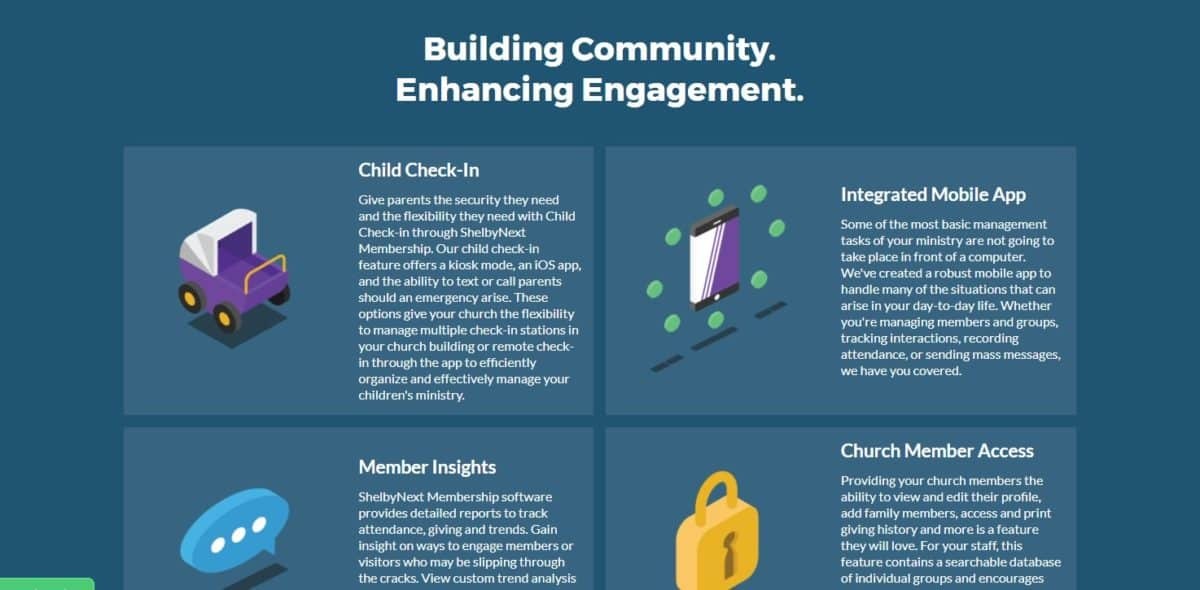 14
Church Windows
Church Windows management software is a platform that is divided into three investigative, beginning and supporting. In the investigative platform, the products include membership, scheduler, donations, accounting and payroll. The Membership screen contains a wealth of information available in an easy-to-view and quickly accessible layout. The membership helps to organize member records and emails. The scheduler helps to create a unified church calendar. The donation helps to track donors, giving and pledging information and can email donors the financial statements. The accounting helps to pay the bills, track budget and report to committees. The payroll helps to pay the church…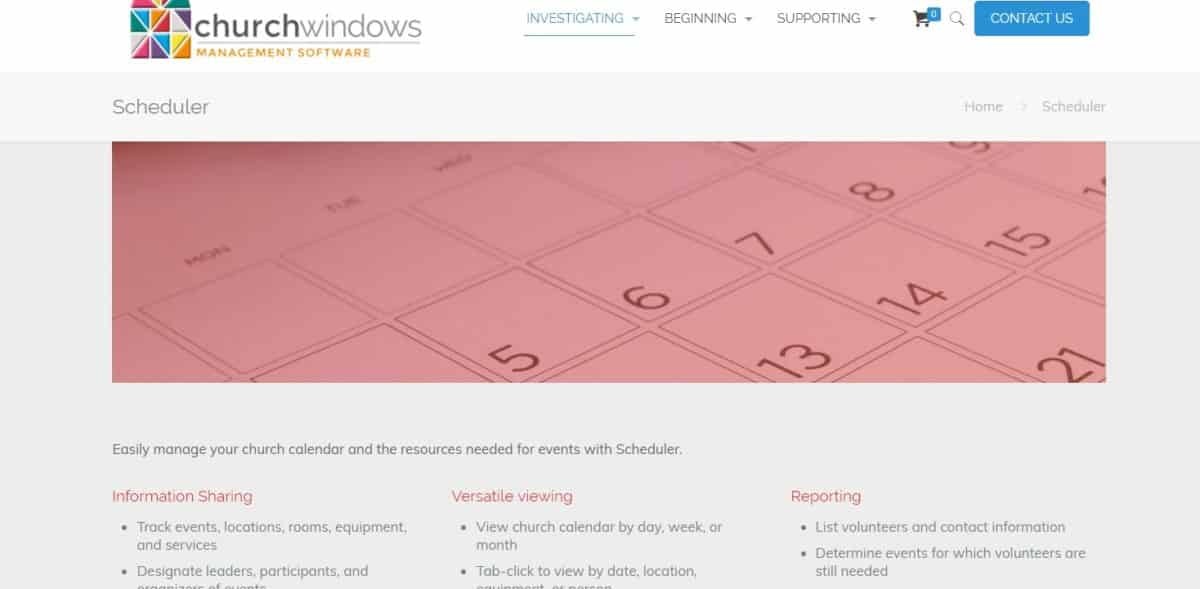 15
Excellerate
Excellerate is a Complete Church Management Software installed and includes the Church Management Software, the church Check-In System, and the church Volunteer Scheduling. It makes your church more organized, effective and efficient. The church check-in system helps to streamline your check-in process, track attendance automatically and feel confident knowing your kids are safe. The church volunteer scheduling helps you to schedule, connect and resource your church volunteers and gives a smooth, efficient, check-in experience that reduces disorganization causing parents to wait in long lines, feeling uneasy about leaving their kids with you. Excellerate Check-In is designed to be extremely streamlined…

16
Shepherd's Staff
Shepherd's Staff is Windows-based church management software that provides the organizational tools needed so that church can focus on what matters most—the spiritual care of members. This Windows-based software has an easy solution to managing the daily operations at the church, from scheduling the calendar to tracking contribution information. Backed by a top-notch technical support team, Shepherd's Staff is trusted church management software used by thousands of churches nationwide. It integrates five comprehensive modules to help church better manage its membership, attendance, contributions, finances, and calendar. Schedule church staff, rooms, rentals, services, cleaning, and meetings. Track equipment usage and inventory.…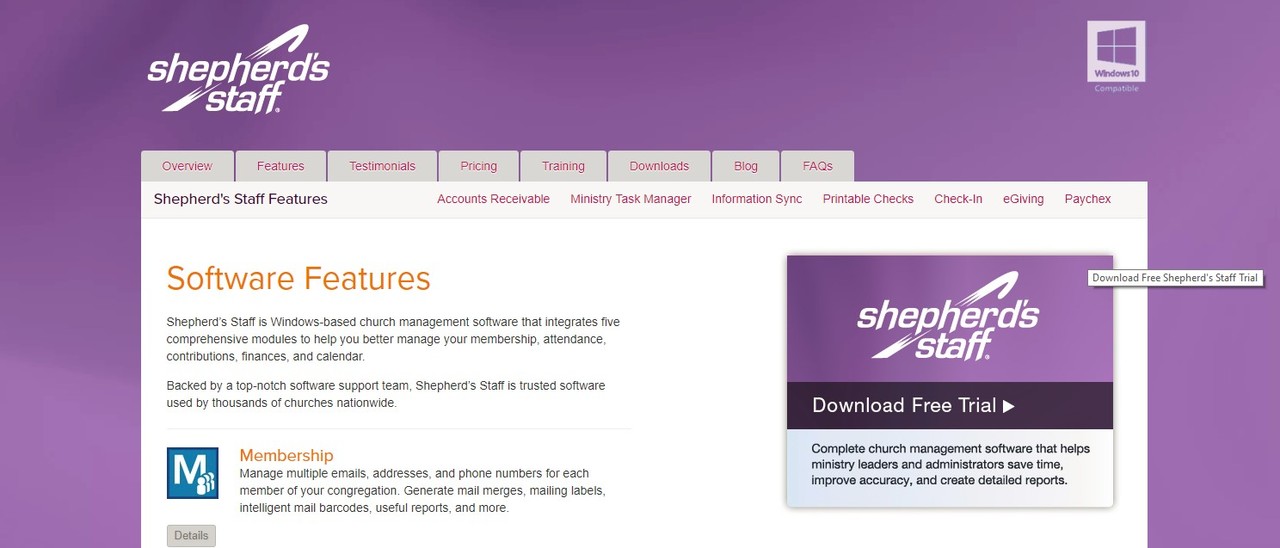 17
IconCMO
IconCMO is an all-in-one package created specifically for religious organizations. It helps with storing contact information, sending contribution statements and balancing your checkbook. Icon CMO is a Church Database Software designed for a Smooth, Effective Ministry. It helps you discover the power of a well designed, relational database. IconCMO offers all-in-one church management software packages for managing membership, contributions, small groups, communication, check-in, fund accounting and payroll. IconCMO offers church management solutions to meet the needs of anything from church plants to central offices. It is a powerful, affordable solution for managing your entire church… from anywhere. IconCMO (Church Management…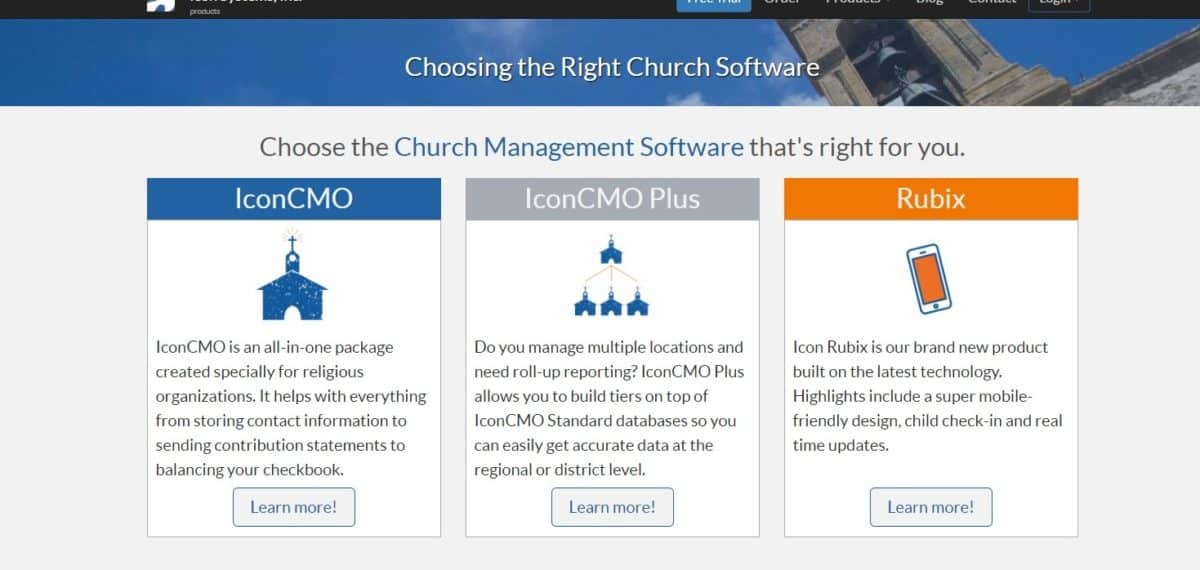 18
Church Office Online
Church office online (COO) is management software specifically built for the church. It is compatible with apple mac and windows OS. COO is very affordable and works with any device; it is a safe and secure cloud software with offsite nightly database backups. COO is easy and affordable for churches of all sizes to manage and engage their congregation, and helps equip ministry with the best available tools. COO integrates easily with the online giving app to track and manage giving of the congregation. The giving technology allows the congregation to give without any monthly transaction rates and takes as…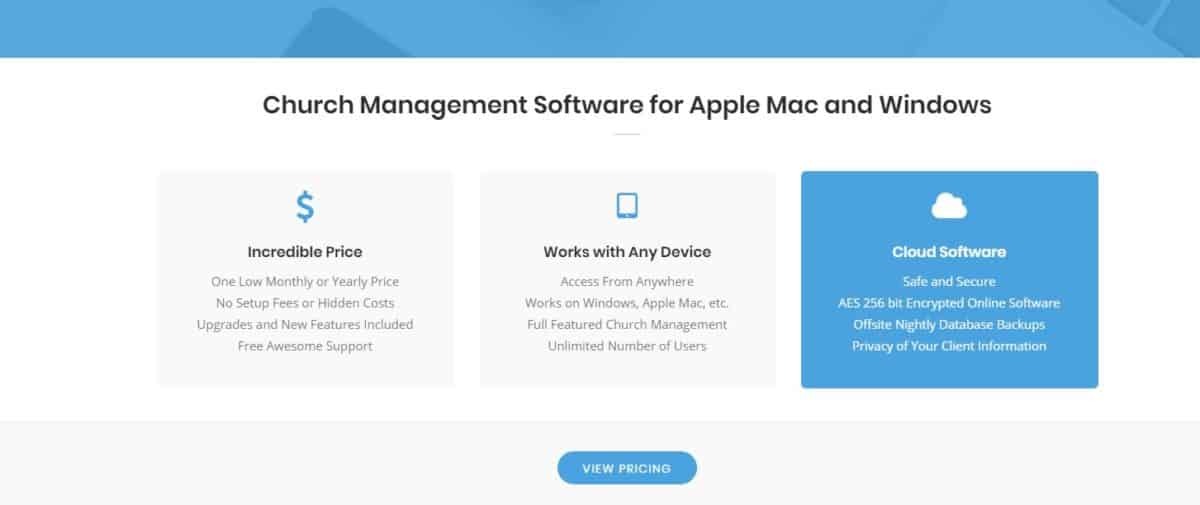 19
CCIS Shield
CCIS Church Management Software has been there for over 35 Years, we have helped churches Manage their Membership. The Web Based Church Software helps in Online Membership, Contributions, Offering, Tithes, Pledges, Attendance, Activities, & Reporting. The CCIS Shield Desktop Membership Management software offers you a convenient and comprehensive membership financial management system that you can tailor to fit your church's needs. This program is flexible enough that you can choose what's important to you, but powerful enough that you can expand the depth of your data at any time. You can keep secure notes on individuals, chart individual and family…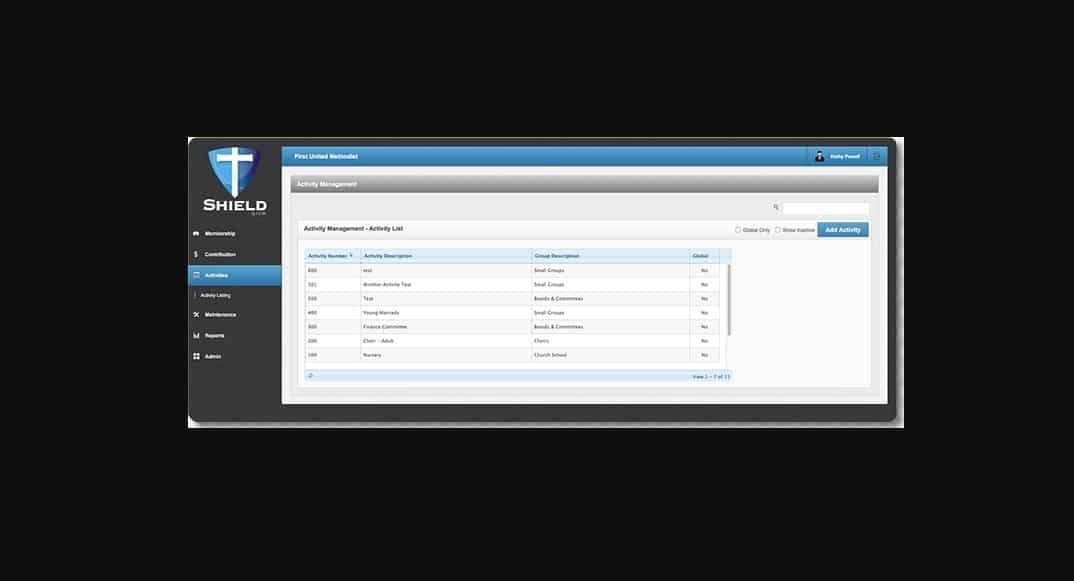 20
By the Book
By the Book software consists of Roll-call church software, Child Check-in System, and Count Me In - Events. The By the Book's Family of Software is for Churches and Non-Profits. It is user friendly; Flexible & Affordable. By the Book has been providing feature rich software for churches since 1991. Roll Call will help your church manage membership, track and report on contributions, understand how folks are involved and much more. The Child Check-in System offers security for your Children's Ministry. Roll Call church software includes child check-in. Print name tags as well as parent security tags. Attendance is automatically…

21
Parish Data System
Parish Data System (PDS) from ACS Technologies is a hybrid church management solution that caters to parishes, schools, dioceses and helps them to manage, automate and organize their day-to-day operations. The solution can either be deployed on-premise or hosted in the cloud. Churches turn to PDS to help organize and coordinate all of their operational, activity, and family information. Keep track of an unlimited number of contribution details, run fundraising campaigns more effectively, and give members more ways to donate — both online or off. Simplify the exchange of accurate family and financial information between your diocese, parishes and other…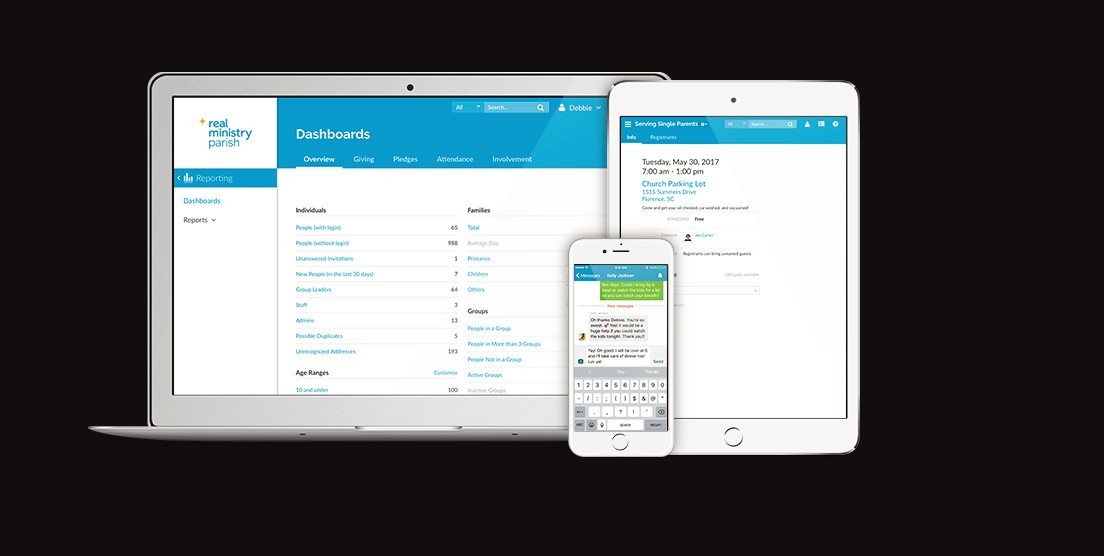 22
Realm
Realm is a church management system by ACS Technologies which places its emphasis on online community building. Realm provides a unified church database, including a photo directory, empowering church members to connect both online and offline. The system can be extended for multi-location churches, including information on location-specific security, the ability to analyze trends at different locations, and sharing of processes and content between all staff and volunteers. Manage financial data in Realm using its fully integrated chart of account system to track transactions, set budgets, pay invoices, and run reports. Church staff can manage all profile information; define custom…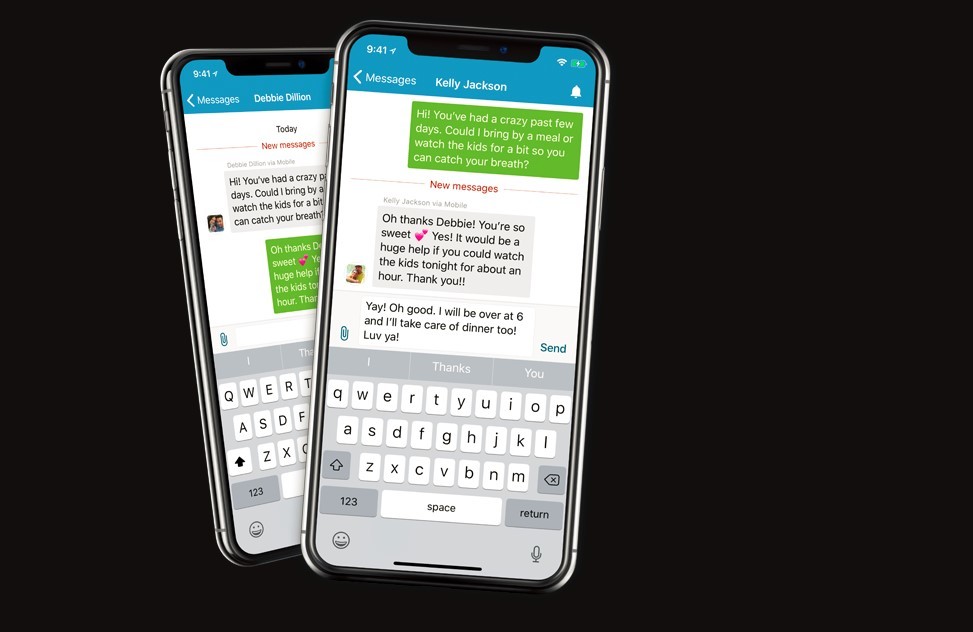 23
Icon Rubix
Icon Rubix is a cloud-based church management solution that allows administrators to manage membership data, communications with members and volunteers, member contributions, accounting and payroll. Membership management feature helps users to organize and record member information, schedule pastoral visits and archive records in order to maintain historical data. Users can manage groups by communicating through email and text messages in order to send reminders and last minute updates. Icon Rubix church software was implemented from day one to be completely mobile without any extra applications and set up. It will work on any device with an internet connection. An unlimited…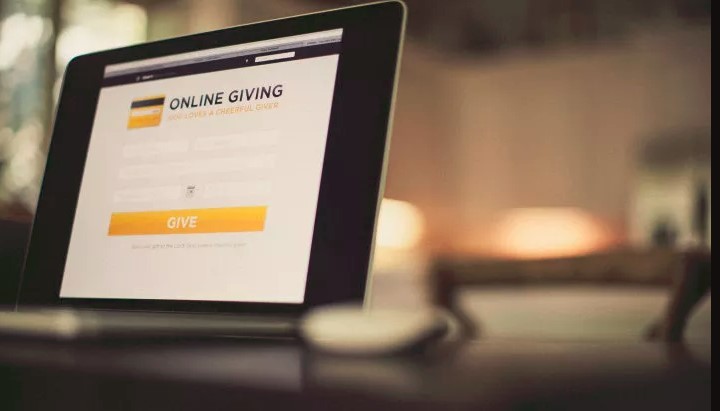 24
Ministry Tracker
Ministry Tracker is a cost-efficient and user-friendly church management software. It claims to be the foremost cost-effective application in the category as it confers to the user all the essential tools they need for church administration. With Ministry Tracker, ministers are guaranteed to have access to an application that provides them with flexible modules and powerful features for effective church management. The application enables them to keep track of activities, organize groups, accurately record pledges and gifts. Ministry Tracker also ensures that pastors are continuously in touch with the congregation, so they can actively engage their flock and grow relationships.…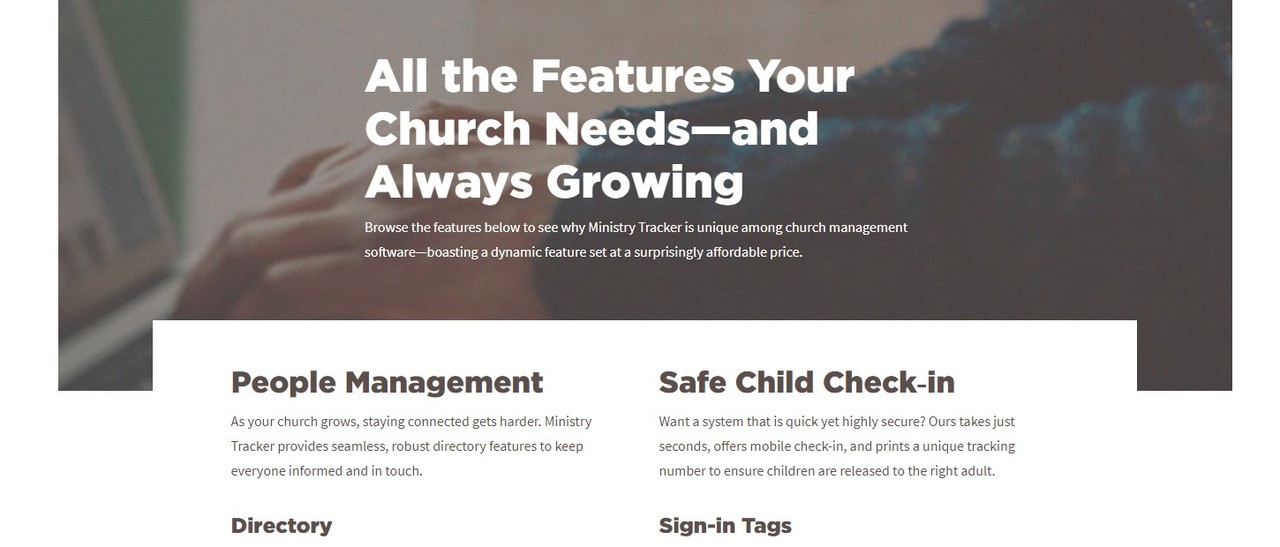 25
Logos II
Logos II is a full-featured Windows-only church management software. It provides efficient administration with tools that make workflows more seamless and offers concrete connections with church members. Logos II is highly flexible and is vastly user-definable. The features can be modified and customized for them to fit into the church's existing workflow. The software adapts to the way things are done, so that ministers and their staff do not need to change their current processes. With Logos II, ministers also have access to a great support team. Users appreciate the responsiveness of the Logos team and their willingness to provide…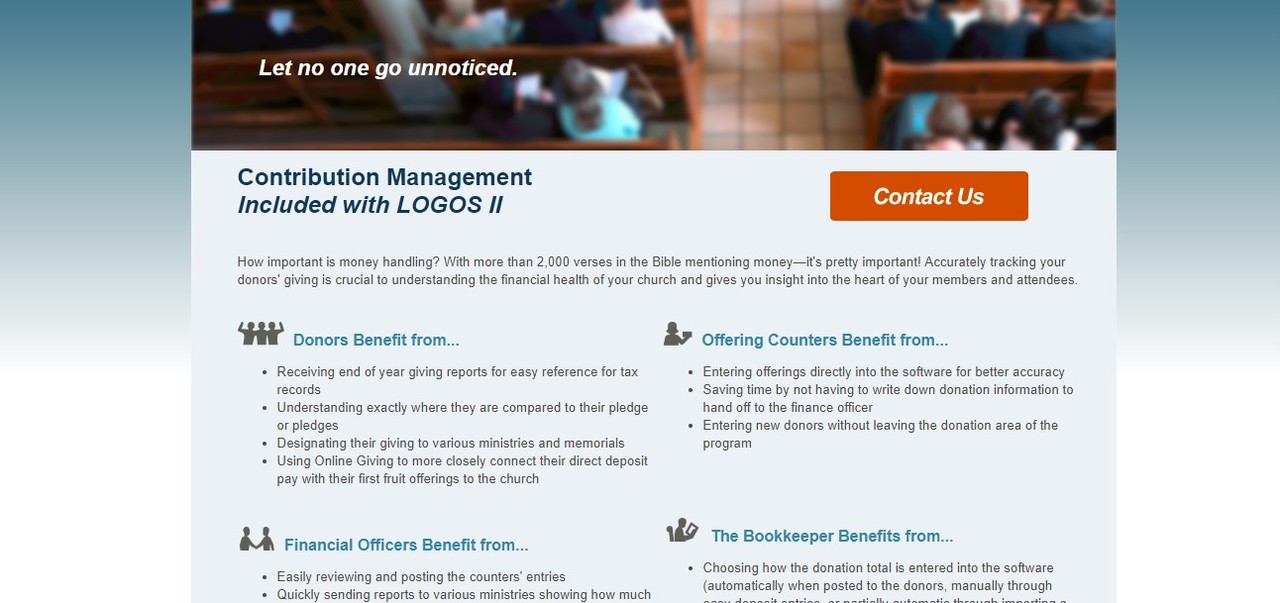 26
FellowshipOne Premier
FellowshipOne Premier, web-based church management software, helps dynamic churches of any size or denomination become more effective in ministry, more efficient in administration, with the essential information to make decisions. FellowshipOne Premier provides a unique 360-degree, single view of the family including individuals, their involvement and their needs so the church can personalize their care. FellowshipOne is used by ministries ranging from new church plants to mega-sized, multi-site, churches. FellowshipOne Premier streamlines the confusion of ministry details with the simple approach of aligning people, processes, and technology to maximize ministry efficiency and growth. Fellowship One's church management software was designed…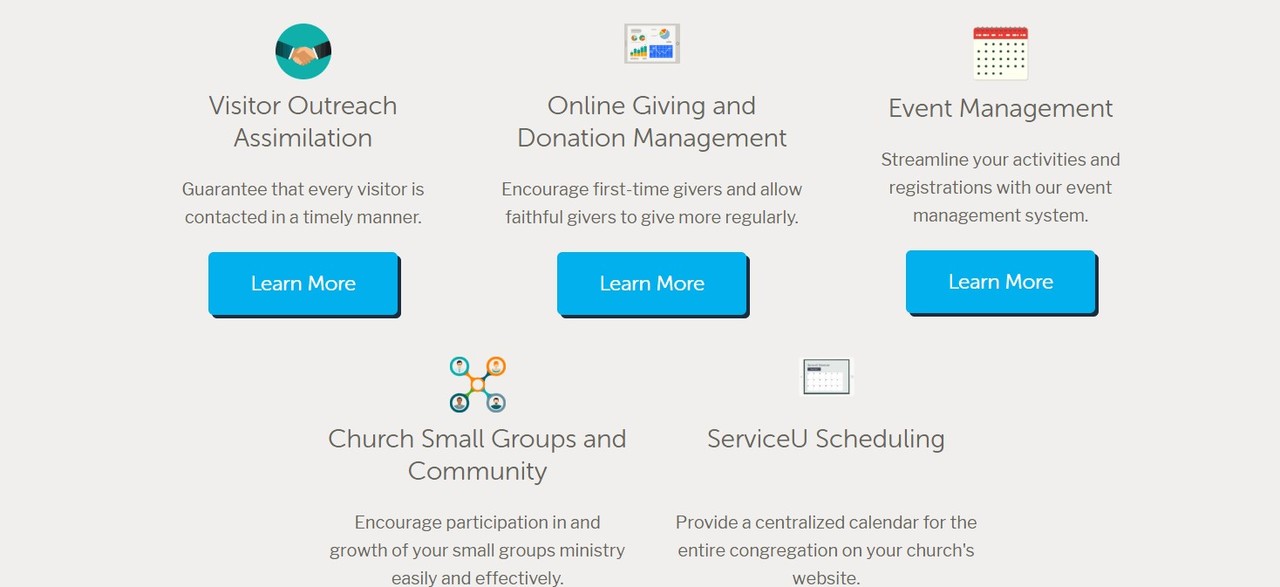 27
Shelby Arena
Arena church management software from Shelby Systems can be deployed online or hosted on-premise. This customizable system helps church leaders manage membership data, small groups, check-in and attendance. Core member management features include directories, member lists and address geo-coding, while premium accounts also support bulk mailings, background checks, in-depth metrics and reporting. Shelby Arena's contributions module can manage both online and offline giving campaigns, pledges and recurring payments. Its reporting tools enable staff to create contribution summaries and history reports and track fund distribution. Arena offers an online event calendar, trip registration or ticketing, built in reminders, and even online…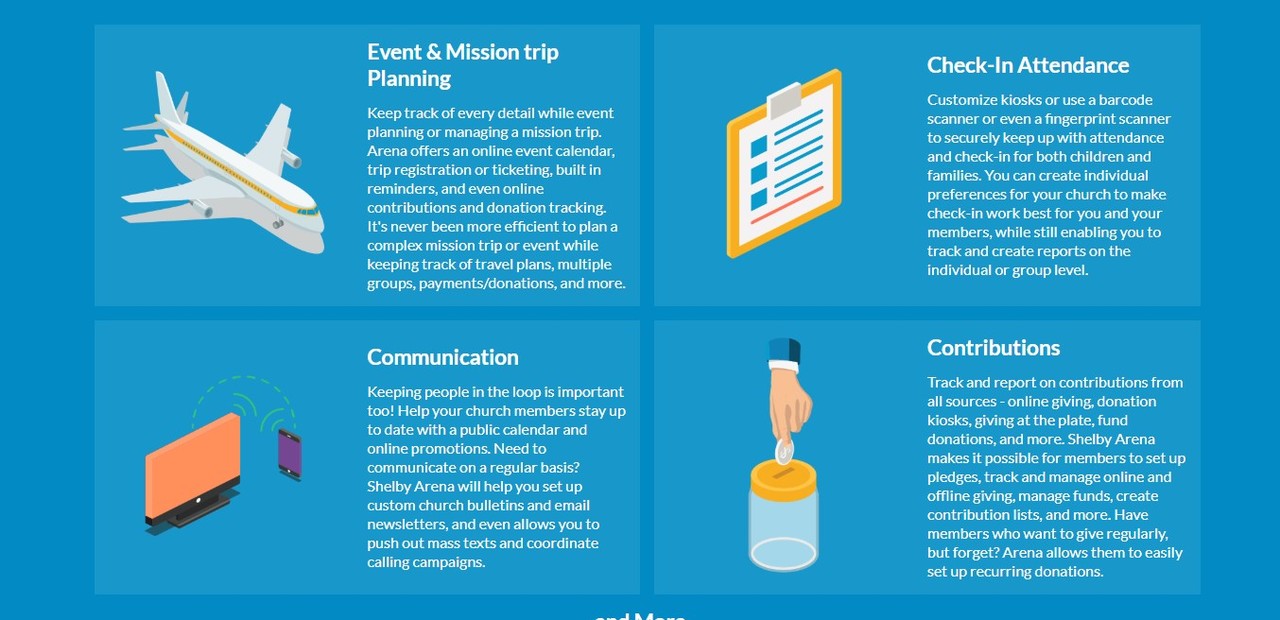 28
Kyrios ChMS
Kyrios ChMS is a Church Management Solution, responding to the specific needs of all the institutions that are part of the Church ecosystem (Dioceses, Commissions, Departments, Parishes, Movements, Fraternities ...) in terms of internal and external communication and also in terms of process management. This is because, by including in one product all the needs that a Church institution needs, it is able to simplify, streamline and improve the management information and communication. Taking the example of a parish, in which the parish priest needs to communicate with his parishioners and in this sense and in the present day when…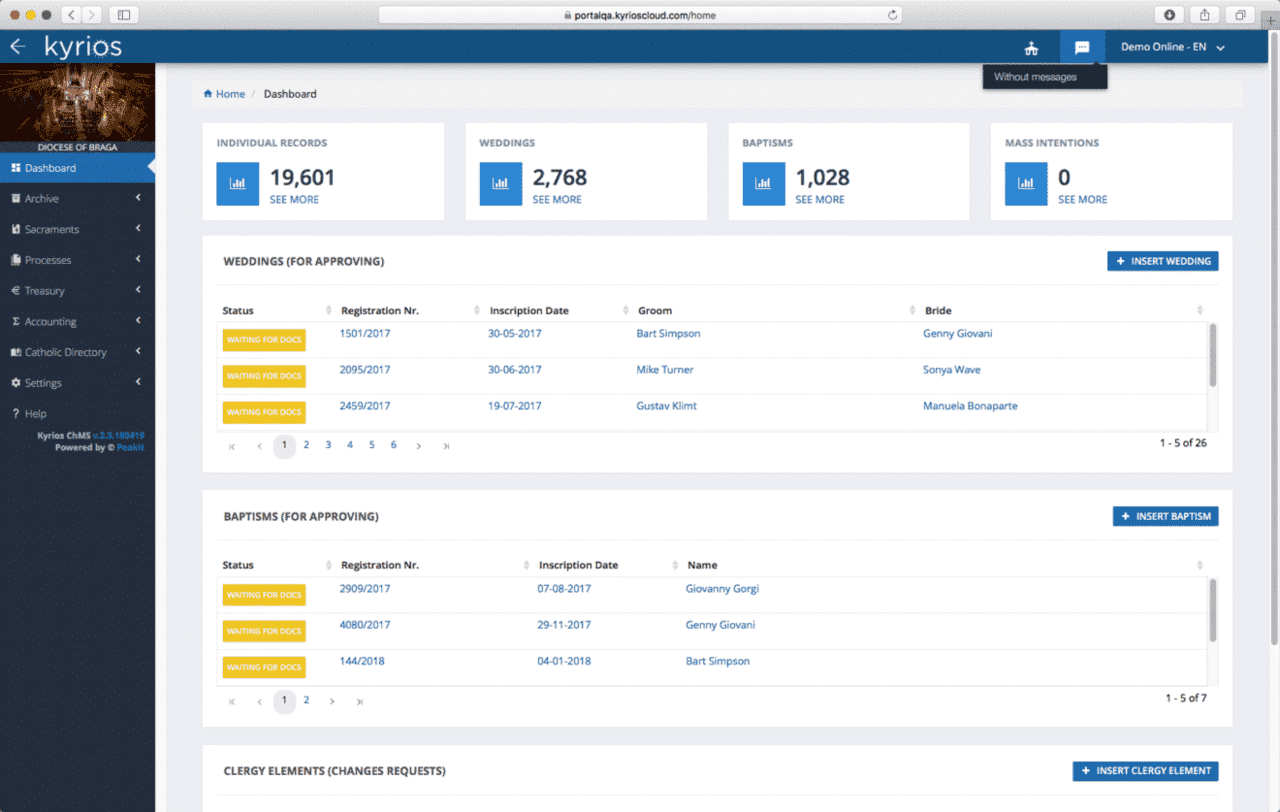 How to Select the Best Church Management Software for Your Church or Ministry
The objective of Church Management Software is to manage digital media, branding and video to store in a central place. The selection of Church Management Software depends on understanding, assessing and prioritizing your requirements, shortlisting the vendors based on your requirements, products features and functionality and prior implementation experience. You will have to closely assess the products capabilities of shortlisted vendors with your user cases with demos, which finally leads to selection of an effective, Church Management Software which suits to your business requirements.
Here are some tips for Selecting an effective Church Management Software.