Top 10 Business Email Service Providers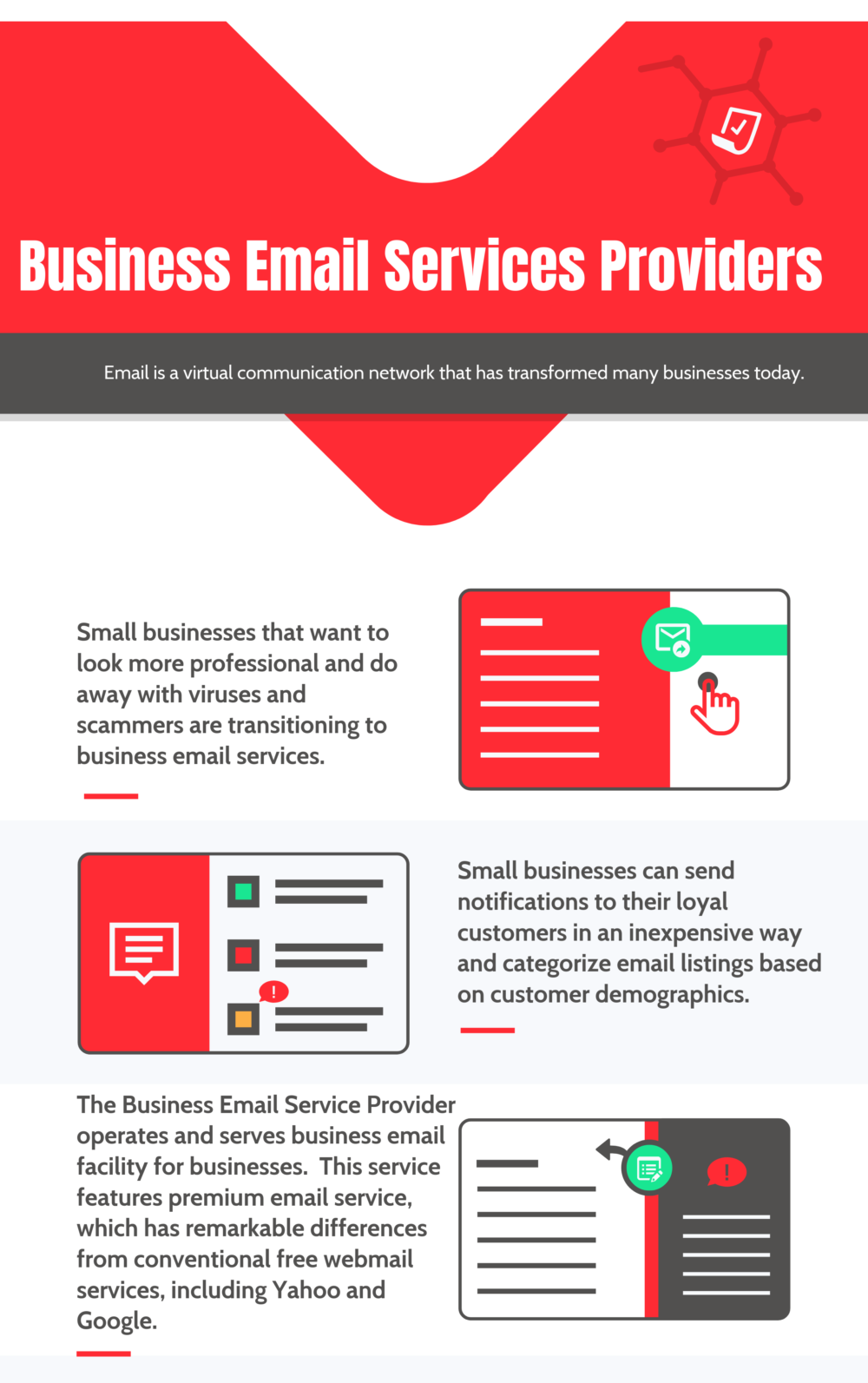 Email is a virtual communication network that has transformed many businesses today.  It has removed existing communication barriers enabling companies to share information with clients and stakeholders in a cost-effective manner, at incredible speeds from any part of the world.
Small businesses that want to look more professional and do away with viruses and scammers are transitioning to business email services.  They are no longer opting for free email services.  The free services such as Google and Yahoo will not help in enhancing the overall credibility of a company and bring out its identity.  That said many benefits come with business email services that small businesses enjoy that they would otherwise not get when using free services.
Communication becomes more professional
Credibility increases for your business
Cost-effective
Provision of customized storage space
Allows for white-label email hosting where companies can use their logo on email accounts.
Small businesses may require business email services for various functions, including introduction new products to their customers and notifications of discounts and other special promotions. Small businesses can send notifications to their loyal customers in an inexpensive way and categorize email listings based on customer demographics.
Through email, small businesses can send several emails to different users at the same time. They may require business email services from an outsider solution.  They do not own substantial, large scale networks like bigger businesses since they have limited staff as well as resources.  It becomes much easier to source our business email service than taking up the task all by themselves.
Choosing a business email service is not as easy as it sounds as nowadays, there are quite a number of them available. Businesses may have to look at different features and functions to find the right one.
What is Business Email Service Provider?
The Business email service also includes the domain name of the company into the email address.  Instead of having the usual @yahoo.com, @hotmail.com, or @gmail.com, businesses can have the email address customized depending on their preferred name to make them look more professional.
Business email services incorporate other advanced technologies that set them apart from conventional free webmail services. The service will host the company's domain name along with security email authentication schemes such as rerouting, replication, and filtering.
What are the features of Business Email Services?
Security: Security is an essential feature that businesses have to factor in when selecting a business email service. This to ensure that malicious hackers are not stealing sensitive your business data. The business email service has to monitor its servers from time to time to prevent unauthorized access. The service ought to include email backups as well as secure archiving as part of the subscription.
Spam & virus protection: Spam can clog up the user's inbox and lead to a substantial waste of time. Viruses, on the other side, can harm devices, corrupt data, and use emails to send spam messages to customers and other business associates.  The business email service should offer the utmost protection against spam and viruses.
Mailbox storage: Storage is another key feature that businesses must consider. If your employees are regularly tasked with making important decisions for the company through email, then you may want to ensure they have enough storage space.  This way, they do not have to keep archiving emails to free up space.
Support team: A significant advantage of getting a business email service is that it eliminates the need for hiring a technical systems administrator. The business email service that you go for must be in a position to solve your issues with the service whenever they arise.
Accessibility: With the increased versatility of businesses today, employees need to access their emails any time at any given place. Employees can easily access the business email service that you choose through any device provided; there is a steady internet connection.
What are the Top Business Email Service Providers?
G Suite, Office 365, Microsoft Outlook, Yahoo Small Business, Rackspace, Kerio Connect, Amazon WorkMail, Intermedia, IceWarp, OX App Suite are some of the Top Business Email Services Providers.
1
G Suite includes Gmail business email, Docs word processing, Drive cloud storage, Calendar shareable calendars, Hangouts Meet video conferencing and other productivity and collaboration software. With G Suite, the organization can move faster together, using intelligent, cloud-based apps to collaborate from anywhere, in real time. Share files easily, collaborate quickly and unite employees across different locations. G Suite helps teams move forward faster and get more done every day. G Suite has been built from the ground up to mitigate the unique threats for cloud systems. Google's standards for performance and reliability apply to businesses, schools and government institutions around…
2
Office 365 is a cloud-based collaboration solution designed for businesses of all sizes and serves multiple industries. The solution integrates with various online apps, including Microsoft Word, PowerPoint, Excel, and OneNote. The solution enables the user to communicates more effectively. The user gets their team on the same page with group chat, online meetings, calling, and web conferencing. Users can work better together. It enables the user to collaborate on files with built-in Office 365 apps like Word, Excel, PowerPoint, and SharePoint. The solution helps one customize their workspace. They can add in their favorite Microsoft apps and third-party services…
3
Outlook is a free email and calendar service that helps people stay on top of what matters and get things done with features such as Sweep, Pin and more. Outlook's Sweep enables automatic organization as it can be used to file or delete hundreds of emails from the inbox in seconds and it can also be used for managing rules to delete the unwanted email before it arrives automatically. Its unsubscribe feature enables blocking of unwanted mail such as newsletters, daily deals, or other recurring messages while the pin feature keeps the most important messages at the top of the…
4
Yahoo Small Business is the initial step towards transforming your passion into a great company. Entrepreneurs have trusted Yahoo Small Business for more than two decades now. The reason is that Yahoo Small Business guarantees them peace of mind; They work hard towards keeping your business safe and secure as well. Yahoo Small Business also offers 24/7 support, and you can reach them anytime you have an issue through emails and calls. The platform offers you the chance to create your free website. You select a theme and customize it and go live, and you do not need any coding…
5
Rackspace is a cloud-based internet service provider designed for multiple industries such as automotive, education, energy, digital agencies, gaming, and government, and more. Enterprise Resource Planning (ERP) applications are essential to running any business, but they can be time-consuming and expensive to maintain, modify, and customize. The solution offers the expertise a user needs to make the most of their ERP investment. Data is essential for operations, but it can be difficult to catalog, maintain, and act upon. The solution helps streamline the analytics process, discover data efficiencies, and improve business results. The solution can guide the user through architecture…
6
Kerio Connect is an enterprise-class email, calendars, and instant messaging solution designed for small and medium-sized businesses. Kerio Connect is a fully featured enterprise-class email solution. The solution helps protect the user against hacking and malicious attacks with SSL encryption, S/MIME, anti-spam and anti-virus tools, and more. Automated backup with granular restore options ensures quick and easy recovery from all types of disasters. Server-wide archiving prevents data loss and helps organizations to comply with legal requirements for email retention. Instant messaging and calendaring help business users chat in real-time with the Kerio Connect client, or send and receive instant messages…
7
Amazon WorkMail is a secure, managed business email and calendar service with support for existing desktop and mobile email client applications. Amazon WorkMail gives users the ability to access their email, contacts seamlessly, and calendars using the client application of their choice, including Microsoft Outlook, native iOS, and Android email applications, any client application supporting the IMAP protocol, or directly through a web browser. The user can integrate Amazon WorkMail with their existing corporate directory, use email journaling to meet compliance requirements, and control both the keys that encrypt their data and the location in which their data is stored.…
8
Intermedia is a cloud-based Unified Communications, Exchange email, VoIP, file sharing, & other business cloud services solution. Office in the Cloud lets the user get these services from a single provider. The solution manages integration, security, and mobility, so the users and admins stay focused on business. Office 365® from Intermedia combines Microsoft® Office™ tools with business-grade email and Skype® for Business™—simplifying collaboration and enabling users to stay connected. Intermedia builds on the productivity and mobility benefits of Office 365 by enhancing it with the integrated backup, security, continuity, and cloud voice services that businesses need. The result is a…
9
Icewarp is a cloud-based and an on-premise unified email and collaboration solution that offers business email, calendars, chats, and storage documents on one screen. Business Email & Calendar helps secure professional email with own domain and revolutionary integration with chat. It has shared calendars for perfect planning. TeamChat offers real-time collaboration for every team and project. The user can update & stay updated and can share & brainstorm. TeamChat Mobile is an iOS companion app to desktop TeamChat. It enables the user to collaborate with the team using all the handy features such as comments, pins, mentions, and file sharing.…
10
OX App Suite is a modular open-source communication and collaboration platform designed for telcos, hosters, and other service providers. It delivers a wide range of easy-to-use cloud‑based services for consumers and small business users, including secure email, personal and team organization, cloud storage, and online office features. OX App Suite allows the creation of product bundles and can be combined with third-party applications. Available as a hosted or on-premise solution, it provides a highly scalable white-label platform that maximizes revenue, increases customer retention, and promotes recirculation. OX AppSuite is an easy-to-use email, communication, and collaboration platform, and OX App Suite…