Top 30 Business Analytics Platforms
The world of business is changing. Data architects, analyst, marketers and product managers are tapping into new data like machine data and combining them with structured data to provide business insights in real time. Data driven companies treat their data as a corporate asset and leverage it for a competitive advantage. A successful business analytics depends on data quality, skilled analyst who understands the technologies and the business and an organisational commitment to data driven decision-making.
Example of Business Analytics Platforms: TIBCO Spotfire, Datameer, TARGIT Decision Suite, Prognoz Platform, BIRT Analytics, Pentaho Community Edition, KNIME Analytics Platform, RapidMiner Studio, Guavus Reflex Operational Intelligence Platform, HP Haven Predictive Analytics, GraphLab Create, Informatica PowerCenter Big Data Edition, Opera Solutions Signal Hubs, Attivio Active Intelligence Engine, Alpine Chorus, Viscovery Software Suite, BOARD, FICO Big Data Analyzer, FICO Model Central, FICO Xpress Optimization Suite, Einstein Analytics, SAS Visual Statistics, Actian Vector Express, Actian Analytics Platform, AIMMS, Arcadia Data, GMDH Shell, Vanguard Business Analytics Suite, Rapid Insight Veera, Knowi are some of the Top Business Analytics Platforms.
What are Business Analytics Platforms?
Business analytics platform relates to the exploration of historical data of an organisation's data with emphasis on statistical analysis. Business analytics platform is used to gain insights that inform business decisions and can be used to automate and optimize business processes. Business analytics platform break down into two main areas, the first is basic business intelligence.
This involves examining historical data to get a sense of how a business department, team or staff member performed over a particular period time. The other area of business analytics platform involves deeper statistical analysis which can be predictive analytics or advanced analytics.
Specific types of business analytics platform includes descriptive analytics , which tracks key performance indicators to understand the present state of a business; predictive analytics , which analyses trend data to assess the likelihood of future outcomes; and prescriptive analytics which uses past performance to generate recommendation about how to handle similar situations in the future.
Business analytics platform has several features which assist business and organization in making up- to -date decisions, they include;
Analytic dashboards and content: Assists in data visualization by displaying the status of metrics and key performance indicators (KPIs) for an enterprise.
Data blending capabilities: Helps in the process of combining data from multiple sources to create an actionable analytic dataset for business decision making or for driving a specific business process.
Scalable analytics: Has the ability to handle increasing volumes of data and growing number of users without relying on sampling or sacrificing performance.
Intuitive interface: Allows you to take advantage of operational reporting, analytical capabilities dashboards, forecasting and budgets. It also provides wide range of information including detailed operational  reporting, consolidated management summary report and also alerts to help you monitor business performance and drill down to identify specific issues.
Self-service: Allows business users to manipulate data to spot business opportunities without requiring them to have a background in statistics or technology.
Integration; built in connectors: Integration capability with built in connectors which is mainly used within business analytic platform to transact provision and/or more data to and from a target system automatically.
The insight gained by business analytics platform software enables companies and business to automate and optimize their business processes. It also provides support for companies in the process of making proactive tactical decisions and business analytics platforms allows this companies to automate decision making in order to support real-time responses.
Top Business Analytics Platforms
TIBCO Spotfire, Datameer, TARGIT Decision Suite, Prognoz Platform, BIRT Analytics, Pentaho Community Edition, KNIME Analytics Platform, RapidMiner Studio, Guavus Reflex Operational Intelligence Platform, HP Haven Predictive Analytics, GraphLab Create, Informatica PowerCenter Big Data Edition, Opera Solutions Signal Hubs, Attivio Active Intelligence Engine, Alpine Chorus, Viscovery Software Suite, BOARD, FICO Big Data Analyzer, FICO Model Central, FICO Xpress Optimization Suite, Einstein Analytics, SAS Visual Statistics, Actian Vector Express, Actian Analytics Platform, AIMMS, Arcadia Data, GMDH Shell, Vanguard Business Analytics Suite, Rapid Insight Veera, Knowi
Top Business Analytics Platforms
PAT Index™
1
TIBCO Spotfire
TIBCO Spotfire : TIBCO Spotfire provides interactive dashboards, visualizations, and predictive and event-driven analytics, to develop unexpected insights immediately on any  device. Spotfire is an enterprise class analytics platform that helps both business and technical users quickly explore data to develop actionable insights, without requiring IT intervention. Spotfire meets the analytic needs of users across the enterprise with data discovery and ad-hoc analysis, interactive reporting and dashboards, domain-specific applications, event-driven real-time analysis, and powerful predictive analytics. All these capabilities are delivered from a single product architecture. Spotfire Analyst makes comprehensive analytics fast and easy for a variety of users, allowing…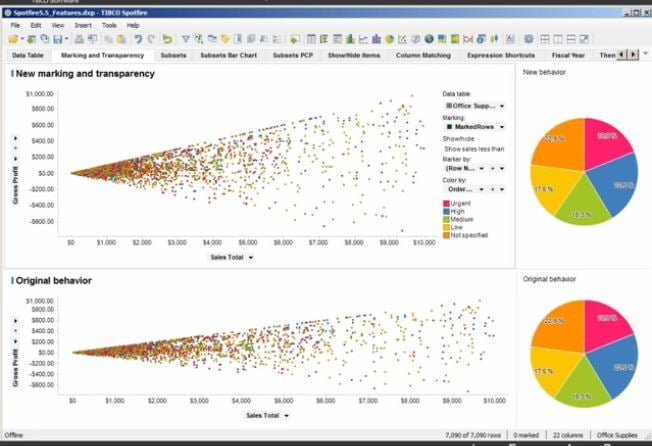 2
Datameer
Datameer Professional, is a SaaS big data analytics platform targeted for department specific deployments. Datameer offering features leading Hadoop cloud providers Altiscale and Bigstep. Datameer simplifies the big data analytics environment into a single application on top of the powerful Hadoop platform. Datameer combines self-service data integration, analytics and visualization functionality that provides the fastest time to insights. Datameer simplifies the big data analytics process into a single self-service big data application on top of Hadoop, disrupting a multi-process system. With more than 70+ pre-built data connectors for any data type, size or source, a spreadsheet user interface, and over…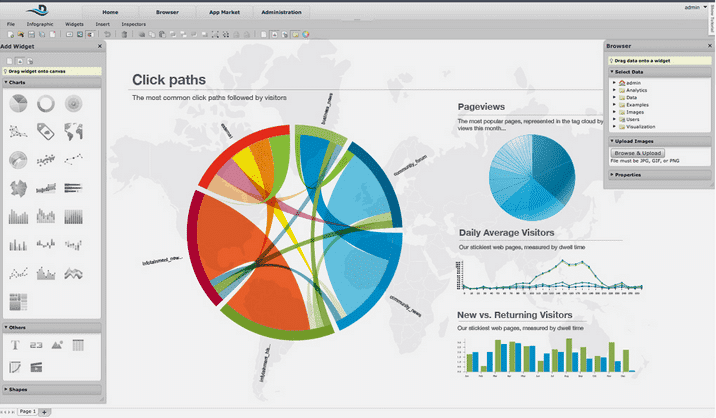 3
TARGIT Decision Suite
TARGIT Decision Suite is a business intelligence platform that offers visual data discovery tools, self-service business analytics, reporting, and stunning dashboards in a single, integrated solution. TARGIT supports the decision-making process in a world that's changing faster than ever. TARGIT's business intelligence software combines all the disciplines—from financial reporting to self-service visual data discovery—in one business intelligence platform that can be deployed across the entire organization. TARGIT Decision Suite is an enterprise-wide platform with a vast range of deployment options that can bring centralized business intelligence to everyone in the organization. The solution's self-service capabilities enable business users to create…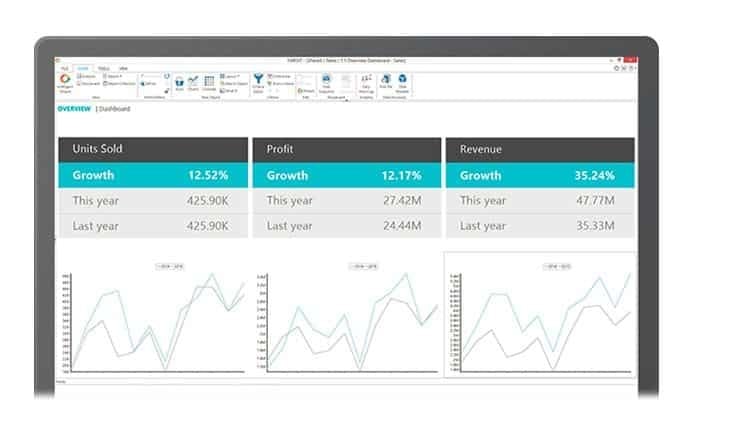 4
Prognoz Platform
Prognoz Platform is a cutting-edge BI platform for building information systems. It can also be used as a standalone product. Prognoz Platform comes with a number of important updates, including enhanced functionality and user interface, advanced visual data discovery and flexible BI search, improved administration and security tools, and a number of performance enhancements. Functional enhancements ensure that the platform is easier to use than ever. Users gain more capabilities for data analysis and reporting. For example, the user can leverage new tools designed for compelling data visualization as tables and charts, along with advanced import features. Business users will…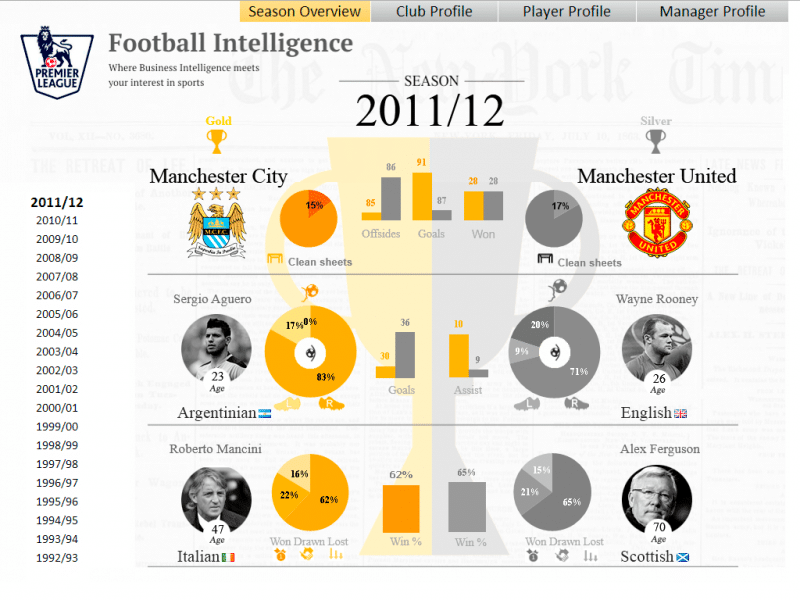 5
BIRT Analytics
BIRT Analytics : BIRT Analytics is a Big Data Analytics Platform built for business analysts that need to access, blend, explore, and analyze all their data. BIRT Analytics delivers analytics that combine ease of use, analytic horsepower and the ability to process large data volumes. BIRT Analytics helps companies to get the most value from large amounts of data in the shortest time, turning obstacles like resource scarcity and Big Data integration complexities into business benefits.  BIRT Analytics gives users critical insight into data and encourages exploration through ease of use and new, requisite tools for analyzing emerging data sources.…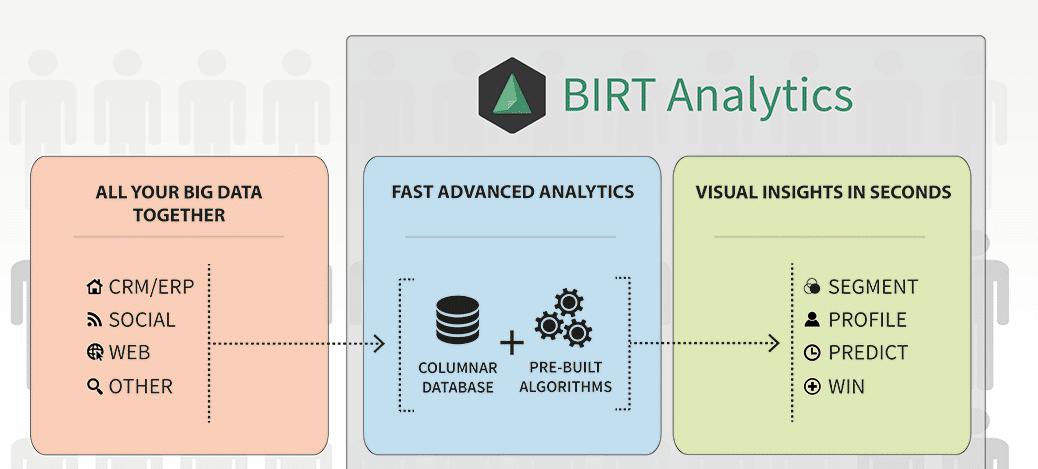 6
Pentaho Community Edition
Pentaho Community Edition : Pentaho offers, a suite of open source Business Intelligence (BI) products which provide data integration, OLAP services, reporting, dashboarding, data mining and ETL capabilities. Pentaho Open Source BI Suite Community Edition (CE), includes ETL, OLAP analysis, metadata, data mining, reporting, dashboards and a platform that allows to create complex solutions to business problems.Pentaho is the only vendor to support Spark with all data integration steps in a visual drag-and-drop environment. Unlike other vendors who require users to build Spark-specific data integration logic – and often require Java development skills – with Pentaho you only need to…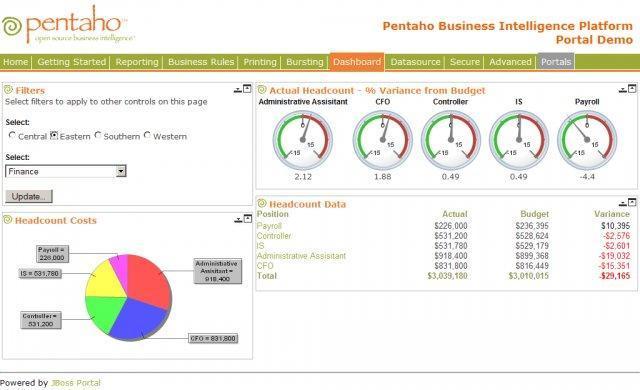 7
KNIME Analytics Platform
KNIME, the Konstanz Information Miner, is an open source data analytics, reporting and integration platform. KNIME integrates various components for machine learning and data mining through its modular data pipelining concept and provides a graphical user interface allows assembly of nodes for data preprocessing, for modeling and data analysis and visualization. KNIME Collaborative Extensions and KNIME Analytics Platform includes KNIME TeamSpace, KNIME Server Lite,KNIME WebPortal, and KNIME Server. KNIME Analytics Platform provides over 1000 data analytic routines, either natively or through R and Weka, for such topics as Univariate and Multivariate Statistics, Data Mining,Time Series, Image Processing, Web Analytics, Text…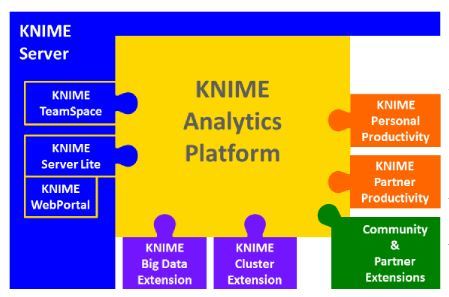 8
RapidMiner Studio
RapidMiner Studio is a visual design environment for rapidly building complete predictive analytic workflows. It provides a deep library of machine learning algorithms, data preparation and exploration functions, and model validation tools to support all your data science projects and use cases.Data science teams can easily re-use existing R and Python code, and add new functionality via a large marketplace of pre-built extensions. RapidMiner provides an integrated environment for machine learning, data mining, text mining, predictive analytics and business analytics and is used for business and industrial applications as well as for research, education, training, rapid prototyping, and application development.…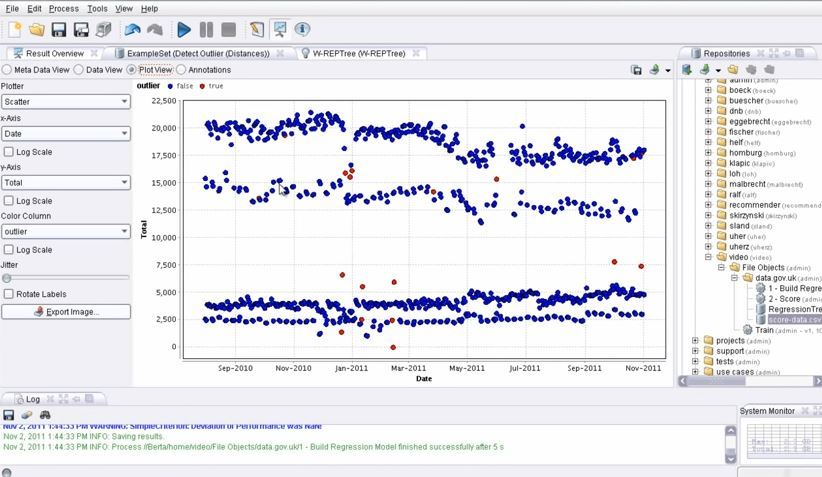 9
Guavus Reflex Operational Intelligence Platform
The Guavus Reflex Platform is capable of creating actionable information from widely distributed, high volume data streams in near real-time. The resulting analytics are powerful business metrics generated from responsive querying over huge volumes of high cardinality data. Reflex uses highly optimized computational algorithms and machine learning to distill actionable insights from very large datasets. This optimizes the computational process, and enables forward looking and predictive analysis as well as real time decision making and automation. The world's most data-intensive companies trust Guavus to help them take strategic advantage of their data assets to grow revenue, improve operating efficiencies and…
Guavus Reflex Operational Intelligence Platform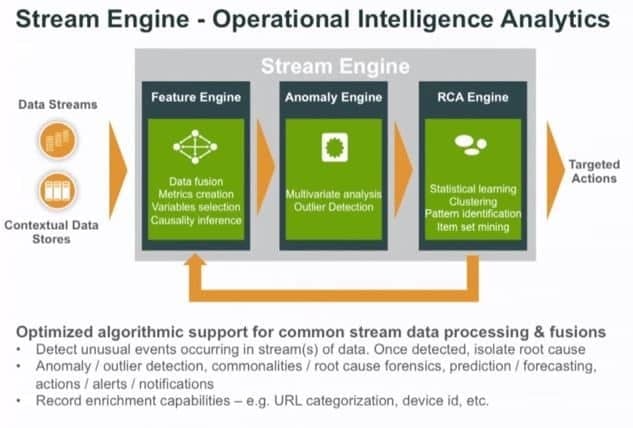 10
HP Haven Predictive Analytics
HP Haven Predictive Analytics : HP Haven Predictive Analytics is powered by HP Vertica  and Distributed R.   Distributed R is a high performance analytical engine based on the open source R language developed with HP Labs to address the most demanding, Big Data predictive analytics tasks. Distributed R improves performance and enables users to analyze much larger data sets than was previously possible with the popular R statistical programing language. Haven Predictive Analytics  provides data acceleration and native SQL support with HP Vertica. The native integration with the market leading columnar MPP database increases overall data access performance by up…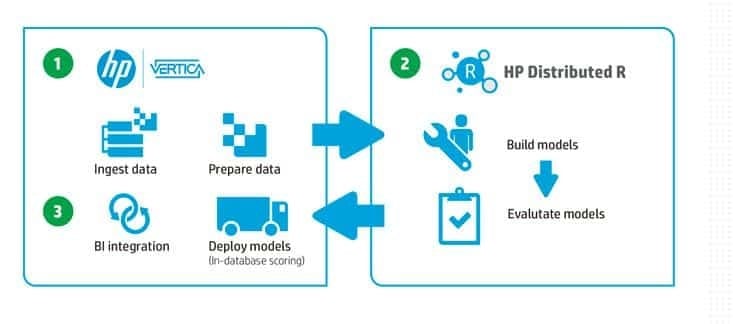 11
GraphLab Create
GraphLab Create is a machine learning platform to build intelligent, predictive application involving cleaning the data, developing features, training a model, and creating and maintaining a predictive service. These intelligent applications provide predictions for use cases including recommenders, sentiment analysis, fraud detection, churn prediction and ad targeting. Trained models can be deployed on Amazon Elastic Compute Cloud (EC2) and monitored through Amazon CloudWatch. They can be queried in real-time via a RESTful API and the entire deployment pipeline is seen through a visual dashboard. The time from prototyping to production is dramatically reduced for GraphLab Create users. Dato is also…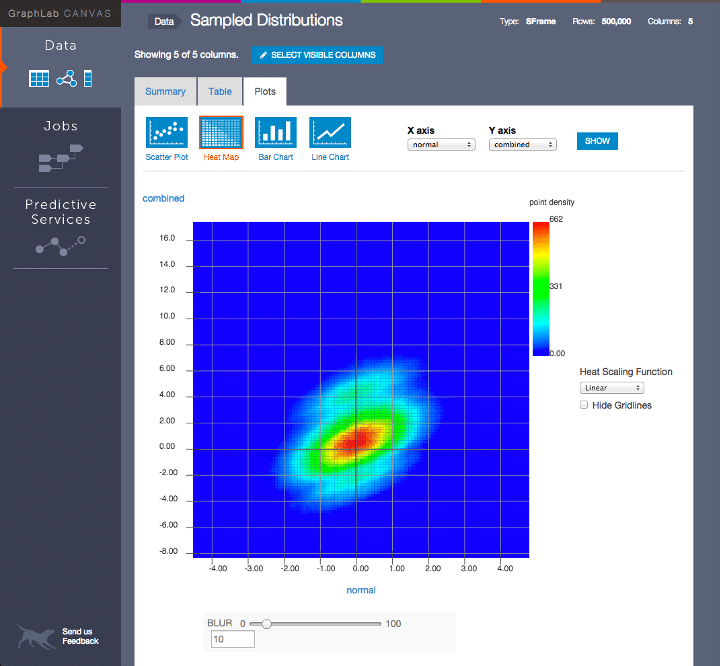 12
Informatica PowerCenter Big Data Edition
Informatica PowerCenter Big Data Edition is highly scalable, high performance enterprise data integration software which uses visual development environment to build ETL data flows that run natively on Hadoop. The data flows can be reused and collaborate with other developers and analysts with a common integrated development environment (IDE). PowerCenter Big Data Edition let access all types of big transaction data, including RDBMS, OLTP, OLAP, ERP, CRM, mainframe, cloud, and others, including social media data, log files, machine sensor data, Web sites, blogs, documents, emails, and other unstructured or multi-structured data. PowerCenter Big Data Edition provides an extensive library of…
Informatica PowerCenter Big Data Edition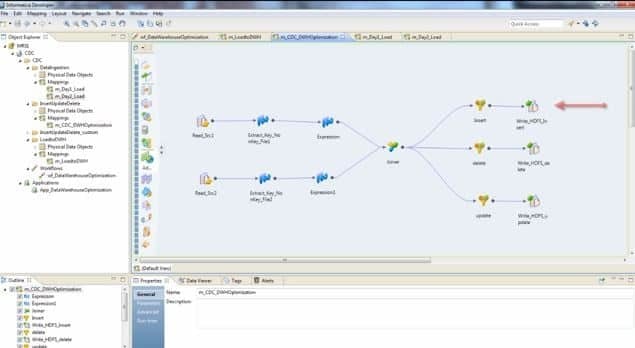 13
Opera Solutions Signal Hubs
Opera Solutions Signal Hubs : Opera Solutions Signal Hubs are domain specific collections of Signals along with the technology required to continually extract, store, refresh, and present selected Signals and recommended Best Actions. The Signal Hub employs machine learning to glean and drive insight. It ingests data from both inside and outside the enterprise, extracts the Signals, executes predictive models, and provides secure real-time access to all the resulting Signals. Opera Solutions Signal Hubs are Consumer Finance & Risk Signal Hub, Customer Signal Hub, Global Markets Signal Hub, Insurance Claims Signal Hub and Product Signal Hub, Collections Recommender Engine ,…

14
Attivio Active Intelligence Engine
Attivio Active Intelligence Engine : Attivio Active Intelligence Engine is a unified information access platform that brings together structured data and unstructured content by integrating and correlating all data and content with no advance data modeling. It provides advanced text analytics, intuitive, Google-like search for BI and integration with BI and data visualization tools. Active Intelligence Engine integrates structured data and unstructured content in a single index so it can be searched, manipulated and analyzed comprehensively. Both search queries and SQL can be used to retrieve data and AIE can be used to build business related applications including customer experience…
Attivio Active Intelligence Engine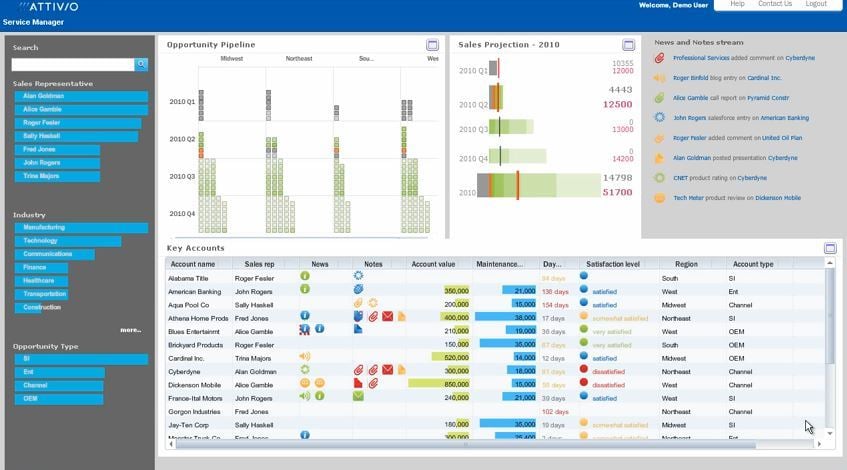 15
Alpine Chorus
Alpine Chorus is a comprehensive platform for Advanced Analytics which provides the entire analytic lifecycle in one environment, and enable people to build, deploy and consume analytic applications and insights in an agile and collaborative manner. Features include hypothesis testing and predictive modeling using full statistical functionality including Time-Series Analysis, Classification, Regression, Decision Trees and more, Data transformation, feature creation, and model building. Also curate and leverage data, models, and results securely to avoid data silos and provides end-to-end workflows cover extraction, transformation, modeling, and scoring. Alpine Alpine Chorus's visual drag-and-drop interface allows business users and data scientists to interrogate…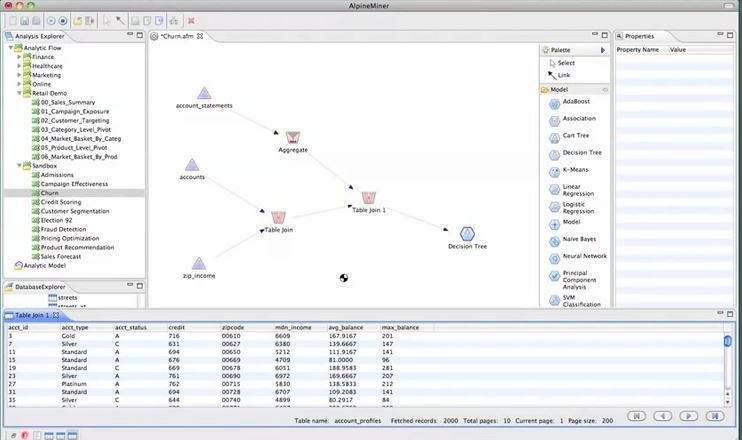 16
Viscovery Software Suite
Viscovery Software Suite, help customers uncover high value insights in complex data sets and offers a selection of software for predictive analytics and data mining designed to comprehensively address the needs of business and technical users. The Software suite consists of Viscovery Profiler, Viscovery Predictor, Viscovery Scheduler, Viscovery Decision Maker, Viscovery One(2)One Engine and Viscovery SOMine. Viscovery Profiler offers explorative data mining, visual cluster analysis, segmentation, and profiling with features including Workflow Orientation, visual representation, statistical information and reports. Viscovery Predictor offers a generation of linear and non linear predictive models and scorings. The system enables workflow-oriented prediction, scoring, and…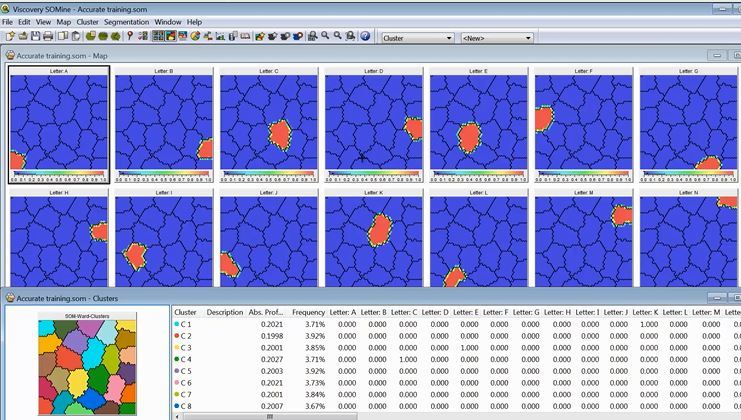 17
BOARD
BOARD integrate Business Intelligence Software (BI) with Corporate Performance Management tools and provides Business Intelligence functions including reporting, multi-dimensional analysis, ad hoc querying and dashBOARDing is combined with the ability to manage and monitor all performance planning and control processes, from budgeting, planning and forecasting to profitability analysis, scorecarding and financial consolidation. BOARD International is a global leader in the Business Intelligence and Performance Management space. BOARD has enabled over 2,500 companies worldwide to rapidly deploy BI and CPM applications in a single integrated environment completely programming-free and in a fraction of the time and cost associated with traditional solutions.…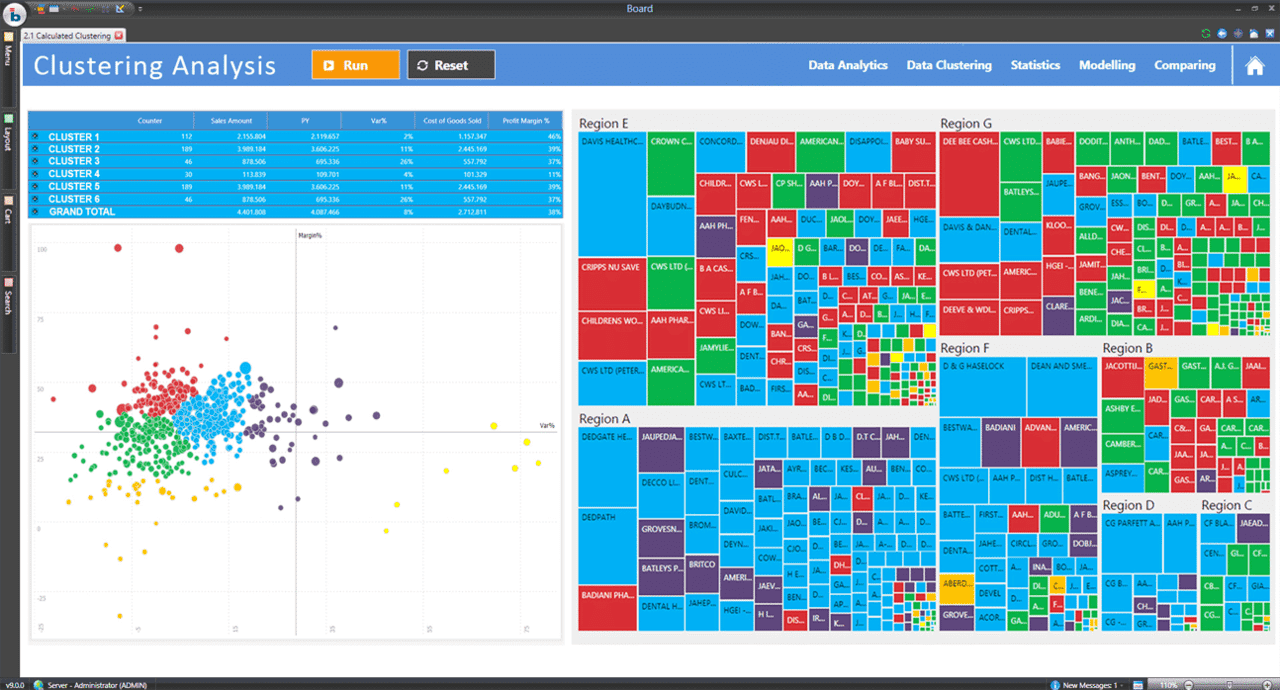 18
FICO Big Data Analyzer
FICO Big Data Analyzer, is a purpose-built analytics environment for a new generation of data professionals. Big Data Analyzer empowers a broad range of users to collaboratively explore data and discover new insights from any type and size of data on Hadoop. FICO Big Data Analyzer, provides features to ingest your own data, explore, query and visualize data, find and re-use analytic assets, wrangle big data for predictive and prescriptive modeling, export insights for downstream decisions and services and empower data and business teams to collaborate. FICO Big Data Analyzer closes the loop between data exploration and insight discovery with…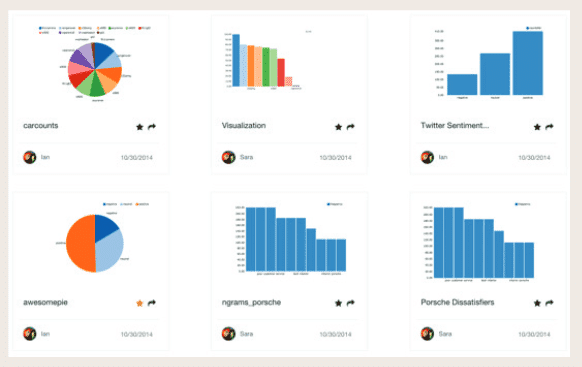 19
FICO Model Central
FICO Model Central, is a powerful analytic model management solution which provides consistent end-to-end model governance, a central repository for all of an organization's analytic models, and advanced workflow management. Analytic models are at the heart of an organization's decision-making process, and increased regulatory oversight requires that businesses employ an approved model development and monitoring process, and retain comprehensive documentation of key decisions made throughout the model lifecycle. FICO is a leading analytics software company, and provides analytics software and tools used across multiple industries to manage risk, fight fraud, build more profitable customer relationships, optimize operations and meet strict…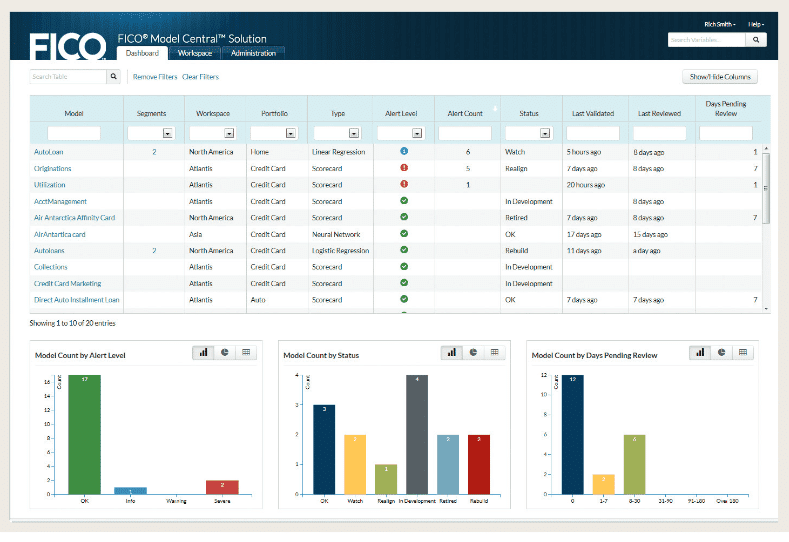 20
FICO Xpress Optimization Suite
FICO Xpress Optimization Suite : FICO Xpress Optimization Suite is a mathematical modeling and optimization solution that enable operational research and management professionals, analysts, and consultants to rapidly develop and deploy optimization applications that solve complex, real-world business and customer engagement challenges. The Xpress Optimization Suite provides easy ways to create, deploy and utilize business optimization solutions based on scalable high-performance algorithms, a flexible modeling environment, and rapid application and reporting capabilities for on premise and cloud installations. The Xpress Optimization Suite is structured on three layers such as modeling and development tools, optimization solver engines, and business insight model…
FICO Xpress Optimization Suite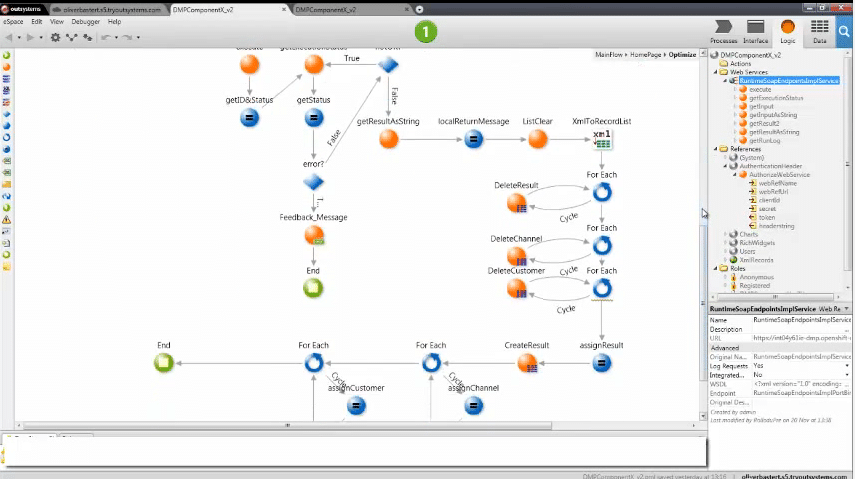 21
Einstein Analytics
Einstein Analytics apps are designed to help every employee in every line of business create deeper customer relationships and uncover new opportunities. This product guide explains how immersive, interactive analytics can change the way your team asks questions, gets answers, and takes action. BeyondCore provides SaaS data analytics software that puts the power of insightful, accurate, intuitive and actionable analytics in the hands of every business user. Its leading-edge Smart Pattern Discovery technology gives users a full range of descriptive, diagnostic, predictive and prescriptive bias-free analytics. Unlike conventional presumptive analytics software that requires users to ask the right questions and…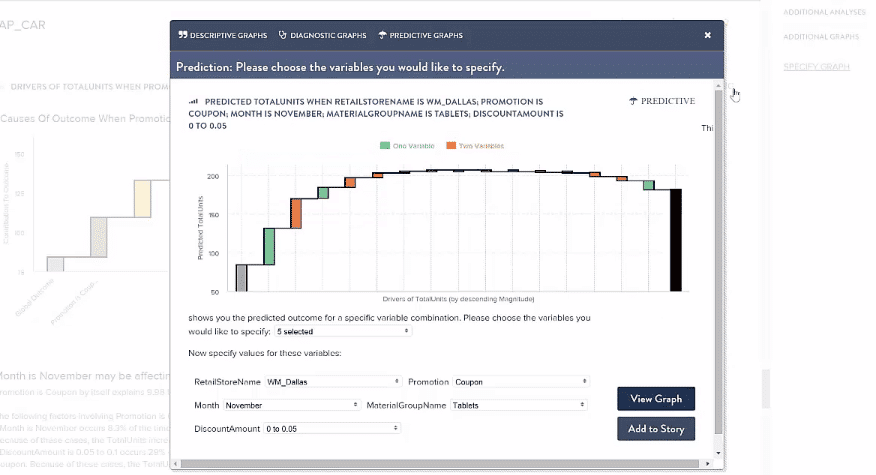 22
SAS Visual Statistics
SAS Visual Analytics to quickly identify predictive drivers and interactively discover outliers across multiple variables. Then create powerful descriptive and predictive models with a simple drag-and-drop interface. Visually explore and evaluate segments for further analysis using k-means clustering, scatter plots and detailed summary statistics. Build predictive models using a variety of techniques – linear regression, generalized linear modeling, logistic regression, classification trees. Design and distribute BI reports and dashboards. Explore relevant data through interactive data discovery. And provide easy-to-use, self-service analytics to more users.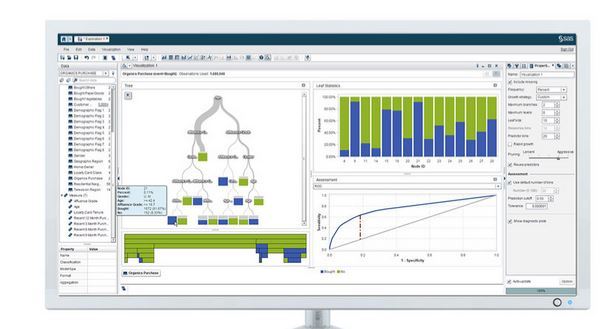 23
Actian Vector Express
Actian Vector Express is a free community version of the Actian Analytics Platform designed to provide a fast and simple way to improve the performance of your analytics. It is built on top of our record breaking vector based analytics database, Actian Express delivers unmatched performance and price/performance and requires less hardware and virtually no tuning. Actian Vector Express includes the following capabilities: Analytics Workbench - quickly build visual workflows to prepare, transform, and analyze data, Analytics Database - run complex queries against billions of records in seconds and Management Console - easily monitor and manage your analytics database It…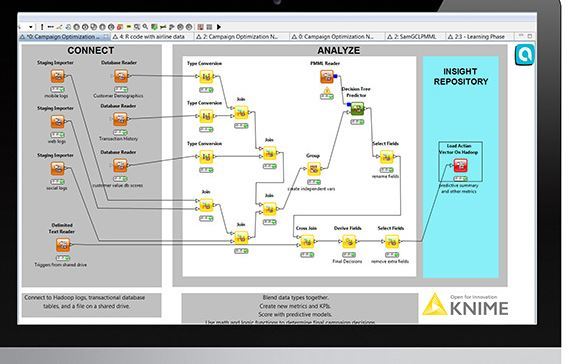 24
Actian Analytics Platform
Actian Analytics Platform provide users faster and deeper insight and reduce analytic workloads and enable business users to maximize the value of historical data and make more informed business decisions. Actian Vector makes performance so fast, you can get into production quickly without the need for OLAP cubes, schemas and complex builds of aggregations. Actian Analytics Platform run complex queries against billions of records in just seconds, deploy BI projects faster without risky, complex and costly data warehouse projects and use half the cores, experience one-quarter the cost, and twice the performance of traditional solutions. Actian Analytics Platform accelerates the…

25
AIMMS
AIMMS is a platform designed for building and delivering Apps that can improve business performance. AIMMS software leverages the power of prescriptive analytics (optimization) to provide companies with a competitive edge and quantifiable results.Considered to be a Prescriptive Analytics, AIMMS provide recommendations on what actions can be done to better address and make decisions using optimization modeling. This will then make the business effective in making decisions that may affect the company leading to a positive outcome. Working with a team makes a lot of difference especially when everybody works on their own task assigned. Not only have it boosted…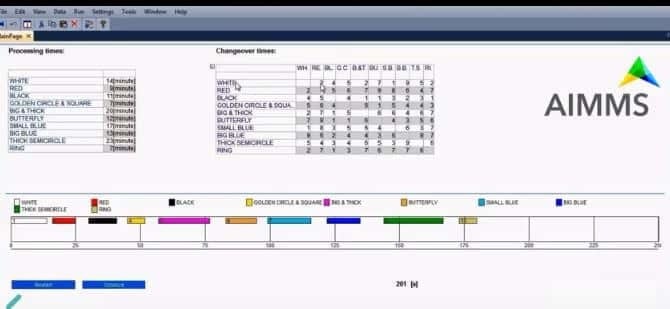 26
Arcadia Data
Arcadia Data unifies data discovery, visual analytics and business intelligence in a single, integrated platform that runs natively on Hadoop clusters. Arcadia Data does not require coding and users can go straight to into big data with intuitive drag and drop self service interface which provides exploration and semantic modeling on breadth and depth of all business data.Arcadia Data allows working on multiple sources such as Hive, Impal, Postgres, Amazon Redshift, MySQL, Teradata Aster and much more. It's unique Active Data store models and tunes data structures continuously at Hadoop scale. Active Data automatically replaces sub-optimal curated schemas with intent…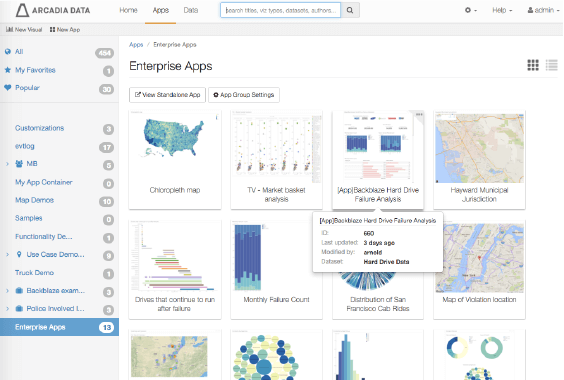 27
GMDH Shell
GMDH Shell is a Forecasting Software that optimizes company's inventory levels. GMDH Shell aligns inventory with customer's demand which can avoid shortages or excess stock, reduce inventory carrying costs and increase operating cash flow. Users are able to build an accurate forecast of demand and sales. It also matches supply to demand and build company's sales plan which promotes generating higher profits.GMDH Shell builds multivariate linear regression models with seasonal, Fourier, and trend components. Users can take advantage of the fast multivariate tools with superior optimization of core algorithms and excellent parallel processing capabilities.It's fast and intuitive user interface helps…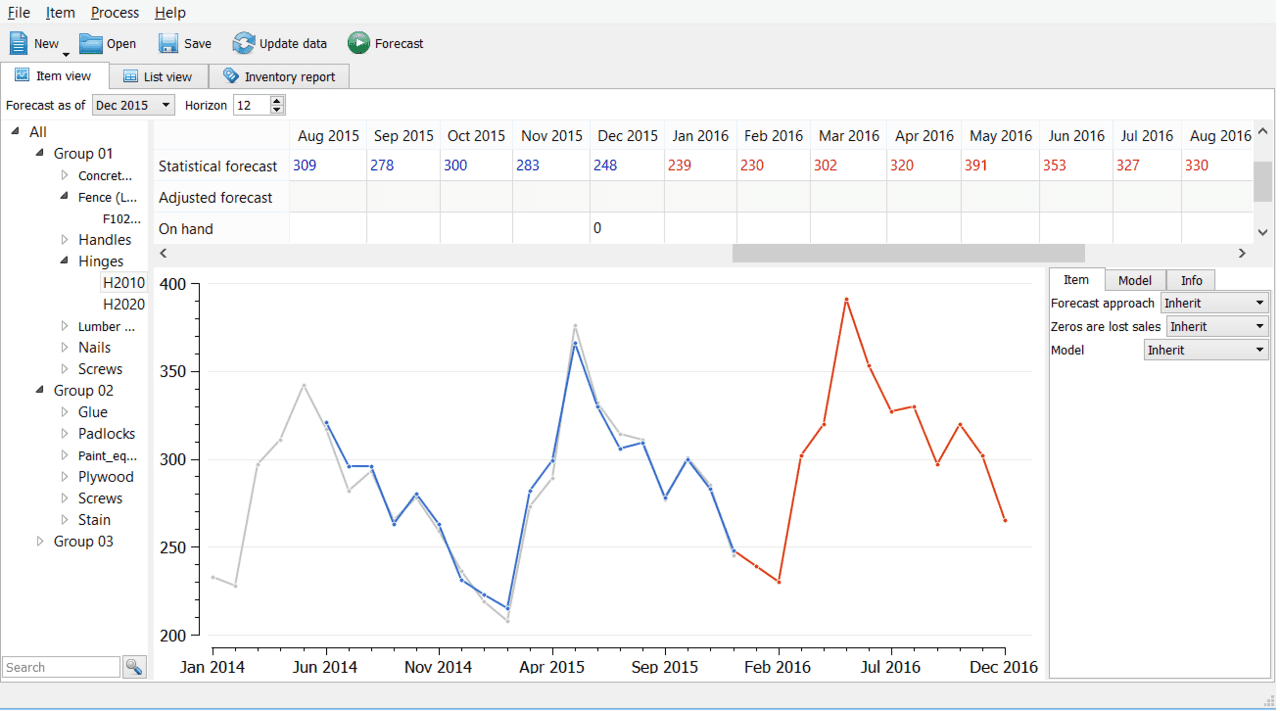 28
Vanguard Business Analytics Suite
Vanguard Business Analytics Suite brings scale and visual modeling to predictive analytics tools. Software automation completes the solution, automating forecast-model exercises to determine optimum business plan. Some of the features included are the ability to extrapolate historical performance data to guide strategic planning, balance the risks and rewards of unique course of actions to determine best possible outcomes and determine which assumptions can be beneficial to the company the most.With Vanguard Business Analytics Suite's Intuitive Web User Interface, users will be able to access the forecast server on any web browser or any mobile devices. This provides availability anytime, anywhere…
Vanguard Business Analytics Suite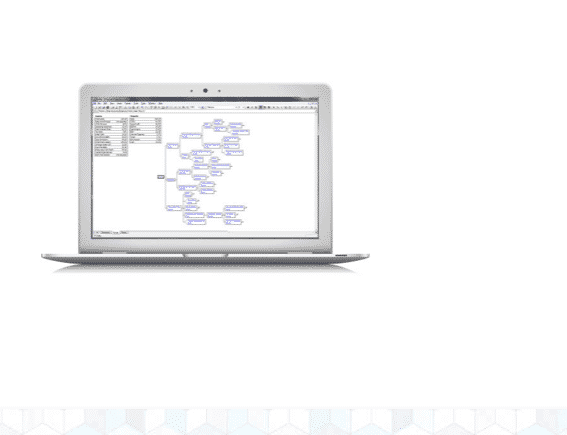 29
Rapid Insight Veera
Rapid Insight products enable users to turn their raw data into actionable information. The company's analytic software simplifies the extraction and analysis of data, enabling clients ranging from small businesses to Fortune 500 companies to fully utilize their information for data-driven decision making. Rapid Insight  Veera is a solution that eliminates the complexity of working with data with an easy to use visual interface. It helps to create a repeatable process without the need for complex programming. Its easy-to-use visual interface eliminates the complexity of working with your data. The solution integrates data from disparate sources and formats and effortlessly…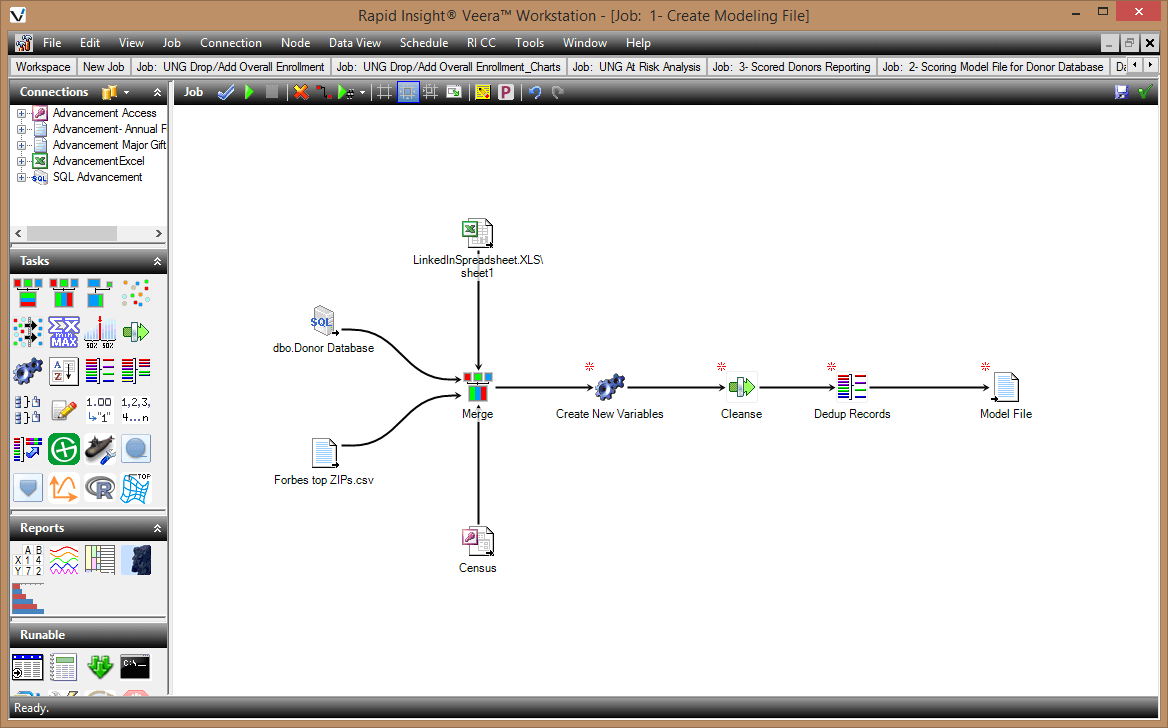 30
Knowi
Knowi is an adaptive intelligence for modern data and a business intelligence platform that unifies analytics across multi-structured, unstructured and structured data. There is no need for ETL or ODBC drivers. Users just connect the datasource(s) then Knowi does a schema on read, and users start building queries. Simple as that. Users can create blended datasets by joining data from NoSQL, SQL, REST-API, RDBMS and even file based sources in a matter of minutes. If users are ready to become a data-driven enterprise, users just need to insert the algorithms into the analytics workflow to automatically trigger notifications or actions.…