Top 15 Best Practices in Spend Management Software Implementation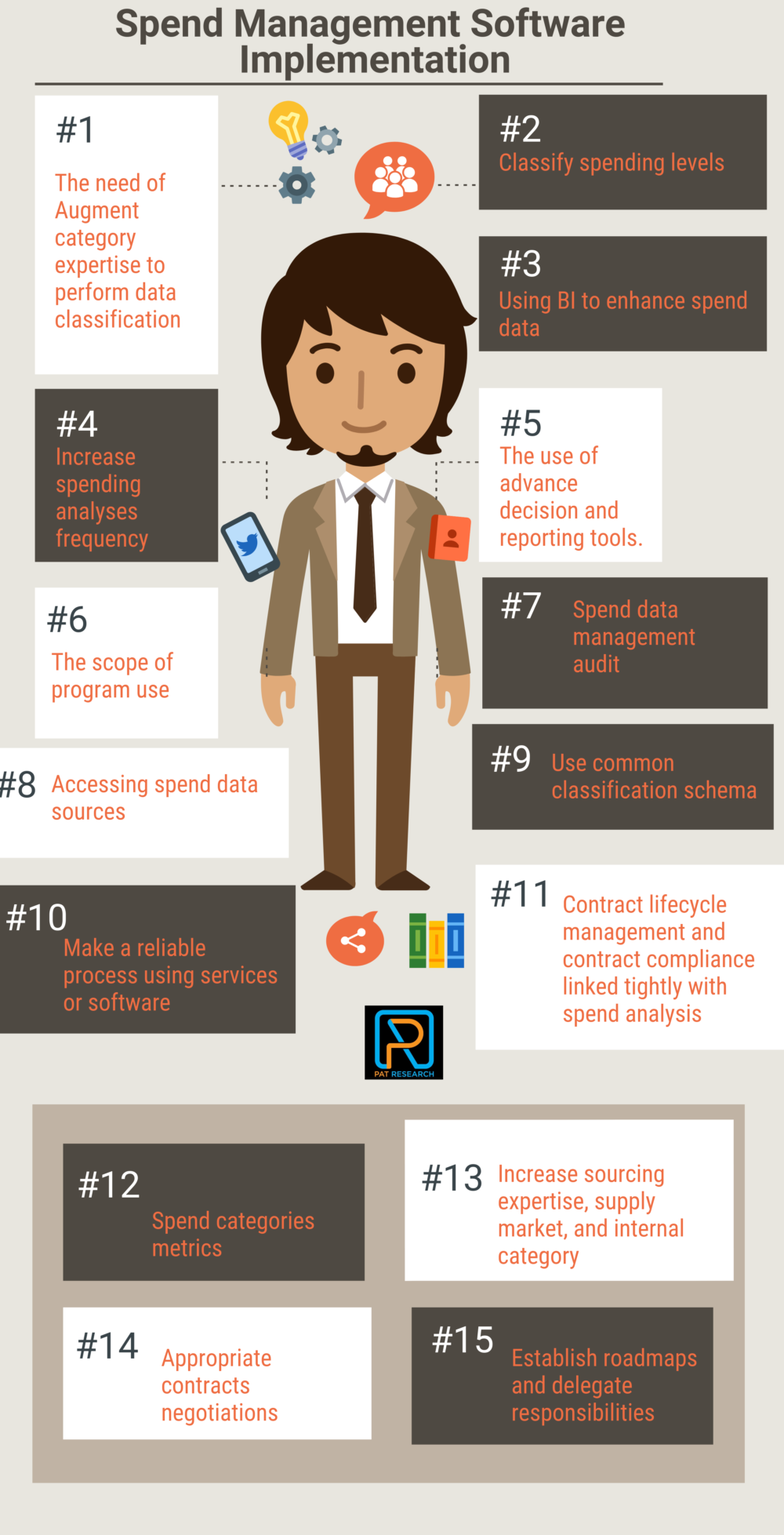 The way an organization controls its spending is what is known as spend management. Spend management involves a procure-to-pay process which is searching for goods, upon getting the desirable goods, buying the products, request shipping and once received make payment then later management of your ledger accounts. Businesses have to find a way of reducing procurement costs, either on services (labor cost both subcontract and contract basis) and direct input such as raw materials or indirect materials such as supplies.
Businesses need to come up with a mechanism that can control the procurement related costs, and with that, they will be implementing spend management or putting it into action.
The top-level management in business should have a total commitment towards spending management initiatives for it to be successful and the initiatives should be aligned with the company strategies. Having known that, procurement should be outlined as a business income activity contributing through cost reductions in end products and getting new suppliers with remarkable innovations.
Keen observation of previous and current spending should be vital when a business it is looking for sourcing opportunities. With that business will enjoy a full metrics view on what drives improved process and costs effectively. It will also help them view the supply chain performance through production analysis. Indeed there is a need for development activities for the future through monitoring of how suppliers are performing.
What are Spend Management Software?
Spend Management Software provides features and functionalities for the activities involved in the procure to-pay process for an organization. These activities and process includes, sourcing, purchasing, goods receiving, payment settlement, and management of accounts payable and general ledger accounts. Spend Management Platforms provides a way in which organizations can control their spending.
They also provide features for Spend analysis which can form a foundation for sourcing initiatives to create an understanding of the organization's spend structure and enables actions to be based on facts .
Top 15 Best Practices in Spend Management Software Implementation
The need of Augment category expertise to perform data classification
Spending categories attributes and rules are covered in automated spend data management solutions. Through these solutions tend to perform better on indirect products which include MRO supplies and IT equipment. Mechanical parts and standard electronic are the complex items which contain incorporate knowledge libraries.
It's by automatic classifications solution in the systems algorithms and self-learning mechanisms that a company can identify sourcing experts and best commodities. The system has an exception; thus there is a need for commodity manager who can classify them. The supply management in business should ensure more spend is under management.
Classify spending levels
Spending analysis is recognized as effective if the spend data is categorized in levels that allow comparisons and clear visibility on commodities and suppliers. The categorization is beneficial to businesses in two ways, item and higher level classifications. Item-level is based on each commodity and suppliers lovely views of spending on business or buyer basis. It enables comparison of non-price and price attributes, which are cost variance, compliance with contract and inflation on prices. With this supply, managers can manage to spend data and develop compliance strategies and optimal sourcing without the help of IT support.
Using BI to enhance spend data
A best-in-class view is control and command center for BI, which provides an overview of compliance, performance information and total spending. Through BI businesses can enhance main spend data. The best-in-class spend data enhancements include pricing indexes, standard selling prices, performance information, supplier financial risk scores, MWOB status, contract terms, inflation and lead times. With suppliers, information and market intelligence businesses have insights necessary to handle product, inventory and optimal sourcing which can be used in real world.
Increase spending analyses frequency
Challenges such as high supply prices, increased transport and energy prices, supply constraints and elongated lead times are the factors that require the business to identify new sources or make trade-offs on supplies between secondary and primary suppliers. To tackle these challenges, there is a need for up-to-date and accurate total spending.
The use of auto-classification solutions, reports, and standard procedures has enabled many businesses to access their spend data monthly in which it helps business managers deal with the most current spend positions. It is through the spend data classification and cleansing operations; businesses have had time to conduct examinations on spending data that they didn't have resources or time to evaluate in the past.
The use of advance decision and reporting tools.
Getting consolidated and favorable view to spend data is the first step, but managers will be overwhelmed with data overload leading to cursory analyses. Analytic tools such as OLAP engine, multidimensional analysis engine or data-warehousing require the support of fully leveraging spend data.
The decisions tools will provide the large data sets analysis and generate preconfigured views and reports for executives to make decisions. The spend management tools are capable of exporting spend data to a third-party warehouse and have decision support engines.
The scope of program use
Spend-data management is part of a continuous improvement process for successful businesses. They are looking for ways to expand the scope of classification and cleansing capabilities in spend data. A good scenario of how it will work, a software company decides to streamline data classification activities by applying classification technologies on their online system.
When a requisition is entered into a system, the system auto-classify an item with a high degree of confidence, for further review and assessment by the manager. With this, the system would be presented to the manager classification alternatives.
Spend data management audit
There are a few companies that understand the challenges posed by inaccurate spend data, what problems it can bring to them and among the few some don't even know what is required to fix the problem. To understand these audits need to be conducted on the competencies and spend data management infrastructure. Areas which needed examination included:
Completeness of spend data and finding elements required for the creation of a spending record.
Determine if there is a need for removal of underperforming schema or consolidation.
Understanding the business system that contains data which can be used to create spend record.
Understand which procedure in the system for cleansing, classifying and extracting spend data.
Business is advice to hire consultants so that they may carry out the spend analysis to identify areas of improvements where spend data management will have on the business performance.
Accessing spend data sources
Businesses should of accurate and complete total spend data from all relevant sources outside and within a system. Some of the larger enterprises have established different extraction techniques that they can use to refresh spend data in multiple sources allowing spending analysis on a daily basis.
Use common classification schema
Successful companies have adopted a common industry-standard or taxonomy schema; such is good because companies can perform actionable analysis on accurate spend data. The schema provides metadata layer for controlling and organizing spend data.
These standards enable organizations to map in a single schema all the spend data. Industry standard acts as a met-data layer, which allows executives to get a clear view of total spending and employees continues the use of their traditional schemas. Industries a good example is manufacturing industries, find it necessary to increase industry-standard schema to classify categories of spend.
Make a reliable process using services or software
Complexity and a significant amount of spend data in business, has led to businesses not utilizing labor-intensive procedures, fragmented and traditional system to manage the activities. Some of the external services provide a temporary solution which makes enterprise use consultants to achieve current spend data.
With outsourcing, enterprise keeps on relying on consultant rather than transferring the process knowledge for analysis of spending patterns to its internal expertise. It's sad that still most of the business hasn't applied automation spend data tools classification and cleansing process to perfect spend data management.
Contract lifecycle management and contract compliance linked tightly with spend analysis
Strategic sourcing is a process which starts with spend analysis then contract execution to tracking contract compliance. If organization suppliers don't comply, purchasing contracts they don't deliver any saving. Performance management and spend analysis helps procurement company to find spending irregularities, compliance and find solutions to that.
The compliance can also help the organization to identify issues related to services and products that can be addressed through training or by suppliers.
Spend categories metrics
Businesses should create a standard parameter for spending categories that will help them monitor progress in sourcing opportunities and cost-saving targets. It's crucial for procurement officers to track real savings by maintaining trustworthiness.
Increase sourcing expertise, supply market, and internal category
It is essential for the organization to internalize previous buying patterns, purchasing requirements, and demand information so as the sourcing expertise can negotiate good contracts and create requests for proposals which leads to cost savings.
Appropriate contracts negotiations
For every good negotiation one should know their bargaining position and saving options. The beauty of spend analysis is that an organization has information regarding prices demands of different items from specific suppliers. With that, the organization has sufficient strengths to negotiate contracts effectively. It's important for an organization to get better payments terms by renegotiating their contracts.
Establish roadmaps and delegate responsibilities.
Spend analysis should include implementation roadmap which should consist of stakeholders. An excellent example of roadmap comprises sourcing opportunities with a schedule of activities needed to realize opportunities.
The results of the analysis need to be reviewed to determine which actions that are required. Organizational responsibilities need to be established to track the target savings. Spend analysis outcome at times affects the procurement structure in an organization thus each manager needs to be assigned a category item to coordinate procurement.
Here are the trending and the top rated Spend Management Software for you to consider in your selection process:
Top Spend Management Software
PAT Index™
What is Spend Management Software?
Spend Management Software provides features and functionalities for the activities involved in the procure to-pay process for an organization. These activities and process includes, sourcing, purchasing, goods receiving, payment settlement, and management of accounts payable and general ledger accounts. Spend Management Platforms provides a way in which organizations can control their spending.
What are the Top Best Practices in Spend Management Software Implementation?
The top Best Practices in Spend Management Software Implementation includes The need of Augment category expertise to perform data classification, Classify spending levels, Using BI to enhance spend data, Increase spending analyses frequency, The use of advance decision and reporting tools and many more.