Top 9 Airline Software Suite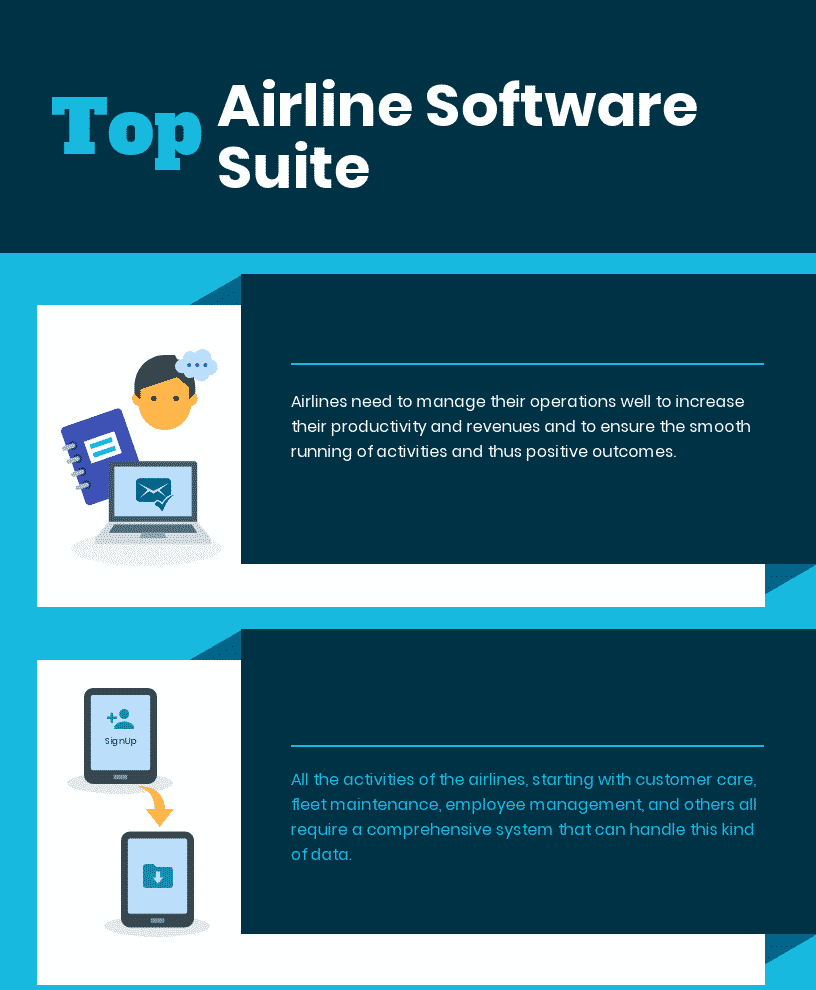 Airlines offering full-time services, deal with numerous flight operations, customers and also millions of dollars in income & expenses. The airlines handle a massive amount of information regarding fleet maintenance, booking of passengers, numbers of flight, destinations among others.
Airlines need to manage their operations well to increase their productivity and revenues and to ensure the smooth running of activities and thus positive outcomes. For any airline to stay ahead of the competition, there is a need for the airlines to maximize productivity while still lowering their costs of operations. All the activities of the airlines, starting with customer care, fleet maintenance, employee management, and others all require a comprehensive system that can handle this kind of data.
Examples of Airline Software Suite: Ramco Aviation, TRAX Maintenance, Sabre Airline Solutions, Takeflite Ops Manager, Swiss Aviation Software, SkyVantage, Megabyte, OMEGA, Awery are some of the best examples of Airline Software Suite.
Since every airline faces their challenges, policies, systems and methods, Airline Software Suite comes in handy for any full-service airline provider. So what is Airline Software Suite?
You may like to read: How to Select the Best Software for Aerospace and Defense Industry, and Top Airline Reservation System
 What are Airline Software Suite?
Airline Software Suite is an integrated web-centric business process-oriented airline software solution that can be installed either on- premise or through the Cloud.
It is designed to cater to the entire spectrum of airline maintenance operations ranging from engine maintenance, technical records, human resource management, inventory, purchases, Financials, reliability and engineering among others. It is also designed to help airline enforce discipline by relaying consistent data across various business functions that assist in improving decision making.
Native Workspaces: Airline Software Suite has great workspaces for critical modules such as Stores Operations, Technical Records, Receivables Management, Invoice Management, Procurement Operations, and Resource Planning among others, helps LCC with less manpower to comply with the strong work process requirements. Airline software Workspaces are used for transactional activities as well as making managerial decisions.
Complete Integrated M&E Solution: The software suite helps the airlines to control their operations, costs and manage their staff from a central point. The integrated system helps the airlines to convey and receive information at the right time thus avoiding the possibility of losses that can be caused by delayed information. It also ensures timely and accurate reporting. All functions like material management, warranty tracking maintenance among others are all performed in a single integrated system.
Single screen for all Engineers and Mechanics activities: The feature provides a single maintenance execution screen that enables mechanics and engineers to perform their duties effectively and from a central point without toggling between various interfaces. Activities such as Non-Routine Reporting, stock availability checking, Component Replacement among others can all be carried out from one screen. It helps increase personnel satisfaction and maximizes production.
Automated Planning Triggers: The feature helps the operators to get materials and resources at the right time. Any delays in the operations of the airline service may mean a significant loss and therefore, getting the required resources and materials on a timely basis can be substantial. The feature provides an effective material and resources management that triggers automated material requisitions as well as orders to ensure that resources and manpower are always available.
The automated maintenance compliance engine: The integrated programs, planning, engineering and execution modules help in streamlining the Planning, execution and compliance tracking the maintenance duties from MPD, Airworthiness Directives, Service Bulletins, and Modifications.  The Continuous information flow helps automate the compliance update which in turn helps to prepare compliance reports defined by the OEMs & the Regulatory Authorities.
You may like to read: How to Select the Best Software for Aerospace and Defense Industry, and Top Airline Reservation System
Top Airline Software Suite
Ramco Aviation, TRAX Maintenance, Sabre Airline Solutions, Takeflite Ops Manager, Swiss Aviation Software, SkyVantage, Megabyte, OMEGA, Awery
1
Ramco Aviation
Ramco Aviation is the industry's Leading Aviation Software for Civil & Defense powering 4000 and over aircrafts and over 21,000 users globally. It is innovation-rich Aviation software built to address the demands of the dynamic aviation industry. The most comprehensive enterprise-wide M&E/ MRO software that is built to address the business and the regulatory requirements. From BOTS to drones, to Wearables, users can get ready for future ready MRO technology. Ramco products include Ramco Aviation software, Ramco ERP on cloud, Ramco HCM on cloud, Ramco logistics software and Ramco EAM on cloud. In Ramco airlines, IT Enhance & expand users…
Overview
• Solutions for Airlines & Aircrafts
• Solutions for MROs
• Solutions for Heli operators
• Solutions for small Operators
2
TRAX Maintenance
Trax Maintenance is a platform that provides software solutions for advanced and comprehensive maintenance of airlines. Trax Maintenance uses their technology to provide an excellent platform for airlines to safely operate their fleet. Trax Maintenance has the ability of operating many types of aircraft including all the models of Boeing, Embraer, Airbus, and Bombardier Airbus. The features offered by Trax Maintenance include; resource management, management of materials, technical publications, management of fleet, component management, and interchange of electronic data. The material management feature consists of receiving, order, and requisition modules. The receiving module is part of the system which receives…
Overview
• Materials management
• Resource management
• Technical publications
• Fleet management
• Component management
• Support requirements
• Support requirements
• Electronic data interchange
• Settings
• eMobility Suite
3
Sabre Airline Solutions
Sabre Airline Solutions is a platform that provides operations that are related to operation of an airline that includes planning and marketing, enterprise operations, and customer sales and service. Sabre Airline Solutions uses software as a service technology to provide flexible solutions that adapt to your business as it grows. Sabre Airline Solutions enables businesses to create products that are appealing to their targeted customers, reach to those customers who shop for air travel, care for their customers at every touchpoint, and provide customers with the expected products by operating efficiently. The main features offered by Sabre Airline Solutions are…
Overview
• Cargo management
• Onboard catering and provisioning
• Revenue analysis
• Pricing and revenue management
• Departure control
• Online direct
• Flight operations
• Maintenance planning
• Crew management
• Recovery
• Airport operation
4
Takeflite Ops Manager
Takeflite is an airline enterprise software that's used to optimize airline performance. With Takeflite, you will be able to make smarter decisions for your airline. Your flight crew will use Takeflite for planning and recording your flight information. It will power your airline in such a way that you will be able to make smarter decisions with its cloud-based suite of airline enterprise software solutions. In addition, it will help you connect your multiple data sources into one single digital system of record with a scalable platform which will allow your airline easy visibility into your customers, operations and profitability.Takeflite…
Overview
• Maintenance control suite that manages maintenance scheduling, job & work packs and storeroom inventory.
• Global software solution that manages your operations and manages your operations through real-time visibility of your customers, operation, and daily revenue.
• Passenger service system that manages real-time bookings from multiple locations by multiple users.
• Departure control that manages your customers check-in, ticketing, passenger flight updates, flight manifests, weight and balance and ensure the correct government reports are filed before take-off with Takeflight departure control.
5
Swiss Aviation Software
The Swiss MRO software solution AMOS stands for innovation, high quality and continuity due to its proven track record of success – Swiss quality at its best. Decades of experience in both maintenance management and information technology have been incorporated into an easy-to-use, functionally superior and proven M&E software that empowers a large customer community to hold down costs and increase efficiency in aviation maintenance, but still maintain the highest standards of reliability and safety. AMOS allows customers to successfully manage their maintenance, engineering and logistics needs and to assure their compliance with a complex system of aviation regulations. The…
Overview
• Customer Support & Training
• Technical Advisory and Guidance
• Project Management
• Business Consulting
• Data Migration & Interfacing
6
SkyVantage
SkyVantage is airline management software that enables airlines manage their day to day operations. The airline management software functions as a computer reservation system. The airline management software used by SkyVantage leverages internet and real-time architecture which provides airlines with an excellent platform for connecting business processes with people and eliminating the boundaries inside and outside the business model of an airline. SkyVantage provides airlines with excellent efficiency and a competitive advantage at lower costs. The features offered by SkyVantage include; a scalable air management software to any size operation, a computerized reservation system, management of operations, and management of…
Overview
• Airline management software scalable to any size operation
• Computer reservation system
• Operations management
• Revenue management
• Loyalty programs
7
Megabyte
Megabyte's total computer solution provides airline software solution, which is an effective tool which an airline's management can use to make the organisation more efficient. Megabyte regards this solution as invaluable for carriers who are seeking to control and monitor their operational costs, whilst maximising revenue. Megabyte is a leader in offering engineering and infrastructure services to clients. It offers Consultancy services in IT Architecture design to solve your problems. It provides disaster Recovery like design of solutions and services to ensure that the users business recovers in the face of unforeseen events. It helps in the facilities Management that…
Overview
• Software solutions
• Services & outsourcing
8
OMEGA
OMEGA is an advanced planning and scheduling suite used to provide advanced aircraft solutions. OMEGA provides the AMES, which is an online suite of specialized smart tools that enables organizations make decisions for multiple levels. AMES tools allow seamless integrations with systems that enable it generate unique insights. AMES also provides an excellent platform for optimizing aircraft maintenance allocations and increasing aircraft availability. OMEGA provides several benefits such as maximizing utilization of resources, managing check and task schedules, connecting maintenance with operations and marketing, and minimizing the delay in response time. OMEGA provides the planning process that enables the management…
Overview
• Package writer
• Engine and component
• MRO
• Lease management
• Fleet plan
• Engine and component planning
• Schedule
• Budget
9
Awery
Awery is an aviation business management software development company established in 2009. Awery ERP has been developed to offer tailored complete business cycle solutions for commercial and cargo airlines, private operators, freight forwarders and cargo agents, aviation service providers, air charter brokers and on board couriers. Awery is a software development company and IT service provider and serving clients all over the world. Awery provides unique aviation solutions, concepts and vision. Awery products have been developed in close cooperation with aviation and logistic companies to reflect up-to-date market demands and to offer tailored complete business cycle solutions with unlimited expansion…
Overview
• A unified database for storing and distributing documents
• Transparent document flow within the company
• Covers compliance requirements for documents distribution within the aviation company
• Bank-grade security with advanced access policies
• Key formats supported (pdf, word, excel, etc.)
• User-friendly interface
• Mobile support on any platform
You may like to read: How to Select the Best Software for Aerospace and Defense Industry, and Top Airline Reservation System