Review
Tidio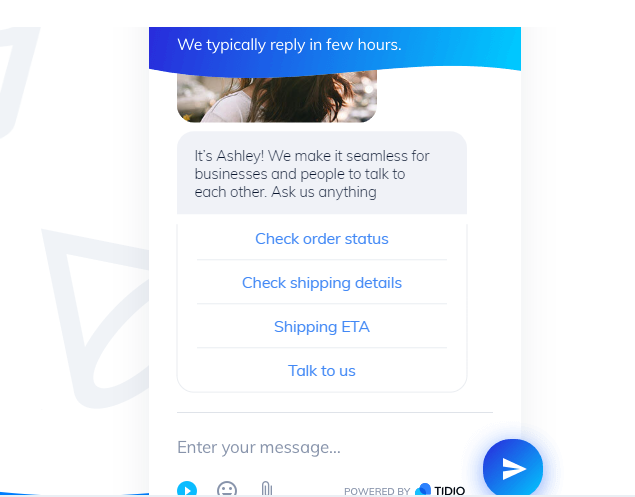 Overview
Tidio offers you an excellent way of connecting with your customers. Tidio makes this possible through Live Chats boosted with bots.
●Live Chat - When you install a widget on your website, you will be able to chat directly with your clients.
●Email Integration - you can be able to integrate unlimited inboxes which you can receive all in one place.
●Messenger Integration - Tidio enables you to incorporate the accounts of your business with Messenger such that you can read all messages from your clients no matter the channels that they are using.
●Export visitors data - With Tidio, you are able yo download all the files of the visitor data that you have collected.
Small (<50 employees), Medium (50 to 1000 Enterprise (>1001 employees)
What is best?
●iOS and android - When you install their app on your phone, you can reply to customers when on the go.
●Unlimited Tracking - You can track the behaviors of users on your website and respond to them through suitable automated messages.
●3rd Party Integrations - You can integrate Tidio with other apps so you solve client issues more effectively.
What are the benefits?
●Autoreply messages even when you are not around.
●Tidio enables you to welcome new visitors to your website effectively.
●Prepare quick answers to the most frequent questions from your customers.
●Build Customer loyalty for all returning customers.
●You can test the service for one month free before getting a subscription.
Tidio offers you an excellent way of connecting with your customers. Tidio makes this possible through Live Chats boosted with bots. Tidio believes that Live Chat plus bots can help you increase sales in your business. This way, every time your customers encounter a problem, they will be in a position to contact you first instead of your competitors.
Tidio has streamlined communication such that you can contact your customers in a matter of seconds through Messenger, email and chat. This is possible, regardless of how your customers attempt to reach your business. The bots have a feature known as artificial intelligence that enables them to recognize the questions of customers and act accordingly. The chatbots from Tidio can allow you to to save your abandoned carts, generate discounts, offer leads, and much more. All these activities take place 24/7 even at the times that you are offline.
The Live Chat from Tidio helps you connect effortlessly with a vast array of third-party apps. You can incorporate your chat with them and enhance your customer service. Setting up Tidio is quite simple. You can make a widget that rhymes with your websites look to make the experience memorable for your customers. To make the deal even sweeter, they have a mobile application that lets you contact your customers from any location that you are. Tidio gives you the power to be one step ahead of your customers since you can see how they move through your website and their interactions even before they start typing. Tidio Usually gets the highest ratings on platforms.