Tidemark For Transformative Finance and Analytics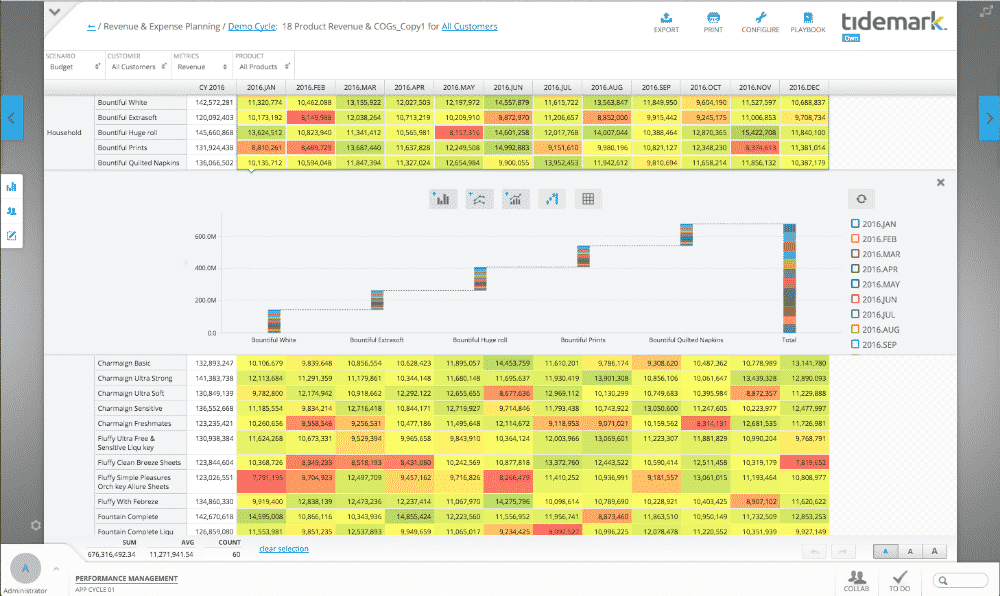 Forward-looking organizations believe finance must transform from its traditional custodian of accounts role to a more strategic driver of business performance. In order to do this, finance must go beyond the general ledger to correlate the patterns, trends and other key indicators of today's digital era. Yet for decades, financial modelers have been held back due to the restrictions and complexities of using a large number of cubes and opaque back-end manipulations associated with legacy planning systems. Even the generation of enterprise performance management (EPM) providers released in the market in the 2000s have severe limitations due to their spreadsheet-like user experiences, and lack of collaboration with operational lines of businesses (LOBs).
With more than 3 million analytical and planning requests over the last twelve months on the platform, growing at more than 300,000 requests per month, Tidemark is seeing increased user engagement across its diverse set of customers. As a result, Tidemark is unveiling new capabilities in its Spring '16 release, aimed at helping modern modelers as well as finance and operations teams forecast with greater accuracy and speed, understand the root cause of variances easier, predict the outcomes of scenarios proactively and collaborate across the organization for deeper and more meaningful insights. The Spring '16 release significantly bolsters financial planning and analysis (FP&A) capabilities with:
Contextually Aware Modeling: powerful new modeling capabilities that greatly simplify how complex FP&A calculations can be specified and run within the context of planning, forecasting and analytical processes by both finance and non-finance business users.
Deep Insights: explore the details behind every financial and operational KPI by any combination of dimensions and hierarchies to the most granular detail. Machine learning then intelligently exposes the details behind your KPIs in a manner that enables users to easily visualize and understand what's driving that number.
Instant Analytics: a new immersive analytics experience that enables all users to instantly visualize and act on the most relevant insights to help drive meaningful performance such as improved forecast accuracy.
Live Playbooks and Improved Storylines: Tidemark Playbooks eliminates static reports and arms key decision makers with the live and interactive information they need to make the best decisions and impact performance. Storylines offer a more intuitive design that eliminates the manual effort and time required to create visual narratives, charts or supporting documentation.
"It's imperative to have collaboration and visibility across all our lines of business in order to ensure the highest quality of planning, forecasting and decision-making for the company, said Tanguy de Laubier, Chairman and CEO, BlueLink. "Tidemark is helping us take that forward looking approach to how we optimize our services for our clients, while also steering BlueLink's performance and growth."