TIBCO New Embedded Dashboard for Actionable Insights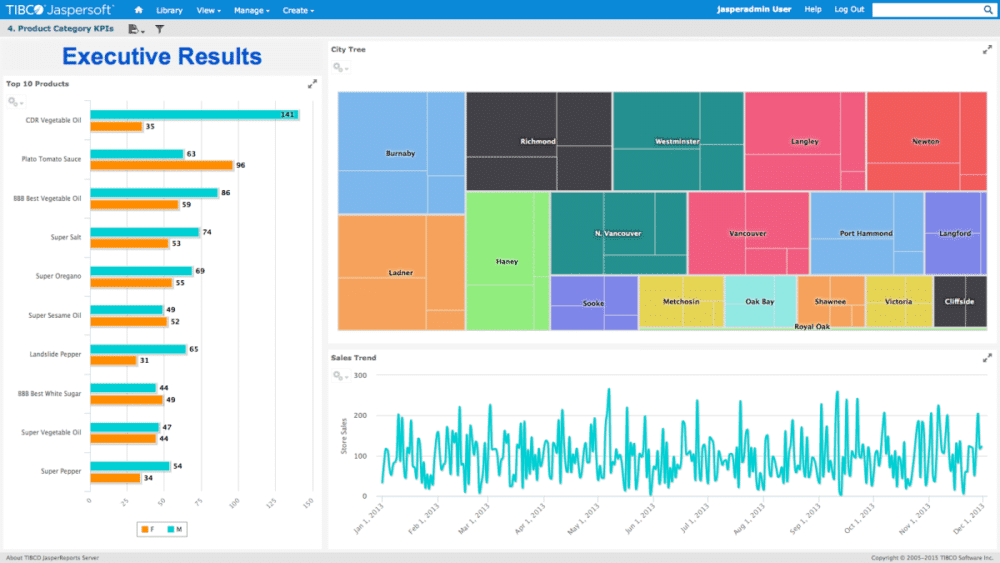 TIBCO New Embedded Dashboard for Actionable Insights : TIBCO has released TIBCO Jaspersoft 6, powered by the innovative JavaScript framework called Visualize.js, Jaspersoft 6 enables developers to quickly build and embed interactive dashboards directly within their web applications without relying on iFrames. The results are dashboards that become the fabric of web applications, delivering richer contextual insights for users across their desktop and mobile devices.
"The dashboards in Jaspersoft 6 are exactly what we were looking for. The focus on simplicity, ease of access to data and improved layout will make it easier than ever for our customers to create powerful executive dashboards," said Kenton Gray, chief technical officer, iOffice. "Combined with the new REST integration options, we can now customize Jaspersoft for our application to create a seamless user experience."
"Since launching our popular Visualize.js framework for reports earlier this year, we knew customers would expect the simplicity and flexibility of JavaScript for their dashboards," said Brian Gentile, senior vice president and general manager, TIBCO Analytics. "With Jaspersoft 6, developers not only get greater control over their embedded dashboard thanks to the Visualize.js framework, but they can now quickly build and edit them using the new designer."
TIBCO brings significant improvements with Jaspersoft 6, upgrading the dashboard designer and providing a pluggable visualization interface for reports, along with an improved native mobile app.
Additional new features include:
o Highly customizable dashboards: Jaspersoft dashboards can be uniquely branded, manually connected to data sources and easily filtered to show the most relevant content for a user.
o Pluggable JavaScript charting component: Report developers can now enrich their reports by plugging in their own charting libraries such as D3.js, HighCharts and more, using the new pluggable visualization component for TIBCO Jaspersoft Studio.
o New report workbooks: Large complex reports just got easier to use through the help of a new tabbed report workbook and table of contents viewer. Delivered directly in the browser, report viewers can now quickly interact and navigate large multi-page reports.