TIBCO Jaspersoft Business Intelligence platform adds Big Data connectors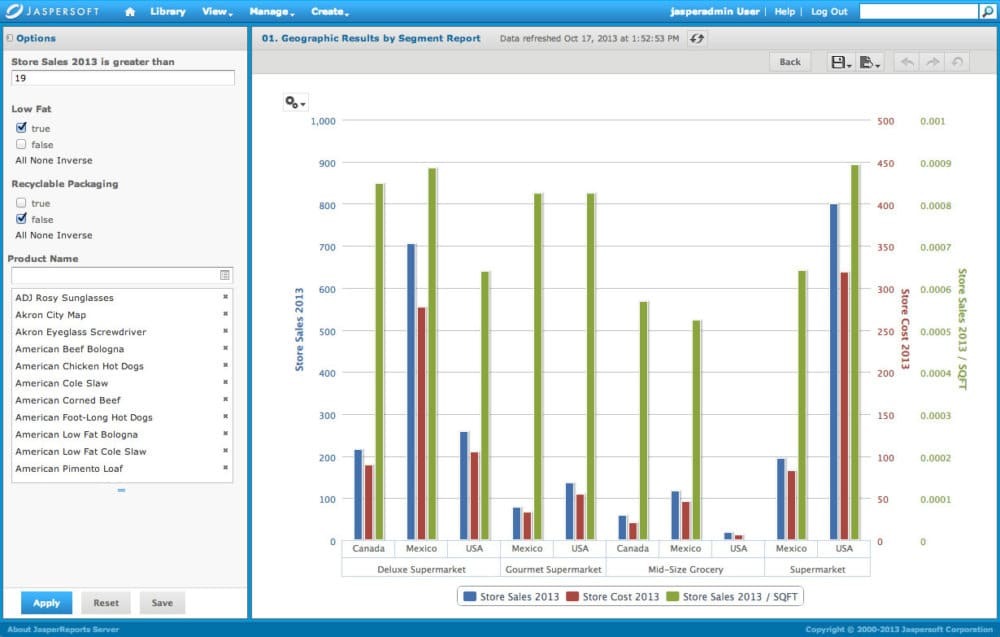 TIBCO Jaspersoft Business Intelligence platform adds Big Data connectors : TIBCO announced the open source release of version 5.6 of the company's TIBCO Jaspersoft business intelligence platform, available for free download on the Jaspersoft Community site. This new version includes several product updates, including new Big Data connectors, interactive reporting upgrades, an updated OLAP engine, and performance enhancements to TIBCO Jaspersoft Studio. There are more than 450,000 users have registered with the community, which hosts more than 150,000 unique visitors per month.
New product features in the Jaspersoft Community platform include native Big Data connectors adding support for Apache Hadoop, Apache Hive, Apache Cassandra, and Cloudera, helping to deliver real-time reporting on your Big Data investment. There are also additional interactive reporting features to provide a more customizable experience for users. New capabilities such as the interactive zoom, string search, and bookmarking help make the interaction of reports a more intuitive and powerful experience. There is an updated OLAP engine that now provides faster queries to data with a series of core stability improvements for a more robust analytic offering. Jaspersoft Studio performance also provide enhancements that enable developers to work and iterate their reports more swiftly and reliably.
JasperReports Server is a stand-alone and embeddable reporting server. It provides reporting and analytics that can be embedded into a web or mobile application as well as operate as a central information hub for the enterprise by delivering mission critical information on a real-time or scheduled basis to the browser, mobile device, printer, or email inbox in a variety of file formats. JasperReports Server is optimized to share, secure, and centrally manage your Jaspersoft reports and analytic views. The Community edition provides, interactive report viewing and formatting, secure central repository, report scheduling and distribution and customizable and brandable UI.
"Jaspersoft was originally founded as a result of an open source project, and we're proud to maintain that mentality and commitment to keeping our business intelligence platform available to the public as a community version," said Brian Gentile, senior vice president and general manager, TIBCO Analytics. "We strongly believe that the Jaspersoft Community is responsible for much of our success and continued growth, and enables our software to be available to everyone from students learning to leverage BI, to multi-national corporations requiring enterprise grade solutions through a competitive pricing model."
For a review of the top business intelligence companies, click on the button below:
Top Business Intelligence companies
For a review of the top free Extract, Transform, and Load, ETL Software, click on the button below:
Top Free Extract, Transform, and Load, ETL Software
For a review of open source and free business intelligence solutions click on the button below :
Open Source and Free Business Intelligence Solutions
For a review of Online Analytical Processing Tools click on the button below :
Online Analytical Processing Tools