ThoughtSpot Harness Collective Intelligence for Search Driven Analytics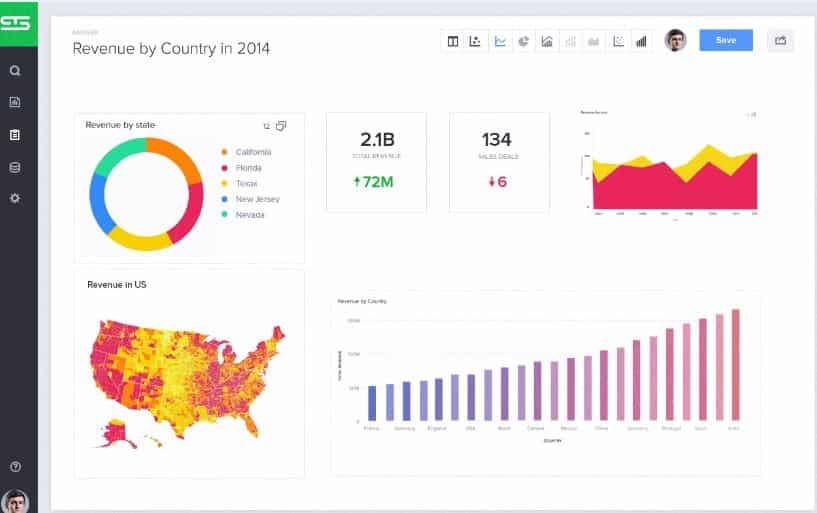 ThoughtSpot 3, provides search-driven analytics solution for the enterprise, with more than 200 new features across search, analytics, and visualization. Three key features in ThoughtSpot 3, DataRank, AutoJoins and PopCharts, leverage machine learning technology on relational data to help users build reports and dashboards based on the collective intelligence within their organization. ThoughtSpot 3's advancements make getting answers to data questions faster and easier for everyone in an organization. ThoughtSpot 3 combines the ease of search with the intelligence of machine learning to deliver a powerful analytic solution that anyone can use to quickly get the right answers out of their data.
DataRank: Machine learning algorithm that sorts and presents data recommendations as you type, guiding you to the right data based on data properties and the collective intelligence in your company helping everyone get answers even faster.
AutoJoins: Automatically graphs your data sources and joins tables in real-time to calculate answers across previously siloed databases.
PopCharts: As you type in ThoughSpot's search box, answers are calculated on-the-fly and charts are presented instantly. PopCharts chooses from over a dozen new chart types and automatically presents the best one for your search.
"People want to make smart data-driven decisions as quickly as possible. They have come to expect it in their personal lives. Two billion people use search everyday to get instant answers when it comes to booking travel, trading stocks, and finding jobs—activities previously managed by experts. With ThoughtSpot 3 we're providing the same service to business professionals looking to make smarter decisions every day at work," said Ajeet Singh, co-founder and CEO of ThoughtSpot. "With the release of ThoughtSpot 3, every human now has the power to search to analyze all of their company data as easily as they use search in their personal lives."
In our personal lives, two billion humans use search to instantly access information on sites like Google, Amazon, LinkedIn and Kayak, to book the best flight, find a new job, or trade a hot stocks. Meanwhile at work the tools we use to answer questions from our enterprise data are slow, difficult to use and require days of training. According to McKinsey, by 2018, there will be a shortage 1.5 million data analysts in the US alone. These data experts are being asked to build analyses for the 500 million and growing, knowledge workers, leading to an average delay of up to 4.8 days to build a simple report. This shortage is creating a massive bottleneck and limiting the productivity of business teams.
ThoughtSpot 3's new machine learning solutions including DataRank, AutoJoins and PopCharts guide users to the right answers and visualizations instantly. With the release of ThoughtSpot 3, every business professional now has the power to search to analyze all of their company data, as easily as they use search in their personal lives. Now retailers can give their store merchants direct access to sales and inventory data to accurately plan what SKUs to put on the shelves each day. Pharma companies can give scientists and researchers the ability to search to analyze patient samples to speed up drug delivery process. Media companies can help movie distributors search to analyze movie performance by channel to see which markets are the most profitable. And telecom providers give marketers access to customer data from hundreds of campaigns to improve customer churn.