ThinkBigData Advanced Analytics Platform for TV and Video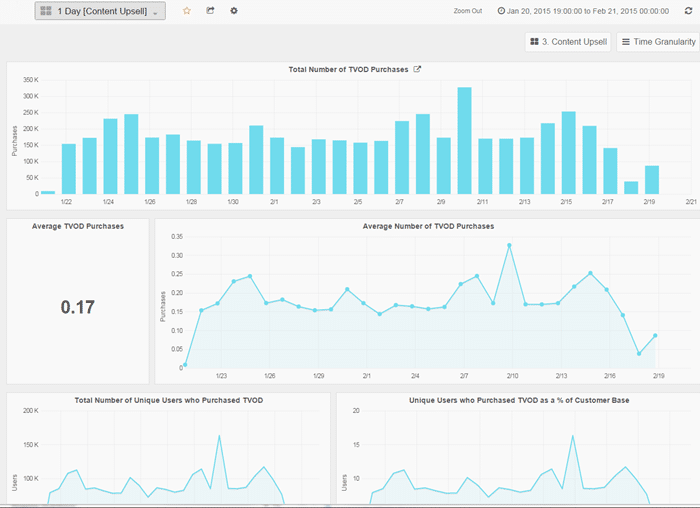 ThinkBigData Advanced Analytics Platform for TV and Video : ThinkAnalytics is the developer of the world's most deployed multiplatform video content search and recommendations engine. ThinkBigData complements the ThinkAnalytics search and recommendations engine and gives broadcasters and service providers new insights into subscriber behavior. These can be used to measure business success, as well as for influencing programming, marketing, content buying decisions and pricing. For too long providers have pushed content out to audiences with only a partial understanding of its value to the viewer and to the business. Now, by using ThinkBigData and taking advantage of the advanced ThinkAnalytics content discovery platform and best practices, operators can transform their data about viewing behavior and content metadata into useful information aligned to business KPIs.
ThinkBigData analyzes the plethora of data from multiple sources, including the ThinkAnalytics Recommendations Engine, to measure KPIs and generate actionable data. Sound business decisions can then be made about content upsell, customer satisfaction, content acquisition and scheduling, and how to market services to different audiences.
With ThinkBigData, customers can measure factors including: recommendation accessibility, the quality of recommendations, search quality, content discovery, and viewer engagement. This helps to drive content upsell, improve subscriber satisfaction and loyalty, and influence other key business drivers. ThinkBigData will be available as a SaaS hosted in the cloud (ThinkCloud), or on premise.
"Instead of largely ignoring or even drowning in data, service providers and broadcasters now have a tool that makes sense of the data to measure success and feed into decision making across marketing, programing and operations," said Peter Docherty, Founder and Chief Technology Officer, ThinkAnalytics. "By making decisions based on actual customer behavior, customers can optimize their service and inventory and boost satisfaction, loyalty and revenues. ThinkBigData provides operators with an advanced, action-driven platform to assist in driving key business metrics and KPIs."
ThinkAnalytics is a widely deployed real-time personalized content search and recommendations engine, bringing together intelligent search with comprehensive media content recommendations.