Review
TheySay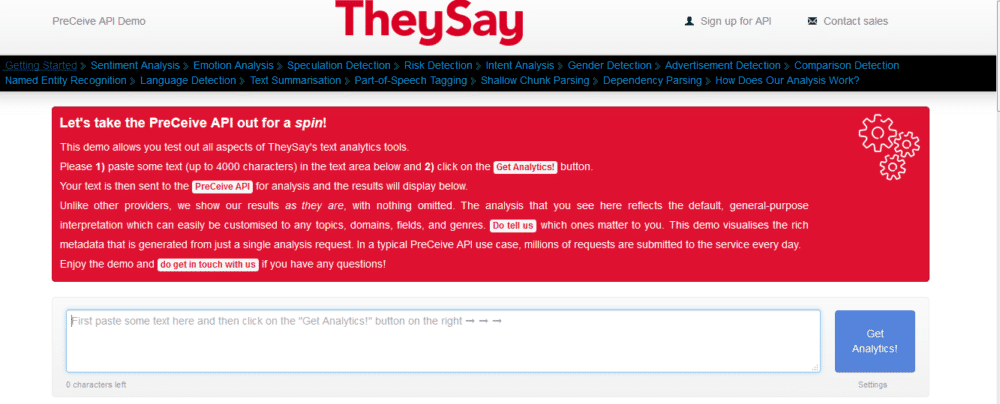 Overview
TheySay provides text and sentiment analytics, data visualisation of deep insights into sentiment through a dashboard delivered through your browser or mobile device.
Sentiment Analysis, Social Media Monitoring
• PeCeive REST API
• MoodRaker
• Evamind
• Sentiment Analysis API
• Social Media Monitoring
• Stock Market Sentiment
Small (<50 employees), Medium (50 to 1000 employees), Enterprise (>1000 employees)
What is best?
• PeCeive REST API
• MoodRaker
• Evamind
• Sentiment Analysis API
What are the benefits?
• Every opinion, counted
• Elastic intelligence
• Track with MoodRaker
• Enrich with PreCeive
• Human data for human businesses
TheySay's Social Media monitoring platform is called MoodRaker. The platform monitors multiple data sources and channels (Twitter, Facebook, news, digital media, amongst others) and uses a rich real-time dashboard to track, compare, summarise, and make sense of public opinions, moods, and feelings at a truly vast scale beyond what any single human would be able to read and digest.MoodRaker allows you to keep track of what people say about any topic across Social Media and news networks.
TheySay's real-time Sentiment Analysis API gives you access to a state-of-the-art sentiment analysis algorithm through a scalable and secure RESTful API service.
The analysis is powered by a hybrid Natural Language Processing (NLP) engine that runs highly sophisticated linguistic algorithms and Machine Learning classifiers. The engine is wrapped in a platform-agnostic REST API service that enables your software applications, workflows, and services to receive rich TheySay JSON metadata with minimal integration work.